Rubriky
Flash News #1/2019
Vítejte u prvních Flash News v roce 2019!
Kvůli velkému pracovnímu vytížení, které přichází s každou novou standardovou edicí, jsem bohužel nebyl schopen nijak zpracovat data z prosincových a lednových turnajů, takže jsem se rozhodl, že začnu až od vydání RNA, respektive prvními turnaji, kde byla RNA legální.
1. GP New Jersey (RNA Limited)
Tohle GP si pravděpodobně bude spousta hráčů hodně dlouho pamatovat, ale ne kvůli tomu, že tu zvítězil Max Williams, nýbrž kvůli tomu, že se tu dobře ukázalo, jak se ve skutečnosti WoTC starají o hráče (SPOILER ALERT: je jim všechno jedno, jde tu hlavně o peníze).
Bez jediného předchozího oznámení nemělo GP žádnou coverage (tím myslím opravdu vůbec žádnou, ani na twitchi, ani na stránkách WoTC) a to navzdory tomu, že main event hrálo 1 409 hráčů.
Hráči samozřejmě začali WoTC bombardovat na twitteru, což nakonec donutilo WoTC alespoň v krátkosti tweetnout, že se coverage GP zcela ruší a jediné, čeho se v budoucnu dočkáme, bude stručné zveřejnění výsledků v neděli večer po skončení GP...
Všemu nasadilo korunu to, že finálový draft se odehrál na obyčejných stolech někde uprostřed sajty a vítěz ani dostal trofej, protože se nestihla včas na místo dopravit. Prostě ostuda jako Brno...
Vy už ale teď určitě víte, že se naštěstí všechno snaží napravit vlastními silami CFB, kteří se rozhodli zatím alespoň narychlo zveřejňovat aktuální informace na svých stránkách. Doufám, že do budoucna se k tomu přídá i video coverage.
V podstatě se mi zdá, že se z GP de facto stala taková soukromá CFB série, což ale nemusí nutně znamenat nic špatného (viz SCG Open).
2. SCG Open Indianapolis (Standard)
Trvalo to déle než rok, ale standard se konečně vrátil do programu SCG Open coby main event! To je podle mne správný krok, jelikož pořádat takhle velký event během release weekendu, to je prostě velmi lukrativní a všichni milovníci standardu byli určitě hrozně napnutí na výsledky.
Turnaje se zúčastnilo 687 hráčů a hrálo se stále s tradiční strukturou, tj. devět kol v první dni, ve kterých je potřeba nasbírat alespoň 19 bodů k postupu do druhého dne. To se povedlo osmašedesáti hráčům, mezi kterými byly nejhranější decky hlavně klasiky z předchozí sezóny vylepšené o pár nových karet, u kterých bylo už na první pohled jasné, že jejich zařazením do decku nic nezkazíte.
První dvě příčky tak obsadil BGx Midrange nejčastěji s modrou splashí pro Hydroid Krasise, Hostage Takera a countermagic v sidu, a Monored Aggro vylepšené o Light Up the Stage a Skewer the Critics.
Celé to vypadalo takhle:
8× BUG Midrange
8× BUG Incubation Druid//Hadana's Climb
7× Monored Aggro
6× Bant Midrange
5× Esper Control
5× UR Drakes/Phoenix
4× Esper Midrange
4× 4C Gates
4× Bant Nexus
3× Rb Aggro (splash v sidu)
2× Wu Weenie
2× Monoblue Tempo
1× BG Midrange
1× Grixis Control
1× RB Burn (Electrostatic Field)
1× BUG Control
1× RG Aggro
1× UGr Midrange
1× Jund Deathwhirler
1× Boros Weenie
1× Monored Phoenix
Do finálové top8 se dostalo šest různých decků (2× BUG, 2× Esper Control, Bant Flash, Wu Weenie, Esper Midrange a UR Drakes), takže to vypadá, že máme opět zaděláno na velmi interaktivní a zábavný formát.
BONUS RANT - na turnaji bylo bohužel na kameře zaznamenáno i několik "shady" playů, a to včetně zápasů v top8. V top8 se to týkalo Abe Corrigana (dal si spell po resolvnutí zpátky do ruky) a Bradley Carpentera (dvě země zahrané během jednoho kola). V jednom z timeshifted matchů pro změnu zahrál Paul Spears Risk Factor ve chvíli, kdy měl soupeř Shalai ve hře a také castil spell exilnutý pomocí Light Up the Stage dvě kola po jeho zahrání).
Většinu z těchto událostí můžete najít zde: https://www.twitchmetrics.net/c/22480377-scgtour/clips?period=month
Osobně se mi zdá, že SCG k tomuto přistupuje docela liknavě (chápu, že se nedá dokázat, že byly tyto situace byly záměrné, ale když se to stane vícekrát u jednoho hráče, tak už by se s tím něco mělo dělat). Jsem zvědavý, jestli se nějaké z těchto jmen nakonec objeví na seznamu suspendovaných hráčů... KONEC RANTU
Škoda jenom, že se tu ve finále vůbec nehrál magic, když Jonathan Hobbs s velmi zajímavým Bant Flashem díky mana screw a mana floodu velmi hladce prohrál s BUGem Anthonyho DeVarti.
Nerad bych tu nějak podrobně rozepisoval změny v každém archetypu, nicméně alespoň ve zkratce bych se na ty hlavní podíval:
BUG Midrange
V prvních týdnech nového formátu platí nepsané pravidlo, že tier deck z předchozího formátu vylepšený o pár jasných hitů z nové edice nebude nikdy špatná volba. To se jistě potvrdilo i Anthonymu DeVarti, který vyhrát s velmi ortodoxní verzí BUGu, do které přidal modoru pouze na Krasise a pár sidovek.
Ostatní hráči byli o něco odvážnější a mohli jsme vidět i spoustu verzí s Incubation Druidy a Hadana's Climby.
Monored Aggro
S adicí výborných kusů v podobě Light Up the Stage a Skewer the Critics se někteří hráči rozhodli zcela vyřadit do té doby nepřekonatelný engine Runaway Steam-Kin a Experimental Frenzy. Hrály se verze s extrémně nízkou křivou a k vidění byly karty jako Electrostatic Field, Risk Factor, či The Flame of Keld.
Populární byla i splash pro černou, zejména kvůli Theateru of Horrors, ale opět byly k vidění i další kus, jako třeba Carnage//Carnival a dokonce i Sword-Point Diplomacy.
Bant Midrange
Překvapivě byl velmi populárním archetypem i Bant Midrange a dokonce to nebylo ani tolik kvůli Krasisovi...
Dohromady hrálo tenhle deck šest hráčů, ale kromě zemí byste nenašli jedinou kartu, kterou by měly všechny verze společnou.
Nejvýše umístěný byl už zmiňovaný poražený finalista, Jonathan Hobbs, který vsadil na flash verzi s playsety Angel of Sanctions a Frilled Mysticů. Proti téhle verzi se určitě špatně hraje, protože nikdy nevíte, co všechno může soupeř mít, ale jsem trochu skeptický ohledně manové křivky, po které byste chtěli zahrát Benalii a další kolo Frilled Mystica.
Další verze hráli například osmero manovačů v kombinaci s Krasisem a Hadana's Climbem (minikombo s Incubation Druidem), Biogenic Ooze, Hero of Prectinct One v kombinaci s March of the Multitudes, nebo verzi s GW základem v podobě klasického explore package, která z modré hrála jenom Krasise a Negate v sidu...
Esper Control
Z klasických modrých kontrolů byl nejpopulárnější jednoznačně Esper, za což mohly nové přírůstky v podobě Kaya's Wrath, ale hlavně Mortify a Absorb, což jsou skvělé karty proti Monoredu.
UR Drakes
Další z klasických decků, kterému se dařilo i s novou edicí, byli UR Draci. Největší posilou pro deck byl bez pochyby Pteramander, jenž byl přítomen ve všech úspěšných variantách, ať už to bylo s Arclight Phoenixem, či pouze s draky...
Esper Midrange
Populární byla i více tapout verze Esperu. Hodně zajímavá byl multicolor varianta, která jako zajímavý engine používala Hero of Prectinct One a také hrála playsety Basilica Bell-Haunt a Thought Erasure, což by mělo být velmi dobré proti deckům s Krasisem.
K vidění byla i více kontrolní verze s Benaliemi a Knighty of Malice. Ani v ní ale nechybělo osmero discardu v mainu.
Gate Ramp
Před vydáním RNA hráli gate decky asi jenom ti největší srdcaři. Teď má ale deck díky Plaza Harmony a Gates Ablaze mnohem lepší plán proti aggrům, což výrazně zvýšilo jeho oblibu. Nemluvě o tom, že předtím nebyla k dispozici tak dobrá rampa, jako je Growth Spiral.
Deck se hrál ve dvou formách - jedna vsázela na gate payoffy jako Gatebreaker Ram a Gateway Colossus, zatímco druhá se snažila Growth Spiral a Circuitous Route využít k nekalým účelům spolu s Wilderness Reclamation a Nexusem of Fate. Ve většině verzí byl přítomen i Hydroid Krassis, coby výborný payoff pro rampu.
Bant Nexus
Karta, která s příchodem RNA hodně ožila, je bezesporu Nexus of Fate. Může za to stejně jako v případě Nexus Gate dvojka Wilderness Reclamation a Growth Spiral.
Reclamation spolu s Azcantou představuje opravdu efektivní způsob, jak každé kolo najít a zahrát Nexus. V takové situaci už potom není problém zabít soupeře opravdu čímkoli, takže se v decku mnohdy nehrají žádné winkondice a pokud soupeř nechce vzdát, tak ho umučíte emblémem z Teferiho a potupným dolízáním...
White Weenie
Menší posily se dotkly i White Weenie. Osobně jsem si myslel, že nejlepší z novinek tu bude Dovin, nicméně to byla jiná multicolored karta, která se tu prosadila - Deputy of Detention. Hrál se také Tithe Taker a v decku, se kterým skončil na čtvrtém místě Max Magnuson, byla dokonce v mainu i jedna Unbreakable Formation.
Monoblue Tempo
Poslední deck, který měl ve druhém dni alespoň dva zástupce, bylo Monoblue Tempo. To dostalo v RNA dvě posily - Essence Capture a hlavně Pteramandera, což je další skvělá bytost do páru s Curious Obsession a hlavně pak excelentní finisher do late game.
Ostatní
Ve druhém dni jsme mohli vidět samozřejmě i několik rogue decků, konkrétně pak Grixis Control, hodně zajímavý BUG Control s playsetem Biogenic Ooze, RG Monstra s playsetem Skarrgan Hellkite, GU Aggro s Hadana's Climbem (a s červenou splashí v sidu) a také speciál Jima Davise v podobě Big Redu se splashí na Status//Statue, což je minikombo s Chainwhirlerem.
Na závěr se můžete podívat na deset nejhranějších karet z RNA v top32, vyjma zemí a sidovek:
Hydroid Krasis (39×)
Light Up the Stage (28×)
Skewer the Critics (26×)
Mortify (19×)
Deputy od Detention (18×)
Incubation Druid (18×)
Absorb (15×)
Growth-Chamber Guardian (12×)
Kaya's Wrath (12×)
Biogenic Ooze (9×)
3. SCG Indianapolis Classic (Standard + Modern)
Nedělní standardová klasika zlákala 184 hráčů, což znamenalo osm kol základní části, ve kterých bylo k jistotě postupu do top8 uhrát aspoň 20 bodů (19 jednomu smolaři nestačilo).
Na turnaji si velmi dobře vedly kontrolní decky, v top16 bylo pět BUG Midrangů a čtyři Espery.
Vítězem se stal Raja Sulaiman se zajímavým Esperem, ve kterém hrál maindeck Karny a také zajímavý transformační sideboard s Thiefem of Sanity, Basilica Bell-Huanty a Hostage Takery. Ve finále porazil Bant Nexus.
Pokud bychom se poohlédli po decích v top16, které jsme neměli možnost vidět během open, tak bych zmínil hlavně dvojici UG Nexus (velmi přímočará verze, která maximálně využívá potenciál Wilderness Reclamation a hraje například více kusů Search for Azcanta) a GW Midrange, což byl takový cross-over mezi klasickým midrangem (Biogenic Ooze, Growth-Chamber Guardiany) a tokeny (Saproling Migration, March of the Multitudes).
Celkem to v top16 vypadalo takhle:
5× BUG Midrange
4× Esper Control
1× Bant Nexus
1× Monoblue Aggro
1× Wu Weenie
1× Rb Aggro
1× Esper Midrange
1× UG Nexus
1× GW Midrange
I přesto, že šlo o první týden standardu, což je velmi lákavé pro všechny rogue deckbuildery, tak na modern stejně přišlo výrazně více hráčů - konkrétně 260, což znamenalo devět kol základní části + top8. K postupu do top8 bylo potřeba uhrát alespoň 22 bodů (sedm výher a remíza).
Šlo také o jeden z prvních větších turnajů po banu Ironworků, ale těžko říci, jestli se to nějak promítlo do metagame...
Ve finále se utkaly dvě modernové klasiky - Dredge a UW Control. S pouhými dvěma kusy Rest in Peace v sidu byly šance Tylera Awdrewse na výhru dost malé a z výhry se tudiž radoval Kyle Peters s Dredgem.
Turnaj byl zároveň do velké míry ovlivněn dvěma novými kartami, což nebylo zase tak velké překvapení. Byly to Light Up the Stage a Skewer the Critics.
Obě karty se hrály v Burnu, ale Light Up the Stage byl k vidění i v UR Phoenixovi, který měl dva hráče v top8.
Burn měl hned v top16 dokonce čtyři hráče, z nichž všichni hráli Skewer the Critics, ale ne všichni hráli Light a k vidění byly i různé barevné kombinace. Někdo hrál tradiční Boros verzi, někdo Monored se splashemi v sidu a někdo preferoval verzi s černou, díky které decku přibyde další jednomanovka v podobě Bump in the Night.
Mírné překvapení byly také hned dva Whir Prisony v top8. Tenhle deck poslední dobou nabírá na oblibě (možná, že si příznivci KCI prostě hledali jiný, neskutečně otravný artefaktový deck :) ), ale já osobně si moc nedovedu představit, že bych si na devítikolový turnaj vzal deck, jehož hlavní winkoncide je odemletí pomocí Cruciblu a Ipnu Rivulet...
Kompletní top16 vypadala takto:
Dredge
UW Control
Whir Stax
UR Phoenix
UR Phoenix
Spectacle Burn
Amulet Titan
Whir Stax
Bant Spirits
GB Elves
Ad Nauseam
Spectacle Burn
Boros Burn
Boros Burn
Grixis Death's Shadow
Grixis Death's Shadow
4. Online PTQ, tedy teď už vlastně MCQ... (Standard)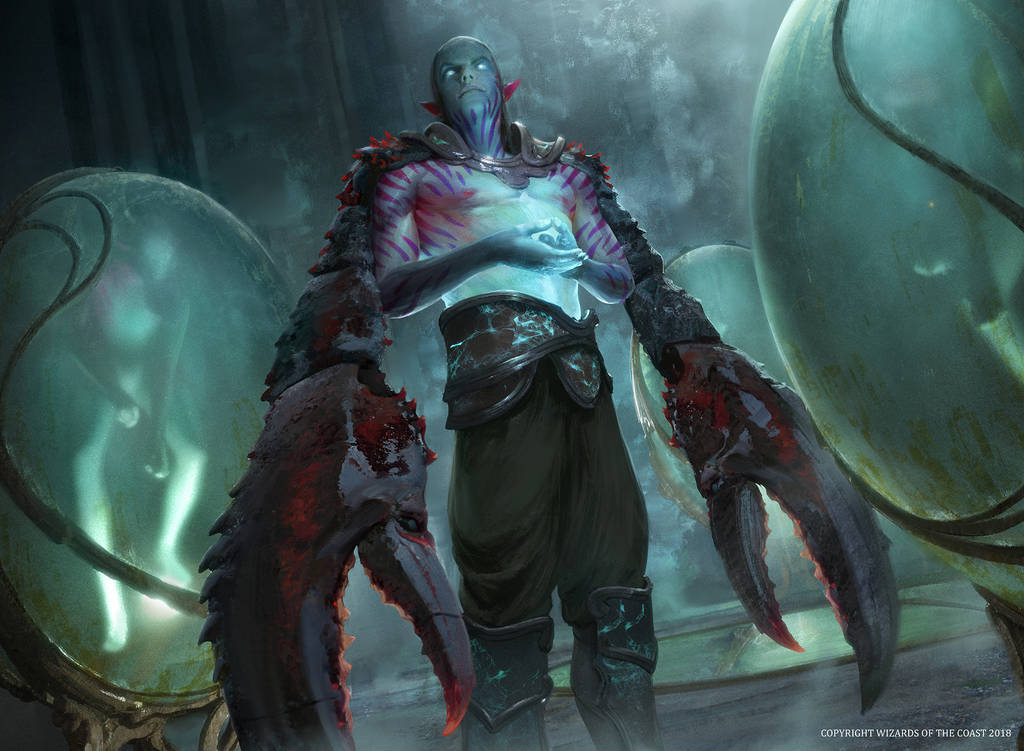 Navzdory tomu, že online standard se skoro úplně přesunul na Arénu, tak se ještě stále najdou výjimky. Největší competitive turnaje se stále hrají na MTGO a do této kategorie spadalo i lednové MCQ, kterého se zúčastnilo 277 hráčů.
V devíti kolech základní části dosáhlo dvaadvacet hráčů na skóre 7:2 a lépe. Podobně jako na SCG Open tu byly nejpopulárnější decky BUG Midrange a Monored Aggro, ale bylo tu mnohem více zajímavých brew, mezi které se shodou okolností řadily i oba finálové decky.
Vítězem se stal "petomartinez" s originální verzi BUGu, která vsázela na synergie s plusovými žetony, což znamenalo, že v decku byl playset Growth-Chamber Guardianů, dvě Zegany a dva Hadana's Climby.
Ještě zajímavější byl druhý finálový deck, který hrál "Finespoo". Šlo o Naya Midrange, který do jisté míry připomínal Boros Anděly, které se hrály zkraje GRN sezóny. V decku byly tudíž karty jako Aurelia, Rekindling Phoenix, či Tocatli Honor Guard. Nejdůležitější zelená karta v decku byla Rhythm of the Wild, ke kterému tu byl playset Growth-Chamber Guardianů, coby velmi úderná kombinace pro souboje s jinými midrangi.
Překvapuje mne ale úplná absence Defeaning Clarionů. Deck je totiž plný spellů za tři a čtyři many a podle mne musí mít dost problémů s Monoredem...
Další zajímavé decky v top22 byly hlavně RUG Reclamation, která kromě playsetu Nexusů hrála i playset Expansion//Explosion, Monored Aggro se zelenou splashí pro Cindervines a Collision//Colossus v sidu, ale hlavně Merfolci s hodně "go wide" verzí, která hrála playset Deeproot Waters a z nových karet také playset Incubation // Incongruity.
Přehled všech decků se skóre 7:2 a lépe vypadá následovně:
5× Monored Aggro
5× BUG Midrange
2× Bant Nexus
2× Rg Aggro (splash v sidu)
1× BUG Climb
1× Big Naya
1× Nexus Gates
1× Esper Midrange
1× Esper Control
1× Jeskai Control
1× RUG Reclamation
1× Merfolk
5. MTGO Weekly Challenges (Modern, Legacy, Vintage, Pauper)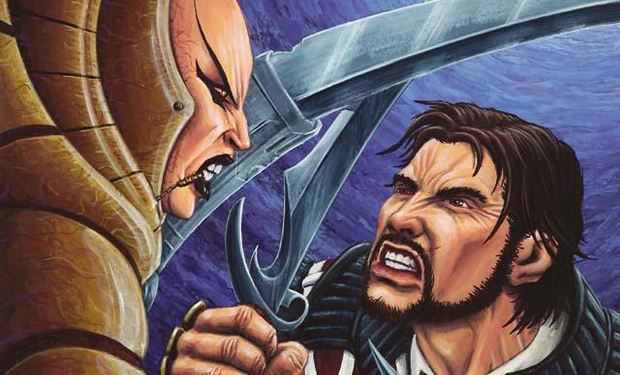 Ani v novém roce vás neušetřím pravidelných MTGO challengí. Vzhledem k tomu, že měly Flash News poměrně dlouhou pauzu, tak je potřeba dodat, že na začátku prosince byla kvůli postupně se snižujícímu zájmu zrušena duel commander challenge. Zbyly nám tudíž pouze čtyři formáty...
Začínáme modernem, kde byl překvapivě hned v prvním týdnu vidět velký vliv RNA. Zvítězil totiž "AndreasP" s extrémně agresivní verzí Spectacle Burnu, která hrála pouze jednomanovky, včetně Bump in the Night. Kusy jako Eidolon of the Great Revels a Searing Blaze zůstaly pouze v sidu...
To ale nebylo zdaleka vše, v top8 byl ještě Blue Living End, který obsahoval celý playset Electrodominance. V decku samozřejmě nechyběl ani As Foretold a Ancestral Vision. A rozhodně není náhoda, že deck hrál Gabriel Nassif, protože už o decku často psal v minulosti, tj. při vydání As Foretoldu.
Do třetice se z nových karet prosadila ještě Deputy of Detention, kterou jsme mohli vidět v Bant Spiritech.
Další zajímavý deck v top8, byť už bez nových karet, byl Amulet Titan s World Breakery, což je winkondice, kterou můžou najít Ancient Stirrings. Tahle verze decku byla celkově více midrange orientovaná, když dále obsahovala karty jako Courser of Kruphix, či Thragtusk.
Top16 celkem vypadala takhle:
2× Amulet Titan

2× Bant Spirits
2× Boros Burn
1× Spectacle Burn
1× UW Control
1× UR Living End
1× Hardened Affinity
1× Dredge
1× Whir Prison
1× Jeskai Control
1× Humans
1× Gifts Storm
1× Jund Midrange
I na legacy jsme v top8 mohli vidět jednu novou kartu, což byl podle očekávání Pteramander. Nebyl ale v klasickém Grixis Delverovi, nýbrž v UR variantě s Arclight Phoenixem. Zvláštní bylo, že tu dostala přednost Careful Study před Faithless Lootingem. Mít modrou kartu k Forsáži je sice důležité, ale v decku je 26 dalších modrých karet a Looting je jasně lepší...
Úplně nejvíce se ale dařilo klasickým kombodeckům, které obsadily kompletní stupně vítězů. První místo patřilo Stormu, druhé BR Reanimatoru a třetí Sneak and Show.
V top8 byli dále Colorless Eldrazi (agresivní varianta bez Cloudpostu), Monored Stompy, Burn (bez spectacle karet) a Death and Taxes.
Ty nejzajímavější decky ale byly až mezi devátým a šestnáctým místem. Mohli jsme tam vidět MUD s Kuldotha Forgemastery, Enchantressky s Living Wishem (ve kterých byla novinka v podobě Estrid's Invocation) a hlavně opravdová chuťovku v podobě Grixis Phoenixu, který spoléhal na kombo Dark Ritual + Buried Alive. Zajímavé je, že v mainu neměl decky žádné counterspelly a z modré tu byly pouze jednomanové cantripy.
Ravnica Allegiance ovlivnila dokonce i vintage, což ale podobně jako na legacy nebylo žádné velké překvapení. Lavinia je totiž excelentní hate proti Paradoxical Outcomu a všeobcně proti rychlé maně či delve kartám.
V top16 se objevila ve třech decích - modrou kvůli ní splashovali White Eldrazi (šesté místo), dokonce v mainu ji hrál jeden z pilotů Paradoxical Outcomu (sedmé místo) - koneckonců na mirror je opravdu brutální, a objevila se i v pětibarevném speciálu Tomáše Mára (14. místo).
Celkovým vítězem se stal Acores88 s tradiční verzí Ravager Shopů, když ve finále porazil BUG Control.
Další decky na předních příčkách (top16) byly znovu Ravager Shopy, UR Pyromancer, dva Blue Dredge, Colorless Eldrazi (to je de facto budget verze Shopů), UR Delver, Oathy, Survival Combo, dva další Paradoxical Outcomy a Grixis Thieves.