Rubriky
Flash News #25/2018
1. GP Melbourne (GRN Sealed)
Týden po PT se konala dvojice GP, které měly trochu nezvykle různé formáty. V Melbourne to byl sealed, kterého se účastnilo 846 hráčů.
V Austrálii jsou GP obvykle s účastí pod 1 000 hráčů a taky je tu méně velkých jmen, výjimkou je snad pouze Novozélanďan Zen Takahashi, který tu dosáhl už na svou pátou top8 (tentokrát dokonce po začátku 3:2), přičemž všech pět uhrál na australských GP, a to všechno v jednadvaceti letech.
Na GP byla k vidění docela ojedinělá zajímavost - na konci prvního i druhého dne patřilo první a druhé místo těm stejným dvěma hráčům a v obou případech hráli Boros. Byli to Calvin Liu a Taiga Tsujikawa. Na sealedu měli oba 9:0 díky Aurelii, ale ve finále už si museli vystačit bez mythiců, ačkoli Taiga měl v decku Experimental Frenzy, díky němu hladce zvítězil ve druhé hře.
Bohužel, podobně jako předtím na PT, i tady byla rozhodující finálová hra dost jednostranná díky manascrew Calvina Liu... Vítězem se tedy stal Taiga Tsujikawa!
2. GP Milwaukee (Standard)
Zatímco v Austrálii se hrál sealed, tak ve státech byl na programu standard, který zlákal 1 298 hráčů.
Oproti výsledkům na PT se metagame výrazně změnila. Hráči byli mnohem lépe připraveni na Weenie decky a hlavní souboj víkendu byl mezi Jeskai Controlem a GB Midrangem.
Po první dni měli tyhle dva decky 47 hráčů v top100 a v závěrečné top32 jim patřilo 20 míst. To je dost drtivá dominance, ale rozhodně to neznamená, že by se nedalo uspět s jinými decky.
Hlavním příběhem turnaje byla speciální verze Jeskai Controlu, se kterou se na turnaji představil Andrew Sullivan. Ten je známý svým inovativním přístupem k deckbuildingu, který byl i zde patrný hned na první pohled. Jeho hlavní myšlenka byla, že Niv-Mizzet, Parun je nejlepší bytost na formátu a ve správně postaveném decku je takřka neporazitelný. Andrew se tedy nebál hrát celý playset, který dále podpořil kartami jako Treasure Map, Dive Down a Expansion // Explosion. Nezvyklé bylo i dání přednosti Enigma Drakovi před Crackling Drakem. U Enigma Draka je plus, že ho proti aggru dáte už ve třetím kole a v kontrolních matchupech si k němu můžete snadno nechat volnou manu na Dive Down.
Všechny tyhle inovace se Adrianovi velmi osvědčily, když v posledním kole základní části vyhrál feature match o top8 - což byl mirror Jeskaiů, kde rozhodla právě kombinace Niv Mizzeta a Treasure Map.
V top8 už byl poté nezastavitelný, když porazil dva GB Midrange a jeden Jeskai.
Do top8 se kromě Jeskaiů a Golgari dostal i UR Phoenix Owena Turtenwalda (do poslední karty zkopíroval úspěšný decklist z PT) a White Weenie. Oba decky ale skončily už ve čtvrtfinále.
Turnaje se účastnil i jeden český hráč, kterým byl Petr Sochůrek. Celou dobu se držel na předních příčkách a v posledním kole měl dokonce možnost postoupit do finálové top8, ale v mirroru GB nakonec nestačil na Jacksona Hickse a obsadil celkové jedenácté místo, což je stejně skvělý výsledek!
Na dalších místech se v podstatě pořád opakovalo těch stejných pět/šest decků, jedinou výjimkou byl Grixis Midrange Justina Andruse, se kterým skončil na osmnáctém místě. Docela mě překvapilo, že Justin vsázel spíše na karetní výhodu z planeswalkerů, než na karty jako Nicol Bolas a Niv-Mizzet.
Celkově to v top32 vypadalo takhle:
12× Jeskai Control
8× GB Midrange
4× UR Phoenix
3× Boros/White Weenie
2× Monored Aggro
2× GW Tokens
1× Grixis Midrange
3. SCG Open Las Vegas (Team Constructed)
Ačkoli je Las Vegas ideální místo pro pořádání velkých turnajů, tak tohle Open bylo trochu skromnější, když se maineventu účastnilo pouze 191 týmů (573 hráčů).
To mimo jiné znamenalo, že byl trochu snažší postupový klíč do druhého dne, když v devíti kolech stačilo získat alespoň osmnáct bodů, což se povedlo devětatřiceti týmům.
Ve druhém dni se nejvíce dařilo trojici Markus Thibeau, Jonathan Zhang a Cyrus Corman-Gill, která vsadila na kombinaci Boros Weenie, Dredge a Storm.
Standard
Standardová část turnaje viděla celkem velkou dominanci GB Midrange a UR Phoenixů, kteří dohromady zabrali deset míst v top16.
Finále ale bylo z trochu jiného soudku, když jsme v něm mohli vidět již zmiňované Boros Weenie a zajímavé GW Tokeny s maindeck Ajanim a hlavně s dost atypickým sideboardem, který obsahoval hodně midrange kusů, jako třeba Knight of Autumn, Nullhide Ferox, či Vivien.
V top16 byly ještě tři Jeskai Controly a Boros Angels.
Modern
Tady nám v posledních měsících začínají trochu dominovat Bant Spiriti, jenž tu zabraly čtyři místa v top16. Dobře si vedl i Green Tron se třemi zástupci v top16 (jeden hrál bílou splash kvůli několika sidovkám).
Nejzajímavější bylo ale sledovat decky s Arclight Phoenixem, které se neustále vyvíjejí. Na pátém místě byl tým s Rossem Meriamem, který hrál UR verzi s Crackling Drakem, což je skvělý způsob, jak obejít graveyard hatu, a také je celkem odolný vůči damage-based removalu. Ross dal také přednost karetní výhodě z Chart a Course před univerzálnějším Izzet Charmem a celkem zajímavý byl i one-of Ral, Izzet Viceroy v sidu, stejně jako nenápadná černá splash pro dvě Collective Brutality.
Zcela odlišný přístup při stavbě Phoenix decku zvolil Christian Keeth, který namísto Crackling Drakeů a modrých cantripů vsadil na discard, Lingering Souls a Bedlam Revelery, deck je tak lepší do lategamu, ale méně explozivní a zároveň celkem dost náchylný vůči graveyrd hatu. Zajímavé tu jsou maindeck Surgical Extrakce, což je zřejmě v reakci na to, že Christian očekával, že nebude zdaleka jediný, kdo vsází na Arclight Phoenixe.
Třetí verze Phoenixe byla v podstatě mixem obou předchozích - hrála Phoenixe, Thing in the Ice a Bedlam Revelery. Nejvíce mne u ní zaujal Firemind's Research v sidu, což je hodně zajímavá alternativní winkondice, která třeba narozdíl od Pyromancer's Ascension kompletně ignoruje graveyard hate.
Zbylé decky v top16 byly víceméně samé klasiky - Dredge, Hardened Affinita, UW Control, RG Scapeshift, Humani a Amulet Titan.
Legacy
Nejvíce rozmanitou top16 měla legacy, kde bylo jedenáct různých decků, z nichž žádný neměl více, než dva hráče.
Byly to dva Stormy, RG Lands, dvoje BG Depthsy, dva Grixis Controly, dva Grixis Delveři (u těch se už de facto zformovala stock verze s více kusy True-Name Nemesis, Bitterblossomy a menším počtem Young Pyromancerů), dvoji Elfové (ve kterých se zabydlel Archon of Valor's Reach coby skvělá zbraň proti kombům), velmi zajímaví Monoblue Wizardi (s kusy jako Patron Wizard, Spellstutter Sprite a Grand Architectem coby univerzálním lordem), Sneak and Show, UB Death's Shadow, zvláštní UW hybrid Delvera a Stonebladu a ještě jeden hybrid - klasických Colorless Eldrazi a Post Rampy.
4. SCG Classic Las Vegas (Standard, Modern, Legacy)
Velmi skomnou účast měly všechny nedělní klasiky - žádná z nich nepřesáhla hranici sta hráčů.
Standard hrálo dokonce jenom čtyřiašedesát a dvěma dokonce stačilo na top8 skóre 4:2.
Do top8 se tu dostaly tři GB Midrange, dva Jeskai Controly, dva UR Phoenixové a také GW Tokeni, se kterými zvítězil Nicholas Prince. V jeho verzi byla zajímavá techovka v podobě Song of Freyalise, což je fajn synergie třeba se Shalai, či Flower // Flourish.
Na dalších místech byl ještě zajímavý Grixis Midrange se dvanácti kusy discardu v mainu a také s Dream Eatery na pozici finishera (zajímavé, že dostal přednost před Doom Whispererem, ačkoli jsou v decku Disinformation Campagne).
Modernu se účastnilo 88 hráčů a na předních příčkách tu nebylo k vidění nic extra speciálního. Zvítězil Benjamin Tarnowski s Humany, když ve finále porazil GB Rock.
V top8 byli ještě další Humani, dva Boros Burny, Dredge, Bant Spiriti a Ironworks Combo.
Nejméně obvyklé decky v top16 byli dvoji Eldrazi na patnáctém a šestnáctém místě. První byli RG, což je deck, který sice letos vyhrál jedno GP, ale podobně rychle, jak se objevil, tak se také zcela z formátu zmizel...
Druhá varianta Eldrazi byla bezbarvá, ovšem nešlo o klasický Eldrazi Tron, nýbrž o verzi s kartami jako Eternal Scourge, Eldrazi Mimic a Smuggler's Copter.
Legacy s jednasedmdesáti hráči jenom těsně překonala hranici pro sedm kol základní části. Alespoň to ale znamenalo, že nebude tak lehké se dostat do top8 (nikdo s X:2 se nedostal).
Podobně jako u main eventu byly i zde na předních příčkách velmi zajímavé decky.
Zvítězil sice Charles Oliver se stock verzí Sneak and Show, ale hned na druhém místě byl hodně divoký a trochu rozpolcený Nic Fic. Na jednu starnu tu byly enchantmenty jako Pernicious Deed a Sylvan Library, což mi přijde do tohoto archetypu ideální. Osobně mám rád verze Nic Fitu, které mají co nejnižší křivku a hrají co nejméně předražených karet, které vám pak většinu času akorát překážejí na ruce... Proto se mi úplně nezamlouvá playset Arena Rectorů a one-of planeswalkeři jako Kaya, Ugin a Karn. Osobně bych dal přednost nižší křivce a hrál více Lilian...
Na dalších místech byl opět mix Colorless Eldrazi a Eldrazi Rampy, Grixis Delver, zvláštní UWr Midrange, který pilotoval Joe Lossett (v podstatě to byly Miracly bez Terminusů a s větším počtem bytostí a s levnou interakcí v podobě Spell Pierců a Spell Snarů), RG Lands s chuťovkou v sidu v podobě Experimental Frenzy, Eldrazi Rampa a Elfové.
Neméně zajímavé to bylo i mezi devátým a šestnáctém místě. Byly tam například dva zajímavé Delver decky - RUG s Noble Hierarchy a Hooting Mandrills, a UR s Risk Factory, Death and Taxes s několika zvláštními kartami (Hallowed Spiritkeeper a Chalice of the Void v sidu), Punishing Jund s hodně nízkou křivkou (například před Sylvan Library tu dostal přednost Mirri's Guile) a také Esper Stoneblade s Mentory a Night's Whisper.
5. Online PTQ (Standard)
Navzdory tomu, že spousta hráčů preferuje Arénu na úkor MTGO, tak dvojková PTQ stále atakují hranici 400 hráčů.
Metagame zde byla v podstatě totožná, jako na GP, snad s výjimkou toho, že tu bylo trochu více UR Phoenixů.
Celkem se turnaje zúčastnilo 367 hráčů, z nichž v devíti kolech základní části získalo devětadvacet 21 bodů a více.
Ačkoli metagame byla velmi podobná té z GP Milwaukee, tak v top8 to tady dopadlo zcela rozdílně. Nejlépe se v ní dařilo agresivním deckům (UR Phoenixové vyřadili GB a Jeskai, ale poté si vylámaly zuby právě na rychlých aggrech), když se ve finále střetlo Boros Weenie s Monoredem. Lépe si nakonec vedl "auzzie51" s Boros Weenie.
V top8 mne ale nejvíce zaujala originální verze GB Midrange s playsety Druid of the Cowl, Carnage Tyrantů a Find // Finality. Extra sloty vznikly v decku tím, že Wildgrowth Walkeři byli odsunuti do sidu.
Na dalších místech už bych zmínil snad jenom Grixis Midrange ve velmi přímočaré verzi, která hrála většinu karet v playsetech a také hrála Dive Down v kombinaci s Nicola Bolasem a Doom Whispererem.
Mezi decky se skóre 7:2 a lépe to celkově vypadalo následovně:
8× UR Phoenix
6× GB Midrange
5× Jeskai Control
3× GW Tokens
2× Boros Weenie
2× Monored Aggro
2× Grixis Midrange
1× Boros Angels
6. MTGO Weekly Challenges (Modern, Legacy, Vintage, Duel Commander & Pauper)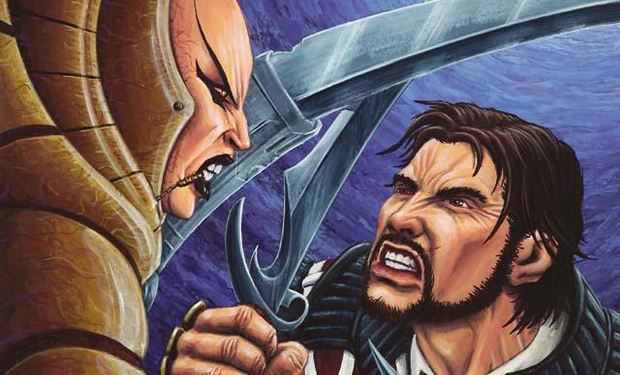 Přehled pravidelných online challegní zahájíme jako vždy na modernu, kde se trochu překvapivě nejlépe dařilo GB Rocku, se kterým celý turnaj ovládl "pokerswizard" a kromě toho měl ještě jednoho dalšího hráče v top8 a v top16. Všechno to byly verze s nižší křivkou, které hrály playset Dark Confidantů. Myslím si ale, že tyhle výsledky trochu zkreslují, jelikož na onlinu se nedají hrát Ironworky, což je pro BGx Midrange dost hrozný matchup. V reálu se tudíž BG midrangům tolik nedaří...
V top8 jsme také měli GB Elfy, RG Scapeshift, UW Spirity (oproti Bantu je hlavní výhoda v tom, že jsou v mainu Thalie), UW Control s maindeck Rest in Peace (a taky se dvěma kusy Chart a Course), Humany a Grixis Death's Shadow.
Na dalších místech mě nejvíce zaujala agresivní varianta UR Phoenixe, která hrála Chart a Course, Bedlam Revelery a velké množství burnu.
Oproti předchozím týdnům měla legacy velmi nečekané výsledky - žádné Miracly, Dredge, ani Grixis Control v top8 a Show and Tell coby nejúspěšnější karta turnaje (celkem čtyřikrát v top16).
S velmi konzistentní verzí Sneak and Show zvítězil "JPA93" - v decku neměl žádné one-ofy a čtyřikrát hrál Preordain a dokonce i Spell Pierce.
V top8 ho doplnily BG Depthsy, (téměř) Monoblue OmniTell (s Thing in the Ice v sidu), clashedův 4C speciál s Dacky a Punishing Firy, Storm, Maverick, RG Lands (opět se specialitami v sidu - tentokrát to byl Courser of Kruphix a Oracle of Mul Daya) a Elfové.
Až na devátém místě byly nejlepší UWr Miracly, a na jedenáctém místě byl nejzajímavější deck v top16 - RUG Delver s Bomat Couriery, Hooting Mandrily a True-Name Nemesis.
Vintage tentokráte nepřinesla žádné překvapivé výsledky ani bláznivá brew, ale alespoň jsme tu měli rozmanitou top8 se šesti různými decky.
Zvítězil tu Randy Buehler alias MossdogTrainee s UR Pyromancerem (s malou zelenou splashí na Nature's Claimy v sidu), kde mne zaujal Dack Fayden v playsetu, což mu rozhodně přišlo vhod ve finále, kde hrál proti Ravager Shopům.
Třetí místo patřilo Survivalu, kde bylo více modré v podobě karet jako Mental Misstep, Force of Will, Leovold a taky Trygon Predator.
Zbylá místa v top8 patřila dměva Paradoxical Outcomům, BUG Controlu, Dredgi a klasickému Survivalu s Thaliemi a Ancient Grudgi.
Opravdu fádní byl tentokráte duel commander - do top16 se dotalo pouze pět klasických tier decků:
4× Leovold
4× Najeela
4× Kess
2× Teferi
2× Breya
Z vítězství se radoval "Team5c", když ve finále zvítězil v mirroru komboverzí Teferi...
Ani v pauperu jsme se ničeho převratného nedočkali. Z prvenství se mohl těšit "pokerswizard" (dvě vyhrané challenge ve dvou dnech) s klasickým UR Delverem.
Za ním se seřadilo Inside Out kombo, dva Borosy, Monoblue Delver, Monogreen Aggro, UB Delver a UB Control.
7. Bonus: Danish Legacy Masters
V rámci dnešního bonusu se budeme věnovat dánskému mistrovství v legacy, kterého se zúčastnilo 67 hráčů a kde bylo na předních příčkách několik velmi neobvyklých decků.
Z výhry se tu radoval Oscar Christensen s velmi pěknou verzí BUG Nic Fitu, kde byla nízká křivka, hodně discardu a jenom ty nejlepší planeswalkeři. Líbí se mi i playset Assassin's Trophy, protože v kombinaci s Veteran Explorery by soupeři měly celkem rychle dojít basicy.
Druhé a třetí místo patřilo Goblinům. A zatímco na druhém místě byla víceméně standardní verze, tak na místě třetím byla originální verze s Food Chainem, což je kombo s novým Squee. Jako mana sinky tu byly kusy typu Kiki-Jiki (většinou stačí zkopírovat Ringleadera a věci se poté celkem rychle vymknou kontrole), Krenko, či Siege-Gang.
Oba decky měly v sidu Chalice of the Void coby dobrý kombo-hate. Díky Chrome Moxům ji navíc mohly zahrát i v prvním kole (verze s Food Chainem hrála i Ancient Tomby). Zároveň to také vypadá, že pevnou součástí decku se stali Goblin Cratermaker (asi už jste viděli nějaké ty highlighty, kde někdo zahraje Show and Tell a Cratermaker poté exilne Emrakul) i Goblin Trashmaster.
V top8 tu dále byly i další méně obvyklé decky jako Infect, BUG Control a BUG Food Chain (kde byl třeba playset Birds of Paradise). Vlastně tu v top8 byly pouze dva tier decky - Storm a Sneak and Show. Když vidím, jak je teď legacy rozmanitá, tak mě docela mrzí, že se u nás hraje tak málo...