Rubriky
Flash News #41/2017
1. PT Ixalan (Draft + Standard)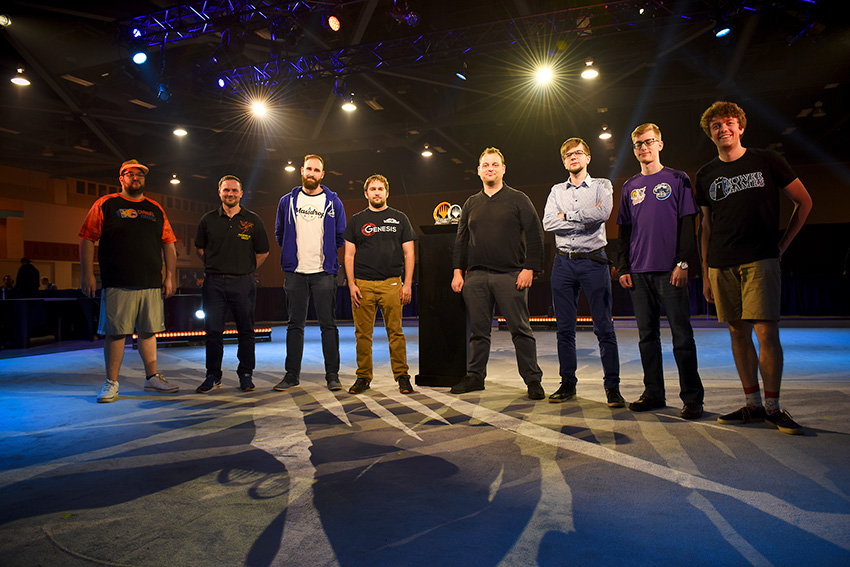 V americkém Albuquerque se počátkem listopadu konal PT Ixalan. Na tomto PT byl neobvyklý velký odstup mezi releasem Ixalanu a samotným PT, což bylo samozřejmě způsobeno konáním MS jednotlivců. V praxi to znamenalo především to, že měli hráči opravdu hodně času na testování a zejména standard se zdál jako vyřešená záležitost, kde je jednoznačně nejlepším deckem RUG/4C Energy.
Turnaje se zúčastnilo 453 hráčů, mezi kterými byla malá česká výprava, která po hodně dlouhé době čítala pouze pět jmen, která jsou za poslední rok a půl stálicemi na PT scéně. Byli to Martin Jůza, Lukáš Blohon, Petr Sochůrek, Ondřej Stráský a Martin Hyrcej.
První den nepřinesl žádné velká překvapení - dle očekávání byly dva nejhranější archetypy RUG/4C Energy a Ramunap Red, jejichž dominance byla naprosto zdrcující - hned 285 hráčů (63% herního pole) hrálo jeden z těchto decků!
Zde je přehled decků, které hrálo alespoň deset hráčů:
RUG Energy - 107 hráčů (23,6%)
Ramunap Red - 89 hráčů (19,6%)
4C Energy - 89 hráčů (19,6%)
BUG Energy - 23 hráčů (5,1%)
Mardu Vehicles - 20 hráčů (4,4%)
BR Aggro - 20 hráčů (4,4%)
UB Control - 16 hráčů (3,5%)
Esper Gift - 12 hráčů (2,6%)
Monoblack Aggro - 10 hráčů (2,2%)
UW Approach - 10 hráčů (2,2%)
Po prvním dni jsme měli dvojici neporažených hráčů Piotr Glogowski (jenž je spíše známý jako MTGO grinder s přezdívkou Kanister) s vlastní verzí 4C Energy, kde hrál maindeck Skysovereigny, a Wing Chun Yam, který zůstal věrný Ramunap Redu (a tentokráte nepřecházel do kombatu s Hazoret na stole a dvěma kartami v ruce).
Z našich hráčů měli turnaj velmi dobře rozehraný Ondřej Stráský a Martin Jůza, kteří měli skóre 6:2. Zbylá trojice prošla do druhého dne se skóre 4:4.
Ve druhém dni se nám metagame příliš nezměnila, ze tří předních decků měl nejlepší conversion rate do druhého dne Ramunap Red, se kterým postoupilo 70% jeho pilotů.
Na opačném konci se náchazelo Monoblack Aggro (50%), Mardu Vehicly (45%) a UB Control (44%).
Jako dobrá strategie na Energy decky se ukázaly superagresivní creature decky, z nichž jsme na předních stolech během coverage z druhého dne mohli vidět zajímavé Monowhite Vampýry s Oketra's Monumentem a GW (Cat) Aggro s Appeal//Authority. Oba decky měly 100% konverzi do druhého dne, což je ale trochu zavádějící, vzhledem k tomu, jak málo hráčů je hrálo (pět vampýry a dva GW).
Suma sumárum to ve druhém dni vypadalo takhle:
RUG Energy - 66 hráčů (23,0%)
Ramunap Red - 63 hráčů (22,0%)
4C Energy - 57 hráčů (19,9%)
BUG Energy - 17 hráčů (5,9%)
BR Aggro - 13 hráčů (4,5%)
Esper Gift - 9 hráčů (3,1%)
Mardu Vehicles - 9 hráčů (3,1%)
UW Approach - 8 hráčů (2,8%)
UB Control - 7 hráčů (2,4%)
Navzdory tomu, jak dominantní byly dva nejpopulárnjější archetypy, tak souboje v posledních kolech vyzněly dobře pro hráče pilotující méně populární archetypy. V top8 jsme nakonec měli sedm různých decků, což je docela zajímavé, jelikož jinak šlo o jednu z nejméně rozmanitých metagame za posledních několik PT.
Do top8 postoupili:
Mike Sigrist (Dark Temur)
Christian Hauck (RUG Energy)
Pascal Maynard (UW Gift)
Seth Manfield (BUG Energy)
Guillaume Matignon (UWR Approach)
Piotr Glogowski (Dark Temur)
John Rolf (Ramunap Red)
Samuel Ihlenfeld (Mardu Vehicles)
Za pozornost stojí, že Pascal Maynard byl jediný hráč, který s UW Giftem postoupil do druhého dne, a že Guillaume Matignon se do top8 dostal hlavně díky 6:0 na limited. Zároveň šlo o jeho první PT po takřka třech letech a o první velký výsledek od jeho zisku titulu mistra světa v roce 2010.
V top8 se nejlépe vedlo Pascalu Maynardovi a Sethu Manfieldovi, kteří ve finále sehráli pět dramatických partií. Z titulu se nakonec radoval Seth Manfield. Jak moc pro něj tahle výhra znamenala dobře dokumentuje okamžik, kdy v rozhodující hře hraje lethal Blossoming Defense.
Našim hráčům se bohužel příliš nedařilo. Dobrý druhý den měl Martin Hrycej, ale v kombinaci se 4:4 z prvního dne mu to nestačilo na lepší, než na 101. místo, přičemž prize money bylo pro prvních čtyřiašedesát hráčů.
Zbylí čeští hráči skončili ještě hlouběji ve stratovním poli...
I v letošní sezóně pokračuje týmová soutež, do které se v první PT sezóny přihlásilo sedmatřicet týmů.
Tahle soutěž se zatím vyvíjí velmi dobře pro naše hráče. První je totiž Team Genesis, jehož součástí je stejně jako v loňské sezóně Lukáš Blohon. A na druhém místě je ChannelFireball, jehož členem je Martin Jůza. Na třetím místě je tým Ultra PRO, jehož členem je pro změnu Ivan Floch. Všechny tři týmy v celkovém pořadí prozatím dělí pouze dva body.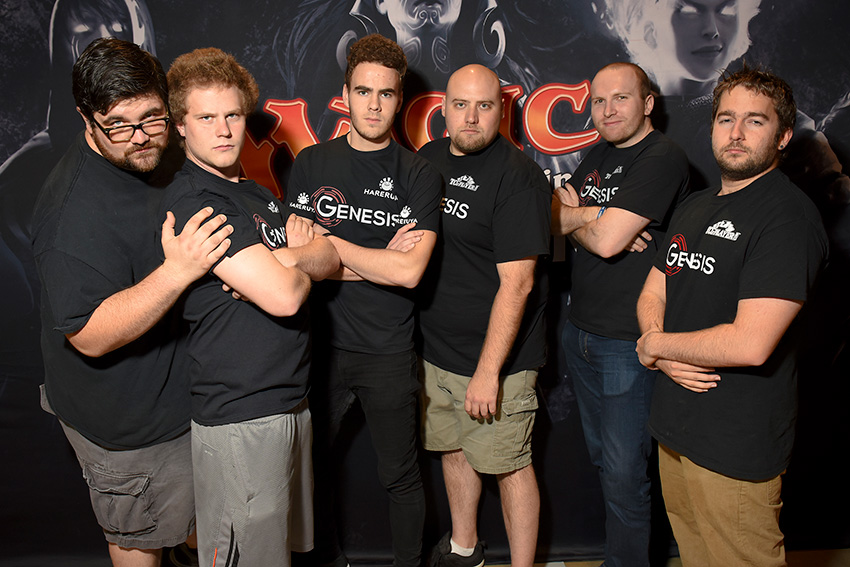 Pomalu se dostáváme k tomu nejzajímavějšímu z hlediska Flash News, což jsou ty nejúspěšnější decky. Sto devatenáct hráčů dosáhlo v constructed části na skóre 6:4 a lépe. A tyhle archetypy mezi nimi byly nejúspěšnější:
29× 4C Energy
26× RUG Energy
22× Ramunap Red
10× BUG Energy
7× UBx Control
5× UWx Approach
4× God-Pharaoh's Gift
3× BWx Tokens
3× Mardu Vehicles
3× BR Aggro
2× Monowhite Vampires
2× UGx Pummeler
Esper Cycling
Monoblack Aggro
GW Aggro
Podrobněji to vypadalo takhle:
26× RUG Energy
22× Ramunap Red
22× Dark Temur
10× BUG Energy
6× Sultai Red
6× UB Control
4× UW Approach
3× Mardu Vehicles
3× BR Aggro
2× Monowhite Vampires
2× UB Gift
2× Abzan Tokens
Esper Cycling
UW Gift
UGb Pummeler
Monoblack Aggro
Grixis Control
GW Aggro
UWR Approach
WB Tokens
RUG Pummeler
Temur White
Esper Gift
Závěrem se podíváme na deset nejhranějších karet z Ixalanu a samozřejmě na nejzajímavější decklisty.
Mezi nejúspěšnějšími decky se našlo třiačtyřicet karet z Ixalanu, což je na velkou sadu docela malé číslo, ale je to dáno hlavně tím, že nejsilnějí mechanika na formátu je jednoznačně energie, která je zároveň velmi specifická a s novými kartami se příliš nedoplňuje.
10. Spell Pierce (0 + 32)
Ideální sidovka proti kontrolům pro agresivněji orientované decky jako RUG/4C Energy.
9. Hostage Taker (35 + 0)
Černá má málo dobrého removalu, ale vynahrazuje jí to Hostage Taker, který se hrál zejména v BUG Energy, ale také v decích s God-Pharaoh's Giftem.
8. Search for Azcanta (40 + 4)
Absence dobrého removalu a karty jako Longtusk Cub, či Rogue Refiner nevytvářejí dobrou metagame pro kontrol, ale pokud se prokoušete přes soupeřův počáteční nápor, tak máte skvělý payoff v podobě Search for Azcanta. Takhle dobrá karetní výhoda a selekce v jednom už tu hodně dlouho nebyla.
7. Drowned Catacomb (46 + 0)
Rérové země si vždy na constructed najdou cestu do většiny decků v daných barvách (ačkoli zrovna v BUG Energy se Catacomba nehrála).
6. Vraska, Relic Seeker (40 + 14)
Parádní "mirror breaker" pro energy decky, díky čemuž ho dokonce někteří hráči hráli v mainu v Dark Temuru. Neztratí se samozřejmě ani v grindy matchupech coby value karta a jako odpověď na Cast Out, či Gift.
5. Vraska's Contempt (30 + 34)
Jedna z mála dobrých odpovědí na Hazoret a díky lifegainu jde o parádní kartu pro kontrol, zejména v kombinaci s Gearhulkem.
4. Deathgorge Scavenger (2 + 63)
Jedna z nejnenápadnějších karet v edici, která je pro svou všestrannost výbornou sidovkou - lifegain uplatníte proti Ramunap Redu, exile bytostí proti Giftu a extra agresivní bytost proti kontrolu.
3. Lightning Strike (96 + 0)
Autoinclude pro všechny agresivní decky s červenou.
2. Rampaging Ferocidon (46 + 56)
Nejdůležitjší karta v matchupu mezi Ramunap Redem a RUG Energy.
1. Rootbound Crag (151 + 0)
Jediná z nových karet, která se hodila do nejhranějšího decku...
Na úspěšné decklisty se můžete podívat ve zvláštním okně, v rámci udržení lepší přehlednosti článku.
2. MKM Series Barcelona (Modern, Legacy, Vintage & Standard)
V Barceloně se konala poslední zastávka letošního ročníku MKM Series. V sobotu byl na programu modern a vintage.
Modernu se zúčastnilo 167 hráčů, mezi kterými byly nejpopulárnější decky Death's Shadow (v různých barevných kombinacích), BGx Midrange, Eldrazi and Taxes a různé verze Tronu. Všechny tyto decky hrálo shodně třináct hráčů. Osobně mě překvapilo ještě sedm hráčů s RG Ponzou, což z ní dělalo osmý nejhranější deck.
V top8 bylo k vidění tak trochu od všeho něco - dva RG Scapeshifty, Eldrazi and Taxes, RG Ponza (midrange verze s playsetem Trackerů), 5C Death's Shadow, Abzan Collected Company s Vizier komby, Infect s několika nestandardními kartami v mainu (dvakrát Viridian Corrupter, Rancor, Apostle's Blessing a playset Goyfů v sidu) a zajímavý Blue Moon, kde byla jako hlavní winkomdice kombo Kiki-Jiki + Deciever Exarch.
Z výhry se nakonec radoval Dennis Zens s Death's Shadow, když ve finále porazil Blue Moon Daniela Ballestina.
Turnaje se účastnil i Tomáš Már, jenž usiloval o umístění v top8 v celoročním bodování, což by mu přineslo bonusy v dalším ročníku. Obsadil tu čtrnácté místo, což mu v tomhle pořadí dost polepšilo.
Vintage je ve Španělsku relativně populární a sedmačtyřicet hráčů v main eventu znamenalo, že šlo o vůbec největší vintage event v letošním ročníku MKM Series. I navzrdory tomu ale vintage od příštího roku nebude patřit mezi main eventy...
Suverénně nejhranějším deckem byly Ballista Shopy, které si zvolilo jedenáct hráčů. Další populární decky byly URx Delver/Pyromancer decky, Dredge a Storm.
Navzdory velké popularitě se do top8 probojoval pouze jeden Workshop deck. Hráči byli po jeho nadvládě na Eternal Weekendu dobře připraveni...
Do top8 se dále dostal UWR Delver, Paradoxical Outcome s Mentorem a Vault/Key kmobem, dvakrát Grixis Thieves, Inferno Oath, Grixis Control s Gifts Ungiven a Burning Wishi a White Eldrazi.
Ve finále se utkali Jaime Cano s Grixis Gifty a Adria Romero Vilardell s UWR Delverem, kterému se podařilo zvítězit ve dvou rychlých hrách.
Neděle patřila zejména legacy, které se zúčastnilo 157 hráčů, mezi kterými byly nejhranější decky 4C Control (19 hráčů), Grixis Delver (16 hráčů), Esper Deatblade (16 hráčů) Death and Taxes (13 hráčů) a Elfové (11 hráčů).
Na turnaji si skvěle vedl Tomáš Már, který se svým signature deckem, 4C Controlem postoupil do top8, kde ho až v top4 zastavil pozdější vítěz, Maximillian Lorenz s Grixis Delverem. Tenhle výsledek znamenal, že Tomáš Már v konečném účtování za rok 2017 obsadil na MKM Series třetí místo.
V top8 byly k vidění dva velmi neobvyklé decky. Prvním byly RIP Miracles, což je deck, který využívá soft lock v podobě Rest in Peace a Energy Fieldu a obvykle vyhrává díky kombu s Rest in Peace a Helm of Obedience. K sestavení komba mimo jiné používá Enlightened Tutor.
Druhý deck byla opravdová chuťovka - Soldier Stompy s playsety karet jako Daru Warchief, Enlistment Officer, či Palace Jailer. Vtip je v tom, že základ decku tvoří prison karty jako Chlice of the Void, Supression Field a Thalia, které deck díky Chrome Moxům a Ancient Tombám umí zahrát v prvním kole. A potom už je skoro jedno, které karty zvolíte k zabití soupeře...
Zbylé decky v top8 byly Sneak and Show (s maindeck Blood Moony), BUG Control, Elfové a RUG Delver.
Z diváckého hlediska byl nejméně zajímavým main eventem standard, kde hned 25 ze 49 hráčů hrálo RUG, či 4C Energy a nakonec i sedm hráčů v top8, kde je doplnil jeden Ramunap Red.
Z vítězství se radoval Sergio Garcia Gonzales s méně populární 4C verzí s BUG základem, která obsahuje pro "mirror" skvělé karty jako Gonti, Hostage Taker a Vraska.
3. Online PTQ (Standard)
Na MTGO pokračovala populární série dvojkových PTQ, která tentokráte zlákala 272 hráčů, což znamenalo druhý největší turnaj týdne hned po PT.
Turnaj měl devět kol základní části, po kterých vykristalizovala top8, ve které byly troje Mardu Vehicly, UW Gift a čtyři Energy decky (2× RUG, Dark Temur a Sultai Red).
Samotná top8 byla krasojízdou Vehiclů, které obsadily celé stupně vítězů. Za nimi skončil UW Gift a až poté všechny čtyři Energy decky.
Nejzajímavější decky byly mezi devátým a šestnáctým místem. Desátý byl UW Midrange s embalm bytostmi a Anointed Procession a šestnáctý byl agresivní RG Pummeler. Kromě toho jsme na těchto příčkách mohli spatřit a dva UW Approache, UW Gift, Ramunap Red, Abzan Tokeny a Sultai Red.
4. MTGO Weekly Challenges (Modern, Legacy, Vintage, Duel Commander, Pauper)
Na modernu se radoval z vítězství "-Fish" s UW Controlem, když v top4 porazil dvakrát za sebou Bg Tron, což je s Ghost Quarterem a Spreading Seasem poměrně jednoduchá záležitost.
Na čtvrtém místě byl nejzajímavější deck z celé top16 - BR Aggro s Holow One, ve kterém už nově není Vengevine.
Dále byli v top8 Eldrazi and Taxes, Gifts Storm, UWR Tempo a Blue Tron, což je specialita hráče s nickem Shoktroopa.
Deváté místo obsadila zajímavá pětibarva založená na kombech s Kiki-Jikim. Obsahovala mimo jiné playsety Nahiri, Bring to Light a Restoration Angelů.
Ve zbytku top16 ještě byl další UW Control, 5C Humani, dvě UWR Tempa, Bg Tron, Lantern Control s Whir of Invention a Bant Company s Vizier kombem.
Kousek za top16 byla k vidění zajímavá verze Throught the Breache, ve které byly Blood Moony a Search for Azcanta (což není zrovna ukázková kombince karet).
V legacy challengi se nejvíce dařilo Grixis Delverovi, který měl čtyři hráče v top16, včetně celkového vítěze, jímž se stal "lampalot".
Zajímavé ale je, že už podruhé za sebou jsme na předních příčkách mohli vidět dvoje Tin Fins, se kterými tentokrát skončil dokonce na druhém místě DNSolver. Opět hrál verzi, ve které bylo Necrotic Ooze kombo.
Kromě toho jsme v top16 mohli spatřit i 4C Control, Death and Taxes s maindeck Rest in Peace, BG Depths, UWr Miracly se Search for Azcanta, Burn, dva Stormy (jeden s Dark Petition a jeden s Burning Wishem), UR Delver s Bedlam Revelerem, 4C Stoneblade a BR Reanimator.
Velmi nečekané decky obsadily první čtyři místa na vintage challengi. Vítězem se stal Eruxus s Blue Dredgí, druhý skončil Matt Sperling s originálními Abzan Hatebeary, na třetím místě byl BUG Control a Gifts Stom s Baraly.
V top8 byl ještě klasický UWR Mentor a hned troje Oathy, jenž byly nejhojněji zastoupným deckem v top16 s pěti hráči a ve čtyřech různých verzích - s Inferno Titanem, Punishing Firy, Auriok Salvagery a Burning Wishi.
Top16 žádné další decky nepřinesla, viděli jsme v ní pouze další BUG Controly, UWR Mentory a Dredge.
Commander měl jako obvykle trochu menší účast, než ostatní challenge, což mimo jiné znamenalo, že pouze třináct hráčů v něm uhrála pozitivní skóre.
Suverénně nejúspěšnější deck bylo čtyřbarevné tempo s Tymnou a Kraumem, které obsadilo pět míst v top8. První místo mu ale vyfoukl jiný čtyřbarevný goodstuff a to s Thrasiosem a Tymnou.
Další decky na předních příčkách byly The Gitrog Monster, dvě Breyi, kombo Sidisi, Narset, Leovold a Zurgo Bellstriker.
Přehled challengí zakončíme jako obvykle pauperem, kde se nejvíce dařilo WR Metalcraftu (ten celý turnaj ovládl) a Monogreen Aggru. Oba decky byly ve dvou v top8, přičemž Monogreen měl ještě další dva zástupce v top16.
Na předních příčkách byly také dva UB Controly, dva 4C Trony, Tireless Tribe Combo, Gu Elfové s Distant Melody, dvě Atog Affinity, UR Delver, a alespoň malou trochu inovace představovali GW Sliveři.
5. SCG Regional Championships (Modern)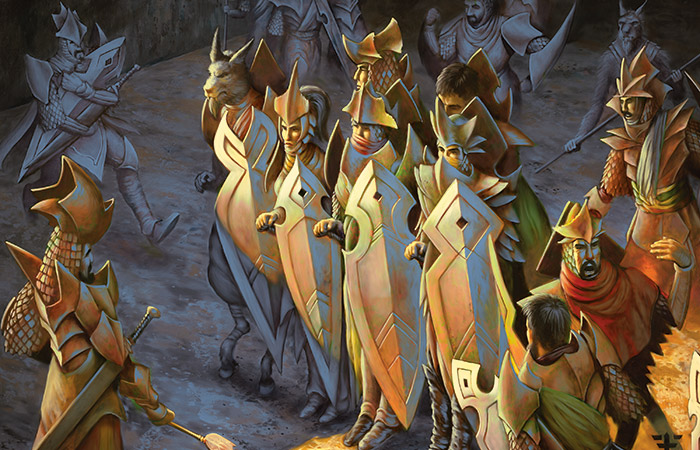 V jedenácti destinacích se konaly modernové regional championships pořadané StarcityGames. Výsledky byly velmi rozmanité, když jednotliví vítězové hráli devět různých decků - 2× Gifts Storm, 2× Abzan Company, Affinita, Grixis Death's Shadow, UWR Tempo, Boros Burn, 5C Humani, Abzan Midrange a 5C Death's Shadow.
Úplně nejúspěšnějším archetypem bylo Collected Company, jehož různé verze ve všech top8 zabraly dohromady třináct míst. Nejzajímavější mi přišla vítězná verze Matthew Tickala, která představuje pěkný mix value a kombo karet. Speciálně se mi zamlouvá hrát kombo karty jako Vizier a Viscera Seer pouze jako one-ofy.
Níže se můžete podívat na úplný přehled všech decků ze všech top8 a také na několik zajímavých decklistů. Za zmínku také stojí, že jedno z vítězství ukořistil Alex Bertoncini s Affinitou, který se vrátil ke hraní na competitive úrovni i po dvou banech, přičemž ten druhý byl téměř na čtyři roky...
8× Affinity
8× UWR Tempo
6× Grixis Death's Shadow
6× Bant Company
5× Gifts Storm
5× Abzan Company
4× Eldrazi Tron
4× Boros Burn
4× 5C Humans
4× UW Control
3× Abzan Midrange
2× UG Merfolk
2× 4C/5C Death's Shadow
2× Vizier Elves
2× Infect
2× Jund Midrange
2× GW Company
2× RG Scapeshift
1× Bant Eldrazi
1× Monowhite Death and Taxes
1× Grixis Control
1× Ad Nauseam
1× Grixis Delver
1× GW Hexproof
1× RG HollowVine
1× Living End
1× Green Tron
1× Skred Red
1× Eldrazi and Taxes
1× 4C Control
1× Gr Tron
1× RG Ponza
1× GW Death and Taxes
1× Gb Tron
1× GB Elves
6. Angelic Commander Valence #5 (Duel Commander)
Ve francouzském Valence se konal jeden z letošních největších turnajů ve french commanderu, kterého se zúčastnilo 82 hráčů.
Z vítězství se tu radoval Léo Carbonell s poněkud netradičním deckem v podobě Monoblue Controlu s Teferim, Temporal Archmage. Deck je poměrně unikátní v tom, že dky Teferimu můžete přejít do agresivního módu s kartami jako Winter Orb a Stasis.
Na druhém místě skončila zajímavá verze Grixis Controlu s Kess, jenž byla hybridem mezi kontrolem a stormem.
V top8 byly dále Death and Taxes s Karlovem, Monogreen Rampa se Selvalou, čistokrevný Monoblue Control s Baralem, dvě 4C Aggra se Saskií a agresivní verze Zurga.
Výsledky přestavují docela pěknou balanci mezi kontroly, midrangem, rampou a aggro decky, takže doufám, že si to "frantíci" nezkazí zase nějakými agresivními bany v příštích měsících...
Decklisty z top8 si můžete prohlédnout zde.
To je z dnešních Flash News vše, mějte se fajn a na viděnou zase u dalšího vydání.
Kumano
Komentáře
Přispívat mohou pouze přihlášení uživatelé. Pokud chcete vložit komentář, přihlaste se ZDE.