Rubriky
Flash News #46/2017
1. GP Madrid (Unified Modern)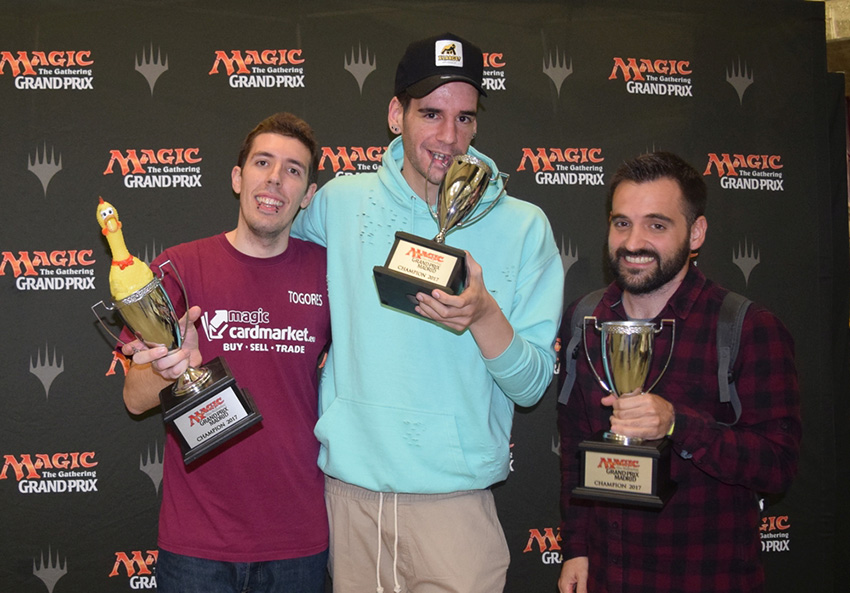 Ve Španělsku se konalo další z populárních týmových GP, jehož formátem byl velmi populární modern, což bylo samozřejmě velmi zajímavé i z diváckého hlediska (mě osobně nikdy nebavilo sledovat limited a v poslední době už ani standard).
Zahrát si přišlo 621 týmů, mezi kterými byli překvapivě i hráči z USA a Jižní Ameriky. Vidět jsme mohli například Reida Duka, Paulo Vitora, či Christiana Calcana.
Z vítězství se ale radovali domácí matadoři Adrian Ramiro Cano, Rodrigo Togores a Cristian Ortiz Ros, kteří ve finále porazili argentinskou trojici vedenou Luisem Salvattem.
Za zmínku stojí zejména rozhodující zápas, kde Adrian Cano s Abzan Company dlouho vzdoroval locku Lantern Controlu Pedra de Diega, ale nakonec se z něj za pomoci Noble Hierarcha a Walking Ballisty dokázal vymanit.
V top4 jsme mohli vidět vesměs samé tier decky, nejméně obvyklí byli zřejmě Vizier Elfové Luis Salvatta.
Zajímavý byl hlavně tým na pátém místě, který hrál Abzan Company s několika neobvyklými kartami, jako například one-of Eldritch Evolution a Postmortem Lunge, nebo Mark of Asylum v sidu. Ještě více neortodoxní bylo BW s velkým počtem discardu, playsetem Smuggler's Coptem a resilientními bytostmi jako Gravecrawler a Bloodghast.
Celkem vypadaly decky prvních šesti týmů takhle:
Abzan Company + RG Scapeshift + Gifts Storm
Lantern Control + Titan Breach + Vizier Elves
UW Control + Grixis DS + Abzan Company
Abzan Midrange + Green Tron + UWR Control
Abzan Company + Affinity + BW Aggro
UW Control + Abzan Company + Green Tron
Turnaje se samozřejmě účastnili i čeští hráči a hned několik jich skončilo v první stovce. Do peněz se jako jediný dostal Ondřej Stráský, jenž spolu s Thomasem Hendriksem a Ivanem Flochem obsadil třinácté místo. Perlička je, že v prvním dni patřili mezi neporažené týmy, ale ne s výsledkem 9:0, nýbrž 6:0:3. O všechny remízy se postaral Ivan Floch s Lantern Controlem...
Dále byl devětadvacátý Martin Hrycej s anglickými spoluhráči, dvaašedesátý Lukáš Blohon spolu s Reidem Dukem a Joelem Larssonem a šestasedmdesátí Martin Jůza a Petr Sochůrek, jenž k sobě přibrali Grzegorze Kowalskiho.
2. GP Oklahoma City (Modern)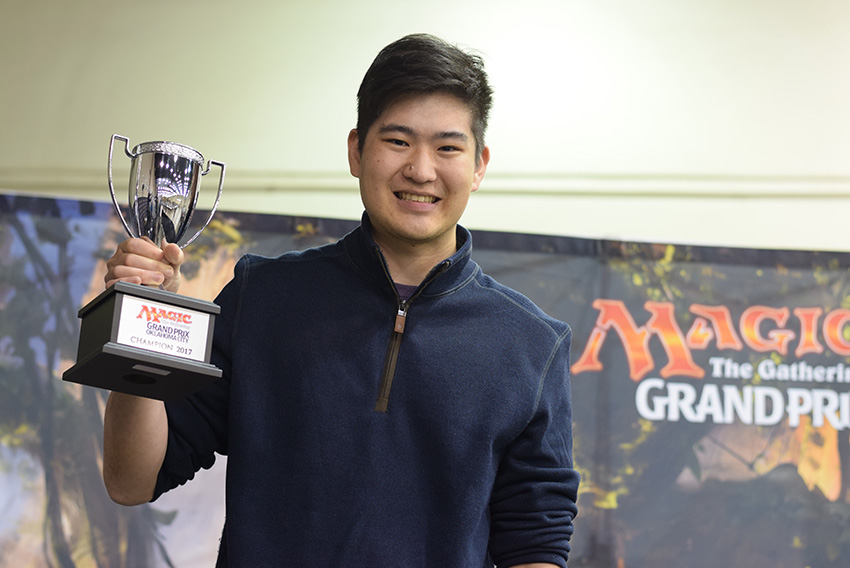 Tohle GP bylo pro mnoho hráčů ideální příletost, jak potrénovat na PT Rivals of Ixalan (jelikož standard stojí za zlámanou grešli, tak se wotc chytře rozhodli vrátit modern na PT), proto byla účast 1 415 hráčů spíše zklamáním.
Jednoznačně nejúspěšnější decky GP byly tzv. "big mana" decky, tj. klasický Tron se zelenou a také RG Scapeshift. Do top8 se totiž dostaly dva Scapeshifty a rovnou tři Trony, z nichž jeden byl s černou splashí (pilotovaný Sethem Manfieldem) a dva byly čistě zelené, což je v posledních týdnech nejpopulárnější varianta.
V top8 je dále doplnil Dredge, Jeskai varianta Through the Breach/Emrakul komba a Living Dead. Z toho tak trochu vyplývá, že interaktivní fair decky nejsou na formátu v příliš dobré pozici...
Mírným zklamáním bylo finále, které bylo dost nezáživné, protože šlo o mirror Scapeshiftů, ve kterém Larry Li porazil Adama Pannoneho. Oba hráli stejnou RG verzi bez Hour of Promise a s Prismatic Omen, které umožňuje rychlejší "goldfishing".
Finálová top8 se také plno hráčům a divákům zapsala do paměti díky kuriózní situaci ve čtvtfinálovém souboji mezi Living Endem Raymonda Detiaveauxe a Scapeshiftem Adama Pannone.
Raymond dal ve třetí hře rychlý Living End, který přinutil Adama zahrát na sedmi manách Scapeshift, což mimo jiné znamenalo, že Raymond mohl během resolvování triggerů Scapeshiftu použít Beast Within na libovolný ze šestice mountainů a místo osmnácti damage by dostal jenom tři (Valakut při resolvu kontroluje, jestli stále máte ke každému mountainu pět dalších a podmínku by splnil pouze mountain zničený Beast Withinem). Raymond ale o téhle interakci nevěděl a soupeři pouze ukázal Beast Within a podal mu ruku. Tím ale zmátl všechny diváky sledující GP na Twitchi, jelikož si většina přirozeně myslela, že vzdal Adam poté, co uviděl Beast Within...
Pokud máte rádi klasické midrange a controly, tak mám pro vás alespoň dobré zprávy v tom smyslu, že v top32 bylo několik Jeskaiů, UW Controlů a také Grixis Speciál se Search for Azcanta, který nehrál nikdo jiný, než Corey Burkhart.
Z dalších zajímavostí bych zmínil zejména BW Smallpox se Smuggler's Copter, který skončil v top16, 5C Humany s Harsh Mentory, Infect s Jacem (Vryn's Prodigy), či agresivní verzi Jeskai Flashe s Mantis Ridery.
Celkem vypadala top32 následovně:
3× Green Tron
3× Gb Tron
3× Jeskai Tempo
2× RG Scapeshift
2× Lantern Control
2× Eldrazi Tron
2× Gifts Storm
2× UW Control
2× Grixis Death's Shadow
1× Dredge
1× Jeskai Breach
1× Living End
1× Vizier Elves
1× Grixis Control
1× BW Smallpox
1× Jeskai Control
1× 5C Humans
1× Affinity
1× Infect
1× Boros Burn
3. Online Standard & Modern PTQ
Navzdory tomu, že hrát standard v poslední době není příliš velká zábava, tak online PTQ opět přilákalo téměř tři stovky hráčů (274), což opět znamenalo devítikolový turnaj.
Nikoho asi nepřekvapí, že turnaj zcela ovládly energy decky, kterých bylo sedm v top8 a patnáct mezi hráči se skóre 7:2 a lépe, jichž bylo dohromady třiadvacet. Jsem opravdu zvědavý, jestli příští týden na banlistu ocitnou nějaké energy karty. Formátu by to rozhodně prospělo.
Ve finále porazil kiriansev s BUG Energy čtyřbarevnou verzi pilotovanou Matsukasou10, kterému nepomohl ani velký počet karet specificky zaměřených na mirror - Glint-Sleeve Siphoner, Vraska, nebo dokonce Nicol Bolas.
Jediný opravdu originální deck na předních příčkách bylo RG Aggro s playety Rhonase a Hazoret, se kterým uhrál 7:2 "Faellan".
Mnohem zajímavější bylo modernové PTQ, které hravě překonalo hranici tříset hráčů (308), a to navzdory dvoum souběžně konaných GP!
Na turnaji exceloval "Rooney56" s UR Breach Moonem (verze s Madcap Experimentem v sidu), který zvítězil s perfektním skóre 12:0. Ve finále dokázal porazit Grixis Death's Shadow navzdory tomu, že šlo o verzi s celým playsetem Stubborn Denialů!
Dohromady mělo na turnaji šestadvacet hráčů skóre 7:2 a lépe, mezi kterými bylo patnáct různých decků, z nichž mělo největší zastoupení Grixis Death's Shadow, Green Tron a 5C Humani:
4× Grixis Death's Shadow
3× Green Tron
3× 5C Humans
2× UR Breach Moon
2× Boros Burn
2× Gifts Storm
2× Eldrazi Tron
1× Jeskai Flash
1× Ad Nauseam
1× Madcap Ponza
1× Gb Tron
1× Blue Living End
1× Abzan Company
1× Affinity
1× UW Control
Novinkou byl Monoblue Living End s As Foretoldem, se kterým se "SIRMAXIME" dostal do top16. Osobně si myslím, že As Foretold je velmi silná karta, která se postupem času na modernu bude prosazovat víc a víc.
Další zajímavosti byly k vidění přímo v top8, kde byla zajímavá flash verze Jeskaie, která si zakládala na interakci mezi Rattlechains a Geistem of Saint Traft a také 5C Humani s playsetem Phantasmal Imagí a zejména netradičně i s playsetem Chalice of the Void s sidu.
Mimo top8 mě nejvíce zaujala varianta RG Ponzy s maindeck Madcap Experimentem a Abzan Company s playsetem Tidehollow Scullerů a s Mindbendery v sidu.
4. MTGO Weekly Challenges (Modern, Legacy, Vintage, Duel Commander, Pauper)
V modern challengi se stala málo vídaná věc, když bylo v top16 šestnáct různých decků. Vítězem se stal Thiago Saporito alias bolov0, když s Gifts Stormem ve finále porazil klasický Jund Midrange.
Na dalších místech byl Blue Tron (shoktroopa speciál se dvaadvaceti one-ofy v maindecku), Ad Nauseam, BR Aggro s Hollow One (verze bez Death's Shadow), Mardu Pyromancer (doposud jsem nepochopil, proč všichni hrají v mainu dva Swiftspeary, ale jako hlavní důvod bych tipoval copypaste), 5C Humani, Green Tron, RG Scapeshift, UW Control, Abzan Company, Goblini s maindeck Blood Moony, Colorless Eldrazi, Grishoalbrand, RG Breach a pro změnu UR Breach s Blood Moony.
Při pohledu na výlsedky legacy challenge jsem si nebyl příliš jistý, jestli se nedívám na rok staré decklisty, jelikož ve finále jsme měli mirror Mentor Miraclů, kterým evidentně prospělo vydání Search for Azcanta. Hlavní rozdíl mezi oběma decky byly hlavně v tom, že ve vítězném byly v mainu Counterbalance.
V top8 byl dále Aggro Loam, Storm, Czech Pile (to byl se třemi hráči nejvíce zastoupený deck v top16), UW Stoneblade a dva zajímavé Reanimátory - první byl Monoblack s Dark Depths kombem a možností díky Lake of the Dead a Dark Ritualu pravidelně hardcastit Grave Titany. Druhý byl variací Tin Fins s Necrotic Ooze kombem a s Mentory v sidu.
Ve zbytku top16 mne nejvíce zaujal Jund s Grim Flayery a UWR Control s větším množství planeswalkerů a Humilitou, jehož pilot se bezpochyby inspiroval vítězným decklistem z Nebraka's War.
Poměrně neobvyklé finále jsme mohli vidět i u vintage challenge, kde RUG Control porazil Blue Dredge. Ve vítězném decku jsme mohli vidět několik zajímavých karet, jako například Chandra, Torch of Defiance, Fiery Confluence, nebo Search for Azcanta.
Zbytek top8 (a potažmo i top16) už ale patřil pouze dvěma deckům, Ravager Shopům a Inferno Oathům. Shopy měly v top16 dokonce sedm zástupců, což je velké zlepšení oproti předchozím týdnům.
Z dalších decků jsme v top16 mohli vidět UWR Mentora (verzi zaměřenou proti Oathům s maindeck Containment Priesty), Blue Tezzerator s Paradoxical Outcomem a UW Landstill.
V duel commanderu byl nejhranějším deckem Edgar Markov s pěti hráči v top16, z nichž ale byla většina až na jejím chvostu.
Nejúspěšnější byly modré kontroly, které se pro sebe zabraly prvních šest míst. Zvítězil WinRyder s Narset, za kterým byli dva hráči s již několikrát zmiňovaným zvláštním RUG Midrangem s dvojicí partnerů Thrasion a Kraum. Čtvrá příčka patřila kontrolní verzi Tymny s Kraumem, pátý byl Grixis Control s Kess (zatím nejlepší výsledek Kess na MTGO) a šestý 4C Goodstuff s Thrasiosem a Tymnou. A poslední místo v top8 obsadil velmi nezvyklý Monoblack Control, který měl jako generála Skithiryxe.
V top16 jsme kromě několika vampýrů mohli vidět Stax s Leovoldem, GB Rock s Gitrog Monstrem, Monolbue Control s Jacem a také Monogreen Toolbox s Yisanem, což je snad poprvé za celou dobu existence duel commanderu na MTGO, co někdo s tímhle deckem uhrál takhle dobrý výsledek.