Recenze
Představení Eldraine Brawl decků
Spolu s Throne of Eldraine vyjdou na podzim i nové decky zaměřené na formát Brawl. Každý z těch balíků bude obsahovat karty speciálně navržené pro tento formát, které nebudou součástí hlavního setu (přítomné v boosterech Throne of Eldraine). Brawl se také stal součástí Magic: The Gathering Areny, kde jsou tyto balíky už dostupné ke hraní.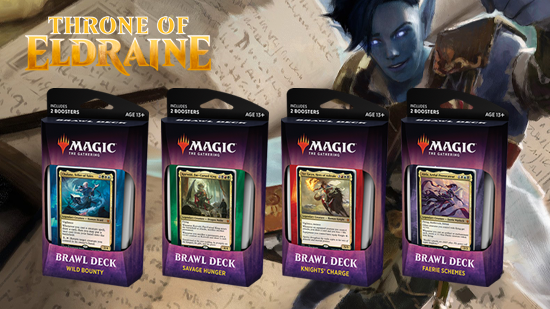 Představení Eldraine Brawl decků
Brawl je poměrně nový casual formát, který si zatím nezískal popularitu u hráčů a to z několika důvodů:
1. formát dovoluje hrát jen karty legální na Standardu a to pouze v jedné kopii, což značně snižuje konzistenci a možnosti stavění balíků,
2. kvůli omezení na Standard není možnost vybudování kvalitní manabase,
3. balíky mají kvůli rotaci krátkou životnost, což moc nevyhovuje casual hraní.
Celkově při uvážení všech faktů působí Brawl jako beta-verze klasického Commanderu. Nicméně je možné, že se tento pocit brzy začne měnit, protože Wizardi tímto produktem ukazují, že to s formátem Brawl myslí vážně. Zaměřili se na výše vyjmenované problémy a snaží se dokázat, že Brawl nabízí úplně jiný plnohodnotný zážitek než Commander. Celou cestu designování těchto balíků popisuje Gavin na jejich stránkách.
1. Wild Bounty - GWU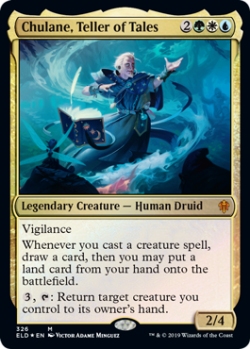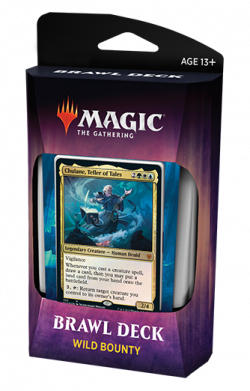 Balík je zamýšlený jako value-engine: manaramp, braní karet a opakované hraní bytostí, proto hlavním tématem bude nová mechanika Adventures, kterou díky vracení na ruku je možné využít víckrát.
Samotný Chulane je nejsilnějším generálem do EDH z této sady, což dokazují vzniklé competitive strategie a infinite comba. Mezi nové karty bude patřit třeba první želví hydra.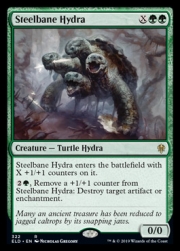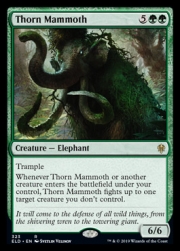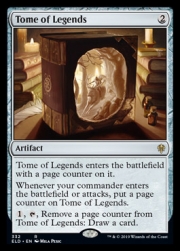 2. Knights' Charge - RWB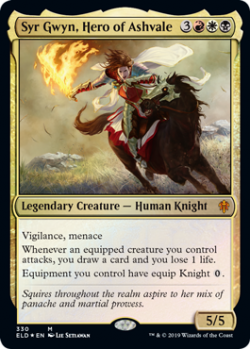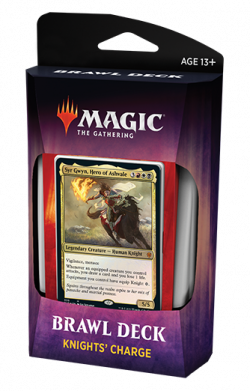 Balík je klasické aggro využívající populární rytíře vylepšené equipmenty. Syr Gwyn je po různých snahách o knight lorda konečně právoplatným generálem tohoto tribu. Určitě ji přivítají i hráči Commanderu, a to hlavně díky nabízené karetní výhodě a equip aktivaci zdarma, čímž elegantně řeší hlavní problémy Mardu: slabé card draw a manaramp.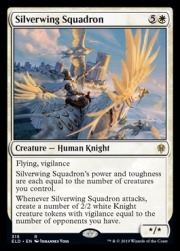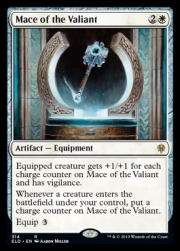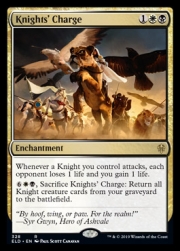 3. Savage Hunter - BRG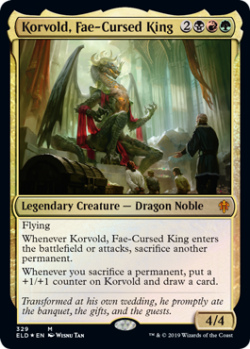 Tento deck se točí kolem obětování permanentů, a to zejména nových Food tokenů, čímž si hráč bude posilovat bytosti nebo získávat jiné výhody. Korvold je případným generálem pro jund aristocrat strategie v EDH, které mají dostatek synergických silných bytostí (Gitrog, Mazirek, Meren).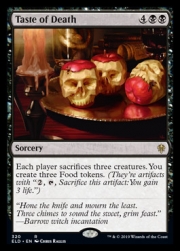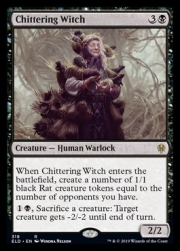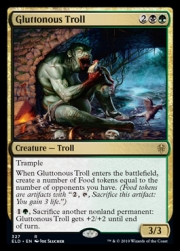 4. Faerie Schemes - WUB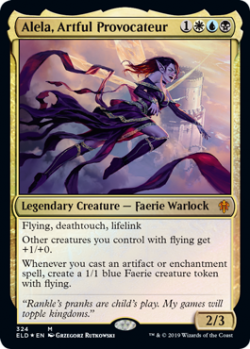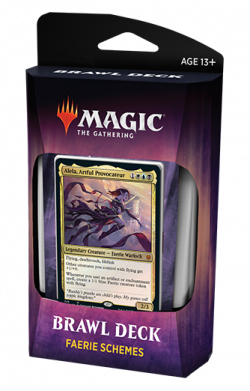 Faerie jsou zpět v plné síle! Celý balík se točí kolem létajících bytostí a synergií s artefakty a enchantmenty. Alela je rozhodně neobvyklý generál, nabízí různé možnosti strategií a stavění balíků a v kombinaci s oblíbenými faeriemi, si myslím, že bude populární i v Commanderu.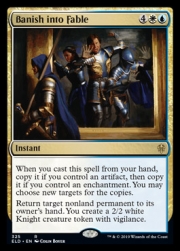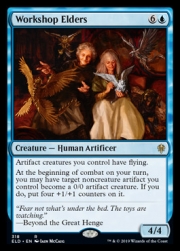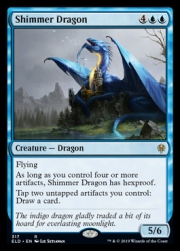 Každý z decků obsahuje Command Tower s novou ilustrací a Arcane Signet, který je považován za jeden z nejlepších manarocků vůbec, a jehož cena se zatím pohybuje na 19$.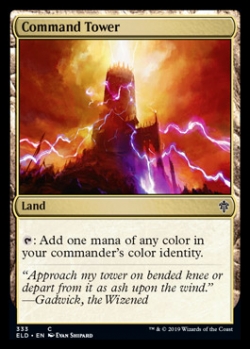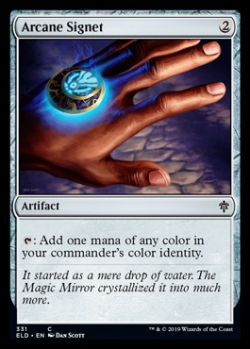 Jestli se díky tomuto produktu Brawl uchytí, si budeme muset počkat. Každopádně formát nabral zajímavější směr a má k tomu více nakročeno. Každý z produktů si budete moci během září předobjednat na našem e-shopu Veselý Drak.
Miloš
Komentáře
Přispívat mohou pouze přihlášení uživatelé. Pokud chcete vložit komentář, přihlaste se ZDE.