Rubriky
Modernové SCG Open Dallas Pod Lupou
O víkendu se hrála první várka velkých modernových turnajů, kde byl legální Stoneforge Mystic. Největší turnaj a také zároveň turnaj, ze kterého máme nejpodrobnější informace, bylo SCG Open v Dallasu.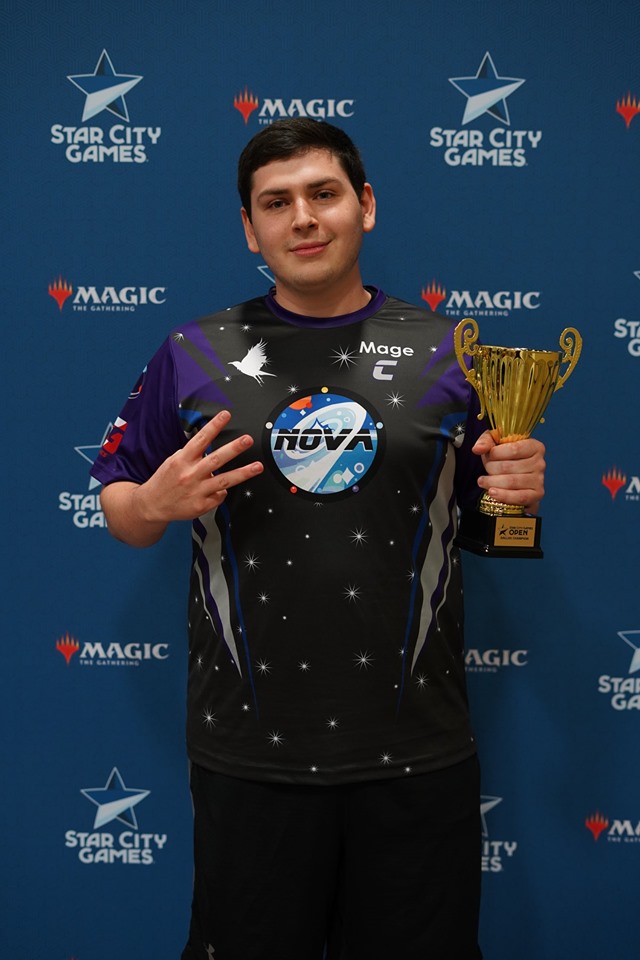 Účastnilo se ho 645 hráčů, z nichž postoupilo 141 do druhého dne (tj všichni, co v devíti kolech prvního dne získali alespoň 18 bodů). A tady jsou decky, které hráli:
19× Burn
17× Urza's ThopterSword
15× Green Tron
10× RG TitanShift
9× UWx Control
8× Jund Midrange
7× Humans
6× Monored Prowess
5× Death's Shadow
5× Devoted Combo
4× Amulet Titan
4× Bant/UW Spirits
4× Bant Midrange
4× Infect
3× Gifts Storm
3× GWx Eldrazi
3× Eldrazi Tron
2× Hardened Affinity
13× Other
Ve finále se nakonec utkaly dva decky, které měly ve druhém dni největší zastoupení - Harlan Firer s ThopterSword kombem porazil Boros Burn Dylana Doneghana. Obě hry dohromady zabraly asi tři minuty, jelikož Harlan pokaždé složil kombo ve třetím kole :)
Celá top16 vypadala takto:
Urza's ThopterSword
Boros Burn
RG TitanShift
Grixis Death's Shadow
Boros Burn
Boros Burn
RB Moon
Green Tron
BW Smallpox
UW Stoneblade
GW Devoted Combo
UW Control
Urza's ThopterSword
Gifts Storm
Jund Midrange
Boros Burn
V krátkosti si teď prohlédneme všechny úspěšné archetypy:
1. Burn (13,5% z decků ve druhém dni)
17× Boros Burn
1× Boros se zelenou splashí v sidu
1× zelená splash pro Atarka's Command
Zcela klasický příklad toho, že se v prvním týdnu "nového" formátu obvykle nejvíce vyplatí hrát přímočaré aggro. Není lepší způsob, jak potrestat pomalé midrange s Mysticem. Je totiž lehké propadnout dojmu, že je Mystic díky Batterskullu dobrá karta proti fritce. Jenomže on velmi snadno umírá na libovolný blesk a Batterskull stojí pět man, což je proti Burnu prostě moc...
Zajímavé je, že ačkoli se po releasu RNA více hrálo Light Up the Stage, tak nyní skoro všichni nejúspěšnější hráči vsadili na playset Skewer the Critics - holt poměr tři damage za jednu manu je prostě dobrý, i když je u toho nějaké omezení.
Povšimněte si také, že většina úspěšných hráčů byla připravena na mirror a měla playset Firewalkerů v sidu. Stejně tak bylo mnoho hráčů dobře připravených na ThopterSword kombo a k vidění bylo hodně Smash to Smithereens, či dokonce i Tocatli Honor Guard.
2. Urza's ThopterSword (12,1% z decků ve druhém dni)
Pokud máte rádi artefaktová komba, tak tohle je přesně deck pro vás! Má velmi dobrý toolbox díky Whiru of Invention, skvělý plán B díky Urzovi a navíc je i snadno kustomizovatelný - k vidění byly verze s kartami jako Sai, Karn (the Great Creator), Stoneforge Mystic, Teferi (Time Raveler), či Scrap Trawler.
Díky kartám jako Assassin's Trophy a Tezzeret, Agent of Bolas má navíc i dobré možnosti, jak po sidu bojovat proti hate kartám.
3. Green Tron (10,6% z decků ve druhém dni)
Deck, který triumfoval na posledním PT. Zároveň skvělý způsob, jak vyzrát na pomalé midrange decky.
Osobně mě překvapuje, že ačkoli na PT zvítězila verze bez čtyřmanových Karnů, tak teď daly téměř dvě třetiny hráčů přednost verzi s právě s nimi. Zajímalo by mne, do jaké míry byli hráči ovlivněni úspěchem ThopterSword komba.
4. TitanShift (7,1% z decků ve druhém dni)
Další z přímočarých "big mana" decků, které jsou ideální proti pomalým midrangům. Jednotlivé verze se od sebe docela liší (můžeme tu vidět karty jako Chardra, Torch of Defiance, Hour of Promise, Mwonvuli Acid-Moss, či Sweltering Suns), ale jednu novinku mají snad všechny verze společnou - všichni hrají alespoň jeden Field of the Dead, což je fajn alternativní winkondice pro případ, že Valakut dostane Surgical Extrakcí/Unmoored Egem, nebo budete muset hrát proti Leyline of Sanctity, či Witchbane Orbu.
5. UWx Control/Stoneblade (6,4% z decků ve druhém dni)
Jako nejúspěšnější strategie se Stoneforge Mysticem se ukázalo ho zkombinovat s Force of Negation.
Nejlepší výsledky měla čistě UW verze, se kterou byli dva hráči v top16, ale k vidění byly i splashe s červenou (Lightning Bolt), černou (Fatal Push) a dokonce i zelenou, což mne překvapilo nejvíce, jelikož jeden z hráčů se rozhodl splashovat zelenou čistě kvůli Ice-Fang Coatlům.
4× UW Stoneblade
2× UW Control
1× Jeskai Stoneblade
1× Bant Stoneblade
1× Esper Control
6. Jund Midrange (5,7% z decků ve druhém dni)
Další ze stálic formátu, díky Wrenn and Six a Nurturing Peatlandu navíc může v lategamu úspěšně soupeřit s karetní výhodou Stoneblade decků.
Ve flexslotech bych aktuálně doporučil hrát více Kolaghan's Commandů, Assassin's Trophy a osobně se mi líbí i maindeck Plague Engineer, coby super hate proti ThopterSword kombu.
7. Humans (5,0% z decků ve druhém dni)
Nejůspěšnější tribal deck posledních týdnů, ačkoli v posledních edicích nijak výrazně neposílil. Nejnovější adice jsou Unsettled Mariner, Deputy of Detention a sidovky jako Collector Ouphe a Plague Engineer, což je paradoxně trochu i nevýhoda, jelikož příliš nefungují s "tribal" manabází...
8. Monored Prowess (4,3% z decků ve druhém dni)
Jeden by řekl, že bez Faithless Lootingu nemůže tenhle deck přežít, nicméně do druhého dne se s ním dostalo hned šest hráčů.
Looting + Arclight Phoenix umožňoval decku opravdu busted draw, nicméně díky kartám jako Crash Through a Manamorphose je pořád celkem konzistentní a zároveň i dost explozivní. Určitě tomu dost pomohl nový free spell v podobě Lava Dartu a samozřejmě také vydání nových Conapy Landů.
Novinkou také je zařazení Blistercoil Weirda, coby extra bytosti ke Swiftspearovi a Soul-Scar Mageovi.
9. Grixis/Mardu Death's Shadow (3,5% z decků ve druhém dni)
4× Grixis Death's Shadow
1× Mardu Death's Shadow
Pro Death's Shadow by v aktuální metagame mohlo být dobré místo - Gurmag a Death's Shadow se příliš nezajímají o Batterskull a proti big mana deckům má deck rychlý clock (popřípadě kombo-kill s Battle Ragem) a playset Denialů. Úplně si ale nejsem jistý ohledně matchpu s Burnem...
K vidění byla i Mardu verze, která nedávno slavila triumf na GP Birmingham. Jde o verzi, která využívá Ranger-Captaina of Eos a Unearth k tomu, aby stabilně dostala do hry co nejvíce kusů Death's Shadow.
10. Devoted Druid Combo (3,5% z decků ve druhém dni)
3× Abzan Company
1× GW Devoted Combo
1× Devoted Bant
Druhý nejlepší deck (po UW Stonebladu) se Stoneforge Mysticem, kterým hráči ve většině verzí v decku nahradili Karna. Všechny úspěšné verze byly hodně kombocentrické s velkým množství tutorů a Devoted Druidem i Vizierem v playsetu.
Nejgeniálnější využití pro Stoneforge Mystica našel Mickey Humphries, který dal do svého equipment toolboxu Lightning Greaves, ale hlavně také Viridian Longbow, což je s Devoted Druidem při nekonečno many zároveň i nekonečno damage.
Kromě toho jsme také mohli vidět kombo verze s Collected Company (je tam navíc Viscera Seer + Kitchen Finks, což je určitě super proti Burnu) a verze s modrou, kde je navíc Teferi, coby dobrá protekce na ochranu komba.
11. Amulet Titan (2,8% z decků ve druhém dni)
Další "big mana" deck, který ale pro svůj specifický styl není u hráčů tolik populární. Mezi čtyřmi hráči ve druhém dni byly dokonce k vidění tři různé verze - dva hráči hráli Karna, jeden Hive Mind a jeden zvláštní build s Golosem a Filedem of the Dead.
12. Spirits (2,8% z decků ve druhém dni)
2× Bant Spirits
1× UW Spirits
1× UW Stoneblade Spirits
Bant Spiriti to v poslední době nemají vůbec lehké - se zvýšeným výskytem Wrenn and Six není příliš ideální se spoléhat na karty jako Noble Hierarch a Mausoleum Wanderer.
V Modern Horizonech jim ale vyšel Unsettled Mariner, díky čemuž se stává preferovanou verzí pouze UW dvoubarva, která má výhodu i v tom, že si vystačíte s nižší křivkou a můžete navíc hrát kusy jako Giver of Runes a samozřejmě i Stoneforge Mystica.
13. Bant Midrange (2,8% z decků ve druhém dni)
3× Bant Stoneblade
1× Bant Soulherder
Další z populárních Stoneforge Mystic decků. Archetyp nemá ještě žádný ustálený decklist, takže se jednotlivé verze dost lišily. Někdo se spoléhal na toolbox s Ranger-Captianem of Eos, jiní hráči zase hráli více planeswalkerů a kántrspelly v mainu.
K vidění byla i verze se Soulherderem, ve které dokonce ani Stoneforge Mystic nebyl. Pro všechny decky byl ale společný playset Noble Hierarchů a Ice-Fang Coatlů.
Decklisty Modern

Bant Stoneblade

Kaleb Stevens