Standard
Standard před GP Birmingham 2018
Nový Standard se konečně rozjíždí, a tak je zde Lukáš Paugsch, který se s vámi podělí o své dojmy z testování balíčků na nový Standard s Dominarií.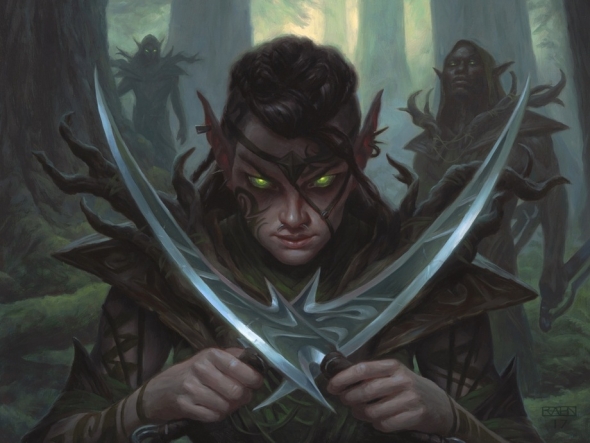 Prvé dva týždne Dominaria Standardu
Keďže som si naordinoval GP Bologna a hneď potom GP Birmingham, moje voľné i menej voľné chvíľky trávim posledné 4 týždne hlavne na MTGO vrámci prípravy na tieto eventy (nemusíte mi závidieť). Dominaria Standard teda sledujem od jeho začiatku, a v tomto článku skúsim objasniť ako sa vyvíjal doteraz, a ako sa možno bude vyvíjať ďalej.
Na začiatku bol Teferi
U/W control si riadne prilepšil. Teferi tomuto decku poskytuje úžasný draw engine, removal na všetky nonland permanenty (najmä planeswalkerov) a win condition, všetko v jednej karte. Seal Away vyriešil ďalší problém predošlých UW controlov, lacný removal. A keď sa tieto dve karty dajú dokopy, vznikne deck ktorý vyhral prvý väčší turnaj tohto standardu (SCG Team Open Atlanta). Keby toto ešte nestačilo, zo sideboardu vyletí nová baneslayerka, Lyra.
Proti tejto hrozbe nastúpili dva aggro balíky, a to Mono Red a RB aggro. Hráčí Mono Redu však veľmi rýchlo pocítil, že hrať na Hazoret stráca svoje čaro, keď oponent má 4 Seal Away a 2-3 Settle the Wreckage. Baneslayera po sideboarde už nerozchádzali vôbec. Na druhú stranu RB aggro má nejaké extra nástroje, ktoré mu umožňuju postaviť sa voči UW.
Inventor's Apprentice tlačí od prvého kola lepšie ako Soul-Scar Mage. Chandra v main decku umožňuje tlačiť z viacerých uhlov.  Desintegrácie dávajú oponentovi strach zahrať Gearhulka. No po sideboarde sa vďaka čiernej matchup zlepší ešte oveľa viac. Duressy a Doomfally oponenta oberú o odpovede a Arguel's Blood Fast ponúka (skoro) nekonečný card advantage.
Pamätáte na Llanowar Elfa?
Stále je dosť dobrý, hlavne keď umožní takéto veci: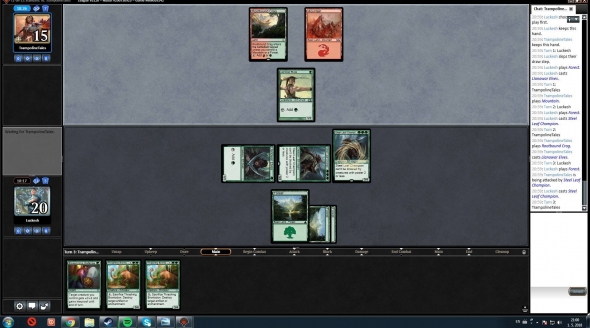 Mono Green Stompy je naozajstný deck, a je dosť dobrý. Ghalta, 12/12 trampler sa častokrát dá zahrať v 4. kole aj s manou na Blossoming Defense. Tento deck netreba nejak opisovať, chce to vyložiť veľké masá a otáčať ich o 90 stupňov. Ale nie vždy sa podarí takýto explozívny štart, a niekedy tento deck nespraví vôbec nič.
Z mojej skúsenosti však matchup s UW controlom bol dosť zlý, a keďže ten dominoval formátu, tento deck som opustil. No ak by UW bolo potlačené, tento balík môže byť veľmi silný.
Ale čo by mohlo potlačiť supersilné UW?
Keď tlačíš bytosťami ako Heart of Kiran a Knight of Malice, History of Benalia, Seal Away zrazu nie je až taký problém. A ak sa UW podarí predsa len nejako ten tlak ustáť, príde Karn, ktorý naťahá druhú várku. Po sideboarde je matchup ešte ľahší vďaka discardom.
Tento balík vyhral SCG Team Open Baltimore minulý víkend.
BW Aggro funguje podobne ako Mardu Vehicles z predošlých standardov. Má "transformačný" sideboard. Prvú hru ti to ukáže t1 Toolcraft Exemplary a t2 Heart of Kiran, a v druhej a tretej Karna a Fumigate. Karn robí v tomto balíku záskok odrotovanému Gideonovi - za -2 vie prisieť k boardu, vie pilotovať Heart of Kiran, len miesto toho aby útočil sám, tak sedí v zadu a generuje card advantage.
Spomenuté balíky tvoria základ standard mety, no v menšom počte sa hraje ešte zopár balíkov z predošlého standardu:
GB Constrictor získal najmä Adventurous Impulse, ktorý mu pomáha zostaviť si svojé príšerkové synergie a samozrejme Llanowar elfa:
Scarab God bol veľmi potlačený novými UW kartami, no netreba naňho zabúdať, a balíky tohto typu nie sú zlé:
Nakoniec máme ešte God Pharaoh's Gift decky. Hrajú sa 3 verzie, UW, UR, no najpopularnejší je mono red, alebo Goblin Gift:
Tomuto decku sa podarilo hrať Skirk Prospectora, Wily Goblina a Rowdy Crew na standarde a za to má môj rešpekt. Vďaka týmto krásnym kartám si tento balíček naplní hrob a cez Gate to the Afterlife fetchne God Pharaoh's Gift. Hlavný win condition je combo Giftu a Combat Celebranta, ale okrem toho vie tento deck predstierať že je nejaké R aggro.
Tak teda prvý týždeň sme videli dominanciu UW controlu, druhý týždeň sa ho všetci rozhodli poraziť. Čo teda uvidíme tento víkend? Niektorí predpovedajú vzostup práve Llanowar Elf balkov ako Mono Green a GB Constrictor, keďže UW je na ústupe a majú dobré matchupy s BW Aggrom. Ak chcete vedieť ako sa standard vyvinie ďalej, určite sledujte GP Birmingham. Možno ma uvidíte, keď sa mi konečne podarí prebojovať na kameru (aj keď pravdepodobnejší je asi 3-3 drop :) ).
Lukáš Paugsch
Komentáře
Přispívat mohou pouze přihlášení uživatelé. Pokud chcete vložit komentář, přihlaste se ZDE.