Články
Mých pět alltime nejoblíbenějších decků
Magic the Gathering je na světě už téměř 23 let a já sám ho hraju zhruba od roku 2002 (s jednou delší přestávkou). Je jasné, že za tak dlouho dobu mi rukama prošlo nespočetné množství decků (zejména co se standardu týče). V tomto článku bych se chtěl ohlédnout za mými nejoblíbenějšími balíčky.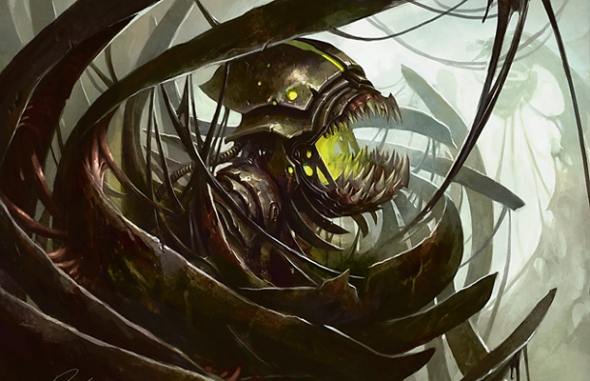 Jelikož se u mě příliš často nestává, že bych hrál zkopírovaný tier deck, tak se občas stane, že některé z decků jsou velmi zajímavé počiny, u kterých by byla škoda, kdyby se na ně úplně zapomnělo. Dnes bych se s vámi proto rád podělil o pět decků, které mi nejvíce přirostly k srdci.
Honorable mention: Death Cloud Rock (2004/05)
V době, kdy jsem s MTG začínal, mělo internet jenom pár vyvolených (u nás v okolí měl internet jenom strejda, a byl to oldschool s vytáčecím modemem, kterému trvalo načíst jednu stránku gathereru klidně i minutu) a postavit dobrý deck byl opravdu kumšt. Jediný zdroj inspirace pro nás tenkrát byl časopis Legenda, ale tenkrát na ty úplně nejlepší decky samozřejmě nebyly finance.
Vrchol mého hraní bylo FNM v Liberci, kde se ovšem scházelo klidně i 35 až 40 hráčů a uhrát tam dobrý výsledek bylo velmi těžké. Navíc když moje decky tenkrát byly věci jako bugdet Monogreen Elfové (Onslaught + Odyssey standard), budget Monoblack Aggro (Mirrodin + Kamigawa), nebo 5C Shriny (Kamigawa + Ravnica).
Můj první deck, se kterým jsem se tenkrát dostal do finále FNM, byl BG Rock s Death Cloudami. Jelikož jsem tenkrát neměl internet, tak můžu jenom těžko říci, jaký byl přesný decklist. V decku byly karty jako Solemn, Sakura, Witneska, nebo Sensei (tenkrát účko za 20Kč). Taky si pamatuju, jak jsem hrozně dlouho poctivě šetřil na červeného legendárního draka (Ryusei), což byla suverénně nejdražší karta v decku. Jo, to byly tenkrát časy…
5. Valakut Ramp – Kvalifikace na MČR 2011
Magic jsem začal brát trochu víc vážně v době, kdy vycházel starý Zendikar. Mojí nejoblíbenější kartou byl tenkrát Bloodbraid Elf. Po rotaci jsem začal hrát Monogreen Aggro s Garruky a s příchodem M11 a Titány jsem přesedlal na Valakut, se kterým jsem se dočkal prvního většího úspěchu.
Tenkrát se ještě každoročně pořádalo národní mistrovství a poměrně populární byl tenkrát systém kvalifikací (přirovnal bych to ke dnešnímu PPTQ), což byl nejjednodušší způsob, jak se na MČR dostat, pokud jste nebyli kvalifikovaní na pro body, nebo díky DCI ratingu.
Na svojí úplně první "kvaldu" jsem si vzal tenkrát poměrně obyčejnou verzi RG Valakutu:
A hned na poprvé se mi zadařilo a povedlo se mi kvalifikovat navzdory tomu, že tenkrát byl na standardu jeden z nejvíce nekompromisních decků v historii, Caw Blade s Jacem a Stoneforge Mysticem!
Na samotném mistrovství jsem sice nic světaborného neuhrál, ale byla to moje první zkušenost s opravdu kompetitivním prostředím a proto mám na Valakut samé pěkné vzpomínky.
4. Jund Zombies – WMCQ 2013
První WMCQ roku 2013 řadím mezi nejlepší turnaje, kterých jsem se kdy zúčastnil a přisuzuji mu téměř legendární status.
Tomu turnaji nechybělo prostě vůbec nic! Petr Brožek se svým originálním deckem v top8, souboj mých kamarádů z Liberce ve finále, diskvalifikace v top4…
Já sám jsem na turnaji hrál Naya Humany s neuspokojivým výsledkem (mých oblíbených 3:0 into 3:3 drop), ale de facto můžu říct, že jsem turnaj napůl vyhrál.
Vítězný balík, kterým byli Jund Zombies Leoše Kopeckého, jsem totiž postavil já v noci před turnajem.
Podle mě je tenhle turnaj (potažmo Leošův příběh) skvělá reklama pro Magic. Hráč, který byl dlouho dobu ve starém DCI ratingu mezi nejhoršími v republice najednou vyhraje kvalifikaci na MS a poté se tam dostane až do top4, to je v podstatě Hollywood story.
3. 5C Kiki Pod – GP Praha 2014
Když skončil extended a nahradil ho modern, tak jsem si dlouhé měsíce lámal hlavu s tím, co na něm mám hrát. Vyzkoušel jsem celou řadu decků, ale s ničím se mi moc nedařilo. Pak se ale objevil Birthing Pod a byla to láska na první pohled.
Tenhle konkrétní deck mám rád proto, že na něm je v naprosto přesně vidět, jaké jsou moje magicové charakteristiky. Mám rád zelenou, ale ne úplně jako aggro, spíše value karty a taky jsem hrozně hamižný :)
No řekněte sami, pětibarva s Blood Moonem v sidu (tenkrát sice nebyly k dispozici všechny fečky, ale bohatě to vynahrazoval Deathrite Shaman), Thalia a Bonfire a hlavně milion one-ofů. Předtištěný vzor pro vyplňování decklistů tenkrát málem nestačil…
Ačkoli jsem se s deckem nedostal do druhého dne (Kalich hořkosti jsem si vypil do dna v souboji se Soul Sisters, proti kterým jsem ve třetí hře tak hrozně vyfloodil, že mě soupeř úplně sprostě ujezdil Squadron Hawky. Po hrách se mě zeptal, jestli mám v decku Pod…), tak hrát s ním bylo neskutečně zábavné a zcela jednoznačně se jedná o můj alltime nejoblíbenější deck na modernu.
2. Abzan Whip – GP Krakow 2015
Musím popravdě říci, že na GP jsem od sebe nikdy neočekával žádný útok na přední příčky, nicméně Abzan Whip mě loni v Krakově velmi mile překvapil a až do posledních kol jsem s ním bojoval o top8.
To se nakonec nepovedlo, ale i tak to byl parádní úspěch. Na turnaji jsem například jako vůbec jediný za celý víkend dokázal porazit celkového vítěze, Alexandra Hayna.
Tajemství mého úpspěchu bylo vlastně velmi jednoduché – měl jsem na metagame dobrý deck (pár týdnů poté se začal ve velkém hrát Dromoka's Command, což byla dost možná vůbec nejlepší karta proti tomuto decku na celém formátu), soupeři nehráli moc dobře a hlavně při mně stálo štěstí (tam kde bych obvykle líznul zemi, jsem vžycky líznul ideální kartu).
Je prostě fakt, že štěstí hraje v magicu dost velkou roli. Můžete hrát dobře, mít super deck, ale když nemáte štěstí, tak prostě nevyhrajete. Jako pěkný důkaz budiž fakt, že o týden později jsem s deckem na Game Dayi v Tolarii nepostoupil ani do top8 (uhrát top16 na GP pro mě až donedávna bylo jednodušší, než vyhrát GD). Na Siege Rhina ale stejně nedám dopustit.
1. Naya Pod – 2012
Pokud bych dělal top5 svých nejoblíbenějších karet, je dost možné, že Birthing Pod by skončil na prvním místě. Na dvojce jsem se s ním bohužel neúčastnil žádných velkých turnajů, ale i tak můžu říci, že to byl jednoznačně nejlepší deck, který jsem měl kdy to štěstí na standardu hrát.
Po příchodu Innistradu na tehdejším standardu naprosto dominoval UW Delver a většina karet v Naye začínala jako velcí outsideři, včetně samotného Birthing Podu, o jehož hratelnosti zpočátku většina hráčů pochybovala (já si své sehnal hned zkraje po třiceti korunách).
Postupně ale k Podu přibyly další skvělé karty - nejprve v Dark Ascension Huntmaster (mimochodem zkraje také velmi podceňovaný, ale poté s ním Brian Kibler vyhrál PT) a poté konečně v Avacyn Restored Caverna, Restoration Angel (pamatujete když byl jako launch promo a lidi se ho zbavovali za 40Kč?) a hlavně smrtící Bonfire of the Damned.
Deck se rychle stal velmi oblíbeným a zařadil se po boku Delvera mezi nejlepší decky na formátu. Nevím jak to máte vy, ale podle mě se moc často nestane, že karta, která se vám už od začátku líbí a které ostatní příliš nevěří, se postupně propracuje mezi stálice formátu. Pod byl navíc velice zábavný na hraní a také snadno přizpůsobitelný na libovolnou metagame, nebo dle vlastních preferencí. Prostě úplný balzám na duši...
Bonus: 4C Peddler – PTQ Praha 2013
S tímhle deckem jsem nedosáhl na žádný světaborný výsledek, ale zcela určitě můžu říci, že se jedná o nejšílenější deck, který jsem kdy hrál (a vzít si ho na PTQ, kterých se tenkrát zúčastňovalo 150+ hráčů, na to musí mít člověk "koule").
Pokud jste o tomhle decku nikdy neslyšeli tak vězte, že základní myšlenka decku je spárovat Nightshade Peddlera s bytostí, která umí dávat průtokově damage.
Kromě toho je tu ale i celá řada value bytostí jako Deathrite Shaman (nejhranější deck byl tenkrát Junk Midrange s Unburial Rites, proto je třetí Shaman v sidu), Huntmaster, Thrugtusk, nebo Thundermaw Hellkite. Spousta dalších chuťovek je pak v sidu, díky čemu se mohl deck přetransformovat na delší souboje (proti Esperu se muselo celé hlavní kombo odsidovat).
Každopádně až se vás někdo zeptá, co má společného Evil Twin, Farseek, Ral Zarek a Olivia, tak teď už budete vědět!
A to je pro tentokrát vše, příště se opět po delší pauze můžete těšit na Flash News.
Kumano
Komentáře
Přispívat mohou pouze přihlášení uživatelé. Pokud chcete vložit komentář, přihlaste se ZDE.