Novinky
Decklist Duel Decks: Nissa vs. Ob Nixilis
Druhý letošní Duel Decks vychází hned po prázdninách a najdete zde souboj Nissi Revane, která se snaží ochránit Zendikar před Ob Nixilisem a jeho temnou hordou démonů a přízraků.
Další ze série Duel Decks vychází 2. září 2016 a jedná se již o 18. boj ve světě Magic: the Gathering. Planeswalkerka Nissa Revane shromažďuje své bojovníky k ochraně Zendikaru před zkázou. K tomu využívá sílu země, vyvolává mocné Elementály, aby přemohla své nepřátele.

Oproti ní stojí démon Ob Nixilis, který byl po staletí uvězněn na Zendikaru a udělá cokoliv, aby znovuzažehl svoji jiskru a unikl. Vyvolává děsivé démony a vládne temnými silami, aby zničil své nepřátele.
Nissa vs. Ob Nixilis Duel Decks obsahuje dva tematické balíčky, každý o 60 kartách, ihned připravené ke hře. Nejedná se o turnajové balíčky, ale o balíčky spíše pro zábavu a lepší pochopení příběhů ze světa Magic: the Gathering. Díky své tematičnosti vám tyhle balíčky poskytnou daleko jinou zábavu a vzrušení než klasické Intro Packy, Event Decky nebo Clash Packy. Pokud tedy hledáte změnu a chcete se odprostit od klasických balíčků nebo si chcete zahrát jen něco jiného, speciálního, tak vám vřele doporučujeme Duel Decky.
Nissin balíček je celozelený a podstatě kopíruje všechny přednosti Nissi jakožto to planeswalkerky. Najdeme zde klasické elfy, kteří hledají země, lížou karty nebo se posilují. Spolupráci se zeměmi reprezentují karty s mechanikou Landfall a země samotné. Ty se buď změní na příšery, nebo něco dělají. Poslední skupinou jsou mocní Elementálové, kteří jsou buď velcí pašíci či pomáhají ostatním příšerám. Z kouzel je zde hledání zemí a posílování příšer, což sem skvěle zapadá.
Díky tomu je balíček mixem weenie a příšerkového tlačáků, což může způsobovat komplikace buď na začátku, nebo v pozdější části hry. Prostě vám to musí chodit po křivce, musíte mít dostatek zemí a velkými příšerami si pak ochraňovat ty malé. Dalším problémem je absence zabíjení, a tak musíte zdolat soupeře hrubou silou. Na druhou stranu příznivci elfů nebo příšerkových balíčku si zde přijdou na své.
Obrázky karet s novou ilustrací: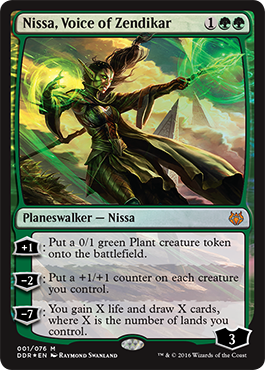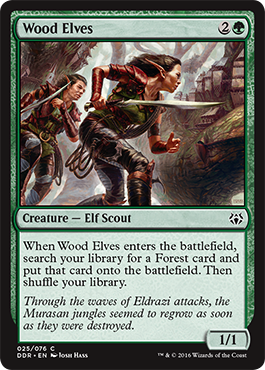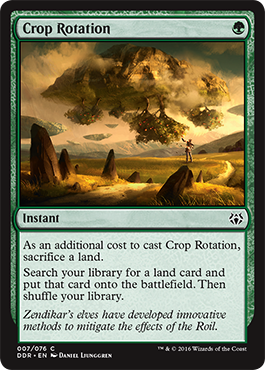 Oproti tomu Ob Nixilis reprezentuje temnou stranu v podobě celočerného balíčku. Ten obsahuje nejrůznější černou havěť, která škodí buď vašemu soupeři, nebo jen příšerám. Hlavními ranaři jsou velcí černí démoni, kteří jsou schopni rozpoutat pořádné peklo ve vzduchu. Podporu mají v nejrůznějším zabíjení a echantmentech, které těží z mrtvých příšer.
Narozdíl od Nissi není Obův balíček rozdělen na různá témata, a tak zde vše do sebe zapadá a jednotlivé karty spolu pěkně spolupracují. Hlavním úkolem je ustát prvopočáteční tlak zelených příšer, a jakmile zabijete důležité příšery a nasadíte létající Démony, tak bude mít Nissa problém. Jen musíte do této fáze vydržet. Každopádně černí mágové budou z tohoto balíčku v sedmém nebi.
Obrázky karet s novou ilustrací: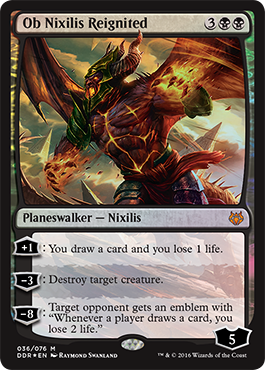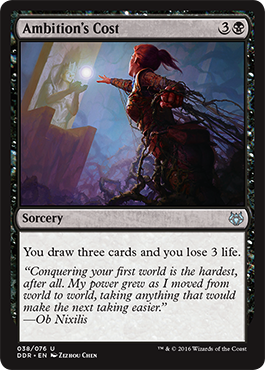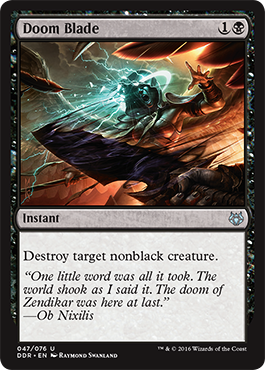 Oba balíčky se pěkně drží svého tématu, a pokud máte rádi zelenou a černou barvu, tak si s nimi užijete spoustu srandy. Navíc jestli chcete odhalit další Magicový příběh, tak je ten Duel Decks super volbou.
Nejcennějšími kartami jsou oba foilový planeswalkeři, které doplňují zbylé kousky. Nenajdeme zde žádné cenově přestřelené karty a vše odpovídá pořizovací ceně. Díky tomu máme solidně postavené balíčky, které je radost hrát.

Vrhněte se do boje díky tomuto Nissa vs. Ob Nixilis Duel Decks zde
Komentáře
Přispívat mohou pouze přihlášení uživatelé. Pokud chcete vložit komentář, přihlaste se ZDE.