Novinky
Delayed News #18/2018
1. GP Brussel (Standard)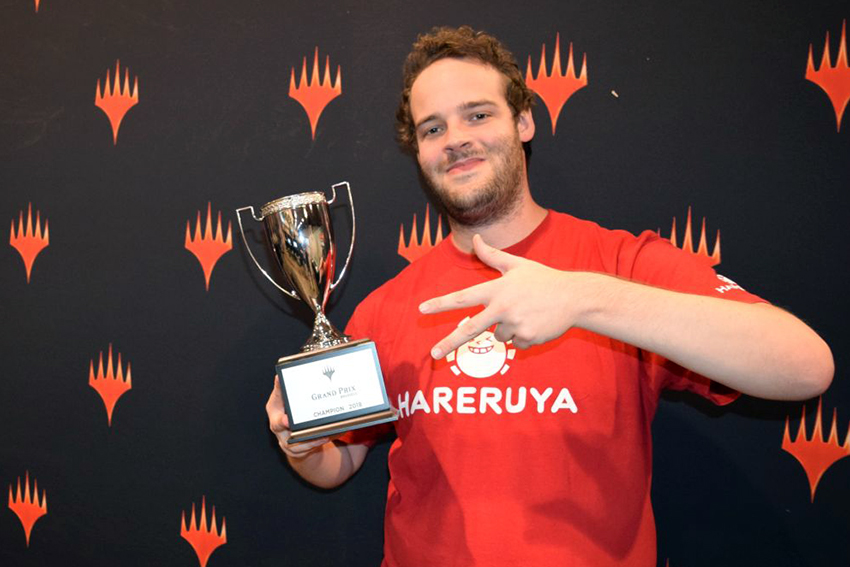 Týden po PT si do Brusselu přišlo zahrát 1 107 hráčů, včetně české výpravy čítajicí osmnáct jmen.
Metagame byla lehce ovlivněná PT, když jsme zaznamenali velký nárůst popularity u Bant Turbo Fogu, který byl dokonce ve druhém dni druhým nejhranějším deckem. RB Aggru se ale i tak díval "na záda" z uctivé vzdálenosti. Bylo ale vidět, že deck dost hráčů respektovalo a v sidech se dokonce začalo objevovat Insult//Injury specificky coby sidovka proti Turbo Fogu.
Deckem turnaje byl ovšem Esper Control, který profitoval zejména z toho, že RB Aggro často hraje hodně čtyřdropů jako Chandra, Fénix, či Hazoret, na což je strategie zahrnující kántrspelly, Vraska's Contempty a Torrential Gearhulky dost dobrá.
Esper Control byl jediný deck, který měl v top8 tři hráče a ve finále s ním dokázal zvítězit Jéremy Dezani, když porazil Monored Aggro se Scroungery (alias Mostly Red Aggro), což je o poznání horší matchup, než RB.
Do top8 se probojovala i dvě brew, shodou okolností obě v BUG barvách. První byl dost zvláštní midrange s playsety Hostage Takerů a Scarab Godů, ale na druhou stranu třeba s Wildgrowth Walkerem a Confiscation Coupy v mainu. Riley Knight si během vysílání dělal z decku celou dobu srandu a překřtil ho na "Sultai Cards I Own".
Druhý BUG deck v top8 byl Gift, což je podle mne jeden z nejpodceňovanějších decků na formátu (většina hráčů moc neví, jak proti němu hrát). Zajímavé bylo, že v decku vůbec nebyl Scarab God a spíše se tu spoléhalo na kombinaci Verdurous Gearhulk + Walking Ballista.
Mimo top8 byly určitě nejzajímavější deck RG Monstra, jejichž úspěch mne celkem překvapuje, protože na první pohled vypadá deck jako slabší verze Monogreenu (hlavně manabase je tu výrazně horší).
Celkově se dá říci, že top25 byla celkem rozmanitá, ačkoli v ní bylo devět RB Agger...
1. Esper Control
2. Mostly Red Aggro
3. Bant Turbo Fog
4. BUG Midrange
5. Esper Control
6. BUG Gift
7. Esper Control
8. RB Aggro
9. Bant Turbo Fog
10. Bant Turbo Fog
11. Mostly Red Aggro
12. RB Aggro
13. Esper Control
14. RG Monsters
15. RB Aggro
16. RB Aggro
17. Bant Turbo Fog
18. Grixis Midrange
19. Mostly Red Aggro
20. RB Aggro
21. Grixis Midrange
22. RB Aggro
23. RB Aggro
24. RB Aggro
25. RB Aggro
Pokud jste zvědaví na umístění českých hráčů, tak vás asi zklamu. Z celé výpravy dostoupili do druhého dne pouze tři hráči, z nichž se jako jediný do peněz dostal Martin Jůza, když obsadil 44. místo.
Zbylí dva hráči si odnesli alespoň jeden pro point. Byli to Jiří Obraz (84. místo) a Jaroslav Bouček (113. místo).
2. GP Orlando (Standard)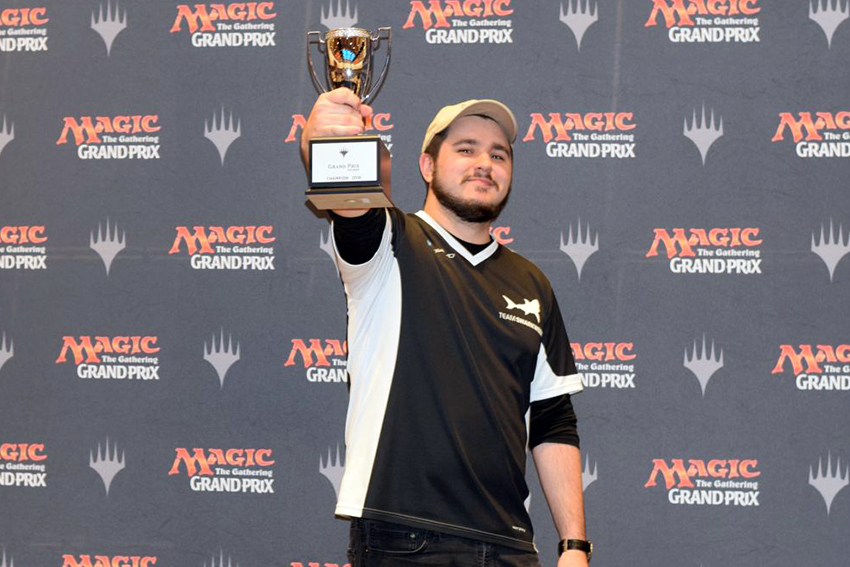 Do Orlanda se vydalo 992 hráčů, což je poměrně ostudné, avšak pochopitelné, když zohledníme dominanci RB Aggra, které i tady bylo suverénně nejhranějším deckem ve druhém dni.
Výsledky tu ale nakonec byly velmi podobné těm z Brusselu - ve finále porazil kontrol červené aggro, když Gabriel Joglar s UW Approachem porazil Keld Red Kelea Coopera.
A v top8 byly i tady k vidění docela zajímavé decky - dvakrát Grixis Midrange, GB Constrictor, UB Midrange, nebo Esper Control, který hrál více bílých karet v mainu (Seal Away, Settle the Wreckage).
Ze zajímavých decků ve zbytku top32 bych zmínil třeba UW Cycling, Reservoir kombo s červenou splashí na Jhoiru, nebo Gu Aggro s větší modrou splashí (na chuťovky v sidu jako Baral's Expertise, River's Rebuke, či Hadana's Climb).
1. UW Approach
2. Keld Red
3. Grixis Midrange
4. Esper Control
5. RB Control
6. GB Constrictor
7. UB Midrange
8. Grixis Midrange
9. Esper Control
10. UW Control
11. Mostly Red Aggro
12. RB Midrange
13. Mostly Red Aggro
14. Wizard Red
15. RB Aggro
16. RB Aggro
17. RB Aggro
18. RB Aggro
19. Bant Turbo Fog
20. Gu Aggro
21. RB Aggro
22. RB Aggro
23. Bant Turbo Fog
24. Bant Turbo Fog
25. Bant Turbo Fog
26. Grixis Midrange
27. UR Reservoir
28. RB Aggro
29. UW Cycling
30. RB Aggro
31. RB Aggro
32. Esper Control
3. Modern MOCS
Srpnových modernových MOCS se zúčastnilo 191 hráčů, kteří změřili síly v osmi kolech základní části a následné top8.
Sedmadvacet hráčů se dokázalo kvalifikovat do čtvrtletního finále (tj. uhráli skóre 6:2 a lepší) a celkovým vítězem se stal "Jackmatrus" s Humany, když ve finále porazil UW Control, který se opravdu hodně spoléhal na playset Terminusů, když kvůli nim dokonce hrál dva Telling Timy.
Tím pravým objevem turnaje byla ale Hardened Scales Affinita, která měla hned tři hráče v top8! Deck už hráči v minulosti zkoušeli, ale bez výraznějších úspěchů. co se tedy najednou změnilo?
Malé plus bez pochyby je, že vyšel Karn, ovšem to není příliš důležité. Hlavní změna spočívá v zařazení nenápadného artefaktu, který se dostal do povědomí díky PT, kde se ovšem hrál jako sidovka na legacy. Už asi tušíte, že je řeč o Throne of Geth, což je vedle Scalesů další velká payoff karta, kterou navíc můžou najít Stirringy.
Kromě toho jsou ve většině verzí i dvě sidovky, která v době vydání Walking Ballisty nebyly k dispozici - Shapers' Sanctuary a Damping Sphere. To jsou všechno vesměs nepatrné změny, ale ve výsledku hrozně důležité.
Modern na jednu stranu vypadá pořád velmi podobně, ale ve skutečnosti se za poslední dobu velmi změnil, i když to jsou na první pohled takhle nenápadné záležitosti. Stačí se podívat na tuhle top8. Tři Harneded Affinity, dvoji Humani, UW Control, Bant Spiriti, to jsou všechno decky, které bychom před rokem na takovýchto příčkách hledali marně...
Mimo top8 jsme ze zajímavých decků mohli vidět například Monored Dragon Stompy s novým Sarkhanem, Burn s Wild Nacatly a Atarka's Commandy, Bant Company s Vizier kombem (ale zároveň i Knight of Reliquary a Militia Buglery), nebo UR Wizardy s Adeliz.
4. MTGO Weekly Challenges (Modern, Legacy, Vintage, Duel Commander, Pauper)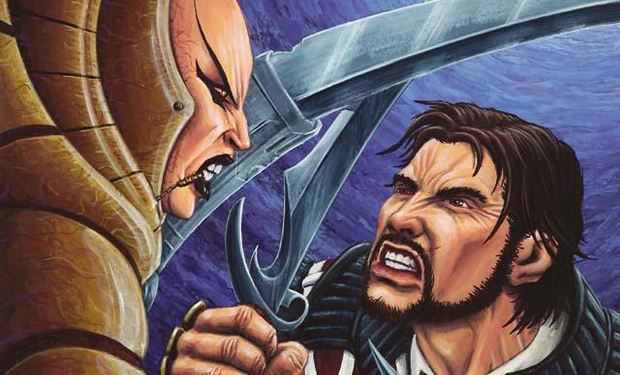 Začneme rovnou tím nejlepším, na modernu byla totiž opravdu exkluzivní top16 se šestnácti různými decky!
Ve finále porazil UW Control (verze s random one-ofy, samozřejmě řečeno s nadsázkou) pilotovaný "McWinSauce" artefaktový stax, který jsem zmiňoval už v předchozích Flash News.
Když opomenu tenhle deck, tak nejzajímavější záležitostí v top16 byly Cheerios na osmém místě. Šlo o poměrně standardní verzi, u které byl nejzajímavější asi sideboard, ve kterém byly vesměs odpovědi na countermagic a hate karty. Osobně mám radši alternativní sideboard strategie, což by v tomto případě byl Monastery Mentor.
Další zajímavé techy a novinky v top16 jsou například Militia Bugler v Death and Taxes, nebo maindeck Gaddock Teeg v Boglech, což je fajn obrana proti Terminusu, který je pro Bogly opravdu smrtící...
Celá podoba top16:
1. UW Control
2. Artifact Stax
3. Grixis DS
4. Humans
5. Gifts Storm
6. Dredge
7. Living End
8. Cheerios


9. Eldrazi Tron
10. Bant Spirits
11. Ad Nauseam
12. Death and Taxes
13. Jeskai Control
14. Jund Midrange
15. Boros Burn
16. Bogles
Na legacy jsme měli ve finále souboj mezi Stormem a Grixis Delverem, ze kterého vzešel vítězně Storm. U Delvera šlo přitom o velmi zajímavou verzi s Bitterblossomem, Gurmagy a True-Name Nemesis.
Další místa obsadili Colorless Eldrazi, dvoje BG Depthsy, dvakrát Sneak and Show, dva klasičtí Grixis Delveři s Young Pyromancery, trochu překvapivě i dvoji Men of Steel, Death and Taxes, Elfové, Burn a UR Delver.
Pořádná odplata za předchozí nevydařený turnaj se na vintage povedla Ravager Shopům, když s nimi zvítězil "ncsu31sb", když ve finále porazil Blue Dredge. Osm sidovek zaměřených specificky na tenhle matchup zřejmě dost pomohlo.
Dredge to má na vintage těžké - jakmile vyhraje nějaký větší turnaj, musí její piloti v dalších týdnech čekat opravdu spoustu hatu v každém sideboardu. Vzhledem k tomu je ale druhé místo pěkný výsledek.
Na třetím místě byla hodně zajímavá verze Paradoxical Outcomu, která kromě jiného hrála Auriok Salvager kombo, maindeck Sai a více kusů Trinket Mage.
Top4 zkompletoval UWR Control., páté místo obsadil Survival s černou, která byla v decku pro zajímavý midrange plán s Deathrie Shamany a Dark Confidanty (s playsety Hollow One a Vengevine, na to musíte mít pořádné "koule"). A přínosem je nepochybně i Kambal.
Další místa patřila znovu Dredgi a Ravager Shopům, zajímavému BUG Controlu s velkým Green Sun's Zenith packagem, 4C Controlu s Dark Confidanty a Kambaly, Oathům s Arlinn Kord, UWR Controlu s Young Pyromancery, či UWR Landstillu s vychytávkou v podobě Championů of the Wits.
V duel commanderu byly opět dva nejúspěšnější generálové Teferi a Kess, ale i navzdory tomu tu byla poměrně zajímavá top8.
Měli jsme v ní největší překvapení turnaje - 5C Goodstuff s Najeelou, dvakrát Protean Hulk kombo v BUG barvách - s Leovoldem a Tasigurem, klasický BUG Midrange s Leovoldem, UR Wildfiry s Keranem, 4C Control s Breyou a samozřejmě i zmiňované Kess a Teferiho.