Novinky
Explorers of Ixalan - informace o produktu
Explorers of Ixalan je desková hra pro více hráčů vycházející 24. listopadu 2017. Bude obsahovat čtyři 60 karetní balíčky (obsahující pouze reprinty) a dále speciální stavební karty a countery.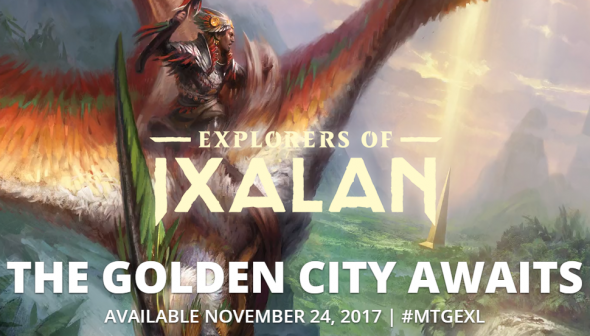 Explorers of Ixalan
Po Archenemy: Nicol Bolas se na nás řítí další "desková hra" ze světa Magicu, a to Explorers of Ixalan. Jak je patrno z názvu, tak půjde o deskovou hru ze světa Ixalanu. V balení najdete čtyři šedesátikaretní balíčky, které budou obsahovat jen reprinty bez nových karet. Dále jsou zde oboustranné tokeny, žetony a další herní doplňky.
Není známo, zda půjde opět o Archenemy formát nebo nějaký jiný formát příp. zda pro tenhle typ deskovek vymysleli něco nového. Cenově by měl být tento produkt o malinko dražší než Archenemy: Nicol Bolas, což mu nebrání v dostupnosti.
Důležité odkazy (budou postupně doplňovány):
Recenze Explorers of Ixalan
Kompletní visual spoiler Explorers of Ixalan
Update 6.11. 2017
Jak je již známo, tak v Explorers of Ixalan najdeme 4 tématické herní balíčky a venku jsou již jejich decklisty.
Update 14.10. 2017
Wizardi vypustili další informace ke hře v podobě videa, v němž vyspoilovali také několik karet. Ve videu vidíme náhled toho, jak hra vypadá rozložená a stručný úvod k jednotlivým balíčkům. Bude se jednat o bíločerné upíry, grixis piráty, zelenomodré merfolky a naya dinosaury.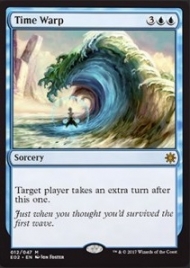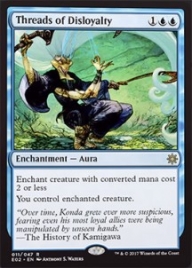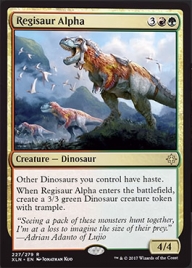 Obrázky Explorers of Ixalan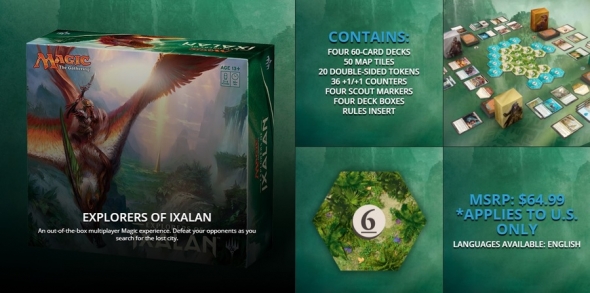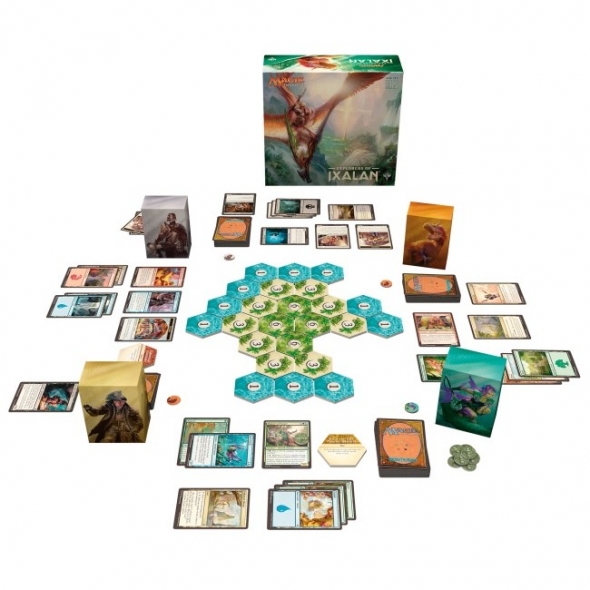 Technické informace:
Název edice: Explorers of Ixalan
Znak edice: 
Obsahuje:

čtyři 60karetní balíčky, 20 oboustranných tokenů, 50 stavebních karet, 40 counterů, 4 krabičky na balíčky

Release date: 24. listopad 2017
Zkratka edice: E02
Twitter hashtag: #MTGE02
Další informace budeme doplňovat, jakmile budou k dispozici.
Komentáře
"Desková hra" není úplně správná formulace...
0 hlasů
Tak ona to skoro bude deskovna, ne? Jen část herních materiálů budou MtG karty a pravidla budou v podstatě magicová + něco málo navíc...

0 hlasů
Přispívat mohou pouze přihlášení uživatelé. Pokud chcete vložit komentář, přihlaste se ZDE.