Novinky
Flash News #10/2015
1. GP Lyon (BFZ Sealed)
První GP v Evropě po téměř dvou měsících si nenechalo ujít 1 949 hráčů, včetně 22 zástupců českého magicu.
Z nich se nejlépe dařilo Martinu Jůzovi, který se skóre 12:3 obsadil 25. místo. Na pro pointy dosáhlo ještě pět dalších českých hráčů – Ondřej Posolda, Petr Sochůrek, Matěj Belasta, Jan Ksandr a Michal Brodzák.
O vítězi rozhodovala poměrně nabitá top8, ve které byli Tomoharu Saito, Christian Seibold a dvojce belgických prohráčů, Branco Neyrick a Vincent Lemoine.
Všem ale nakonec vypálil rybník domácí Damien Bouillot, který ve finále porazil Christiana Seibolda stylově emblémem z Oba Nixilise.
2. GP Indianapolis (Standard)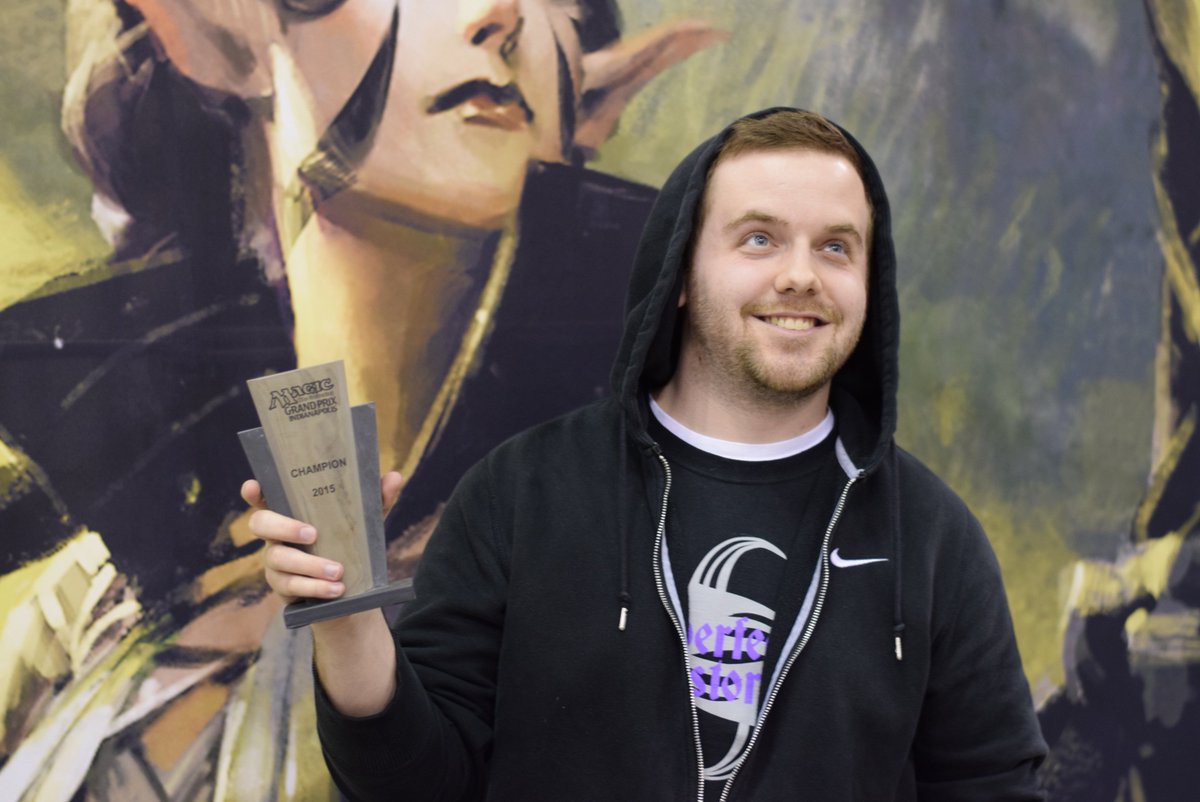 Dvojka v Indy přilákala 1 103 hráčů (bez české účasti). Turnaji dominovaly dva decky – Abzan Aggro a Dark Jeskai. Po minulém týdnu, kdy Jake Mondelo uhrál s RG Eldrazi Rampou v Quebecu top4, se také objevilo velké množství různých ramp, v téměř všech barevných kombinacích.
Novinkou turnaje byli BW Tokeni (většinou s modrou splashí v sidu), se kterými se dostal až do finále Raymond Perez junior. Tam ale nestačil na Abzan Aggro Brenta Clawsona.
O největší překvapení turnaje se postaral David Phelps, když se do top8 dokázal dostat s Bant Aggrem, které bylo založené na Hardener Scales. Osobně jsem tenhle deck viděl v akci několikrát a vždycky mi přišel dost hrozný, takže moc nechápu, jak se mu to povedlo. Každopádně uhrát top8 na GP s playsetem Servant of the Scales, to je opravdový kumšt.
Celkové složení decků v top32 bylo následující:
9× Abzan Aggro

6× Dark Jeskai

3× BW Tokens (s modrou splashí)

2× GW Megamorph (s modrou splashí)

2× Gr Eldrazi Ramp

1× RG Landfall

1× Bant Scales

1× Mage-Ring Esper

1× Atarka Red

1× Abzan Tokens

1× Gb Eldrazi Ramp

1× BW Aggro

1× Bring to Light

1× 4C Rally

1× Esper Control
A na závěr nesmí chybět přehled nejzajímavějších decků:
3. GP Porto Alegre (Modern)
GP v Jižní Americe mají většinou menší návštěvnost než je tomu u ostatních GP, což se potvrdilo i tentokráte. Do Porto Alegre přijelo 783 hráčů, což mimo jiné znamenalo, že na top8 stačilo několika šťastlivcům skóre 12:3.
Na turnaji dominovaly agresivní strategie a kombo decky. Tyhle decky nakonec utvořily celou top8. V té bylo několik známých jmen – Gabriel Fehr (UR Twin), Thiago Saporito (GW Hexproof – zajímavá verze, ve které místo obvyklých Kor Spiritdancerů hrál Silhanu) a Guilherme Merjam (Living End).
Konkurenci nakonec naprosto převálcoval Marcos Freitas s Naya Zoem (verze s Relikviářem a Collected Company), který za celý turnaj neprohrál ani jeden match (jeho jediná prohra bylo conceednutí Thiagu Saporitovi v předposledním kole)! Druhým finálovým deckem byl Naya Burn - verze s Wild Nacatly.
Kompletní top16 vypadala takhle:
2× Naya Burn

2× UR Twin

2× Jund

1× Living End

1× Naya Zoo

1× GW Hexproof

1× RG Tron

1× Bant Zoo

1× Summer Bloom

1× Infect

1× Affinity

1× Abzan Company

1× Lantern Stax
A na závěr je tu opět několik zajímavých decklistů:
4. SCG Open Dallas (Modern)
První SCG Open s Battle for Zendikar přílákalo 445 hráčů. K vidění bylo plno zajímavých decků s novými kartami, ať už to byl Scapeshift s Bring to Light, Naya Alíci, nebo Tron s Ulamogem a Void Winnowerem (ten se nakonec dostal až do top4).
Nakonec ale, stejně jako v Porto Alegre, měly největší úspěch rychlé agresivní decky. Vítězem se stal Wesley Blanchard s agresivní verzí Naya Zoa (s Experiment One & Burning-Tree Emissary), když ve finále porazil Boros Burn Williama Hawka.
V top32 bylo k vidění ještě pár dalších zajímavých decků, například Protean Hulk kombo, nebo Grixis Control s Piou a Kiranem a novým Jacem.
5. SCG IQs Dallas (Standard & Legacy)
Dvojkového IQ se účastnilo 98 hráčů. V top16 měly největší zastoupení různé Eldrazi Rampy (5 decků), ale finále byl nakonec mirror Abzan Aggra, ve kterém John Fuqua porazil Aarona Waterse. Zajímavé je, že John hrál pouze jednoho Hangarback Walkera a úplně vynechal Gideona. Místo toho hrál Heir of the Wilds a Sorina.
Další méně obvyklé decky v top16 byly UB Aristokrati, 4C Rally, Naya Rampa, RB Draci, nebo Wu Weenie.
Legacy měla na chlup stejnou účast jako dvojka. Nejvíce se dařilo Miraclům, které obsadily pět míst v top16 a v rukách Joe Losseta také celý turnaj ovládly. Joe hrál poměrně zajímavou verzi bez Entreatů, ale zato s maindeck Snapcastery, Klikami, Venserem a Monastery Mentorem.
Zajímavé decky byly k vidění i na druhém a třetím místě – Aluren a 12 Post. U Alurenu se jednalo o takovou rozpolcenou verzi mezi kombem (maindeck Forsáže, Intuice a Diabolic Intent) a midrange verzí (Deathrite Shaman, Decay, Baleful Strix).
12 Post zase překvapil zařazením Trinket Mage, který umí kromě Candelabry a Senseiky hledat Expedition Map, nebo Pithing Needle. Jenom si nejsem jistý, jestli by v něm nový Ulamog nebyl lepší, než ten starý. Přece jenom, exilnutí dvou permanentů je dost přísné a dokonce jsem viděl i build, kde k němu byly multiple Karakasy.
Na formátu se nám pomalu začíná zabydlovat i nový Jace, Michael Johnson mu dal ve svém BUGu přednost před čtvrtým Tarmogoyfem, což svědčí o mnohém…
6. Bonus (Standard)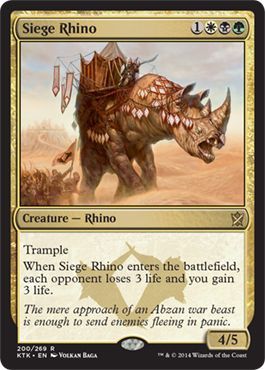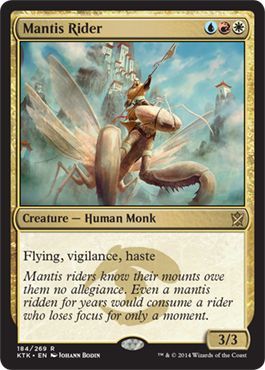 Jako perličku na závěr jsem dnes vybral pětibarevný midrange (bez Bring to Light) Josefa Vlacha, se kterým se dostal do top8 na MKM Series a poté s ním obsadil ještě druhé místo na PPTQ v Najadě. Musím říct, že už dlouho jsem neviděl tak greedy deck a to se mi líbí :)
A to je pro tentokrát vše, příště se můžete těšit na článek věnovaný Commanderu 2015. Do té doby se mějte fajn.
Kumano
Komentáře
Malinko nepořádek v těch decklistech (Standard, když je to Modern...).
0 hlasů
článek se moc dobře nečte, ta grafická úprava není moc dobrá.
0 hlasů
@flamberg - to je chyba programátora, ale už to bylo nahlášeno ;)

@ego2 - už jsem to probíral s lobem, snad na tom někdo v nejbližší době zapracuje
0 hlasů
Pokud už na to bude programátor koukat, bylo by dobré aby ještě zapracoval na zobrazení vlastní karty po kliknutí na kartu v decklistu, Idealní by bylo aby se zobrazovala pod příslušným decklistem, Momentálně se zobrazí náhodně pod nějakým decklistem na stránce. Při čtení na mobilu se to pak docela blbě hledá a ani na pc to není idealní.
0 hlasů
A ještě jedna poznámka pro programátora: Všiml jsem si na hlavní stránce, že tento článek ukazuje 0 komentářů a přitom tady nějaké komenty jsou. Asi chybka někde?
0 hlasů
když už jsme u těch decklistů... orientační ceny jsou super, ale mělo by to aspoň okrajově sedět. třeba ten RG Tron - od 7k v jakém vesmíru? :-) jenom Groovy a Karni jsou 10 dohromady...
0 hlasů
Možná nechápu, o čem "Flash News" mají být (když mi tu chyběl na začátku souhrn toho, co bude a pak jsem zjistil, že si to pletu se Středečními Výhledy).

Je to sekce primárně zaměřená na turnaje ve světě?
Rád bych to věděl - protože mne z novinek zajímají hlavně "vyjde/vyšel nový produkt" a "mění se pravidla". Bylo by blbé nadávat, že tu nic takového není, pokud má tahle sekce jiné zaměření a měl bych to hledat někde jinde.

Čím se vlastně Flash News liší od Středečních Výhledů (v rámci obsahu a témat)?
0 hlasů
To all: decklisty ještě doznají změn. Zatím sbíráme feedback a připravujeme zadání pro programátora.
To Birnik: Víme o tom. Momentálně jsou nové komentáře poznat pouze dole v boxu "Nejnovější komentáře". Později dojde k úpravě, aby i číslo u bubliny odpovídalo "okamžitě" realitě (momentálně má velké zpoždění)
0 hlasů
To Nekra: Flash News řeší zejména mezinárodní turnaje a decklisty, které se na nich objevily.

Středeční výhledy jsou o všech tématech ohledně MTG. Od produktů, kusovek, cen, organizovaného hraní, turnajů, příhod, MTGO, úspěchy českých hráčů atd. atd. Středeční výhledy se vyhýbají decklistům, metagame a velkým nadnárodním turnajům, kde nebodovali Češi (tam nastupují Flash news).
0 hlasů
Díky za odpověď. Jsem rád, že konečně vím, že moje zklamání bylo způsobeno špatným očekáváním a neznalostí rozdílů mezi FN a SV. (V samotných názvech to zaměření FV na světové turnaje nevidím.)
0 hlasů
Ohledně cen v decklistech: počítají se jen karty, které máme na skladě v eshopu. Pokud danou kartu nemáme, tak se do ceny nezapočítává. To občas může znamenat o dost nižší ceny. Luboš.
0 hlasů
Tak v tom případě to je fakt užitečná featura... :-/
0 hlasů
Právě jsem poprvé nedokázal přečíst svoji oblíbenou rubriku. Nabídka karty přes půl obrazovky za každým decklistem z toho pro mne udělala nestravitelnou záležitost. Když budu chtít nakupovat, tak si vlezu do shopu. Pokud by to takhle mělo být u každého příspěvku, tak je pro mne CMUS mrtvý.GL.
0 hlasů
Právě jsem poprvé nedokázal přečíst svoji oblíbenou rubriku. Nabídka karty přes půl obrazovky za každým decklistem z toho pro mne udělala nestravitelnou záležitost. Když budu chtít nakupovat, tak si vlezu do shopu. Pokud by to takhle mělo být u každého příspěvku, tak je pro mne CMUS mrtvý.GL.
0 hlasů
Souhlas s Plackou. Jako snad každý soudný člověk uzná, že proložit článek třiceti (!!!) nabídkami na karty, mezi kterými je například Hangar rovnou třikrát, Ugin dvakrát a Ob Nixilis taktéž, je asi už trochu moc...
0 hlasů
Bohužel se tam náhodné karty zobrazují automaticky a já s tím nemůžu nic dělat. Nezbývá než si počkat na update od programátora...
0 hlasů
Jelikož i po véce než měsící provozu se autoři webu stále odkazují na feedback od uživatelů, přidávám několik málo postřehů z uživatelského pohledu.

1./ Udělejte něco s tím headerem, momentálně je složení ze tří pruhů a každý má jinou délku - moc vám to nelícuje a pusobí to trochu nedodělaně. Je to přeci jen první věc, kterou člověk uvidí.
2./ Skutečně na vás ta směska sloupečků a boxíků, ze kterých je HP složená, působí přehledně? Možná se "novinový slupeček" čte lépe ale na mne to působí jako přeplácaný chaos, kdy se autoři snažili vecpat na HP úplně všechno.
3./ Když už si tedy otevřu článek, chci se zaobírat článkem. Okno s turnaji, které stejně nemají odkazy, mne nezajímá, komentáře na fóru už vůbec ne. Je to rušivé, zbytečné a zabírá to místo.
4./ Okno s turnaji je zbytečné i na HP, za předpokladu, že každý turnaj opravdu nemá odkaz alespoň do sekce turnajů té dané herny. "21.11. PPTQ, Sealed Deck " má jako informace naprosto nulovou hodnotu.
5./ Odkaz "Decklisty" - chybí filtr na formát, chybí u decklistů datum. Pokud chci nejnovější modernové balíčky, abych se v současné verzi uklikal k smrti.
6./ Dva odkazy TURNAJE, každý vede někam jinam. Další zmatek.
7./ Odkaz JAK ZACIT - Tak to netuším s čím, pokud na to klikne absolutní začátečník, možná si spíš začne pokládat otázky kde je nějaký relevantní content
8./ Odkaz CLANKY - Proč tu není filtr, který by je dělil do nějakých základních kategorií?
9./ Linkování karet do článků - Tady toho bude víc:
a/ Smysluplnější je linkovat na nejlevnější možnou variantu, nikoliv naopak - základní země za 200 vypadají dost úsměvně
b/ Sčotku, resp. nabídku celého balíčku za XY Kč asi můžete vynechat. Jednak vám to stejně nefunguje vzhledem ke zmíněným cenám, za druhé pokud to nesčítá všechny karty je to o ničem a za třetí si dovoluji tvrdit, že v našich krajích je naprosté minimum lidí, kteří si koupí celý balíček naráz. Tahle utilita vám možná za tu komedii nestojí.

Pravděpodobně jsem ještě nenašel všechno, ovšem čekal bych, že když už někdo spustí nové stránky, tak pokud ne hned, tak alespoň v rámci dní, max. 2 týdnů všechny ty očividné chyby a nedostatky vychytá.
0 hlasů
Přispívat mohou pouze přihlášení uživatelé. Pokud chcete vložit komentář, přihlaste se ZDE.