Novinky
Flash News #10/2017
1. GP Shizuoka (Standard)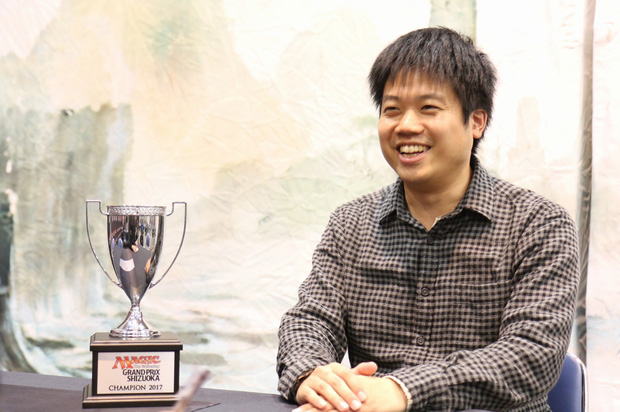 V Japonské Shizuoce jsme byli svědky největšího GP v sezóně 2016/17, když se tu sešlo 2 716 hráčů. To rozhodně není náhoda, jelikož až doposud drželo primát další japonské GP, kterým byla listopadová legacy v Chibě.
Japonští hráči jsou proslulí oblibou v rogue decích, což se projevilo i zde, když v top32 skončilo hned několik velmi neobvyklých decků. Jinak ale GP dominovaly Mardu Vehicly, které obsadily šest míst v top8 (šestnáct v top16) a ve finále hrály mirror, ve kterém zvítězil Ryohei Kirino, jenž hrál své vůbec první GP!
Všechny úspěšné verze Vehiclů hrály v mainu Walking Ballisty a Avacyn, ale sideboardy se hodně lišily. V top8 jsme například mohli vidět verzi, která měla v sidu větší počet Nahiri a Combustible Gearhulka, další speciality pak byly například splash pro Thought-Knot Seery, nebo modrá verze se Spell Quellery.
Dva non-vehicle decky v top8 byly RUG Tower, který mohl po sidu přejít na midrange konfiguraci s Tireless Trackery a Bristling Hydrami a BG Constrictor s červenou splashí na Disintegraci a bezbarvou splashí pro Reality Smashera. Bezbarvou manu zde fixoval mimo jiné Catacomb Sifter. Vůbec ale netuším, co vedlo autora decku k tomu, že hrál jenom tři Constrictory, což je suverénně nejlepší karta v decku...
Velmi smolně skončil devátý Tomoya Kobayashi (o jednu tisícinu na pomocná procenta - díky vysokému počtu účastníků byli hráči se skóre 13:2 od pátého až po šestnácté místo a dva hráči se skóre 12:3 se dokonce ani nevešli do peněz), jenž hrál zajímavou verzi mardu s tokenovou tématikou, kterou podporovaly karty jako Yahenni, Pia Nalaar, nebo Sram's Expertise.
V top32 jsme také mohli vidět White Eldrazi bez Displacerů, ale zato s Heart of Kiran, hodně kontrolní RUG Aetheworky s Dynavolt Towerem a Torrential Gearhulky, RG Energy Aggro s Heart of Kiran, nebo různé verze Jeskaie (s Towerem a Copycat kombem).
Coverage nám odhalila ještě více zajímavých decků - BG se třemi Skysovereigny v mainu, což je deck, se kterým měl 9:0 v prvním dni Fujimoto Takehiro, Monoblack Midrange, jenž se mohl pochlubit závěrečným skóre 11:4, nebo mix BG Deliria a 4C Saheeli, jenž vyhrál jeden z pátečních trialů.
2. GP Porto Alegre (Standard)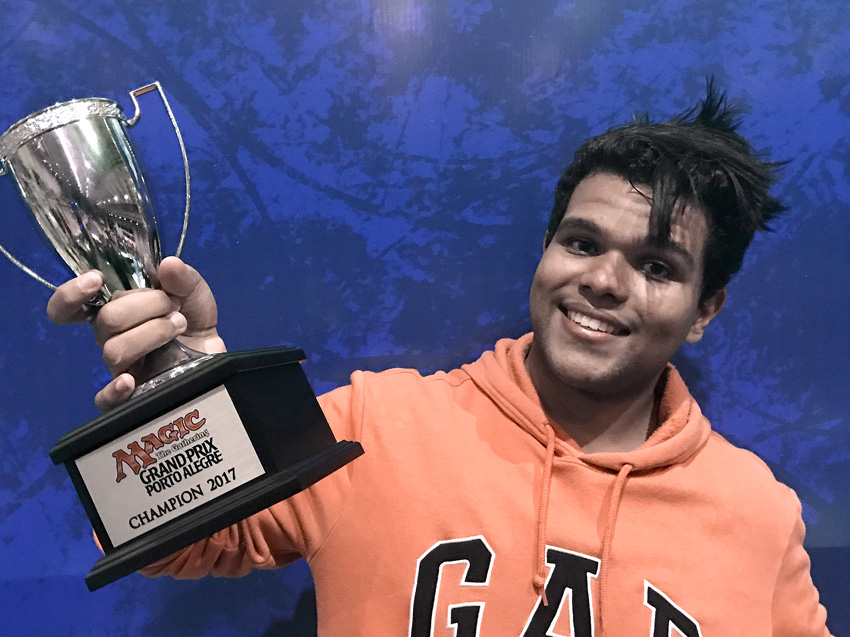 Porto alegre bylo docela vtipným kontrastem v porovnání se Shizuokou, jelikož s pouhými 575 hráči bylo naopak nejmenším GP v celé sezóně 2016/17.
Navzdory tomu bylo tohle GP zajímavým milníkem v hitorii jihoamerických GP, jelikož šlo o první jihoamerické GP s videopřenosem, který jsme si mohli vychutnat mimo jiné díky dvojici pro hráčů Paulo Vitor Damo da Rosa a Willy Edel.
Pokud se podíváme na složení decků v top32, tak to vypadá, že GP bylo klasicky soubojem 4C Saheeli (9× v top32) a Mardu Vehiclů (16× v top32). Ve skutečnosti tomu ale úplně tak nebylo. V top8 totiž byly také dva BG decky a hlavně RUG Tower, se kterým nakonec zvítězil Fernando Silva.
Stejně jako v Japonsku i tady platilo, že úspěch RUG Toweru spočíval v transformačním sideboardu, který zde obsahoval playsety Longtusk Cubů a Tireless Trackerů. A právě Longtusk Cub byl rozhodující kartou ve finále, když ve třetí hře narostl až do velikosti 10/10!
Kromě těchto čtyř decků už ale v top32 nebylo nic zajímavého k vidění - jako jediné dva další decky tu byly RUG Aetherworky a BR Eldrazi.
Pokud bychom se ale opravdu pozorně věnovali coverage, tak bychom narazili na dva zajímavé decky mezi vítězi triálů. První je BR Aggro s Goblin Dark-Dwellers a druhý je Jund Midrange s planeswalkery a delirium subtématikou.
3. MKM Series Milán (Legacy, Modern, Vintage, Standard)
První letošní zastávka v rámci MKM Sereis byla v italském Miláně, takže vás asi nepřekvapí, že největší zájem tu byl o legačku, na kterou přišlo 134 hráčů.
Nejhranějším deckem tu byly dle očekávání Miracly, které si zvolilo 14 hráčů, na druhém místě byly varianty 4C Delvera a 4C Controlu s jedenácti hráči a třetí nejpopulárnější byly Death and Taxes s osmi hráči.
Trochu zarážející tudíž je, že ani jeden z těchto decků se neprobojoval do top8, kde byl BUG Delver, Eldrazi, UR Delver, Storm, Infect, OmniTell (ten pilotoval zástupce českého magicu, Martin Král), Food Chain a hodně přísná Eldrazi Rampa.
S konkurencí si nejlépe poradil Marius Hausmann s novou verzí Food Chainu s Leovoldem a Walking Ballistyy když ve finále porazil zrovna našeho Martina Krále.
Nejzajímavější kreace v top8 byla určtiě Eldrazi rama Ivana Canea, šlo o jakýsi mix MUDu, 12Postu a klasických Eldrazi. V decku je playset Chalicí a Thought-Knot Seerů, což vám má koupit dost času, abyste mohli zahrát jednoho z eldrazi titánů, kteří tu byli ve složení 4× Ulamog, 1× oba Kozilková a 1× stará Emrakul.
Hodně se mi líbil také UR Delver Mathieu Haase, ve kterém chyběli běžně hrávaní Monastery Swiftspear a Stormchaser Mage (což je podle mě na legacy naprosto hrozná karta), místo kterých tu byli Young Pyromancer, Grim Lavamancer a True-Name Nemesis.
Druhý největší event byl modern se 117 hráči. Nejhranějším archetypem tu byl BGx Midrange, který si vybralo hned 13 hráčů, o druhé místo se dělila Affinita a Burn s deseti hráči.
A právě Affinita byla nejúspěšnějším deckem turnaje, když se dostala jako jediný deck ve dvou do top8, což vyeskalovalo až mirrorem ve finále, který ale tak docela mirrorem nebyl. Vítězný Domenico de Noia totiž hrál dosti neobvyklou verzi s kartami jako Frogmite, Myr Enforcer, Bombat Courier, nebo Welding Jar (v playsetu). Dokonce nehrál ani Inkmoth Nexusy, místo kterých tu byly Contested War Zony. Očividné plus téhle verze je v tom, že je celkem rezilientní proti Stony Silence.
Další zajímavé decky v top8 byly BR Moon (verze s Pack Raty a Rabblemasterem, která je v poslední době celkem populární), Jeskai Saheeli, nebo Bant Spiriti.
V top8 byl i zde jeden český hráč, kterým byl Jiří Tůma pilotující Merfolky. A zbylé decky byly Bg Tron a RG Scapeshift.
Dále tu máme Vintage, které se zúčastnilo 29 hráčů, přičemž největší zastoupení tu měly Mentor decky se šesti hráči, z nichž se hned tři dostali do top8, kde je doplnil BUG Control, Saheeli Oath, MUD s Kuldotha Forgemasterem, Grixis Tinker s Dark Confidanty a White Eldrazi s Walking Ballisty.
Z vítězství se nakonec radoval Luca Lovino s klasickou verzí, která hrál flipovací Jace a maindeck Stony Silence, když ve finále porazil nepřítele číslo jedna v podobě White Eldrazi.
Rád bych zvlášť zmínil ještě jeden z Mentor decků v top8, kterým byla 4C varianta Francesca Gianiho, v níž byla zelená splash na Fastbond, který umožňoval kombo-kill spolu s Gushem a Tendrily.
Tak trochu očekávaný byl krach standardu, který je MKM Series poslední dobou velmi nepopulární. To se potvrdilo i zde, když se ho účastnilo pouhých 21 hráčů, což znamenalo pět kol a top8. Myslím si, že i commander sideevent měl větší návštěvnost...
Všechno zlé je ale pro něco dobré - v poli plném Mardu Vehiclů a 4C Saheeli si totiž proklestil cestu k vítězství Andrea Dorigo s originálním Esper Controlem.
4. Eternal Extravaganza 6 (Legacy & Vintage)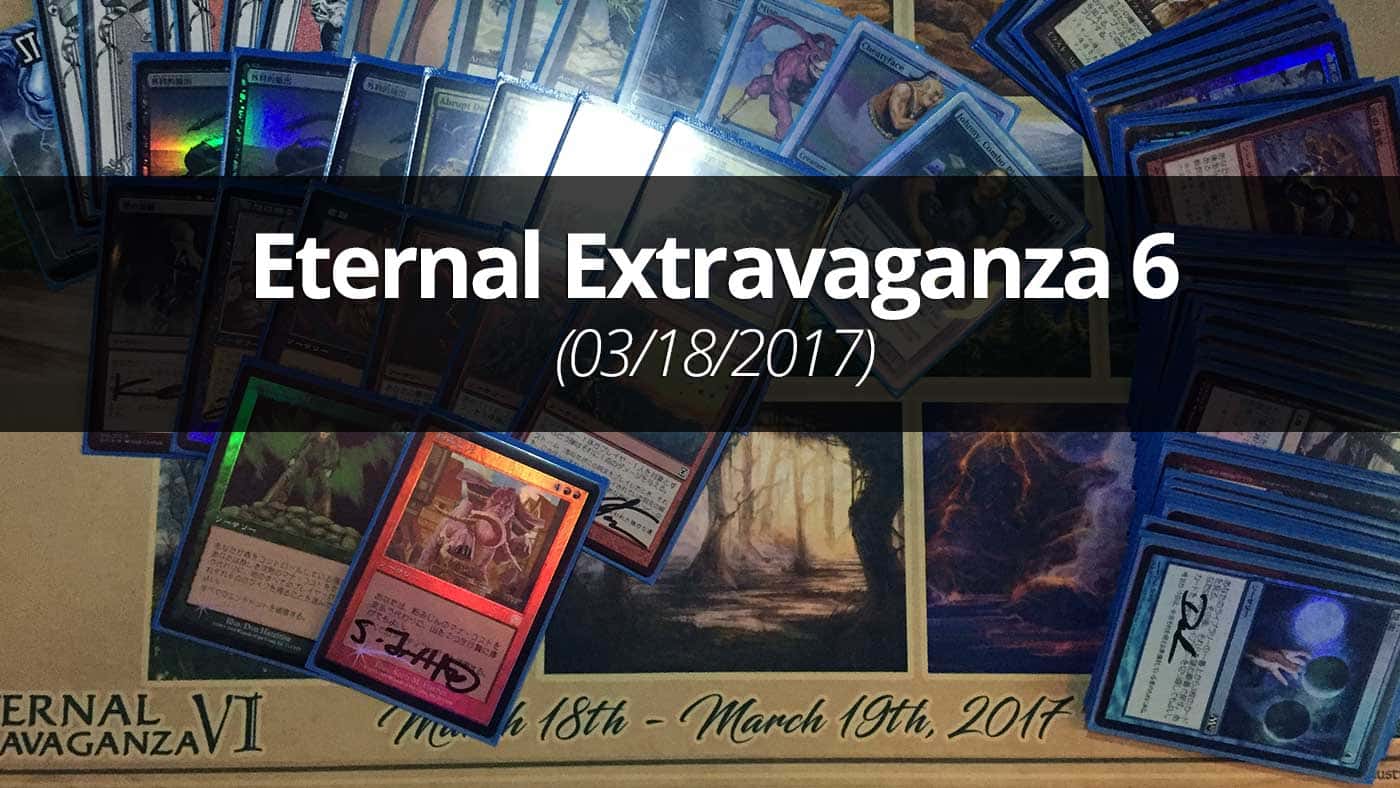 Eternal Extravaganza je v současnosti největší pravidelnou americkou eternal sérií, jenž se koná vždy jednou za půl roku. Posledního legacy main eventu se tu zúčastnilo 175 hráčů a stejně jako před půl rokem se stal kořistí Miraclů.
Ve finále se tu střetli dva kamarádi - Anuraag Das a Bob Huang, kteří hráli takřka identické decklisty, které se lišily pouze v poměru Snapcasterů a Predictů. Jenom pro úplnost dodám, že zvítězil Anuraag Das.
Další decky v top8 byly Storm, Death and Taxes, dva 4C Controly (verze s Counterspelly a Jacem), BUG Aluren a Elfové. Jak tedy vidíte, nic nečekaného se zde neodehrálo. Pokud byste přece jenom hledali nějaké inovace, tak si můžete všimnout Fatal Pushů v sidu Stormu a Lifecrafter's Bestiary v sidu Elfů.
Narozdíl od evropských turnajů je v zámoří mnohem větčí základna vintage hráčů, což v tomto případě znamenalo turnaj o 88 lidech.
Top8 byla doslova zaplavena Mentor decky, které v ní byly dokonce v pěti (dvě klasické UWr verze a tři se zelenou splashí pro Sylvan Library). Jenom jeden se ale dokázal dostat do top4, kde ho doplnily dva Shopy (jeden agresivní s Fleetwheel Cruisery a druhý se Smokestackem) a BUG Control s chuťovkou v podobě Managorger Hydry (snadsázkou se dá říci, že je to zelený Mentor).
Z výhry se nakonec radoval Nick Dijohn s agresivní verzí Shopů.
5. Duel Commander Cockatrice / St. Nazaire
Dále tu máme dva zajímavé turnaje v duel commaderu. Ten první je už trochu starší záležitost, jelikož šlo o online turnaj organizovaný prostřednictvím MTG Salvation, který se hrál na cockatrice formátem double elimination a účastnilo se ho 72 hráčů.
Turnaj začal už někdy v listopadu, ale jelikož jednotlivé zápasy neměly žádné deadliny, tak se to docela dlouho táhlo a dohrálo se až někdy v únoru.
Turnaj byl ve znamení souboje partner decků s Vial Smasherem a Breyi (což se ani v aktuální metagame příliš nezměnilo).
V top8 jsme mohly najít dvě čtyřbarvy se Smasherem a Thrasiosem, dvě kontrolní Brey, dva Grixisy s Vial Smasherem a Kraumem a konečně artefaktové Boros Aggro (to hraje kvůli generálovi plno levných artefaktů, u kterých mi někdy přijde, že je úplně jedno, jaké mají ability, hlavní pouze je, aby stály nula, či jednu manu - ještě nikdy se mi nestalo že bych v decklistu neznal tolik karet) a zajímavé čtyřbarevné zoo s Reyhanem a Brusem (tady hráči došli k zajímavému poznatku, že je lepší hrát dvojici generálů, než pouze samotnou Saskii).
Čtenáře cmusu určitě potěší, že tenhle turnaj vyhrál český hráč, Vítězslav Šmíd, se čtyřbarevným goodstuffem (Vial Smasher a Thrasios). A ačkoli byl turnaj bez vstupného, tak za první místo dostal foilovou Linvalu.