Novinky
Flash News #11/2016
1. SCG Open Columbus (Standard)
První velkou dvojku po vydání Eldritch Moonu si nenechalo ujít 532 hráčů. Bohužel u prvních turnajů s novými kartami většinou platí, že hráči jsou tak trochu líní testovat karty, které jsou trochu obtížnější na deckbuiling (například Ishkanah, nebo Elder-Deep Fiend), takže obvykle jsou nejhranější ty decky, do kterých vyšlo velké množství nových karet, což tentokrát byli Spiriti, a poté tier decky, do kterých vyšla už na první pohled velmi dobrá posila (Spell Queller v Bant Company).
Takhle vypadala metagame ve druhém dni:
34× Bant Company
18× UW Spirits
10× Bant Humans
7× Wr Humans
6× BW Control
4× UR Eldrazi
4× GB Delirium
3× GW Tokens
3× Bant Spirits
2× GB Emerge
2× GW Midrange
2× Abzan Midrange
2× GB Midrange
2× GR Goggles
2× UR Flyers
19× Other
Vidíte, že dominance Company byla obrovská, což ještě lépe ilustruje 17 kusů v top32 a celkové vítěztví Devina Koepkeho, který se rozhodl vsadit na verzi s Avacyn a Selfless Spiritem, což byl jeho plán na mirror (podobně jako když GW tokeni hráli Hangára za nula, aby flipli Avacyn).
Další strategie na mirror byly například více kusů Tamiyo, Elder-Deep Fiend, nebo dokonce Decimator of Provincies.
Nejúspěšnější z nových decků byli UW Spiriti, kteří dostali plno nových karet včele se Spell Quellerem. Nejlepší z hráčů spiritů byl Jeff Hoogland na 13. místě, což bych přisuzoval zejména tomu, že draw-go strategii je takřka nemožné ideálně vyladit v prvním týdnu.
Několik hráčů také hrálo agresivnější verzi s Nebelgeist Spirity a Collected Company. Největšího úspěchu s ní dosáhl Kevin Jones.
Zklamáním víkendu byly delirium a emerge decky, které hrálo relativně málo hráčů a navíc se jim ani příliš nedařilo. Jako hlavní důvod bych viděl, že zkrátka není vůbec jednoduché správně postavit úplně nový deck v tak krátkém časovém období.
Jeden z mála hráčů, kterému se s delirium strategií dařilo, byl Ali Aintrazi, který s pěkným Sultai Midrangem dokráčel až do finále. Ali vsadil na delirium enablery v podobě Liliany, Jace a Oath of Jace a jako hlavní pay-off kartu měl Traverse the Ulvenwald, kterou hledal one-ofy jako Ishkanah, Dragonlord Silumgar a hlavně Emrakul, the Promised End.
Další, kdo se prosadil s delirium strategií, byl Todd Stevens, který hrál agresivní verzi s Gnarlwood Dryad a Deathmist Raptory.
A v top64 byl k vidění i jeden UR emerge, který si zakládal na synergii mezi Kozilek's Returnem a emerge bytostmi jako Elder-Deep Fiend a Wretched Gryff. Pěkný tech je i Sanctum of Ugin, které umožňuje nachainovat jednotlivé emerge kusy.
Na předních příčkách bylo k vidění ještě několik dalších zajímavých decků, o které vás samozřejmě nemohu připravit:
2. SCG Classic Columbus
Modernovou klasiku hrálo 216 hráčů a příliš zajímavých věcí se během ní neudálo. Zvítězil tu Steven Martin s Affinitou, když ve finále porazil Merfolky Doriana Finna.
Z nových karet jsme na předních příčkách mohli vidět Selfless Spirity v Death and Taxes Maxe Hersche, se kterými obsadil pěkné čtvrté místo a Spell Quellery ve velmi netradičním 5C Creature Aggru Jacka Rumpfa, se kterým skončil na šestém místě.
Základ decku byla tradiční dvojka manovačů a poté tu byly už jenom všelijaké multicolored bytosti. Zajímavá byla i manabase, kterou tvořily landy jako Ancient Ziggurat a Pillar of the Paruns.
A co se méně obvyklých decků týče, tak s netradičním Mardu Midrangem se do top16 dostal Eric Feltner. Klasický goodstuff v podobě discardu a removalu totiž doplnil Young Pyromancerem a Monastery Mentorem, ke kterým navíc hrál Zealous Persecution.
Na legacy (96 hráčů) byly taktéž dva decky v top16 s novými kartami, ale žádný z nich se neumístil v top8, která byla plně složená s tier decků: 2× OmniTell, 2× Miracles, 2× 4C Delver, Storm a Lands. Z vítězství se radoval Tom Luckett s OmniTellem, když ve finále porazil Storm Caleba Scherera.
První deck, který hrál nové karty byly UG Cloudpost na devátém místě, ve kterém byla nová Emrakul a také Nephalia Academy, coby sidovka ke Crop Rotaci.
A druhý deck byl Death and Taxes skončivší na jedenáctém místě, ve kterém byly dva kousky nové Thalie.
3. Modern MOCS (Magic Online Championship)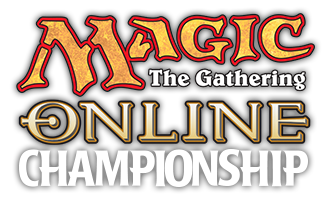 Na MTGO ještě Eldritch Moon nebyl legální, ale čekání si bylo možné vynahradit tímhle prémiovým eventem, kterého se účastnilo 349 hráčů. Ti si to rozdali v devíti kolech základní části, ve kterých až na jednu výjímku bylo potřeba uhrát 8:1 (a pokud se nemýlím, tak na smolném devátém místě skončil velmi těsně Petr Daněk s Affinitou).
Turnaji dominoval Ben Friedman s Bant Eldrazi, který jako jediný dosáhl perfektního skóre 9:0 v základní části a poté hladce prošel i finálovou top8. Jeho decklist byl takřka identický tomu, se kterým pár měsíců zpátky uhrál top4 na GP Pascal Maynard. Největší novinkou bylo zařazení Eldrazi Skyspawnerů.
Neobvyklý byl i druhý deck z finále, což byly Monowhite Soul Sisters s Martyrem, Squadron Hawky, Rangerem of Eos apod.
Další zajímavý deck byl na osmém místě. Šlo o velmi agresivní verzi Grixisu s velkým množstvím discardu a playsetem Confidantů, která se velmi podobala Jundu.
Desáté místo obsadil "Finespoo" s Restore Balance, ve které hrál Greater Gargadony a také Nahiri s Emrakulem.
Na šestnáctém místě skončil "AliEnWaRe_" s Eldrazi Tronem, ve kterém kromě klasických Eldrazi jako Thought-Knot Seer a Reality Smasher hrál i playset Endbringerů a poté větší kusy jako Ulamog, the Ceaseless Hunger a Kozilek, the Great Distortion. A zajímavé byly i hned tři maindeck Spellskity a dvojice Batterskullů.
Poslední chuťovka jde na vrub Reidu Dukovi, který hrál Uw Time Walky, kde byly jako jediné winkondice Celestial Colonnade a Part the Waterveil. Pěkná byla v decku zejména one-of Narset Transcendent, což je vlastně způsob, jak si díky reboundu zkopírovat každý zahraný Time Walk.
4. MTGO Legacy Champs
Další prémiová událost na MTGO byla legačka, které se účastnilo 124 hráčů, což znamenalo sedm kol základní části s jasným cutem 6:1 pro top8.
Nejúspěšnější deck turnaje byl 4C Delver, který skončil na prvním i druhém místě. Celkový vítěz, HeyyQT, hrál klasickou verzi s Pyromancery a Cabal Therapiemi v sidu, ale ostatní hráči zvolili méně tradičnější verze s Tarmogoyfy, Snapcastery, True-Name Nemesis, nebo dokonce s playsetem Gurmag Anglerů a Thought Scourů. O těchto verzích můžeme říci, že je to de facto BUG se splashí pro Lightning Bolt.
Další zajímavý deck, který se na předních příčkách objevil ve více kopiích, byly Turbo Depthsy, což je kombo deck, který se snaží vyhrát hru tím, že co nejrychleji sestaví kombo Dark Depths + Vampire Hexmage/Thespian Stage. K vidění tu byly tři různé verze a největší úspěch měla ta s Brainstormem, kterou dovedl až na sedmé místo Negator77.
Z dalších zajímavých decků bych zmínil Manaless Dredge s Chancellorem of the Annex, BR Reanimátor taktéž s Chancellorem of the Annex a se Show and Telly v sidu, Eldrazi and Taxes a Nic Fit se Scapeshiftem.
5. Bonus - brewing s Bedlam Revelerem
Na závěr tu pro vás mám tři decky, které se snaží využít jednu z nejzajímavějších karet v Eldritch Moonu, kterou je Bedlam Reveler.
První je agresivní verze UR Delvera na modern s kartami jako Vapor Snag, Gitaxian Probe a Thought Scour. Druhý deck je legacy verze UR Delvera a konečně třetí deck je zajímavá verze modernového Jundu s Traverse the Ulvenwald a Grim Flayerem, která kvůli deliriu hraje kusy jako Tarfire a Mishra's Bauble.
A to je pro tentokrát vše, ale hned zítra se můžete těšit na další porci zajímavých decklistů!
Kumano
Komentáře
Přispívat mohou pouze přihlášení uživatelé. Pokud chcete vložit komentář, přihlaste se ZDE.