Novinky
Flash News #18/2017
1. GP Montreal (Standard)
Týden po PT se konala dvě GP (v Kanadě a Chile) a obě by se dala stručně charakterizovat dvěma slovy - Aetherworks Marvel. Ačkoli tenhle deck PT nevyhrál, tak to ohromně zvýšilo jeho popularitu, narozdíl od Zombies, po kterých týden od výhry na PT něštkl ani pes... Jako hlavní důvod vidím, že v Marvelu se začala hrát Chandra Flamecaller, kterou zombáci moc neumí porazit.
V Montrealu se sešlo 848 hráčů (bez české účasti), z nichž jich 135 mělo po prvním dni naději postupu do top8. A z toho hrála takřka polovina RUG Aetherworks Marvel. Druhý nejpopulárnější deck, Mardu Vehicly, hrálo o 45 hráčů méně... Alespoň deset hráčů hrálo ještě Monoblack Zombies, BG Aggro a UR Control.
60× RUG Aetherworks Marvel
15× Mardu Vehicles
13× Monoblack Zombies
11× BG Aggro
10× UR Control
Nezainteresovaného diváka by mohly docela zmást i výsledky top8, kde je pět různých decků (3× Marvel, 2× Mardu, 1× BG Aggro, 1× UR Control a 1× Monoblack Zombies), což vypadá jako celkem pestrá metagame. Při bližším pohledu ale zjistíme, že v top32 bylo hned sedmnáct RUG Marvelů, což není zrovna dvakrát různorodé.
Pokud bychom se poohlédli po jiných decích, než je zmiňovaných pět, tak bychom museli jít až na závěr druhé desítky, kde najdeme verzi Aetherworks Marvel s bílou místo červené, UR Zmob-Emerge a UW Flash, což je deck speciálně postavený proti Marvelu. V coverage je také představen UB Control Shaheena Sooraniho, se kterým se pouze těsně na pomocné nedostal do top32.
Do finálové top8 se dostalo několik známých jmen, jako například Shaun McLaren (v BG Aggru hrál playset Dissenter's Deliverancí), Kevin Jones, nebo Max McVety.
Finále bylo soubojem dvou RUG Marvelů, ve kterém Kevin Jones porazil Paula Deana.
2. GP Santiago (Standard)
Do Santiaga si přišlo zahrát 748 hráčů a opět tu dominoval Aeherworks Marvel. Ze druhého dne bohužel nebyl zveřejněn rozbor metagame, avčak top32 napovídá, že to bylo víceméně totožné s Montrealem:
15× RUG Aetherworks Marvel
6× UR Control
5× Mardu Vehicles
3× Monoblack Zombies
1× RG Monsters
1× BR Hellbent Aggro
1× UW Flash
V top32 tu nebylo žádné BG Aggro, ale jako zástupce bytůstkových aggro decků tu máme RB Hellbent/Madness Aggro a RG Monstra, která se dokonce dostala až do top8.
Do top8 se i tady dostalo několik známých jmen (Guillherme Merjam, Grzegorz Kowalski, nebo Niels Noorlander), ale narozdíl od Montrealu, kde zvítězil zkušený Kevin Jones, tady triumfoval argentinský mladík, Mauro Sasso, jenž ve finále v mirroru Aetherworks Marvelů porazil Grzegorze Kowalskiho.
Díky některým jmenům v top8 jste možná postřehli, že GP se účasnili něktří evropští prohráči, kteří si po PT o týden prodloužili pobyt v zámoří. Byla tu i pětice českých hráčů, které se na GP velmi dařilo. Jmenovitě to byli Martin Jůza, Petr Sochůrek, Ondřej Stráský, Jan Ksandr a Martin Hrycej.
Největšího úspěchu se dočkal Martin Hrycej, kterému velmi těsně o pár setin na pomocné hodnocení utekla top8.
Třicáté místo patřilo Martinu Jůzovi, který se tak opět o něco přiblížil platinovému statusu pro příští sezónu. Oba Martinové hráli UR Control.
Do top64, která získává penižitý bonus, se dostal ještě Ondřej Stráský, jenž skončil na 39- místě.
Pro pointy (ale už bez finanční výhry) získali i Jan Ksandr s Petrem Sochůrkem za 80. a 88. místo.
3. SCG Open Louisville (Team Constructed)
V Louisville se konalo další z populárních týmových constructed turnajů, což je turnaj, kde spolu hrají tříčlenné týmy, kde jeden člen hraje standard, druhý modern a třetí legacy.
Musím říci, že ačkoli jsou SCG Open z pohledu diváka mými nejoblíbenějšími turnaji, tak struktura tohoto turnaje měla podle mě ještě stále několik nedostatků. Turnaje se účastnilo 900 hráčů, ale do druhého dne postoupilo pouze třicet týmů, ačkoli se druhý den i tak hrálo šest kol. To mimo jiné znamená, že v posledních kolech proti sobě mohou hrát týmy s dosti rozlišným skóre.
Oproti minulému team constructed se navíc hrála top8, což znamenalo, že budete téměř jistě v top8 hrát s týmem, který jste potkali předtím v základní části. Rozšířic počet týmů ve druhém dni by podle mě turnaji prospělo.
Na turnaji se nejlépe dařilo trojici Chris Andersen, Clay Spicklemire a Spencer Garnier, kteří hráli kombinaci UR Control (standard), 4C Death's Shadow (Modern) a 4C Delver (legacy).
Na standardu byl dle očekávání mezi top třiceti týmy nejpopulárnější RUG Marvel, který následovaly BW Zombies (díké bílé má deck více odpovědí na Marvel), UR Control, BG Aggro a RUG Energy kontrol s Dynavolt Towerem.
Z méně typických decků bylo k vidění BG Delirium, Naya Aetherworks Marvel, agresivní UR Prowess, nebo UW Control, který hrál speciální techovku proti Marvelu v podobě Gideon's Intervention.
13× RUG Aetherworks Marvel
3× UR Control
3× BW Zombies
2× RUG Dynavolt Tower
2× BG Aggro
1× BG Delirium
1× Monoblack Zombies
1× UW Flash
1× UW Control
1× Mardu Vehicles
1× Naya Aetherworks Marvel
1× UR Prowess
Na modernu byly nejpopulárnější různé varianty Death's Shadow, za kterými následovala Dredge a také aktuálně velmi populární Collected Company s Vizierem of Remedies.
Oproti standardu byl modern velice rozmanitý, když se mezi třiceti hráči našlo hned devatenáct různých decků. Mezi ty nejzajímavější patřil čtyřbarevný Death's Shadow o Jund základu s modrou splashí pro Stubborn Denial, Ad Nauseam s Whir of Invention coby tutorem pro Lotus Bloom a s Monastery Mentory v sidu, nebo Kiki-Evolution, které mělo zároveň solidní plán B s Renegade Ralliery a Voice of Resurgence.
4× Dredge
3× Vizier Company
2× Affinity
2× Eldrazi Tron
2× WR Prison
2× Abzan Death's Shadow
2× UW Control
2× White Jund Death's Shadow
1× Blue Jund Death's Shadow
1× Ad Nauseam
1× Bant Eldrazi
1× UWR Control
1× Bant Spirits
1× Ironworks Combo
1× Gifts Storm
1× Kiki Evolution
1× RW Burn
1× Merfolk
1× 8-Rack
Legacy podle očekávání vévodil 4C Delver (většinou s verze Young Pyromacery s Cabal Therapiemi), se kterým držel krok pouze Storm. Dalších čtrnáct decků nehráli více, než dva hráči.
8× 4C Delver
4× Storm
2× BUG Control
2× Lands
2× BUG Delver
2× Burn
1× Monored Sneak Attack
1× Omni-Tell
1× Eldrazi
1× Esper Deathblade
1× Infect
1× Dark Bant
1× Elves
1× UB Reanimator
1× Sneak and Show
1× Aluren
Nejzajímavější deck byl Omni-Tell s Burning Wishi a Dream Hall/Enter the Infinite kombem. A celkem inovativní byl i BUG Control s UB základem, který kromě kontrolních karet jako Force of Will, Fatal Push, nebo Jace obsahoval i poměrně agresivní karty jako True-Name Nemesis a Gurmag Angler.
4. SCG Classic Louisville (Standard, Modern, Legacy)
Z pohledu klasik byl naopak přísný postupový klíč v hlavním turnaji přínosem, jelikož spoustu hráčů mělo volnou neděli.
Asi vás nepřekvapí, že nejméně hráčů si vybralo standard, kde se ve 111 lidech hrálo sedm kol a top8.
Vítězem se tu stal Zan Syed s RUG Marvelem, který měl černou splash v sidu pro Dispossess na mirror match.
Marvel ale jinak zabral "pouze" pět míst v top16 a na předních příčkách byly k vidění i docela zajímavé decky.
Dva hráči hráli 4C Energy Midrange, který bych označil jako Saheeli Kombo bez Saheeli komba. Deck má stejný základ s Oathy a planeswalkery, ale místo zabanovaného komba hraje více midrange bytostí jako Glorybringer a Tireless Tracker.
Dvakrát byly k vidění i Vehicly, které hrály modrou kvůli lepšímu matchupu s Marvelem. V mainu jsme tak mohli vidět Metallic Rebuky a v sidu další extra kántrování (Negate, Ceremonious Rejection).
Dvě zcela originální brew byli Esper Spiriti (obzvláště pěkné je tu využítí Dusk/Dawn) a 4C Aggro, což byla vlastně RG Monstra se Spell Quellery, Tamiyo a Woodland Wandererem.
Velkou popularitu si udržel modern, který nalákal 185 hráčů, což znamenalo osm kol a top8.
V té trochu překvapivě dominovaly Collected Comapny decky s Vizier kombem, jenž obsadili tři místa v top4 a Brad Carpenter s nimi celý turnaj vyhrál. Zajímavá byla zejména verze skončivší na čtvrtém místě, ve které byl playset Eldritch Evolution a Renegade Rallieři, kteří mi s Vizier kombem přijdou super, jelikož umí vrátit do hry obě půlky komba.
Jediný deck, který v top4 prolomil nadvládu Collected Company, byli BW Eldrazi v klasické verzi.
Top16 dále obsahovala tři Affinity, WR Prison, Ad Nauseam, RG Scapeshift, Abzan Midrange, UWR Tempo s Geisty, GW Aury a ze zajímavých decků Abzan Aggro s Gideony, GW Hatebeary/Collected Company, nebo zvláštní verzi Amulet Bloomu, která se snažila zabíjet kombinací Spinerock Knoll/Though the Breach + Emrakul.
Na osm kol základní části dosáhla i legacy se 147 hráči. Byla tu velmi pestrá metagame, který vyústila v top16, ve které bylo hned 14 různých decků!
Zvítězil Kennen Haas se zajímavými Jund Zeměmi, ve kterých hrál Smallpox a Entomb, kterým hledal karty jako Life from the Loam, Punishing Fire, Raven's Crime nebo Nether Spirit.
Za zmínku stojí i UB LandStill na čtvrtém místě. Kontrol s UB základem vypadá po banu Senseie jako nejlepší modrý kontrol na formátu.
Kompletní top16 vypadala takto:
1. Jund Lands
2. Infect
3. Food Chain
4. UB LandsStill
5. 4C Delver
6. Belcher
7. BUG Delver
8. 4C Delver
9. Dark Maverick
10. Sneak and Show
11. Elves
12. Shardless BUG
13. 4C Loam
14. Sneak and Show
15. Eldrazi
16. BR Reanimator
5. Standard Quarterly MOCS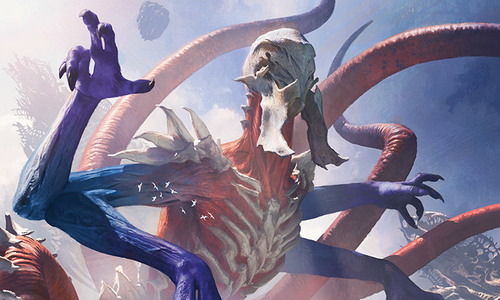 Finále druhé letošní "modo" sezóny bylo ve formátu standard a účastnilo se ho 137 hráčů. V osmi kolech základní části bylo na top8 potřeba sedm výher, nebo alespoň začátek 6:0, který vám dodal dobré pomocné hodnocení.
Celkem devatenáct hráčů dosáhlo na skóre 6:2 a lépe a dle očekávání mezi nimi bylo nejvíce RUG Marvelů (sedm). Druhý nejpopulárnějšídeck byl UR Control (udajně dobrý matchup s Marvelem, ale podle mě to není úplně pravda), který hráli čtyři hráči. Dále jsme na předních příčkách mohli vidět Jund Aggro, BW Zombies, RUG Energy Midrange, dvoje Vehicly (jedny s modrou v sidu), RW Humany, UW Flash a RG Monstra s modrou splashí v sidu.
V top8 se nejlépe dařilo Brocku Parkerovi (bobcards2), jenž hrál RUG Marvel upravený pro mirror (Deliverance a Negačky v mainu). Druhý slot pro Online Championship ukořistil mistr z roku 2013, Dmitry Butakov s Jund Aggrem.
Letošní online šampionát zatím vypadá velmi našlapaně. Pro připomenutí - v prvním kvalifikačním turnaji uspěli Corey Burkhart a Steve Rubin.
6. MTGO Weekly Challenges (Modern, Legacy, Vintage, Commander, Pauper)
Zajímalo by mne, jestli při novém systému online turnajů někdo myslel na to, kolik práce tím přidělá při psaní Flash News...
Ale teď už vážně, challenge turnaje jsou šestikolové, či sedmikolové turnaje s top8, které mají lepší ceny, než klasické daily, či kompetitive ligy. Nyní se budou hrát každý týden ve všech formátech, kromě standardu.
Oficiální reporty z turnajů bohužel neuvádějí přesný počet hráčů, ale na modernu jich odhadem mohlo být kolem dvěstě, jelikož v sedmi kolech mělo 24 hráčů skóre 5:2 a lépe.
Jediný neporažený hráč byl "m0torhead" s Eldrazi and Taxes, ve kterých hrál Dark Confidanty.
Mezi 6:1 decky byl Amulet Titan, Affinita, Vizier Company s Relikviářemi, GW Aury s novými techem proti sacrifice efektům v podobě Cartouche of Solidarity, Abzan Midrange s Traverse the Ulvenwald, další Eldrazi and Taxes a Gifts Storm.
Zmínku si také zaslouží pěkný Tezzerator s playsetem Trinket Magů, se kterým uhrál 5:2 (23. místo) "Meltiin".
S legacy challengí si nejlépe poradil Julian Knab s obligátními Elfy, když ve finále porazil Monored Stax (Dragon Stompy), což mě trochu překvapuje, protože Chalice of the Void i Blood Moon jsou proti elfům výborné karty (nemluvě o playsetu Fiery Confluencí).
V top8 dále byl Infect, Food Chain, BG Depthsy, 4C Delver a dva zajímavé decky v podobě 4C Casade Midrange a UW "Topless" Miraclů, které se chybějící Sensie snaží nahradit Portentem.
Z top16 bych ještě zmínil UR Delvera s novinkou v podobě Cryptic Serpent a Aluren se Smuggler's Copterami.
Vintage challenge měla šest kol a jediným neporaženým hráčem tu byl Jazza s Ballista Shopy, který hrály playset Precursor Golemů.
Mezi decky se skóre 5:1 byla Blue Dredge (vítězný deck měl v sidu prozíravě osm karet přímo proti Dredgi), UW EmraStill, pěkný UW Midrange se Stoneforge Mysticy a Spell Quellery, Grixis Thieves a UWR Mentor.
V top16 byl ještě zajímavý Monoblue Control s wizardí tribal tématikou, ve kterém byl Paradoxical Outcome jako value karta a coby hlavní winkondice Emrakul (the Promised End).