Novinky
Flash News #20/2017
1. GP Manila (Standard)
První červnový víkend se konala trojice dvojkových GP, z nichž první bylo ve filipínské Manile a zúčastnilo se ho 756 hráčů, což sice není mnoho, ale vzledem k tomu, že byly tři GP ve stejném formátu zároveň, a že formát pro casual hráče nebyl zrovna dvakrát přívětivý, se jedná o očekávané číslo.
Veřejný nepřítel číslo jedna po celý víkend byl Aetherworks Marvel. Skoro každý měl proti němu nějaký speciální tech a jenom kvůli němu stoupla popularita deckům jako UW Flash a UWR Vehicly.
Navzdory tomu všemu šlo o nejpopulárnější deck ve druhém dni (kam postoupilo 233 hráčů), když jeho RUG variantu hrálo 57 hráčů, což byla takřka čtvrtina herního pole.
Další populární decky byly:
Mardu Vehicles (31 hráčů)
UR Control (23 hráčů)
Monoblack Zombies (14 hráčů)
BG Aggro (14 hráčů)
UWR Vehicles (10 hráčů)
RG Monsters (10 hráčů)
Navzrody tomu minimálně v top8 dominance Marvelu znát nebyla. Byly v ní tři různé verze Vehiclů (klasická Mardu, 4C a UW s černou splashí v sidu), BG Aggro, UW Flash, RG Pummeler, Monoblack Zombies (se speciální techovkou proti Marvelu v sidu v podobě Fleetwheel Cruisera) a alespoň jeden RUG Marvel, který obcházel hate karty jako Manglehorn či Dispossess fikaně tím, že hrál Glorybringery.
Ve finále se utkaly Qi Wentao s Esper Vehicly a Ryoichi Tamada s Flashem, který si tak ve dvou týdnech připsal na své konto dvě GP top8 v různých formátech! V souboji Spell Quellerů byl úspěšnější Ryoichi Tamada. Qi Wentao má zatím ze dvou GP finále dvě poražky...
Zajímavé je podívat se na decky v top32. Tam jasně dominoval RUG Marvel, ale většina jeho pilotů byla až ve druhé polovině. Úplně vyhořel UR Control, se kterým uhrál dobrý výsledek pouze Tomoharu Saito. Kromě toho není mezi decky v top32 žádné větší překvapení...
10× RUG Aetherworks Marvel
4× BG Aggro
3× UWR Vehicles
2× UW Flash
2× RG Monsters
1× Esper Vehicles
1× RG Pummeler
1× 4C Vehicles
1× Monoblack Zombies
1× 4C Aetherworks Marvel
Jako bonus byla v coverage představena upravená verze BG Aggra, se kterým se Ken Yukuhiro dostal do top8 na PT. Oproti původní verzi v decku není Heart of Kiran a Bone Picker, které nahradily agresivnější kusy v odobě Dread Wanderera a Nissy, Voice of Zendikar. Ken s deckem dosáhl na skóre 8:5:1 (poslední kolo už nehrál).
2. GP Amsterdam (Standard)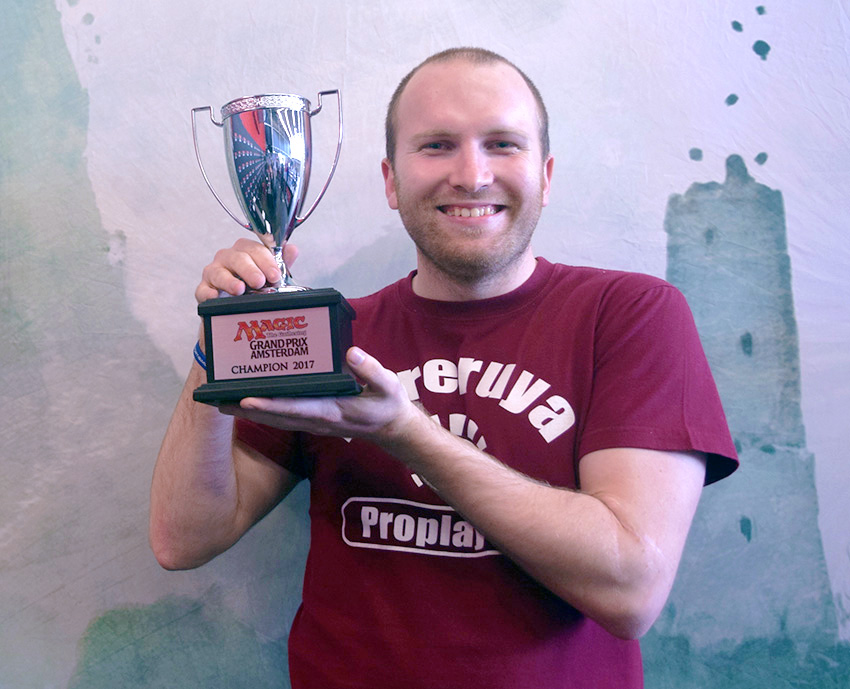 1 168 hráčů znamenalo, ze GP v Amsterdamu bylo největší událostí víkendu. A přišpělo k tomu i jedenáct českých hráčů, kteří byli celý víkend pořádně vidět. V prvním dni nepoznal porážku Petr Sochůrek hrající 4C Vehicly a do druhého dne ho doprovodilo ještě devět dalších českých hráčů. Dobře měli turnaj rozehraný ještě Lukáš Blohon a Jiří Obraz se skóre 8:1.
Ve druhém dni se našim hráčům vůbec nevedlo špatně, když už před posledním kolem bylo jisté, že hned šest jich dosáhne na pro pointy. Šanci na top8 už měl ale pouze Lukáš Blohon se zajímavou verzí BGčka, které obsahovalo delirium karty jako Traverse the Ulvenwald a Grim Flayer, ale zároveň mělo i čistě agresivní karty jako Winding Constrictor a Nissa, Voice of Zendikar. De facto šlo o upravenou verzi decku, se kterým bylShaun McLaren v top8 GP Montreal.
Díky tomu, že byl Lukáš v posledním kole napárovaný "nahoru" (k soupeři s lepším celkovým skóre), si nakonec mohl dát remízu do top8, která ale znamenala, že bude ve všech zápasech na draw, což je celkem velká nevýhoda.
Lukášovi to ale evidentně příliš nevadilo, když dokázal v top8 porazit obávaný Aetherworks Marvel, RG Pummelera a nakonec ve strhujícím finále UR Control Benjamina Lufta. S jistotou lze říci, že šlo o jeden z nejlepších zápasů standardu, který jsme za dlouhou dobu mohli vidět naživo na kameře. Pokud máte čas, rozhodně doporučuju se na něj podívat.
Z ostatních českých hráčů se ještě celá další trojice dostala do top32! Byli to Jiří Obraz, který s Marvelem obsadil třinácté místo, Martin Jůza, jenž s UR Controlem skončil devatenáctý a konečně Petr Sochůrek, který po skvělém prvním dni skončil třicátý.
Pro pointy vybojovali ještě Pavel Matoušek (11:4, 78. místo) a Josef Živec (10:5, 125. místo).
Pokud se podíváme na top8, tak opět nabydeme klamavého dojmu, že je na standardu pestrá metagame. Byly v ní dvě BG Deliria, UW Vehicly, UR Control, RG Pummeler, RUG Marvel a dvě BG Energy Aggra.
Když se ale koukneme na top32, tak zjistíme, že tam bylo hned šestnáct RUG Marvelů...
16× RUG Aetherworks Marvel
4× BG Aggro
3× UR Control
2× BG Delirium
2× 4C Vehicles
1× UW Vehicles
1× RG Pummeler
1× RUG Midrange
1× Monoblack Zombies
1× UWR Vehicles
Ani tentokráte vás neušetřím bonusového decklistu. V jednom z pátečních triálů zvítězil Björn Ericksson s RW Midrangem, který obsahoval Nahiri a legendární package s Thalia's Lancers. V decku byla zároveň modrá splash v sidu pro kántrování, které pomáhalo proti Marvelu.
Björn se v main eventu dostal do druhého dne, kde dosáhl na osm výher. Jestli ale hrál stejný deck, jako na trialu, o tom samozřejmě můžeme pouze spekulovat...
3. GP Omaha (Standard)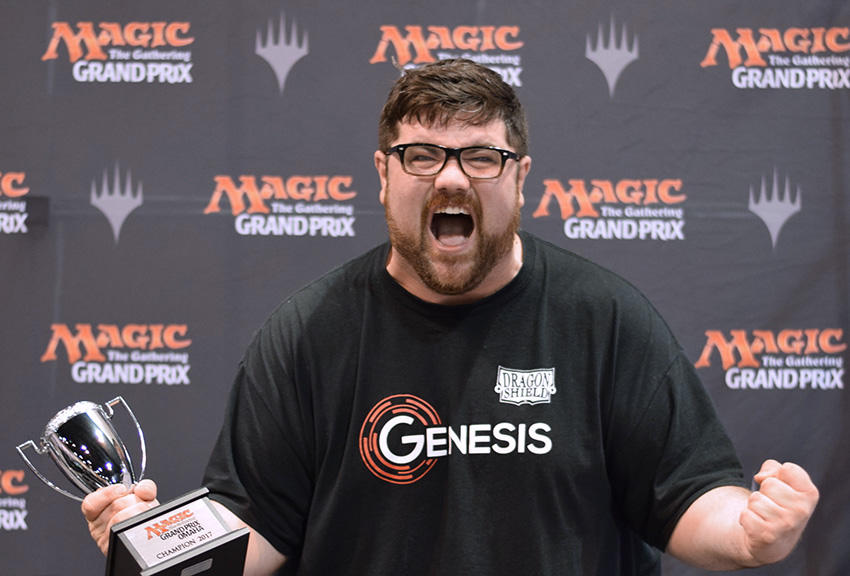 Když už v Americe na GP nepřijde ani tisícovka hráčů (a to ani nebylo SCG Open), tak je to signál, že něco není v pořádku. Nekonečné souboje Marvelů znamenaly, že se GP účastnilo pouze 831 hráčů. O to větší ale byla konkurence na předních stolech, protože na turnaji nechyběla celá světové špička.
A zatímco na předchozích GP pohled na top8 ukazoval docela pestrou metagame, tak v Omaze Marvel na plno dominoval, když ho v top8 hrálo hned šest hráčů.
Jediný, kdo dokázal dominanci Marvelu vzdorovat, byl Sam Pardee s BG Deliriem (podobná verze jako u Lukáše Blohona). Ve finále ale nestačil na Brada Nelsona, který trochu překvapivě slavil teprve svou druhou výhru na GP, přičemž od té první uplynulo už sedm let...
Nebyl by to Brad, aby v decku neměl nějakou speciální techovku. V sidu měl dvě Ulvenwald Hydry, které v kombinaci se třemi Shrine of the Forsaken Gods představovaly dobrou možnost, jak rychle zahardcastit Ulamoga v případě, že bude soupeř mít po sidu hodně hatu na Marvel.
V top8 byla k vidění ještě jiná techovka, kterou byla Nahiri, což je fajn v mirroru a také proti všem pomalejším deckům.
Poměrně oblíbenou strategií bylo hrát RUG Midrange, který hrál podobné karty jako Marvel, ale místo Marvelů a Ulamogů měl agresivní kusy jako Glorybringer a Bristling Hydra. Jeden z hráčů v top32 tuhle "mind game" dokonce dotáhl tak daleko, že v RUG Midrangi měl na férovku v sidu playsety Marvelu a Ulamogů.
Celkový pohled na top32 vypadal takhle:
14× RUG Aetherworks Marvel
4× BG Delirium
4× RUG Midrange
2× Monoblack Zombies
2× Mardu Vehicles
1× Nahiri Aetherworks Marvel
1× RG Pummeler
1× UWR Vehicles
1× 4C Vehicles
1× BG Aggro
1× UR Control
4. Standard Monthly MOCS & Online PTQ
Online metagame se obyčjně vyznačuje tím, že je mírně v předstihu oproti turnajům v reálu. Proto mě tentokrát překvapil mírný ústup Marvelu.
Monthly MOCS se účastnilo 112 hráčů a potřebným šest výher z osmi kol zde nasbíralo patnáct hráčů. Byly mezi nimi víceméně rovnoměrně zastoupany všechny tier decky:
4× RUG Midrange
3× RUG Aetherworks Marvel
2× 4C Vehicles
1× UW Vehicles
1× BG Aggro
1× RG Monsters
1× RG Pummeler
1× BG Delirium
1× Monoblack Zombies
Nejlepšího skóre dosáhl "Rvng" se zajímavou verzí 4C Vehiclů, která nehrála Spell Quellery, ale pouze Metallic Rebuke a v sidu měla Fatal Pushe.
Další deck, který mne zaujal, bylo RG Aggro s kombinací Rhonas a Lathnu Hellion, což byla původně kombinace, která mě poprvé napadla, když jsem viděl Rhonase.
PPTQ se účastnilo 79 hráčů, z nichž v sedmi kolech dosáhlo osmnáct na pět a více výher.
Byla mezi nimi sice třetina Marvelů, ale z těch byl jenom jeden v top8, kterou ovládly agresivní BG decky a Vehicly, který obsadily prvních pět míst. Vítězem se stal "GeneralSmallChild" s BG Energy Aggrem.
Celá top18 vypdala následovně:
5× RUG Aetherworks Marvel
3× BG Aggro
2× UWR Vehicles
2× 4C Vehicles
1× UW Vehicles
1× RUG Pummeler
1× RG Monsters
1× RUG Midrange
1× Nahiri Aetherworks Marvel
1× BW Zombies
5. MTGO Weekly Challenges (Modern, Legacy, Vintage, Commander, Pauper)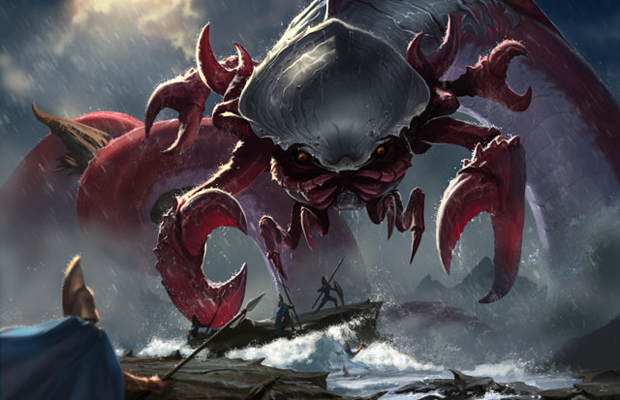 Pravidelné týdenní challenge turnaje jako vždy načneme modernem, kde byla tentokrát velmi nečekaná top8. Posuďte sami:
1. místo - RW Burn
2. místo - 5C Slivers
3. místo - Bant Knightfall
4. místo - Blue Tron
5. místo - Esper Control
6. místo - RG Scapeshift
7. místo - Monored Goblins (8 Whack)
8. místo - 4C Humans
Ani nevím, kde začít... Už ani nevím, kdy naposledy jsem viděl fritku vyhrát nějaký větší turnaj. Dva tribal creature decky s Collected Company dokládají to, že jde o velmi silnou kartu, která dokáže být competitive, ať už jí hrajete s kdečím.
Úplně nejzajímavější mi přišel asi Esper Control, což byla Draw-n-Go varianta s několika méně obvyklými kartami, jako třeba Spreading Seas (výborné proti Death's Shadow), Secure the Wastes, nebo Night of the Souls' Betrayal.
Několik zajímavých decků se našlo i ve zbytku top16. Byl to například Jund Midrange se zajímavými one-ofy jako Couser of Kruphix, Hazoret, Outpost Siege nebo Painful Truths, a dále UW Control s As Foretold.
I legacy Challenge přinesla velmi rozmanitou top8 (s osmi různými decky) s několika nečekanými decky.
Vítězem se stal Scab s méně populární verzí Death and Txes, která splashovala Eldrazi pro minikombo Containment Priest + Eldrazi Displacer. Důležitý byl také playset Chalice of the Void. Scab předvedl velmi přesvědčivý výkon, když měl celkové skóre 10:0.
Poražený finalista hrál nezvyklou verzi BUG Delvera s Death's Shadow. A zatímco na modernu se Death's Shadow enabluje pomocí Street Wraith a Thoughtseize, tak tady jsme mohli vidět Gitaxian Probu, Dismember, Snuff Out, a nechyběl ani Shockland v podobě Watery Grave.
Další decky v top8 byly 4C Control, Esper Deathblade, UR Delver se Soul-Scar Magem, Elfové, 4C Delver a klasická verze Death and Taxes.
Dále byli v top16 hned čtyři 4C Delveři, z nichž mne zaujala verze bez Wastelandů, ale zato se Snapcastery a Jacem. Zajímavé byly také dvoje Topless Miracly v UWR brvách, z nichž jeden hrál Monastery Mentory.
Zbylé dva decky v top16 byly Death and Taxes a Storm s Burning Wishi.
Zajímavé věci se děly na vintage, kde po dvou týdnech skončilo kralování agresivních verzí Shopů s Precursor Golemy a Fleetwheel Cruisery (ačkoli i tentokrát dohromady zabraly pět míst v top16).
Breakout karta turnaje byl Paradoxical Outcome, který hráči použíli na sto různých způsobů. Vítěz turnaje ho hrál v klasickém Stormu, kde měl navíc i Tinker s Colossusem. Dále byl k vidění v různých hybridech, které byly napůl Storm a Tezzerator, či Tezzerator kombinovaný s Mentorem. Není tak příliš velké překvapení, že se kvůli nekonečným mirorům začíná hrát maindeck By Force.
Klasický UWR Mentor byl přitom v top16 pouze jednou. Další hráč měl ještě kontrolní variantu decku s Mana Drainy a one-ofy jako Gifts Ungiven, Dragonlord Ojutai a Fact or Fiction.
Nejšílenější deck v top16 byl artefaktový deck s Paradox Enginem, který kombinoval s velkým množstvím Senseiek, Grim Monolithů a Temporal Aperture. Winkondice decku byl hardcast Emrakul, nebo hodně velký Walking Ballista.
Commander Challengi dominovaly Grixis Tempo decky s Vial Smasherem a Kraumem, které zabraly pět míst v top8. Výhru jim ale dokázal uzmout "Nukular" se Sidisi, Undead Vizier, který obsahovala Necrotic Ooze kombo.
Commander challenge turnaje se pomalu začínají potýkat s úbytkem hráčů, což podle mě souvisí s monotónní metagame, které vévodí modré kontroly. Formát podle mě pozvolna kopíruje vývoj, kterým si prošel French Commander. Jsem tudíž zvědavý, jestli nás do budoucna čeká ban Vial Smashera.
Pro zajímavost se podívajte na celou top16:
1. Sidisi, Undead Vizier
2. Grixis Smasher
3. Grixis Smasher
4. Grixis Smasher
5. Baral Polymorph
6. Narset, Enlightened Master
7. Grixis Smasher
8. Grixis Smasher
9. 4C Midrange (Thrasios + Vial Smasher)
10. 4C Midrange (Thrasios + Vial Smasher)
11. Grixis Smasher
12. Breya Control
13. Grixis Smasher
14. Tasigur, the Golden Fang
15. Surrak Dragonclaw (Splinter Twin Combo)
16. Breya Control