Novinky
Flash News #23/2017
Ve Flash News se dnes dočtete o GP Cleveland a Sydney, další rundě standardových turnajů bez Aetherworks Marvelu, tradičních online challenge turnajích a ještě mnohem více.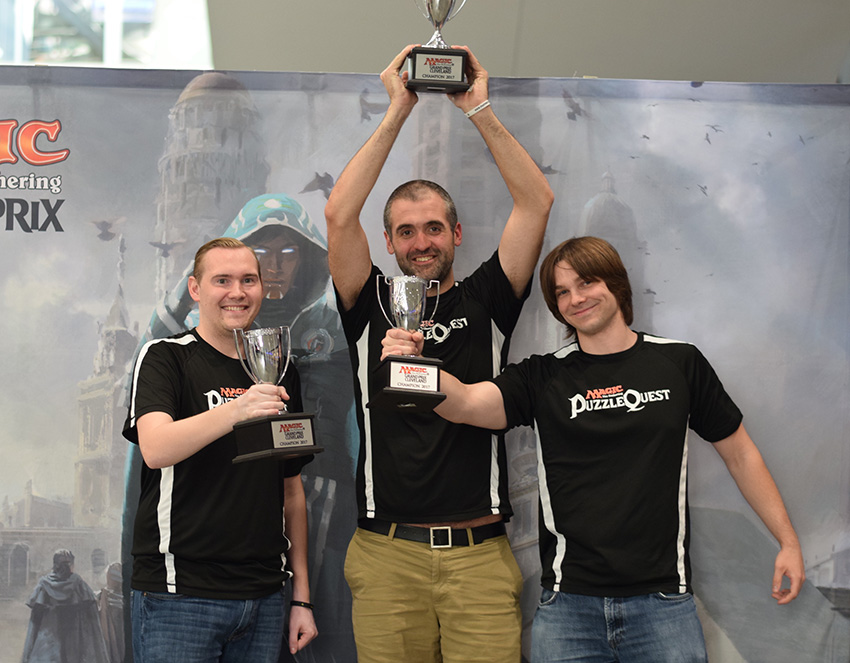 1. GP Cleveland (Amonkhet Sealed)
V Clevelandu a Sydney nejen že proběhla dvojice posledních GP před releasem Hour of Devastation, ale také poslední dvojice GP před dlouhou "okurkovou sezónou". Další GP se totiž budou hrát až na konci července.
Team limited už klasicky přitahuje pozornost většiny nejlepších amerických hráčů, takže zde nechyběly all-star týmy jako Owen Turtenwald, Reid Duke & William Jensen, Ben Stark, Eric Freohlich & Andrew Cuneo, nebo Todd Anderson, Brad Nelson & Ross Meriam.
Zahrát si přišel dokonce i LSV, který si po dlouhých měsících odpočinul od práce s coverage týmem. Jeho týmoví parťáci byli Pat Cox a Josh Utter-Leyton.
Už jsem také předeslal, že GP se účastnil i Martin Jůza, který vytvořil obvyklou trojici se Shuheiem Nakamurou a Cory Burkhartem.
Celkem se GP účastnilo 536 týmů, z nichž 118 postoupilo do druhého dne. Po prvním dni měl jediný tým perfektní skóre 9:0 a to Ivan Floch, Shahar Shenhar a Oliver Tiu. K tomu museli v posledním kole porazit obávanou trojici Owen Turtenwald, Reid Duke & William Jensen (alias Peach Garden Oath).
Ve druhém dni se jim ale na tehle výsledek nepodařilo navázat a nakonec skončili na třiadvacátém místě.
Skvěle se naopak vedlo Martinu Jůzovi, jehož tým si už kolo před koncem zajistil postup mezi finálovou čtyřku, který jim pro připomenutí na posledním týmové GP v Mexiku utekl o několik tisícin na pomocné hodnocení...
Nakonec se Martin Jůza, Shuhei Nakamura a Corey Burkhart dostali až do finále, kde se utkali s Peach Garden Oath. Dovolím si říci, že tohle jsou aktuálně dva nejlepší týmy pro team limited na světě.
Trofeje pro vítěze se Martin Jůza nakonec nedočkal, ale získal cenné body, které ho přiblížily účasti na MS. Ještě zajímavější milník byl tenhle výsledek pro Shuheie, který jednak získal gold status pro další sezónu, ale hlavně se stal nejúspěšnějším GP hráčem všech dob! Na svém kontě má 28 GP top8 a z toho sedm vítězství. Oliver Ruel na druhém místě má stejně top8, ale jenom pět výher. A třetí místo v téhle alltime statistice nezaujímá nikdo jiný, než Martin Jůza, který je o dvě top8 zpět.
Peach Garden Oath ale také nejsou žádní zelenáči - v tomhle pořadí jsou všichni tři mezi prvními deseti a celkem mezi sebou mají neuvěřitelných 66 GP top8 a šestnáct prvních míst (z toho dvě týmová).
2. GP Sydney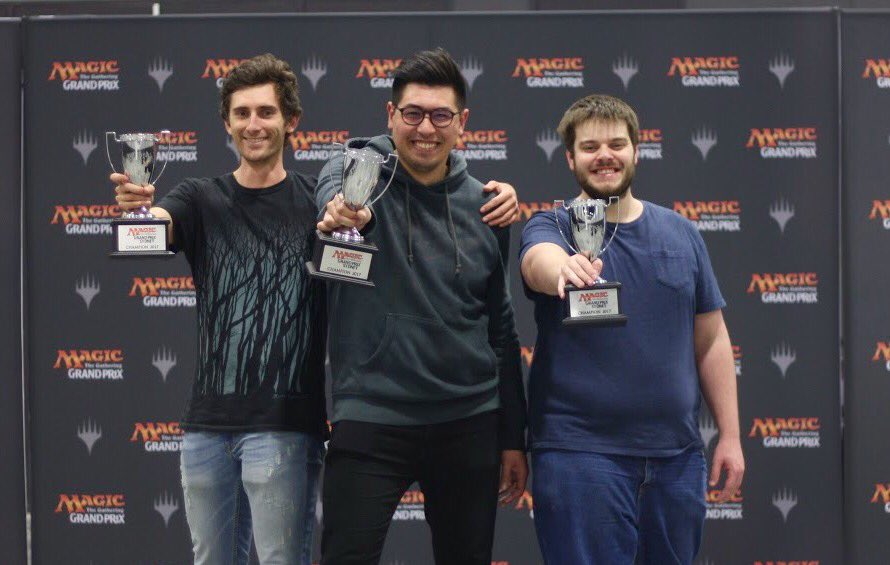 Zatímco v USA je team limited velmi oblíbená záležitost, tak v Austrálii je skoro jisté, že v tomto formátu půjde o GP s velmi komorní atmosférou. To se potvrdilo, když se GP účastnilo 285 týmů, což mimo jiné znamenalo, že po prvním dni nezbyl žádný neporažený tým.
Také musím říci, že nebýt několika japonských pro hráčů, kteří si do Austrálie udělali výlet, tak bych na předních příčkách nenašel žádná známá jména. Ačkoli Flash News už dělám nějaký ten pátek, tak místní hráče si nepamatuji ani přesto, že někteří z nich mají na kontě několik GP top8, nebo top8 z WMC (novozélandský tým v roce 2013).
V top4 byl jediný tým se známým jménem japonská trojice Yoshihiko Ikawa, Hajime Nakamura a Yuuya Watanabe. Nakonec ale vyhrál domácí tým ve složení James Wilks, Simon Linabury a Ivan Schroder, když ve finále porazili právě japonský tým s Yuuyou Watanebem, který se mimochodem díky této top8 dostal na čtvrté místo historických tabulek se 26 GP top8 a šesti výhrami.
3. Standard bez Marvelu #2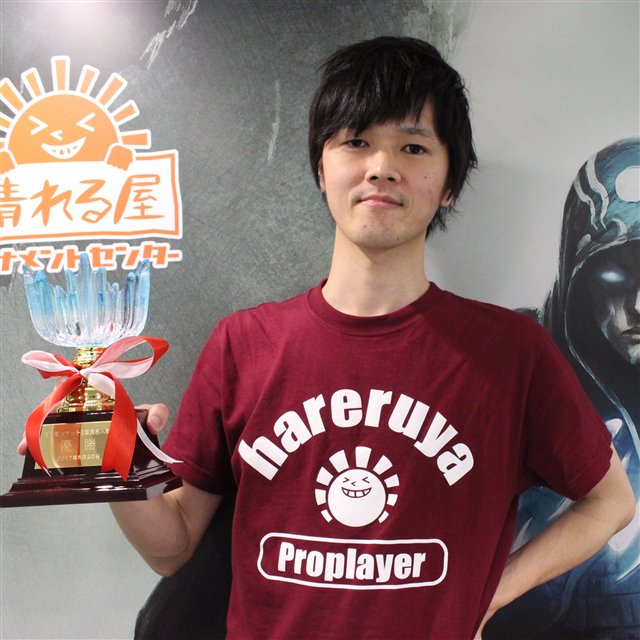 Dvojku nám zanedlouho ovlivní nová edice, ale obrázek o tom, co se bude nejvíce hrát, si můžeme udělat už teď. Jak už jsem říkal minule, tak bez Aetherworks Marvel se formát zpřístupnil novým strategiím a metagame je aktuálně velmi pestrá. Za celý týden online competitive ligy se objevilo celkem 21 různých decků, které dosáhly na výsleedek 5:0.
Jako čtyři tier decky se dají označit RUG Midrange (má dvě různé verze, jedna je RG s malou modrou splashí a druhá je i Elder Deep-Fiendem), agresivní GB decky s Winding Constrictorem (ať už to jsou agresivní verze s energy kartami, nebo verze s Traverse the Ulvenwald), Monoblack Zombies a samozřejmě Mardu Vehicly (aktuálně je k vidění plno různých verzí - s maindeck Glorybringerem, Avacyn, Nahiri a mezi 5:0 decklisty se objevila i zajímavá verze s playsety Glory-Bound Initiate a Painful Truths).
Velké překvapení pro mne byl úspěch decků s Metalworks Colossusem. Ty se mezi neporaženými decky objevily hned šestkrát, což je řadí hned za čtveřici tier decků. Nejhranější verze decku je UB s Fatal Pushem a červenou spalshí v sidu, ale k vidění byla i verze s Ravenous Intruderem a Flingem.
Další úspěšné decky byly UR-Zomb Emerge, 4C Vehicly, Monowhite Midrange s Oketra's Monumentem a RG Monstra. Menší comeback zažívají i Eldrazi, kteří tu byli k vidění hned ve dvou různých decích. První verze byla s červenou a hrála karty jako Chandra, Glorybringer, nebo Hanweir Battlements. Druhá byla GB a byly v ní karty jako Rhonas, Scrapheap Scrounger, nebo Heart of Kiran.
K vidění byla i celá řada dalších brew, mezi kterými byly i hodně svérázné kreace jako New Perspectives kombo, Aetherflux Reservoir kombo, Jeskai Flash, nebo Abzan Tokeni pilotovaní samotným Samem Blackem.
Úplný přehled všech 5:0 decků je zde:
19× RUG Midrange
14× Mardu Vehicles
10× GB Aggro
8× Monoblack Zombies
5× UBr Colossus
3× RG Monsters
3× UR Zomb-Emerge
3× 4C Vehicles
2× Monowhite Monument
2× Red Eldrazi
1× New Perspectives
1× Monoblue Reservoir
1× RG Pummeler
1× Bant Midrange
1× GB Eldrazi
1× GB Delirium
1× GW Midrange
1× Abzan Tokens
1× UR Control
1× UR Colossus
1× Jeskai Flash
Kromě nonstop ligových matchů se na Onlinu konal i poměrně zajímavý dvojkový turnaj, Amonkhet Standard Champs. To byl premiový turnaj, na který se bylo potřeba kvalifikovat v menších pětikolových turnajích, kde bylo potřeba uhrát alespoň čtyři výhry.
Ve finálovém turnaji se hrálo o speciální ceny, jako například celý Amonkhet ve foilu.
Turnaje se zúčastnilo 107 hráčů a ve finále jsme byli svědky soubojů decků z tzv. velké čtyřky. V top8 byly třikrát Mardu Vehicly, dvakrát GB Aggro a Monoblack Zombies a jeden RUG Midrange.
Nejlépe si nakonec vedl "MiguelCaster" s Vehicly (agresivní RW verze s černou spalshí pro removal), když ve finále porazil RUG Midrange.
Za top8 bylo ještě dalších patnáct hráčů se skóre 5:2 a lépe, kteří hráli 4× RUG Midrange, 2× GB Aggro, 2× Mardu Vehicly, RG Pummelera, UW Control, 4C Vehicly, kontrolní BG Delirium, UR Control, RG Monstra a UR Zomb-Emerge.
Úplně největší dvojkový turnaj za celý týden se konal v Japonsku a prsty v něm neměl nikdo jiný, než Hareruya MTG. Šlo o turnaj s mixovaným formátem, kdy se dva dny hrálo systémem tři kola draftu a poté tři kola standardu.
Ve finále se utkali dva pro hráči shodou okolností reprezentující právě Hareruya MTG. Byli to Kenta Harane se zajímavou verzí RUG Midrange, která se netočila kolem energy karet, ale kolem deliria, a Yuta Takahashi, jehož BG Aggro naopak bylo založené na energy kartách. Trofej pro vítěze nakonec připadla Kentu Haranemu za výhru 2:1.
V top8 byly k vidění ještě dva méně hrané decky, a to 4C Selfmill s Perpetual Timepiecem. Pokud máte dobrou paměť, tak si možná vybavíte, že podobný deck hrálo několik japonských pros na PT Eldritch Moon. Deck je založený na kombinaci Kozilek's Return a Elder Deep-Fiend, kterého můžeme hledat pomocí Traverse the Ulvenwald. Ze selfmillu také profitují karty jako Haunted Dead, Prized Amalgam, Scrapheap Scrounger a nově i Honored Hydra.
Druhý zajímavý deck byla Jund verze BG Deliria, kde byla červená hlavně kvůli Unlicensed Disintergacím, které v decku docela spolehlivě dávaly damage navíc, jelikož tu k obvyklému Walking Ballistovi a Verdurous Gearhulkovi byl i Scrounger.S tím také pěkně spolupracuje Mindwrack Demon.
Mimo top8 bylo nejzajímavějším deckem BW Aggro s kartami jako Avacyn, Gideon, Walking Ballista, Bone Picker, nebo Ayli.
Celková metagame top16 byla takováto:
4× RUG Midrange
4× BG Aggro
2× Mardu Vehicles
4C Selfmill
Jund Delirium
RG Pummeler
BW Aggro
New Perspectives
Monoblack Zombies
I v relativně ustálených archetypech se tu našlo pár zajímavých karet, takže jsme mohli vidět například Catacomb Siftera v BG Aggru, Woodland Wanderera v RUG Midrangi, nebo Combat Celebranta v Mardu Vehiclech.
4. MTGO Weekly Challenges (Modern, Legacy, Vintage, Commander, Pauper)
Modernovou challenge nám po týdenní pauze znovu vyhrál Gifts Storm, když ve finále porazil UW Control s Gideonem of the Trials, což je zajímavé, jelikož ten by proti stormu měl teoreticky být dost dobrý. V decku byl také jeden Disallow, což je další fajn způsob, jak zastavit storm.
Na třetím místě byli zajímaví BW Tokeni s obvyklým mixem disrupce, antének v podobě Sorina a Intangible Virtue a token generátorů jako Bitterblossom, Lingering Souls, nebo Spectral Procession. V decku byla i jedna novinka v podobě Start/Finish, která má zajímavou synergii s ostatními kartami v decku, ale na modern má podle mě příliš nízký power level.
Črvté místo patřilo Affinitě s Hazoretem, za kterou následoval RG Scapeshift, další Affinita (ale bez Hazoreta) a dva Grixisy s Death's Shadow. U těch bylo zajímavé, že začaly hrát menší množství Lightning Boltů, jelikož spoustu hráčů začalo hrát Mirran Crusadera, kterého Grixis bez Boltu de facto neuměl porazit.
V top16 se už nic extra zajímavého nenašlo - BW Eldrazi (s one-of Smuggler's Copter), Lantern Control (s maindeck Leylinami of Sanctity), RG Breach, Abzan Midrange, Grixis Death's Shadow, UW Control, Eldrazi Tron a Merfolci (se Smuggler's Copterami - říkal jsem, že ta karta se pomalu začne prosazovat na eternal formátech a už je to tu!)
Legacy challenge nabídla na předních příčkách nejvíce 4C Delverů a 4C Controlů, ale celkový vítěz byl z jiného soudku. Poprvé po banu Senseie zvítězil na větším turnaji Stoneforge Mystic deck. Šlo u kontrolnější verzi v UWR barvách s trojicí Jaců a dalšími kontrolními kartami jako Supreme Verdict, Engineered Explosives, nebo Counterspell.
Poražený finalista hrál Burn se zajímavou černou splashí pro Pain's Reward.
Na dalších místech byl UWr Control s Monastery Mentorem, 4C Control (s maindeck Marsh Casualies zřejmě z obavy před kartami jako Young Pyromancer či True-Name Nemesis), 2× 4C Delver, Stax se Smokestackem (v decku byl nový "engine" v podobě Grasping Dunes a Crucible of Worlds) a kontrolní Food Chain s Fatal Pushi a Snapcastery.
Těsně za top8 byl Monoblack Reanimator se zajímavými alternativními winkondicemi v sidu v podobě Cryptbreakerů a Pack Rat, za kterým následoval UR Delver (s True-Name Nemesis), Storm s Burning Wishem, Dark Bant, BUG Control s bílou splashí pro sidovky jako Enthersworn Cannonist a Meddling Mage, dva 4C Controly (jeden s chuťovkou v podobě one-of Unearthu) a 4C Delver.
Vintage měla poměrně nízkou účast, když pouze třináct hráčů dosáhlo alespoň na skóre 4:2. Na předních příčkách dominovaly Shopy a Mentor decky, které domhromady obsadily jedenáct míst mezi prvními třinácti.
Top4 byla krasojízda Ballista Shopů, jejichž hegemonii narušil pouze "k_f_chicken" s Punishing Oathem, ve kterém nechybělo oldschool kombo Emrakul + Dragon Breath.
Druhý non-shop, non-mentor deck v top8 byl Paradoxical Storm s Blightsteel Colossusem, který pilotoval Randy Buehler alias MossdogTrainee.
Nutno dodat, že jednotlivé verze Mentor a Shop decků se docela lišily. Například vítězný deck hrál Wurmcoil Enginy a k vidění byla i agresivní verze s Chiefem of the Foundry a Steel Overserem.
U Mentor decků jsme měli dvě klasické UW verze s červenou splashí, jednu Esper s Tinker Colossus kombem, kde jediné černé karty v mainu byly Demonic Tutor a Yawgmoth's Will, další Esper verzi s Night's Whispery, verzi která hrála Young Pyromancery a Mentory zároveň a konečně verzi s Paradoxical Outcomem s Magusem of the Future.
Jako bonus se ještě podíváme na bláznivé 5C Humany, kteří obsadili čtrnácté místo coby nejlepší deck se skóre 3:3.
V Commanderu už podruhé v řadě zvítězil Etriol se čtyřbarevým midrangem s dvojicí generálů Vial Smasher a Thrasios. Vial Smasher byl jako obvykle nejúspěšnější generál turnaje, když v kombinaci s Kraumem obsadil čtyři místa v top16.
Druhým nejúspěšnějším generálem byla Breya se dvěma zástupci v top16. V té nechyběli ani další tier decky s modrou jako Geist of Saint Traft, Narset (zajímavá verze s velkým množství "draw seven" efektů), Jace, Leovold a Baral (Polymorph kombo).
Ze zbytku světa jsme na předních příčkách mohli vidět BW Aggro s Karlovem a tři zelené rampy - klasickou midrangi verzi s Titanií, kombo verzi se Selvalou a toolbox s Captain Sisay.
Pauper měl v top16 rovnoměrně rozložené snad všechny tier decky, který se prosazovaly v posledních týdnech.
Ve finále se utkaly dva Trony s Mystical Teachingy a za nimi byli dva UR Delveři, dva WR Metalcrafty dvě Monogreen Aggra, dva UB Controly, Atog Affinita, Tireless Tribe Combo, GW Soul Sisters, Grixis Control a také dvě novinky v podobě UR Prowessu s Kiln Fieldem a Nivix Cyclopy a GR Tokenů se Sprout Swarmem a Dynachargem.