Novinky
Flash News #23/2018
Ve Flash News si dnes můžete počíst o GP Atlanta, dvojkovém online PTQ, obvyklých online challengích, americkém Eternal Weekendu a opět i o francouzském duel commanderu.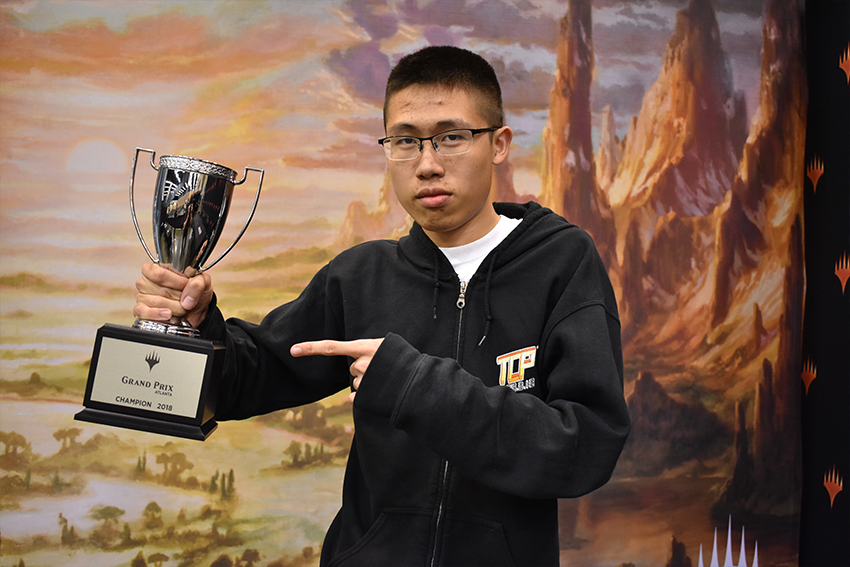 1. GP Atlanta (Modern)
Zpravidla se na GP před pro tourem hraje sealed, ale tentokráte padla volba na modern. Někteří pro playeři proto na GP neodcestovali, ale i tak si do Atlanty našlo cestu 1 552 hráčů, včetně české čtveřice Martin Jůza, Martin Hrycej, Petr Sochůrek a Josef Živec.
Z té se suverénně nejlépe dařilo Martinovi, když vsadil na stock verzi Hollow One (kterou už hrál třeba v Praze), se kterou dokázal vyhrát čtrnáct kol v řadě. Na patnáct výher nakonec nedosáhl, ale i tak to znamenalo další posun v rekordu top8 na GP - tohle byla už martinova dvaatřicátá!
Bohužel, co se týče individuálních trofejí, tak tam je na tom Martin trochu hůře - s výjimkou týmového GP Providence 2017 je jeho poslední výhra GP Bochum 2012 (Hoof there it is). Tentokráte byl v top8 nad jeho síly Piotr Glogowski alias Kanister s Ironworks Combem.
Piotr se poté dostal až do finále, kde ho čekal Peiyuan Zheng s Bant Spirity, ve kterých měl pro tento matchup výborný sideboard s kartami jako Stony Silence, Rest in Peace a Thalia, což mu zajistilo jeho první GP trofej!
Celkově byl turnaj ve znamení velmi rozmanité metagame, ve které vůbec nebyla znát dominance Dredge z posledních týdnů. Ve druhém dni bylo deset decků s deseti a více hráči:
5C Humans - 34 hráčů
Burn - 25 hráčů
Jund Midrange - 23 hráčů
UW Control - 22 hráčů
Bant Spirits - 21 hráčů
Green Tron - 19 hráčů
Dredge - 16 hráčů
Hardened Affinity - 15 hráčů
RG Scapeshift - 13 hráčů
Ironworks Combo - 10 hráčů
Celá top32 vypadala následovně:
1. Bant Spirits
2. Ironworks Combo
3. Hardened Affinity
4. Infect
5. Hollow One
6. Ironworks Combo
7. Bridgevine
8. Gb Tron
9. Hardened Affinity
10. Dredge
11. Boros Burn
12. Bant Spirits
13. UB Control
14. Gifts Storm
15. Humans
16. RG Scapeshift
17. Mardu Pyromancer
18. Jeskai Ascension
19. Bant Spirits
20. Bant Spirits
21. Green Tron
22. Bant Spirits
23. Hardened Affinity
24. RG Scapeshift
25. Gifts Storm
26. Turbo Vizier
27. Izzet Phoenix
28. Hardened Affinity
29. Dredge
30. RG Breach
31. Ironworks Combo
32. Dredge
Největší překvapení v top8 byl určitě Dredgevine, přece jenom kvůli Creeping Chillu hráli všichni více graveyard hatu, než je běžně obvyklé a proto takovýto deck na nejvyšších příčkách asi nikdo nečekal.
Další zajímavost v top8 byl například Gb Tron, což je verze, která byla populární tak rok zpátky. Černá byla v decku čistě kvůli Thoughtseize v sidu a zajímavý tech je i Carnage Tyrrant, což je fajn karta proti midrange deckům, které v poslední době dostaly do vínku karty jako Field of Ruin, Damping Sphere a Assassin's Trophy, což hráčům Tronu hodně znepříjemnilo život.
Druhou zajímavostí je top8 Christoffera Larsena s Harnened Affitou, což je jeho druhá top8 ve dvou týdnech a navíc ve dvou různých formátech. Ani nevím, kdy se naposledy něco podobného někomu povedlo...
Mimo top8 bych rád znímil například UB Control s Bitterblossomy Yuty Takashiho, Mardu Pyromancera s Nahiri a dvěma kusy Arclight Phoenixe (což je mimochodem dost zvláštní, nevidím důvod, proč hrát jiný počet kusů než čtyři), Jeskai Control s Pyromancer Ascension, Turbo Viziera s playsety Eldritch Evolution a Postmortem Lunge a UR Phoenix s playsetem Chart a Course.
2. Standard MOCS
První listopadový víkend se konaly standardové MOCS, kterých se zúčastnilo krásných 340 hráčů, jenž změřili síly v osmi kolech základní části. Hráči se skóre 6:2 a lepším se jako obvykle kvalifikovali do čtvrtletního finále. Díky velké účasti to bylo hned 49 hráčů, ovšem zveřejněny byly decklisty pouze z top32.
V top8 byl překvapivě nejhranější archetyp White Weenie, což ale vlastně dává smysl, jelikož je celkem dobré proti UR Phoenixovi a Jeskai Controlu. A na Golgari zase platí Tocatli Honor Guard.
Hned tři hráči se s deckem dostali do top8. "Bayesta_93" měl dokonce jako jediný hráč 8:0, když si vybral verzi s Herioc Reinforcemets. Další verze vsázela na Venerated Loxodony a červenou měla pouze v sidu kvůli Experimental Frenzy. Do třetice tu byla pouze Monowhite verze, kde mne zaujal speciální tech v sidu v podobě Bounty Agenta, který je skvělý proti Lyře či Niv-Mizzetovi.
V top8 byly také tři UR Pheonixové, ve kterých byly zajímavé sideboard techy v podobě více kusů Sarkhana a Niv-Mizzeta a také Star of Extinction, což je super proti Golgari.
Zbylé decky v top8 byly Jeskai Control a Boros Angels.
Celkový přehled top32 je nálsedující:
6× Boros Weenie
6× UR Phoenix
4× Monored Aggro
3× Jeskai Control
3× GB Midrange
2× Boros Angels
2× White Weenie
2× GW Tokens
2× Monoblue Tempo
1× Grixis Midrange
1× UB Campaign
Kromě velkého počtu weenie decků jsme v top32 neměli nic nijak zvlášť neobvyklého. Zaujala mne snad jenom zajímavá verze UR Phoenixe s Murmuring Mysticy, Mission Briefingy a Search for Azcanta.
3. MTGO Weekly Challenges (Modern, Legacy, Vintage, Duel Commander, Pauper)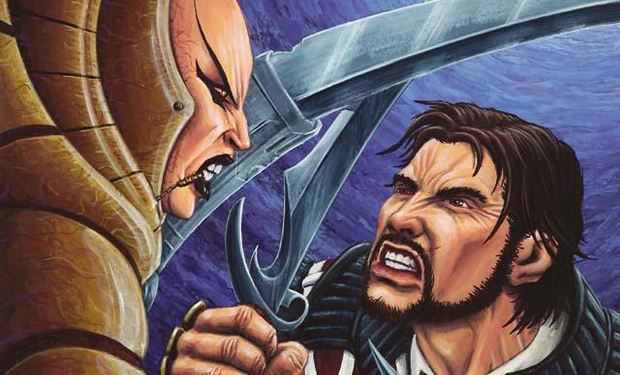 Modernová challenge nám nabídla zajímavou a velmi rozmanitou top8. Zvítězili Humani, když ve finále porazili neobvyklý UW Control s maindeck Rest in Peace.
Na dalších místech byl zajímavý mix Hollow One a Arclight Redu, klasický Dredge, Eldrazi and Taxes, Whir Stax, Eldrazi Tron a Jund s Grim Flayery namísto Dark Confidantů (povšimněte si i one-of Find // Finality v sidu).
Ve zbytku top16 mne zaujali ještě Bant Spiriti s midrange přesahem díky kartám jako Jace a Scavenging Ooze a GW Company, která obsahovala midrange karty jako Knight of the Reliquary a Tireless Tracker, ale zároveň i komba s Vizierem of Remedies.
Na legacy byla konečně prolomena kletba do nekonečna se opakujícího finálového souboje Dredge vs. Miracly, když byl tentokráte ve finále Sneak and Show a BR Reanimator (z výhry se radoval Sneak and Show).
V top8 byl také Burn s maindeck Exquisite Firecrafty, Grixis Control nezvykle s Blood Moony v sidu, zajímavý artefaktový deck s playsety Karna a The Antiquities War (který hrál Aleš Seidler), dvoje Mentor Miracly a agresivní verze Colorless Eldrazi.
Na dalších místech mne nejvíce zaujal 4C Speciál z dílny "Clasheda" s Dackem a Punishing Firy, ve kterém bylo spousta zajímavých one-ofů, jako třeba Nihil Spellbomb, Notion Thief, či To the Slaughter.
Vintage nabídla vcelku netradiční finále, ve kterém kontrolní verze Oathů porazila White Eldrazi.
Dva nejúspěšnější decky turnaje ale byly Dredge a Paradoxical Outcome, když měly oba shodně po čtyřech hráčích v top16.
Na předních příčkách byl k vidění také BUG Control (pěkná verze se Snapcastery a Assassin's Trophy), UR Pyromancer, UWR Control s playsetem Jace, Vryn's Prodigy, Ravager Shops s Traxosem a Fleetwheel Cruisery a také Storm s playsetem Dark Petition.
V duel commanderu měla tentokráte výrazně navrch nad ostatními dvojice Kess a Leovold. Top16 se skládala ze sedmi Kess (byl to zároveň i vítězný deck), pěti Leovoldů (oblíbená je zejména verze s Protean Hulkem) a zbytek světa tvořila Breya, Teferi, The Gitrog Monster a alespoň jednoho překvapení v podobě Big Redu s Captain Lannery Storm.
Pauper byl taktéž ve znamení tier decků - v top16 jsme měli čtyři Borosy (včetně vítězného), dva Teachings Trony, pět Delver decků (nejlépe umístěné byly dvě UB verze), dva UB Controly, Elfball, Monogreen Aggro a alespoň jednoho zástupce rogue decků v podobě Monowhite Heroicu.
4. Eternal Weekend 2018 (Legacy & Vintage)
V Pittsburghu se konal každoroční severoamerický šampionát v legacy, vinatage a dalších přidružených formátech (jako je třeba Oldschool).
Nejvíce hráčů měla legačka, na kterou jich přišlo hned 628. Byla v ní poněkud fádní top8 s Miracly, Stormem, dvěma Turbo Depthsy, Sneak and Show, Elfy, Grixis Controlem a možná trochu překvapivě i 4C Control (bez Deathrita se lépe dařilo trojbarvám), ačkoli to vlastně byl BUG pouze s malou splashí na Kolaghan's Command a Pyroblasty v sidu.
Daleko zajímavější to bylo na dalších místech, kde byla celá řada méně obvyklých decků a nejtůznějších brew. Výčet decků mezi devátým a dvaatřicátým místem je následující:
9. OmniTell
10. UR Delver
11. Infect
12. Maverick
13. Grixis Delver
14. BR Reanimator
15. Death and Taxes
16. Metalworker Post
17. UR Delver
18. Elves
19. Maverick
20. UWb Miracles
21. UW Miracles
22. UW Stoneblade
23. Grixis Control
24. Czech Pile
25. UW Miracles
26. Sneak and Show
27. OmniTell
28. Lands
29. Elves
30. Grixis Control
31. UW Miracles
32. UR Delver
Rád bych tu z tohoto seznamu ukázal nějaké zajímavé decklisty, nicméně k dispozici jsou pouze scany v abecedním pořadí, ve kterých