Novinky
Flash News #25/2017
Dnešní Flash News se točí zejména kolem prvních dvojkových turnajů s Hour of Devastation, ale dojde i na Modern Classic z SCG, nebo Weekly Challenge na MTGO.
1. SCG Open Cincinnati (Standard)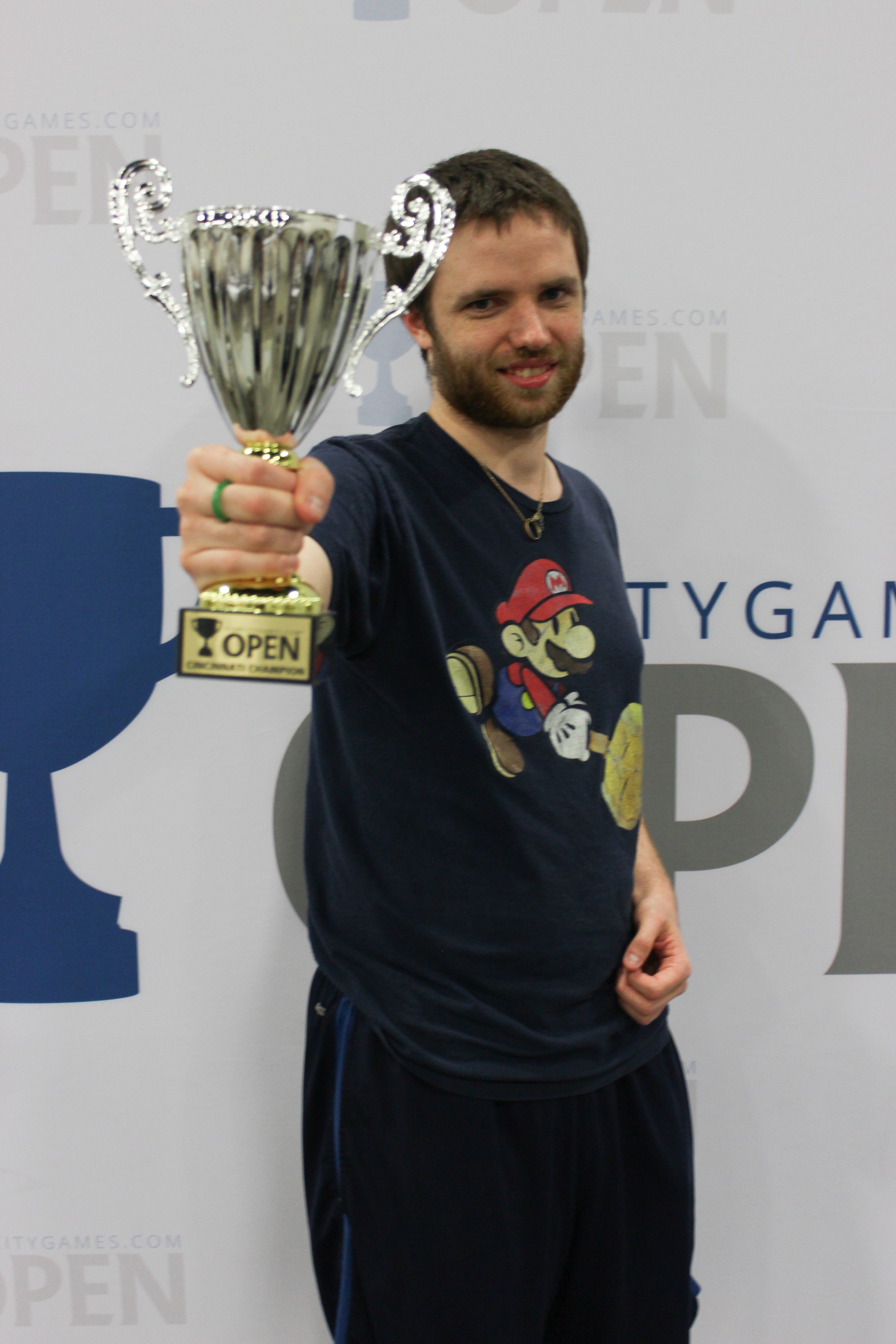 První velký standard s novou edicí si nenechalo ujít 487 hráčů. Musím říci, že po dlouhé době to opět vypadalo, že se hrají interaktivní matche a herní pole bylo velmi rozmanité - jenom v top16 bylo dvanáct různých decků!
Z vítězství se tu radoval Michael Hamilton s UWR Controlem s malou černou splashí pro Nicola Bolase, když ve finále porazil Jonathana rosuma s WU Monumentem. Nutno říci, že výhře vděčí zejména za skvěle postavený sideboard, kde dělali většině hráčů velké problémy Glorybringerové. Perlička také je, že tito hráči se spolu utkali na závěr prvního dne, jakožto dva poslední neporažení. Tehdy ale vyhrál Jonathan...
Decky v top16 byly:
3× WU Monument, 2× Mardu Vehicles, 2× UR Control, UWR Control, 4C Zomb-Emerge, BG Midrange, Red Eldrazi, Monoblack Zombies, RUG Midrange, RUG Control, Esper Vehicles a RG Pummeler
2. SCG Classic Cincinnati (Standard)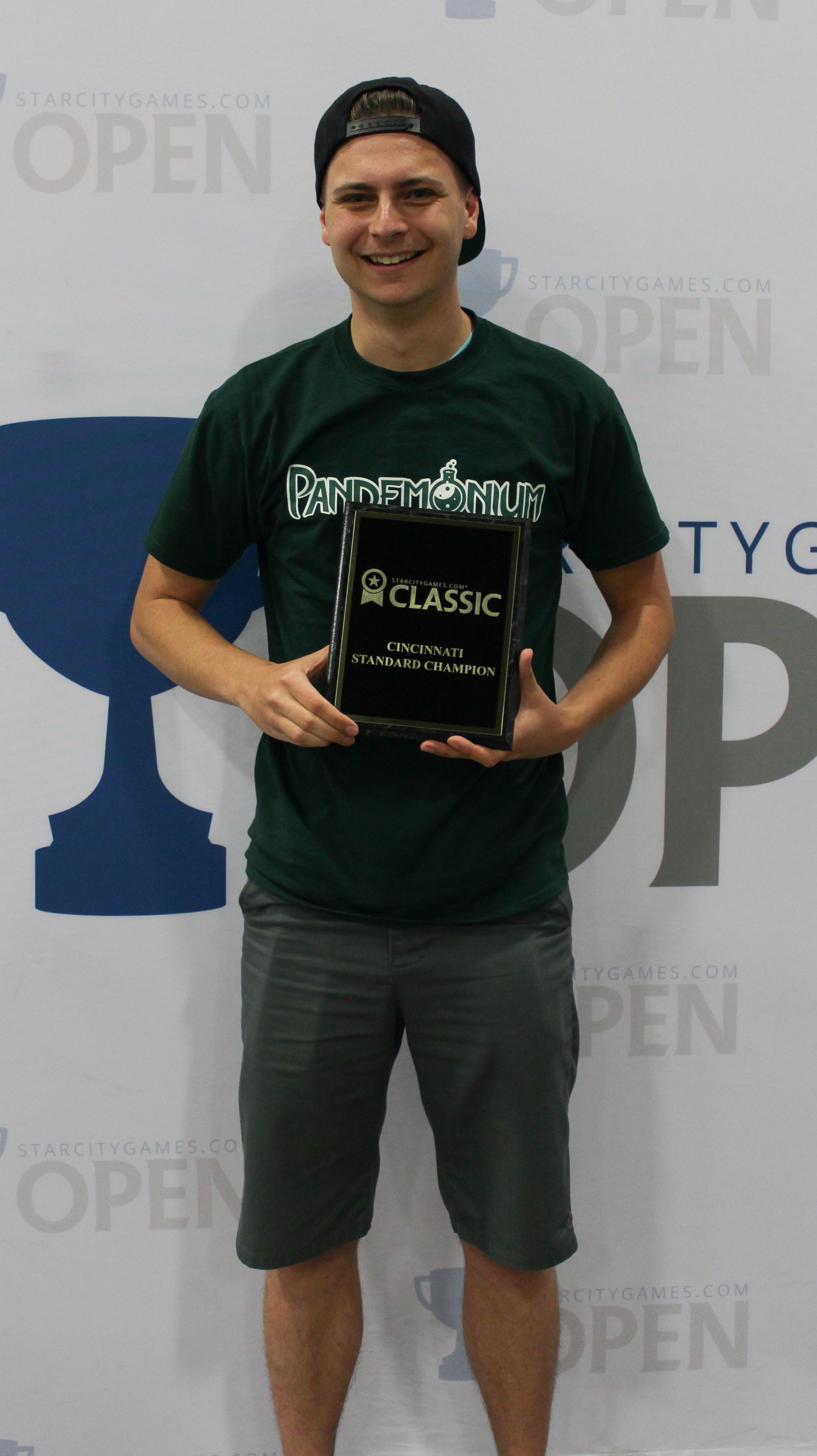 Ačkoli byl hlavním formátem víkendu standard a nové karty si samy říkaly o vyzkoušení, tak dvojkovou klasiku hrálo pouhých osmdesát hráčů, což stačilo jenom na sedm kol základní části.
Nejvíce se tu dařilo různým variantám Vehiclů, které dohromady obsadily pět míst v top16. Vítěz turnaje, Jacob Tilk, hrál Esper verzi, což mu jistě pomohlo ve finále, kde porazil UR Control, který už v mainu měl tři Hour of Devastation, což je skvělá karta proti deckům s Gideonem.
Celá top16 se skládala ze dvou Esper Vehiclů, dvou UR Controlů, dvou Mardu Vehiclů, dvou RUG Midrangů  UR Prowessu, 4C Vehiclů, Monoblack Zombies, RG Rampy, BUG Deliria, Naya Midrange, UB a Esper Controlu.
3. Online Standard PTQ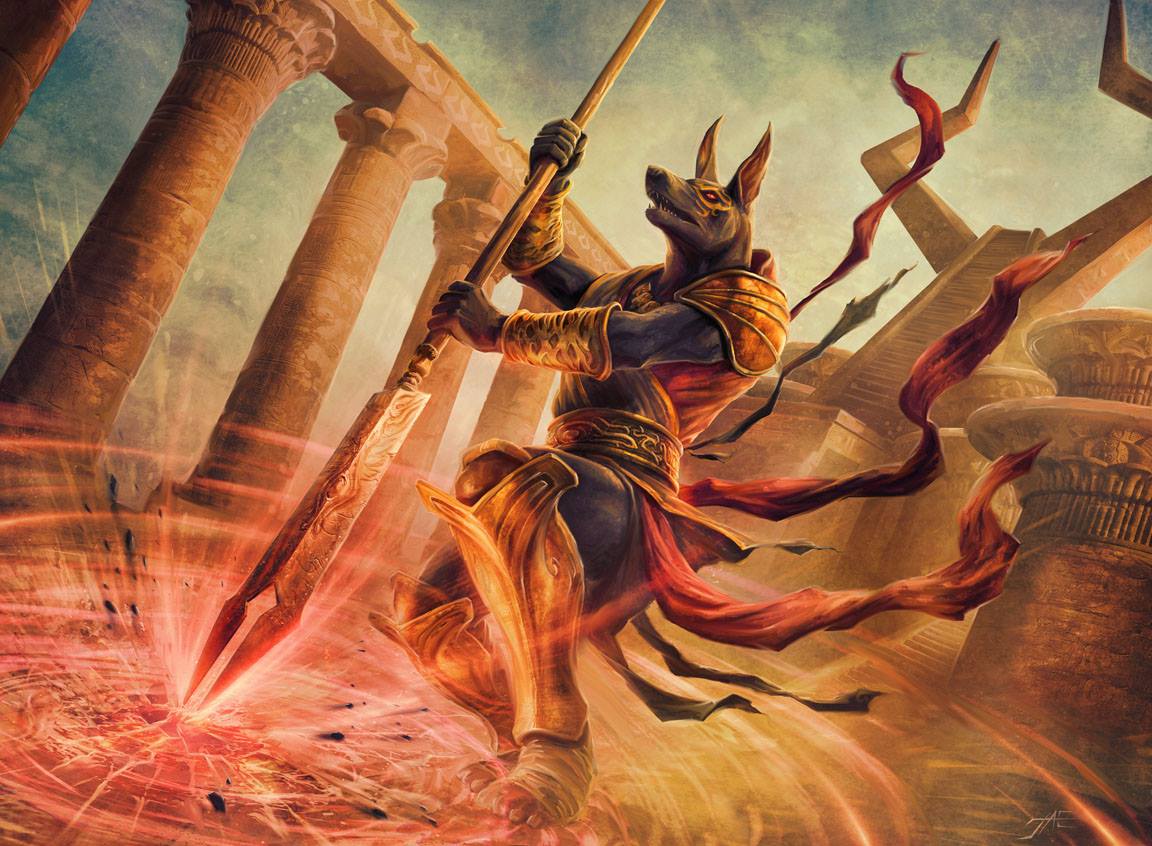 Trojicí velkých standardů v prvním týdnu nového formátu uzavírá online PPTQ, kterého se zúčastnilo 217 hráčů.
Nadšení z nového formátu trochu pokazil "beraldi", který zvítězil ze stock verzí Mardu Vehiclů, kde nebyla ani jedna nová karta.
Naštěstí to ale vynahradil Jaberwocki, který skončil druhý s pěknou verzí UR Controlu, která hrála playset Supreme Willů.
Překvapením turnaje bylo super-agresivní Monored Aggro, které vsázelo na karty, které zakazují blokovat (Earthshaker Khenra, Ahn-Crop Crasher a dokonce i Cartouche of Zeal). To totiž obsadilo hned čtyři místa v top16!
Jinak byla ale i zde metagame velmi rozmanitá, když bylo v top16 devět různých decků - 4× Monored Aggro, 3× Mardu Vehicles, 2× UR Control, UR Eldrazi, BR Midrange, RG Pummeler, BG Energy, RUG Pummeler, RUG Emerge a WU Monument.
4. Standard s Hour of Devastation - Week One Breakdown
Když vezmeme dohromady prvních 64 decků z SCG Open, 20 z SCG Classic (další decky už měly skóre 4:3 a horší, publikováno ale bylo 32 decklistů) a 32 z Online PTQ, tak se dostaneme k následujícím výsledkům:
17× Vehicles
17× Blue-based Control
15× Oketra's Monument
10× RUG Midrange
9× Monored Aggro
8× Zombies
7× RG Ramp
6× Eldrazi Aggro
6× Zomb-Emerge
5× RG(u) Pummeler
4× BG Energy
2× UR Prowess
2× BUG Delirium
1× Bant Flash
1× GW Midrange
1× UW Spirits
1× RG Madness
1× BR Midrange
1× RB Aggro
1× Naya Midrange
Mardu/Esper/4C Vehicles
Nové karty: Abrade, Doomfall
Ačkoli Vehicly nedostaly žádné velké posily, tak jsou stále u mnoha hráčů volbou číslo jedna. Vysoký power level jednotlivých karet znamená, že deck může uspět v libovolné metagame. Jako velké mínus vidím velmi špatný matchup s UW Monumentem, kdy kromě Avacyn není skoro žádný způsob, jak se dostat přes hromadu malých bytostí. Ormendal je pak téměr jistý konec.
Modré kontroly
9× UR Control
3× UB Control
1× UWR Control
1× Grixis Control
1× UW Control
1× Esper Control
1× RUG Control
Nové karty: Supreme Will, Abrade, Hour of Devastation, Nicol Bolas, God-Pharaoh, Bontu's Last Reckoning
Kontroly si v nové edici rozhodně přišly na své. Jako nejlepší karta se mi jeví Supreme Will, kterou nálseduje Abrade. Ta ale paradoxně zapříčiňuje to, že Torrential Gearhulk není už tak spolehlivou winkondicí.
Toho si byl vědom i Michael Hamilton, který vyhrál SCG Open s UWR verzí, která se spoléhala hlavně na planeswalkery. V jeho verzi jsme také viděli celkem běžný trend, kterým bylo zařazení jednoho Nicola Bolase, jakožto další winkondice. Osobně se mi ale příliš nelíbil, v mnoha matchupech to byl de facto puze předražený removal spell a raději bych ho hrál jenom jako sidovku.
Další populární karta byla Hour of Devastation, což je podle mě hodně přeceňovaný kus. Proti aggrům mi jako mnohem lepší hromadné ničení přijde Sweltering Suns. Jediná výhoda hour of Devastation je, že se umí velmi dobře vypořádat s Gideonem.
Populární verze kontrolu byla i s černou, kde spousta hráčů zkoušela Bontu's Last Reckoning, které se ale ukázalo jako příliš situační. Jako hlavní výhodu téhle kombinace vidím, že díky Lilianě, the Last Hope vám příliš nevadí, že vám bude Gearhulk umírat na Abrade.
Jako perličky ještě zmíním verzi se zelenou pro Tireless Trackery v sidu, nebo UW verzi s Appoachem of the Second Sun.
WU Monument
Nové karty: Nimble Obstructionist
Podobně jako u Vehiclů, i tady zůstal deck novými kartami takřka netknutý. Kombinace Monumentu, Westvale Abbey a value bytostí dělá z decku patrně nejlepší midrange na formátu. Pro následujících týdny bych WU Monument označil jako "deck to beat".
Jako bonus tu je i zajímavá Monowhite verze s Thalia's Lancers, kteří nejenom že hledají Avacyn, Skysovereign a Giselu, ale samozřejmě umí dojít i pro samotný Monument.
RUG Midrange
Nové karty: Champion of Wits, Abrade
RUG Midrange se aktuálně dělí do třech menších skupin. První je klasický goodstuff s energy kartami, druhá je agresivnější verze s Rhonasem a Heart of Kiran a třetí je s Elder Deep-Fiendem a Championem of Wits.
Je ale pravda, že se často všechny verze různě prolínají. V top8 SCG Open jsme například mohli vidět goodstuff verzi hrát Championa of Wits jenom jako value kartu.
Zajímavou techovku přidal do decku Todd Stevens, když hrál Oath of Nissa a k tomu Nahiri a Nicol Bolase. Ty samozřejmě uměl zahrát i za pomocí Aether Hubu a Servanta of the Conduit.
Monored Aggro
Nové karty: Earthshaker Khenra, Ramunap Ruins, Abrade
V online PTQ bylo v top32 hned devět Monoredů! Za jejich náhlou popularitou stojí dvě nové karty - Earthshaker Khenra, který spolu s kartami jako Cartouche of Zeal a Ahn-Crop Crasher soupeři velmi ztěžuje kombat a dále Ramunap Ruins, které v kombinaci se Sunscorched Desertem představují dobrý reach do lategamu a zároveň je to i karetní výhoda, jelikož je to damage, který vás nestojí žádné velké úsilí.
Skoro všechny decklisty se v nečem lišily, někdo hrál Trial of Zeal v kombinaci s Cartouchemi, někdo hrál více burnu jako třeba Collective Defiance a někdo vsadil na Reckless Bushwhackera.
Zajímavé bylo také vidět, že plno možností nabízí deck i při sidování. Nejčastější strategie byla přechod na midrange s kartami jako Chandra a Glorybringer. A s velkým množství Desertů je fajn možnost i Sand Strangler.
Mně osobně se nejvíce líbila verze s Reckless Bushwhackerem a Cartouche of Zeal, jelikož je maximálně explozivní, což je před sidem podle mě nejlepší možný přístup.
Zombies
Nové karty: The Scarab God, Mummy Paramount, Doomfall, Ammit Eternal
Samotné Monoblack Zombie příliš posil nedostaly, hovořit se dá pouze o sidovkách jako Doomfall a Ammit Eternal.
Jako nejzajímavější karta mi přijde Mummy Paramount, která umožňuje postavit velmi agresivní variantu decku, která má zároveň po sidu přístup k Dusk//Dawn. Samozřejmě, že aby bylo možné pravidelně dát Mummy ve druhém kole, tak je potřeba hrát více bílých zdrojů, takže nemůžete hrát karty jako Relentless Dead a Grasp of Darkness.
Někteří hráči také zkoušeli modrou splash pro Scarab Goda. Podle mě je to spíše sidovka do pomalejších matchupů a rozhodně bych ho do decku nedával místo Liliana's Mastery. Celkem přijatelný mi přijde 3:2 split, který hrál na SCG Open Jason McGee na SCG Open. Rozhodně ale nedoporučuji splashovat barvu, když máte pouze osm zemí, které produkují barvu, kterou splashujete...
RG Eldrazi Ramp
Nové karty: Hour of Promise, Abrade, Hour of Devastation, Beneath the Sands
Kombinace Hour of Promise a Shrine of the Forsaken Gods přišla mnoho hráčům velmi lákavá. Jak se ale ukázalo, není úplně jednoduché takový deck postavit. Někdo se snažil hrát to jako value kartu s různými Desert zeměmi, někdo hrál přímočarou verzi s Kozilek's Returnem a větším počtem World Breakerů.
Jako největší úskalí vidím v tom, že většina hráčů hrála třímanové rampy jako Beneath the Sands a také, že první mód Kozilek's Returnu prakticky nic nezabije (Winding Constrictor, Heart of Kiran, Spell Queller, Lord of the Accursed). Ideální build podle mě nehraje ani jednu z těchto karet a naopak obsahuje kusy jako Abrade a Sweltering Suns, což jsou podle mě ty správné karty v boji proti creature deckům.
Nejvíce se mi líbila verze z online PTQ, ačkoli bych nedoporučoval hrát desert package k Hour of Promise, jelikož proti agresivním deckům vás líznutí příliš mnoha desertů na úvodní ruku může stát hru:
Eldrazi Aggro
Nové karty: Ramunap Ruins, Abrade, Earthshaker Khenra
Už při psaní rozboru HOU jsem poznamenal, že cyklus desertů, které produkují bezbarvou manu, by mhol být na standardu zajímavý pro Eldrazi.
Nejlepší z tohoto cyklu jsou Ramunap Ruins a jelikož už před příchodem HOU se občas na MTGO objevovali Red Eldrazi, tak se samo nabízelo dále pracovat na tomhle decku.
Většina hráčů deck pojala jako midrange a k eldrazi stálicícm jako Thought-Knot Seer, Reality Smasher a Matter Reashaper přidala karty jako Glorybringer, Chandra a Abrade.
Zbytek decku se pak u každého trochu lišil. Někdo hrál Hanweir Garrison a Hanweir Battlements, někdo splashoval černou pro Scrapheap Scroungera, Fatal Push a Cut//Ribbons a na online PTQ byla k vidění dokonce verze s modrou, která hrála Eldrazi Skyspawnery a Elder Deep-Fiendy v kombinaci s Eldrazi Mimicem.
Největšího úspěchu ale s deckem dosáhl Jonathan Job, který hrál agresivnější verzi s Earthshaker Khenrou a Ahn-Crop Crasherem. To mi přijde jako dobrý nápad, ale v jeho verzi mi chybí více removalu a hlavně mi tam příliš nepasují agresivní one-dropy. Soul-Scar Mage mi ještě tak špatný nepřijde, ale rozhodně bych ve svém Chandra/Reality Smasher decku nechtěl hrát Falkenrath Gorgera. Myslím si, že třeba Scrapheap Scrounger by byl v decku lepší.
Zomb-Emerge
Nové karty: Champion of Wits, Strategic Planning, Abrade, Hostile Desert
Zomb-Emerge existuje ve dvou podobách, první je čistě UR a spoléhá se na interakci mezi Sanctum of Ugin a Elder Deep-Fiendem a druhá hraje zelenou a Deep-Fiendy hledá pomocí Traverse the Ulvenwald a Grapple with the Past.
Oba dva decky jsou teď daleko konzistentnější díky Championu of Wits a Strategic Planningu. Zajímavě toho využil Zan Sayed, když jako jediný hrál Grim Flayery, coby alternativní winkondici. Měl také zároveň zajímavý sideboard s interaktivními kartami jako Fatal Push a Bontu's Last Reckoning.
A když už je řeč o zajímavém sideboardu, tak musím zmínit i neobyklý tech, který jsme mohli vidět u RUG Zomb- Emerge Claye Spicklemirea, jenž měl v sidu Gate to the Afterlife a God-Pharaoh's Gift.
RG/RUG Pummeler
Nové karty: Abrade
Deck, který se s příchodem HOU skoro vůbec nezměnil (až na Abrade v sidu). Je ideální do metagame s minimálním množstvím interakce, takže mu nahrává aktuální popularita UW Monumentu.
GB Energy
Nové karty: Dreamstealer, Driven//Despair, Doomfall
Hlavní novinkou v GB Energy bylo zařazení Dreamstealera, který se pěkně kombinuje s kartami jako Rishkar, Nissa a Verdurous Greahulk. Já osobně jsem vůči němu docela skeptický, jelikož samotný poměr 1/2 za tři many je dost podprůměrný. Deck je zároveň dost špatný proti WU Monumentu, což je asi hlavní důvod toho, proč nebyl více populární.
Nejlepšího výsledku s ním dosáhl Stephen Dykman, který hrál více midrange verzi s Kalitasem, Lilianou a Ob Nixilisem. K vidění ale byla i agresivní verze s Rhonasem a Driven//Despair.
Ostatní
Mezi ostatními decky mě nejvíce zaujal UR Prowess s Riddleform, ačkoli jednotlivé verze se mi moc nelíbily - místo karet jako Unsummon a Crash Through bych raději hrál Glorybringera a Supreme Will.
Docela pěkné mi přišlo i BR Aggro s Ammit Eternalem. Líbilo se mi, že tahle konkrétní verze měla dobrý reach v lategamu díky kartám jako Chandra a Cut/Ribbons, což tu bylo hned v playsetu.
Další zajímavé decky byly GW Midrange, UW Spirits, BUG Delirium, nebo BR Midrange:
A k vidění bylo i několik hodně divokých brew, které se většího úspěchu zřejmě jen tak nedočkají...
5. SCG Cincinnati Modern Classic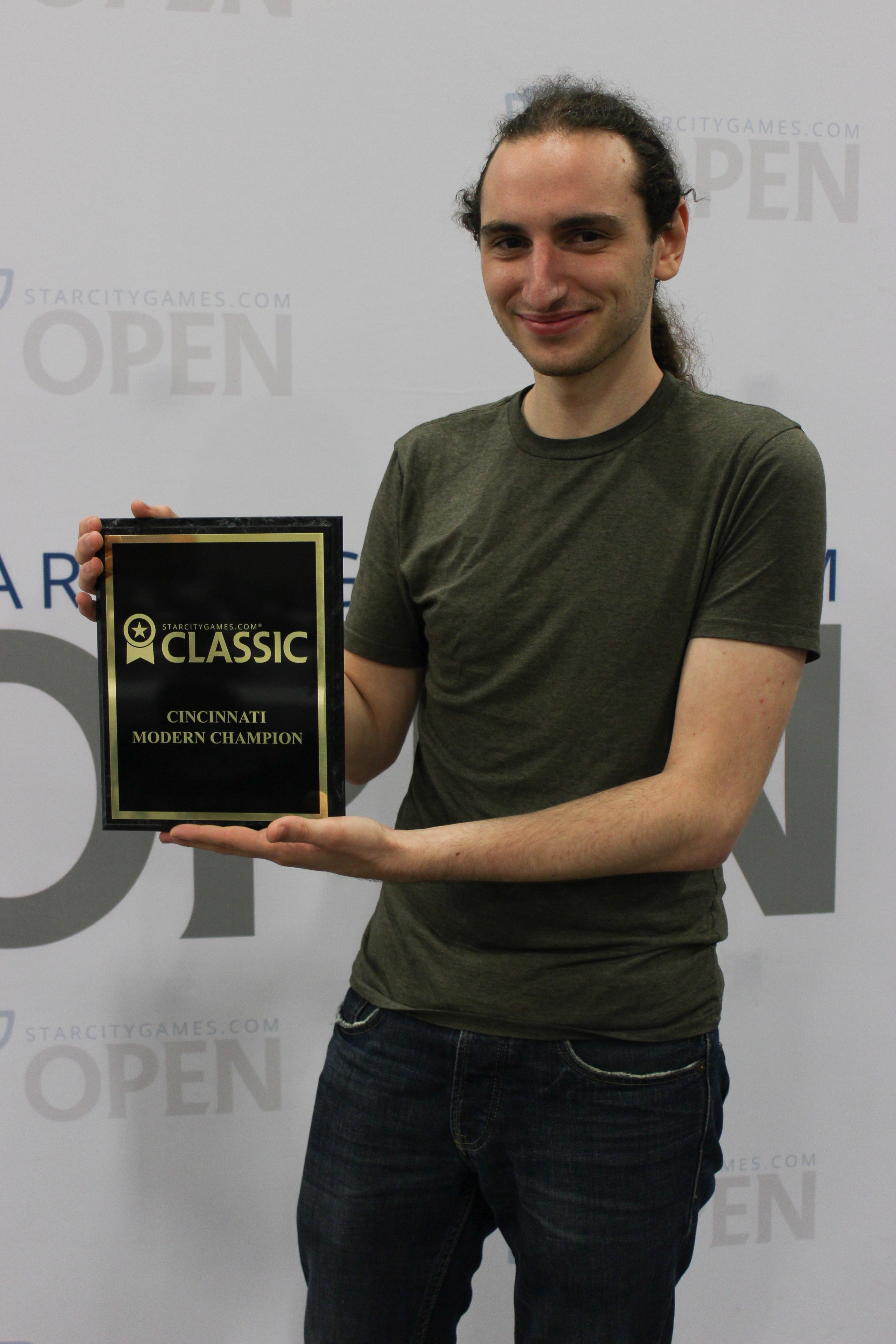 Přes všechen ten standard se lehce zapomene na to, že se v Cicinnati hrál i modern. 248 hráčů si to rozdalo v devíti kolech základní části a v následné top8.
Nejlépe si s konkurencí poradil Josh Shield s Gifts Stormem, když ve finále porazil RG Scapeshift Jacka Kornera. Věřím, že bez Chalice of the Void v sidu je to pro Scapeshift nevyhratelný matchup...
V top16 jsme mohli vidět celou řadu zajímavých decků. Na třetím místě bylo Domain Zoo s Tribal Flamy, Might of Alara a Death's Shadow, šesté byly Esper Gifts s Goryo's Vengeancí a flipovacím Jacem, jedenácté místo patřilo zajímavé value verzi Bant Company s kartami jako Courser of Kruphix a Voice of Resurgence a třináctý byl Mardu Control s Nahiri/Emrakul kombem.
Překvapivé bylo i zjištění, že hned pět decků v top32 hrálo karty z nové edice. Mardu Midrange a jedna z Affinit měly v sidu Liliana's Defeat, Grixis Death's Shadow hrálo one-of Claim//Fame, ve Scapeshiftu bylo one-of Hour of Promise a konečně v Bant Company byl Ramunap Excavator a Scavenger Grounds v sidu.
Na závěr ještě dodám, že s výjimkou šesti Affinit byla top32 velmi rozmanitá, když v ní bylo hned jednadvacet různých decků!