Novinky
Flash News #26/2016
1. SCG Players' Championship (Legacy, Modern, Standard)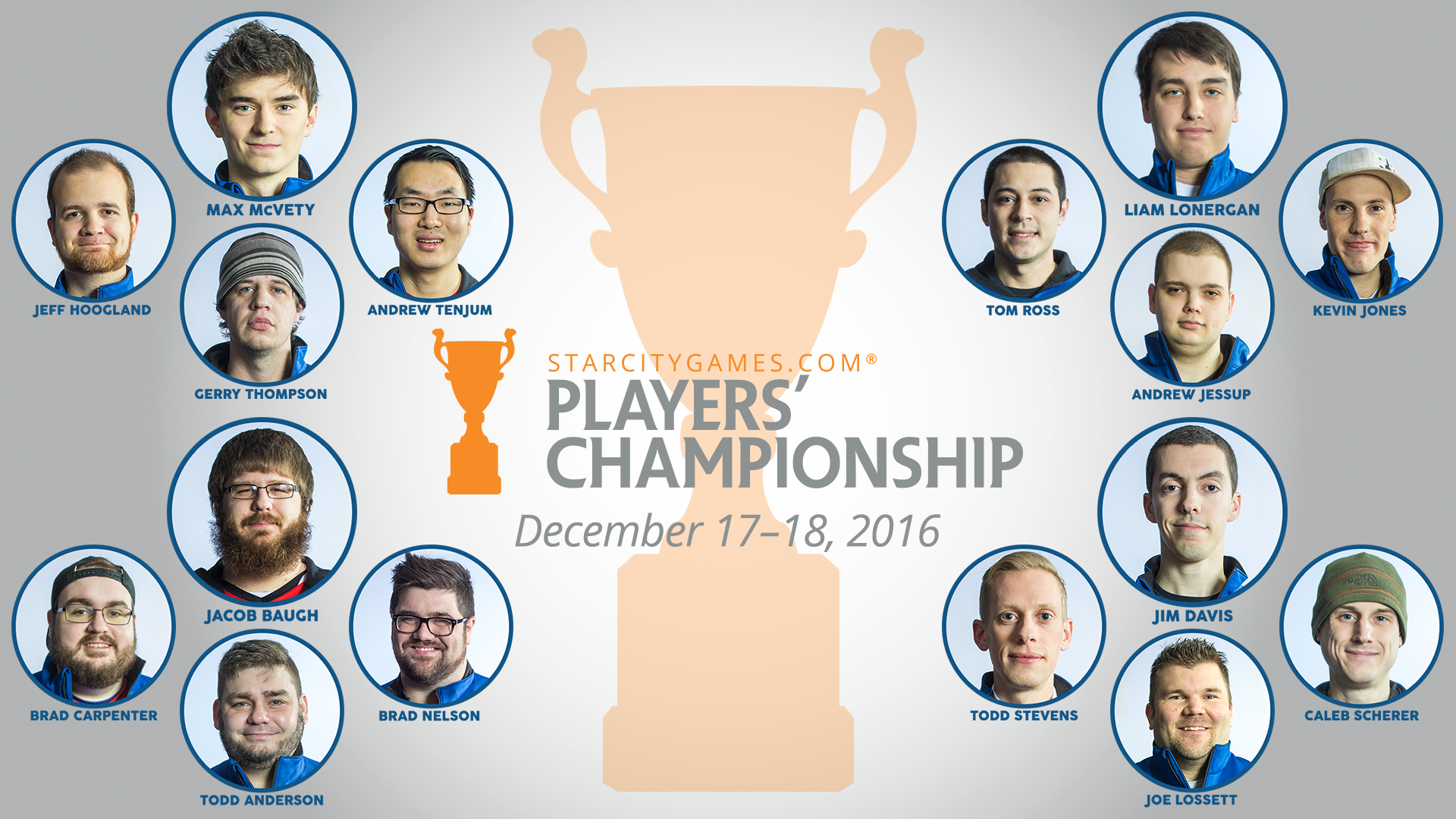 Prosincový SCG Player's Championship byl posledním ve stávající formě, kdy hraje šestnáctka hráčů, kteří jsou rozděleni do čtyřčlenných skupin, kde se nejprve hrají tři kola legacy a poté tři kola modernu. Z každé skupiny pak jeden hráč vypadne a zbylých dvanáctu hráčů hraje "vyřazováka" (nejlepší z legacy a modernu mají v prvním kole "bye", podobně jako na PT) až do té doby, než zbydou pouze dva finalisti. Ti na závěr hrají na dva vítězné zápasy legacy, modern a standard (pořadí si volil finalista s lepším umístěním po prvním dni).
Na legacy byl shodou okolností pouze jeden hráč, jenž dosáhl na 3:0. Byl to Brad Nelson s klasickou verzí Sneak and Show.
Celkově jsme na legacy mohli vidět jedenáct různých decků, přičemž nejhranější byl 4C Delver, ve kterém ani jeden z této trojice nehrál Young Pyromancery, místo kterých tam byly kusy jako Snapcaster, Leovold a True-Name Nemesis (v podstatě BUG se splashí na Bolt či Kolaghan's Command).
Nejoriginálnější deck hrál Jeff Hoogland, který sáhl po Alurenu. A ačkoli je poslední době čím dál tím poluránější pouze kontrolní trojbarva (BUG), tak Jeff zůstal u klasické čtyřbarevné verze, která se soustředí hlavně na kombo.
3× 4C Delver
2× Elves
2× Lands
2× Sneak and Show
Infect
4C Aluren
4C Control
BUG Delver
Shardless BUG
Miracles
Storm
I na modernu byl nejhranějším deckem Delver, tentokráte v Grixis podobě. Hráli ho tři hráči a Kevin Jones s ním dosáhl na perfektní 3:0. Tři výhry si také připsali Caleb Sharer s Dedgem a Gerry Thompson s Boros Burnem.
Celkem jsme v modernové části mohli vidět deset různých decků, mezi kterými byly i některé méně obvyklé, jako například WB Tokeni, Angel Chord, nebo Eldrazi Tron.
3× Grixis Delver
2× Dredge
2× Death's Shadow Zoo
2× Gx Tron
2× Infect
Angel Chord
Boros Burn
WB Tokens
Elves
Eldrazi Tron
V součtu obou formátů se nejlépe vedlo Bradu Nelsonovi, který si spolu s Kevinem Jonesem, Joe Lossettem a Jeffem Hooglandem zajistil s předstihem postup do top8. Z turnajem se naopak po první dni rozloučili Andrew Tenjum, Todd Stevens, Max McVete a Brad Carpenter.
Na standardu bylo k vidění hned devět různých decků, ale nejpopulárnější strategií byly rozhodně různé verze Aetherworks Marvel. Shodně tři hráči hráli Naya verzi s Nahiri a Temur verzi s Whirler Virtuosem.
3× Nahiri Aetherworks
3× Temur Aetherworks
2× UW Aggro
2× GB Aggro
2× GR Energy Aggo
UR Control
Wu Humans
Jeskai Midrange
4C Vehicles
Nejvíce se nakonec dařilo Joe Lossettovi s RG energy (s modrou splashí v sidu) a Calebu Schererovi s Temur Aetherworky, kteří se probojovali až do finále.
Joe Lossett volil, v jakém pořadí se bude hrát a zvolil nejprve legacy, kterou následoval modern. Na legacy s Miracly poměrně s přehledem porazil Calebův Storm a podobné to bylo i na modernu, kde hrál Caleb Dredge, jenž v první hře nestačil na Joeův maindeck Relic of Progenitus a po sidu na Ravenou Trap, kterou hrál Joe dokonce v playsetu.
Joe Lossett je tak pro letošní rok vládcem SCG Tour a navíc si odnáší výhru 20 000$ a vstupné zdarma na všechny letošní SCG Open!
Všechny decklisty rozdělené podle formátů si můžete prohlédnout zde:
2. MTGO Aether Revolt RPTQ #2 (Modern)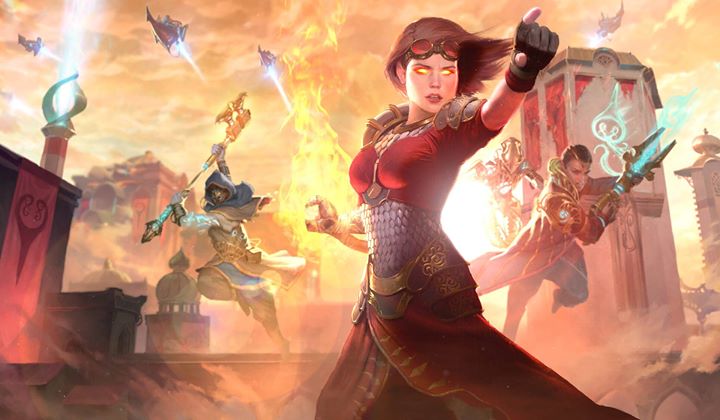 Týden před vánoci bylo zajímavých turnajů jako šafránu, což mělo za následek, že na tohle pozdní RPTQ se příhlásilo 165 hráčů, což znamenalo největší RPTQ na PT Dublin (Aether Revolt) vůbec.
Mimo jiné by to znamenalo, že díky účasti nad 128 hráčů by se kvalifikovala celá top8, jenomže na MTGO je výjimka a top8 se tu kvalifikuje vždy, bez ohledu na počet hráčů (to jsem při minulém shrnutí RPTQ výsledků nevěděl).
Hrálo se osm kol swissu, ve kterých mělo přesně šest hráčů 7:1 a ty v top8 doplnili dva šťastlivci se 6:2. Mezi kvalifikovanými decky byly Dredge, Grixis Delver, Abzan Delirium, RG Breach s Madcap Experimenty, dvoje Bant Eldrazi, Infect a Jund (s Piou a Kiranem na pozici čtyřdropu).
Nejzajímavější z těchto decků byl určitě GR Breach, který kombinoval povícero strategií. Primární byl určitě Primeval Titan s Breachem, ale navíc tu byly i Scapeshifty, Emrakul a Madcap Experiment s Platinum Emperorem. A v podstatě to byl i nejzajímavější deck v celé top32, kde byla z méně hraných decků snad jenom jedna Landdestrukce, shodou okolností také s Madcap Experimentem...
3. The Last Sun 2016 (Standard + Modern)
Last Sun je pravidelný premiový turnaj, který se v Japonsku koná vždy na konci roku. V podstatě je to taková obdoba SCG Invitational. Turnaj je také rozdělený na dva dny základní části, kde se hrají dvakrát čtyři kola standardu a modernu. Finálová top8 byla standard, přičemž se hrálo na tři vítězné.
V konkurenci 174 hráčů si nejlépe poradil Naoki Shimizu s poměrně fádní kombinací Temur Aetherworků a Dredge.
O dost zajímavější byly decky poraženého finalisty, kterým byl Kyouhei Miyake. Ten na standardu hrál 4C Zomb-Emerge, kde měl v mainu maximum selfmillu v podobě Perpetual Timepiece a Minister of Inquiries. I proto mi přijde zvláštní, že v decku nebyla ani jedna Emrakul, když se Kyouhei trochu minimalisticky spoléhal pouze na Elder Deep-Fienda v kombinaci s Kozilek's Returnem (po rotaci jde o naprosto zapomenuté "kombo").
Na modernu pak hrál hodně zajímavou verzi Blue Moonu. Šlo spíše o tap-out verzi s kusy jako Goblin Dark-Dwellers, Pia and Kiran Nalaar, nebo Chandra, Torch of Defiance (rodinná idylka). V decku také byla malá bílá splash kvůli hate kartám v sidu na Dredge a Burn.
Tím jsme ale zdaleka nevyčerpali přehled všech zajmavých decků. Na standardu jsme v top8 mohli vidět například agresivní BW s trochu větší křivkou, UW Midrange s vehicly a Glint-Nest Crane, nebo další 4C Zomb-Emerge, tentokrát ale agresivnější s Grim Flayery a celým playsetem Smuggler's Copter. V top16 nám k tomu ještě přibyl 4C Marvel, který splashoval pro Whirler Virtuosa a Nahiri.
A co se týče modernu, tak tam mne kromě již zmiňovaného Blue Moonu nejvíce zaujal UWR Prowess, který hrál Pyromancer's Ascension jakožto value kartu a dále Monoblue Tron, který na rozdíl od jiných buildů nehrál žádné zbytečné one-ofy a kromě Mindslaver komba měl i Uginy a dvojici Emrakul.
4. Eternal Festival Tokyo (Legacy)
Nevím, jak tahle tradice vznikla, ale očividně je v Japonsku zvykem pořádat na Štědrý den velký legacy turnaj, kterého se tentokrát účastnilo 321 hráčů.
Nejúspěšnější decky turnaje byly Miracly a Eldrazi, jenž dohromady zabraly pět míst v top8 a tři v top4. Finále bylo mirror Miraclů a zvítězil v něm Tatsuumi Kobayashi (na obrázku je s cenou za první místo).
Zbylé decky v top8 byly Země, 4C Delver (se Stifly a bez Pyromancerů) a Dark Maverick s Dark Depths kombem.
5. Online PTQ (Standard & Modern)
Mezi svátky se příliš mnoho velkých turnajů konalo, takže ve zbytku Flash News se už budeme věnovat pouze výsledkům z magic online.
Prvním větším tunajem bylo dvojkové PTQ, kterého se účastnilo 88 hráčů. Na turnaji dominovaly decky s Aetherworks Marvel, které obsadily tři místa ve finálové top4. Všechny tři verze, včetně vítězné, kterou pilotoval Watchwolf92, hrály shodně modrou splash pro Whirler Virtuosa a kántrování v sidu.
Velká úspěšnost Aetherworků také vedla ke zvýšené popularitě UR Controlu, který by s Aetherworky měl mít dobrý matchup, nicméně nejlépe umístěný UR Control v top8 vypadl přávě s Aetherworky, takže to asi nebude zase tak horké (URko nemá žádnou rychlou winkondici, takže si dovedu představit, že často prohraje na hardcast Emrakul).
Další zajímavý deck v top8 byla agresivní verze Humanů, která místo obvyklé černé splashovala modrou pro Reflector Mage, Revolutionary Rebuff a další kántrování v sidu (což mělo pomoct hlavně proti Aetherworkům).
Modernové PTQ se konalo na silvestra, ale i přesto se ho zúčastnilo 107 hráčů.
Panovala tu velmi rozmanitá metagame, kdy v top16 bylo hned třináct různých decků!
Celkovým vítězem se stal Steve Mann alias RandomDrooler s Grixis Controlem ve stylu Coreyho Burkharta.
Na druhém místě skončila Affinita s Bomat Couriery a ve zbytku top8 jsme mohli vidět ještě Boros Burn, dvoje Bant Eldrazi, další Grixis, Bring to Light Scapeshift a Dredge.
Mimo top8 byly nejzajímavější decky UWR Control s Kiki-Jiki kombem, Esper Control ve stylu Wapo-Tapy, jenž hrál kusy jako Esper Charm, Think Twice a Sphinx's Revelation. Hlavní winkondice decku byly Kolonáda a Secure the Wates a konečně GW Hatebeaři, kteří byli tak trochu mix mezi klasickými Eldrazi and Taxes a GW Company.
6. MTGO Power Nine Challenge (Vintage)
Další silvestrovský turnaj, kterého se zúčastnilo 41 hráčů. Na turnaji dominovala nová verze UWr Mentora, která byla specificky zaměřená na kombodecky s Paradoxical Outcomem. V mainu hrála Stony Silence, Fragmentize a hlavně Mindbreak Trapy.
Tenhle deck obsadil hned čtyři místa v top8 a Rich Shay (The Atog Lord) s ním celý turnaj vyhrál.
V top8 byly také dvoje White Eldrazi, což byli zároveň dva jediné White Eldrazi decky na turnaji. Jejich kombinovaný win rate byl přes 85%, což je dost nekompromisní. Osobně mám ten dojem, že pokaždé, když vidím hrát Mentora proti Eldrazi, tak Eldrazi decky suverénně zvítězí. Z nějakého neznámého důvodu ale tyhle decky nejsou mezi hráči příliš populární.
Jeden z Mentorů v top8 hrál konkrétně kvůli Eldrazi Mystical Tutor a Balanci a evidentně to fungovalo, jejikož právě jeden z Eldrazi decků prazil v top4.
Celá top16 měla následující složení:
1. UWr Vryn's Mentor
2. UWr Vryn's Mentor
3. White Eldrazi
4. White Eldrazi
5. UW Mentor
6. UW EmraStill
7. UWr Vryn's Mentor
8. UWr Vryn's Mentor
9. Paradoxical Storm
10. UWr Vryn's Mentor
11. Ravager/Eldrazi Shops
12. UR Delver
13. Paradoxical Mentor
14. Dark Petition Storm
15. Demonic Oath
16. Blue Dredge
Mimo top16 byl nejzvláštnější deck asi Demonic Oath, ale osobně nevidím žádný důvod, proč hrát Rune-Scarred Demony, když můžeme hrát Griselbranda. Jediné malé plus je možná, že bez Griselbranda můžeme lépe využít méně obvyklé hate karty jako Trinisphere, In the Eye of Chaos, nebo Arcane Laboratory.
A to je pro dnešek, a také pro rok 2016, co se Flash News týče, vše. Už brzo se ale můžete těšit na velký rozbor Aether Revolt!
Kumano
Komentáře
Přispívat mohou pouze přihlášení uživatelé. Pokud chcete vložit komentář, přihlaste se ZDE.