Novinky
Flash News #29/2017
V těchto Flash News se podíváme na dvojici modernových Grand Prix Birmingham, kde nechyběla česká účast, a Sao Paulo. Dále pak na SCGO Richmond, nejrůznější eventy na Magic Online a připraveno je i několik bonusů.
1. GP Birmingham (Modern)
Uplnynulý víkend patřil modernu, když se konala hned torjice velkých turnajů. Největší z nich bylo GP Birmingham s 1 740 účastníky, mezi nimiž bylo i devět našich hráčů.
Před turnajem byly jako tři hlavní decky favorizovány Grixis Death's Shadow, RG Scapeshift a Eldrazi Tron. A ačkoli nakonec zabraly devět míst v top32, tak field byl opět velmi pestrý, což mimo jiné kulminovalo v top8, kde bylo osm různých decků.
Českým hráčům se bohužel příliš nedařilo, když jejich šance na dobrý výsledek pohasly už v první dni. Čtveřice hráčů (Ondřej Stráský, Martin Jůza, Jaroslav Bouček, Jakub Vojta) měla skóre 7:2 a další tři hráči postoupili se skóre 6:3.
Slabší první den si ale naštěstí nahradili v neděli, kde Jaroslav Bouček s Jakubem Vojtou uhráli 5:1. Jardovi to stačilo na 22. místo, Jakub bohužel skončil na nevděčném 33. místě.
Dařilo se i Juzámovi, který se 4:1:1 obsadil 39. místo. A třicet bodů potřebných pro zisk pro pointů měli i ondřej Stráský, Petr Sochůrek, Tomáš Krejsa a Zbyšek Panchartek.
Co se týče známých jmen v top8, tak jsme tam mohli vidět hned pětici hráčů s předchézími zkušenostmi z top8 na GP. Mimo jiné to byli pro playeři Steve Hatto a Simon Nielsen. Zajímavé jméno je i Oscar Christensen, kterého asi většina z vás nezná, ale přitom už má na kontě jednu GP výhru, top4 z loňského GP Manchester, nebo finálovou účast na SSS 2015.
Už jsem zmiňoval, že v top8 bylo osm různých decků. To ale není všechno, mohli jsme mezi nimi vidět i jedno originální brew a také celou řadu zajímavých techů.
Ve finále se utkali Loic Le Braind pilotující zajímavý Boros Burn, ve kterém místo Eidolonů of the Great Revell hrál Shrine of the Burning Rage a Steve Hatto s BG Rockem, ve kterém hrál velký landdestruction package s maindeck playsetem Ghost Quarterů a Fulminator Mage spolu s one-of Ramunap Excavatorem v sidu. Ve dvou zajímavých hrách zvítězil Loic Le Briand, když se mu úspěšně podařilo od úvodní ruky pokaždé líznout jenom jednu zemi a cca deset nonlandů (klíč k úspěchu s fritkou).
Další decky v top8 byly pěkná verze Vizier Company s Renegade Ralliery, Abzan Midrange s playsetem Tectonic Edgů, Lantern Control, 4C Humani s Knight/Retreat kombem a Eternal Witnessami, Grixis Death's Shadow a RG Scapeshift (bez Hour of Promise).
Velká rozmanitost pokračovala i ve zbytku top32. Pouze čtyři decky v ní měli tři a více zástupců (RG Scapeshift, Abzan, Grixis Death's Shadow a Vizier Company) a celkem v ní bylo devatenáct různých decků.
Mimo top8 byly nejzajímavější decky v top32 Esper Death's Shadow, Kiki-Jiki kombo v Naya barvách s Eldritch Evolution a playsety Fiery Justice s Blood Moonů a UB Faerie s Perilous Reasearchem, což je zajímavá možnost, jak se zbavit vlastního Bitterblossomu.
Jako bonus byl v coverage zmíněný i zajímavý Esper Mill Jamese Winward-Stuarta, se kterým byl ještě tři kola před koncem ve hře o top8. Nakonec se skóre 11:3:1 skončil na dvaačtyřicátém místě.
2. GP Sao Paolo (Modern)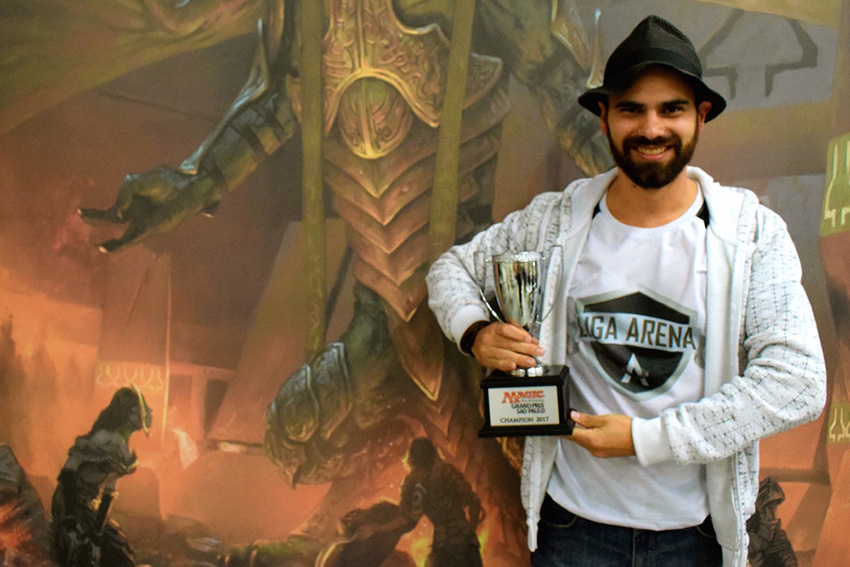 Aktuální velkou popularitu modernu dokládá návštěvnost 1 233 hráčů, což je na poměry Jižní Ameriky opravdu úctyhodné číslo.
Dva nejúspěšnější decky turnaje byly Grixis Death's Shadow (pětkrát v top16) a různé verze RG Scapeshiftu (sedmkrát v top32).
Vítěz byl ale z jiného soudku - Joao Lelis s vlastní verzí Bant Knightfallu (s Tireless Trackery a Thalií, Heretic Cathar) ve finále porazil RG Scapeshift, na který se speciálně připravoval, což dosvědčují hned tři Flashfreezy v sidu.
Top8 tu byla opět velmi rozmanitá, když v ní bylo hned sedm různých decků. Vedle finalistů to byly dva Grixis Death's Shadow, GB Tron (který nehrál Wurmcoily a měl více interakce v podobě Thought Knot-Seerů a Collective Brutality v mainu), Abzan Midrange, Vizier Company a UWR Tempo s Geisty a Thundermaw Hellkitou, které mělo docela dobré výsledky, když s ním ještě dva další hráči skončili v top32.
Za pozornost dále stály méně obvyklé verze Scapeshiftu, která jsme mohli vidět v top32. První byla verze bez interakce se soupeřem, která k extrémně rychlému goldfishování využívala Prismatic Omen a playset Hour of Promise. Druhá hrála playset Through the Breach, Chalice of the Void v mainu a dále měla bílou splash pro Circle of Protection: Black (anti Death's Shadow tech), Cop: Red a Timely Reinforcementy v sidu.
Úplně nejzvláštnější deck v top32 byl Skred Red, který hrál one-ofy jako Hazoret, Zealous Conscripts, či Inferno Titan. Také hrál playset Lightning Boltů, které jsou na aktuální metagame dost špatné. Myslím si, že za jeho úspěchem stály hlavně Blood Moony a Relic of Progenitus (na rozdíl od Boltů dobré karty na Scapeshift a Death's Shadow).
Na GP také dosáhl na jubilejní desátou top8 Carlos Romao, který díky nulovému testingu jednoduše sáhl po Death's Shadow a rozhodně se mu to vyplatilo. Stal se už 49. hráčem v historii, který má na svém kontě deset a více top8 na GP.
Závěrem nesmí chybět nějaký ten bonus. Vybral jsem zajímavou verzi GW Hatebearů, se kterými vyhrál triál Cleon Lemos. Deck maximálně využívá landdestrukčního potenciálu, když spolu s playsetem Ghost Quarterů a dvěma Tectonic Edgi hraje playset Leonin Arbiterů a dvojici Ramunap Excavatorů.
3. SCG Open Richmond (Modern)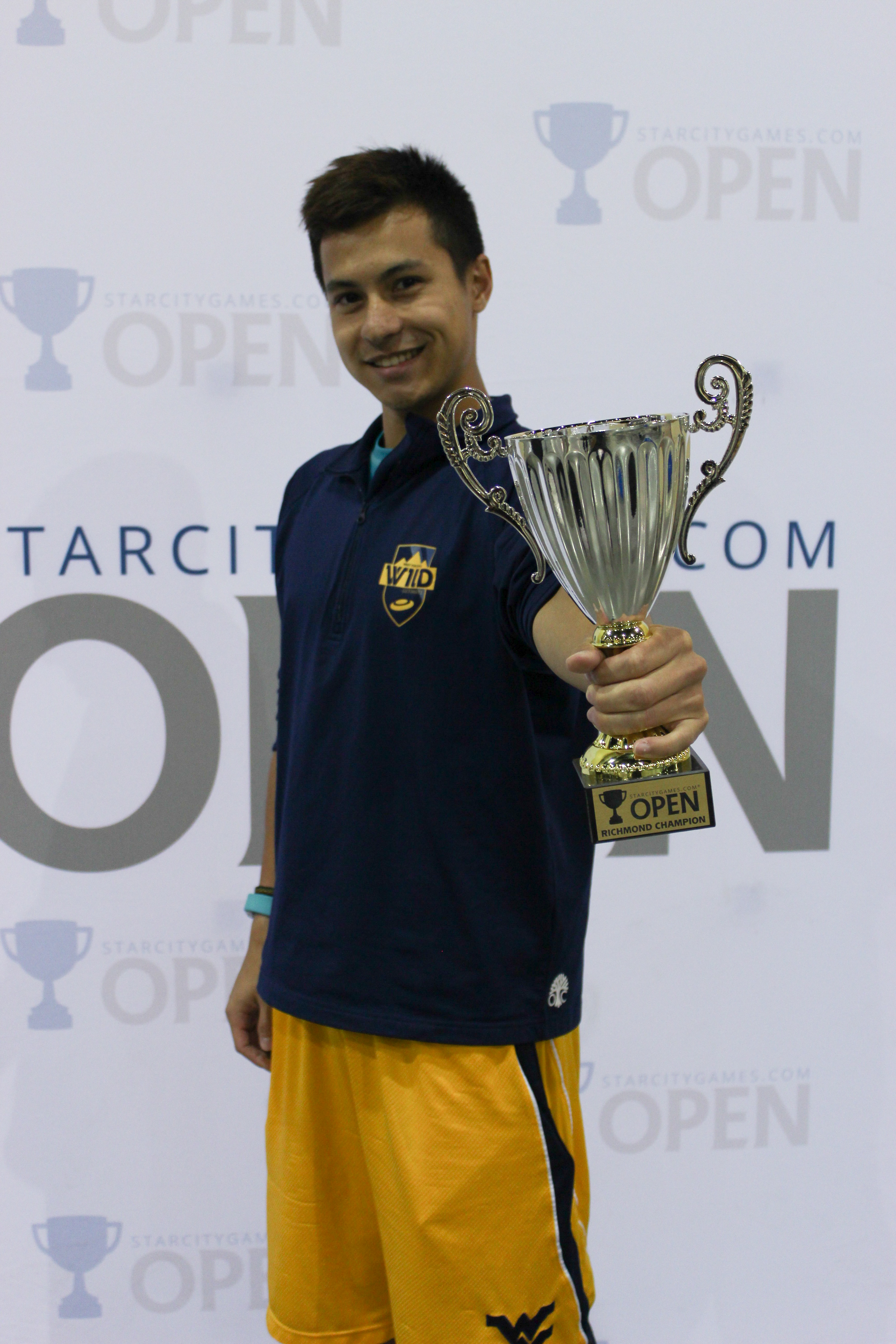 Poslední velký modern mělo na starost SCG. Zúčastnilo se ho 454 hráčů, což je trochu nižší číslo, než kolik bych očekával, obzvláště když vezmu v potaz, že má teď SCG tour kvůli GP Washington přes měsíc pauzu...
Do druhého dne tu postoupilo 112 hráčů, mezi kterými se našlo 39 různých decků. Nejpopulárnější byla trojka Grixis Death's Shadow, Affinita a Boros Burn, kterou hrálo shodně jedenáct hráčů. Na paty jim šlapal Scapeshift s deseti hráči, Eldrazi Tron s osmi a UW Control se sedmi.
O hat-trick pro Eldrazi Tron a back-to-back výhru se dlouho úspěšně pokoušel Dan Musser, ale nakonec mu to v top8 pokazil James Foerst s Grixisem (zajímavá verze se sideboard plánem s Young Pyromancery), který nakonec dokráčel až do finále, kde ale nestačil na Gifts Storm Kazu Negriho. Šlo o vcelku standardní verzi, kde byla jediná méně obvyklá karta Remand, jenž tam byl hned v playsetu.
Druhou top8 v řadě si s UWR Tempo-kontrolem připsal Jonathan Rosum, což je v posledních několika týdnech nejúspěšnější hráč na okruhu SCG. A na úspěšné vlně je i Caleb Scherer, který k top8 se Stormem z minulého SCG tentokráte přidal top16 finish. Hrál poměrně neobvyklou verzi s hodně velkým množství cantripů, když kromě Peer Through Depths hrál ještě Peek.
Nejméně obvyklý deck v top8 byli GW Elfové s Vizier kombem, které až ke třetímu místu dovedl Ross Meriam.
Další zajímavé decky na předních příčkách byly Naya Scapeshift se splashí na Path to Exile, extra grindy verze GW Company s late-game kartami v podobě Tireless Trackerů a Nissy (Vastwood Seer), UR Moon s Through the Breachem a Emrakul, a také Monowhite Control s Martyrem a Proclamation of Rebirth.
4. SCG Classic Richmond (Modern + Standard)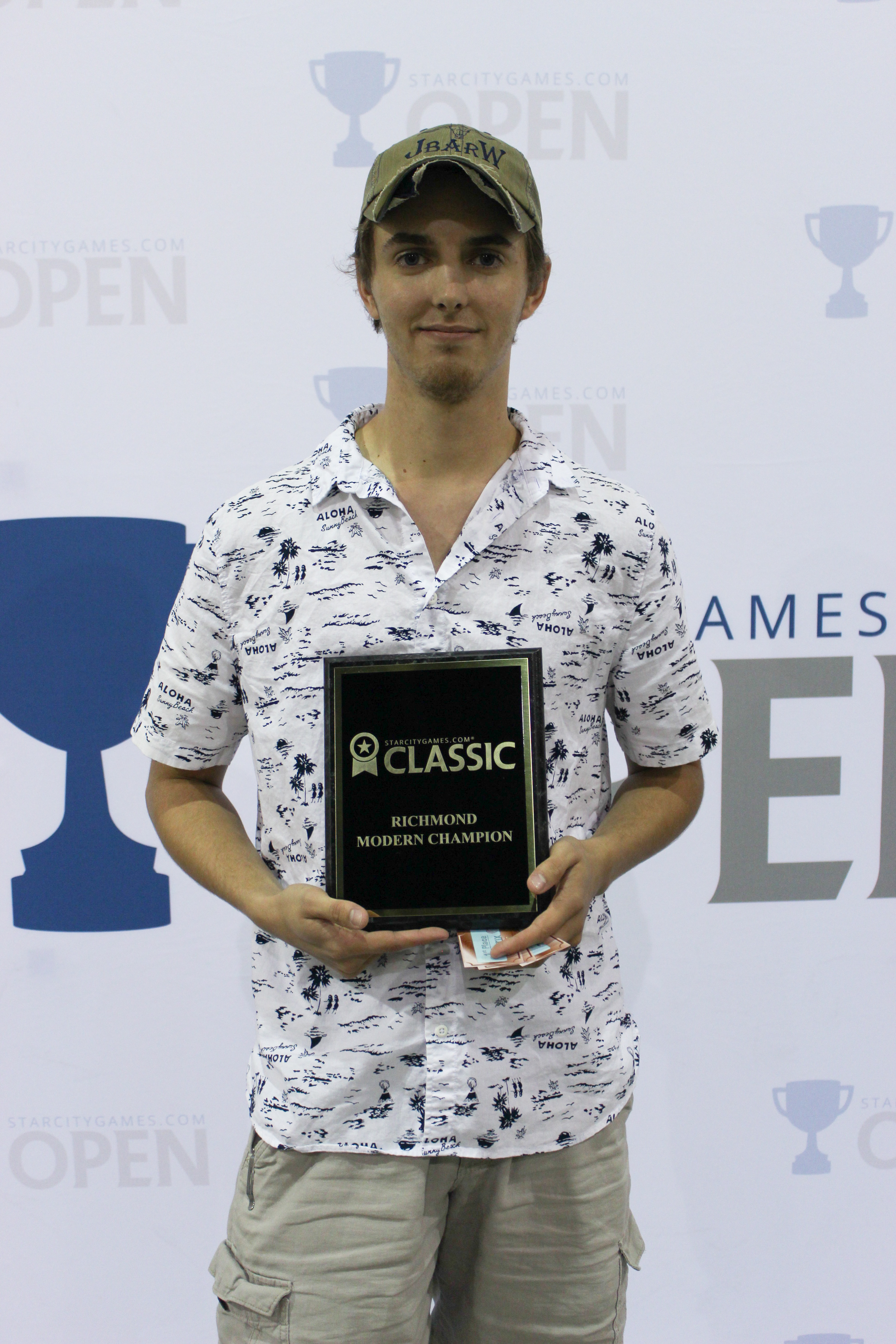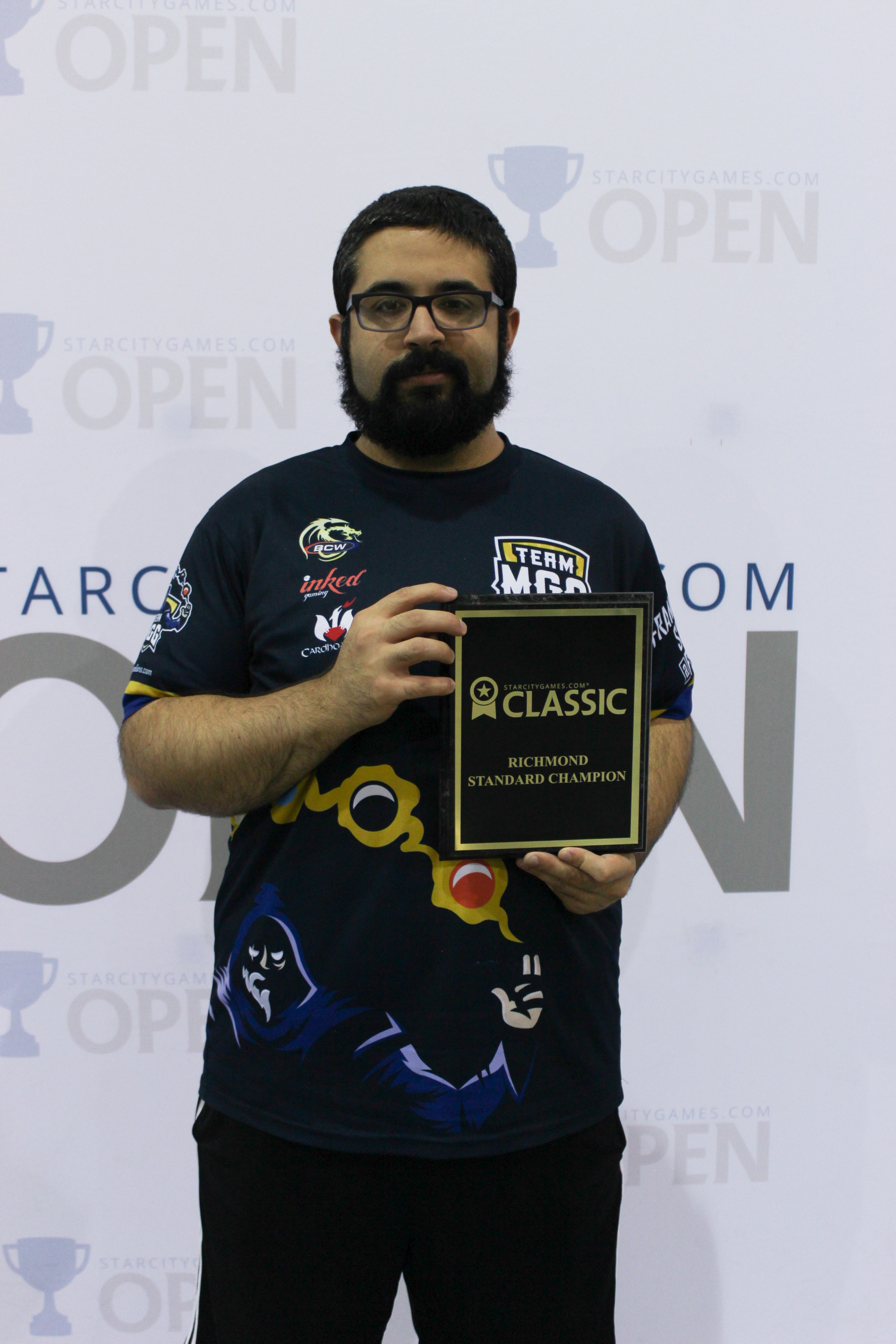 Modernovou klasiku hrálo 122 hráčů, což znamenalo sedm kol základní části a top8. Z vítězství se radoval Chad Uzzell s klasickou verzí Dredge, když ve finále porazil speciální verzi Naya Zoa s Renegade Ralliery a Seal of Fire, kterou pilotoval Steven Borakove. S tímhle speciálem už v posledních měsících dosáhl dobrých výledků jak na okruhu SCG, tak i na MTGO.
Celkem bylo v top16 hned čtrnáct různých decků (dvakrát tam byl Grixis Death's Shadow a Boros Burn), z nichž nejzajímavější bylo Monoblue Aggro s Grand Architectem.
Za zmínku stojí ještě pěkná verze GW Hexproofu s maindeck Leyline of Sanctity, která řeší některé hlavní problémy decku jako například Liliana of the Veil a Blessed Alliance.
Standard hrálo pouze 91 hráčů, ale i tak to stačilo na sedm kol základní části. Triumfoval v ní Frank Skarren s BG Aggrem z dílny Brada Nelsona, která hrálo Oath of Nissa a bytosti s trojkovou v obraně (Sylvan Advocate, Catacomb Sifter). Ve finále porazil klasickou verzi RUG Midrange, která byla v top16 hned třikrát.
Nejvíce zástupců měli ale v top16 Zombies, kteří tam byli čtyřikrát. Zbylé decky byly dvoje Mardu Vehicly, Ramunap Red, Black Eldrazi, BG Delirium, UR Control, Grixis Control s Dynavolt Towerem a RW Desert Control, který se už předtím objevil na MTGO.
5. Online PPTQ & Monthly MOCS (Standard)
Standard na onlinu stále prožívá boom, o čemž svědčí i 286 hráčů na posledním PPTQ. Teorii o skvělém formátu potvrzuje i velmi rozmanitá top8 se šesti různými decky.
Ve finále zvítězil Watchwolf92 s Mardu Vehicly (verze s Walking Ballisty a Aethersphere Harvestery, která je lepší na Ramunap Red a Zombies), když porazil UW Control s Approachem of the Second Sun (s maindeck Authority of the Consuls a playsetem Regal Caracalů v sidu).
Další decky v top8 byly tři RUG Midrange, UR Control a speciality v podobě 4C Midrange s RUG základem, ve kterém byl navíc Scarab God, který je de facto neporazitelný v miroru a také UB Control s trochu větším tapout motivem, když hrál Kalitase, Scarab Gody a dokonce i trojici Championů of Wits.
V devíti kolech dohromady čtyřiadvacet hráčů nasbíralo sedm a více výher. Jednoznačně nejpopulárnější deck mezi nimi byl Ramunap Red, který hrálo hned devět hráčů. Nejúspěšnější z nich ale skončil až na jedenáctém místě.
Druhé místo patřilo již zmiňovanému RUG Midrangi se třemi hráči. Dále jsme mezi úspěšnými hráči mohli vidět dvě BG Aggra, Monoblack Zombies, Black Eldrazi, UW Gift, BR Control a zajímavá minimalistická verze New Perspectives s hlavní maindeck winkondicí v podobě one-of Faith of the Devoted.
Monthly MOCS se účastnilo 268 hráčů, jenž byli postaveni před klasickou výzvu v osmi kolech uhrát alespoň šest výher pro kvalifikaci na čtvrtletní MOCS finále.
To se povedlo čtyřiatřiceti hráčům, z nichž jako jediný dosáhl na perfektní skóre 8:0 Reid Duke s Monoblack Zombies.
Zombies spolu s Ramunap Redem byly dva nejúspěšnější decky turnaje, když obsadily osmnáct míst v top32. Další úspěšné decky (byť s velkým odstupem) byly UW Approach, RUG Midrange, Mardu Vehicly, zajímavý UW Gift s Glint-Nest Crane a Walikng Ballistou, UB Control, UR Control, GB Aggro, GR Rampa a dvojice brew v podobě UB Controlu s Reanimační tématikou a RW Midrange s velkým planeswalker packagem.