Novinky
Flash News #32/2017
V těchto Flash News si rozebereme standardové Grand Prix před Nationals. Bohužel v Turíně našim hráčům neklapla TOP8, ale i tak 3 hráči skončili v penězích a Lukášovi unikla TOPka jen o kousek. Nechybí pravidelná dávka informací z Online a zajímavých turnajů. Bonus je ve formě pohledu na vítězný deck z nedávného modernového PPTQ Kolín.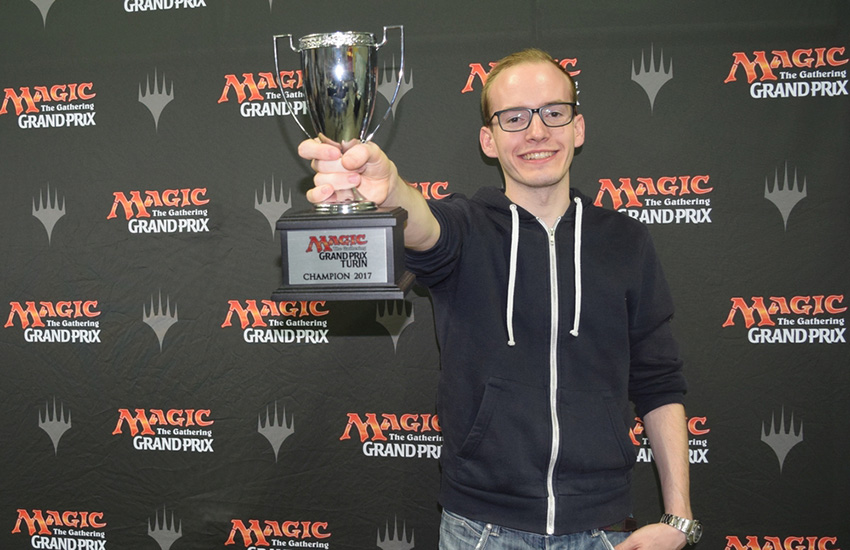 1. GP Turin (Standard)
Po dlouhé době bylo evropské GP menší, než GP v Americe, když se v Turíně sešlo pouhých 924 hráčů, což mě docela překvapuje, jelikož se jednalo o poslední GP před rotací a zároveň ideální možnost, jak potrénovat před dvojicí nationals víkendů.
Turnaj se samozřejmě neobešel bez české účasti, když se zúčastnilo hned deset našich hráčů, kterým se navíc z velké části velmi dobře dařilo.
Nejhranějším deckem víkendu byl RUG Midrange, ať už v kalsické variantě, nebo z černou splashí. Díky častým mirorům se v decku začal v malých číslech objevovat Rhonas, který údajně v miroru naprosto exceluje, zejména v kombinaci s Bristling Hydrou.
Další populární decky byly Ramunap Red, Mardu Vehicly, Monoblack Zombies, nebo UW Approach. Velký nárůst popularity zaznamenala Eldrazi Rampa, za jejíž popularitou stála GW verze, jenž se umístila v top32 před dvěma týdny v Denveru. Bíla se s kartami jako Fumigate a Cast Out ukázala jako lepší doplňková barva, nežli červená.
Překvapení turnaje ale nebyla GW Rampa, nýbrž UB Control se Scarab Gody, se kterým se až do top8 dokázal dostat Robin Dolar (byla to už jeho pátá GP top8).
Top8 byla velmi rozmanitá, když v ní bylo osm různých decků. Kromě zmíněného UB Controlu to byly klasické Mardu Vehicly, zajímavá verze RUG Midrange s Rhonasem a Elder Deep-Fiendy, Monoblack Zombies, RUG se Scarab Gody (u toho mě zaujala naprosto náhodná one-of Cartouche of Amibition v sidu), UW Approach, Jeskai Gift a málo vídaná RW verze Vehiclů s Depalou a Veteran Motoristy. Zajímavé také bylo, že v ní byl v playsetu Aethersphere Harvester i Heart of Kiran.
Ve finále nakonec změřili síly Robin Dolar a Leon van der Linden s Mrdu Vehicly. Všechny hry byly velmi jednostranné a do značné míry ovlivněné tím, kdo začínal. Lepší pozici po základní části měl Robin, což znamenalo jeho vítězství v poměru 2:1. Byla to jeho druhá výhra na GP, která zároveň znamená jeho návrat na PT, ze kterého vypadl v úvodu letošního roku.
Ještě, než se podíváme na decklisty, tak se pojďme vrátit k našim hráčům. Těm se docela dařilo, když z oné desítky postoupila šestice do druhého dne. A pět hráčů z ní dokonce mělo rekord 7:2 a lepší. Pavel Matoušek měl 8:1 a čtveřice Martin Jůza, Jiří Obraz, Lukáš Blohon a Josef Živec měla skóre 7:2.
Ve druhém dni předvedl nejlepší výsledek Lukáš Blohon, který nasbíral dalších pět výher, což ho katapultovalo až na pěkné třinácté místo. Zajímavé je, že hrál poněkud neobvyklý deck v podobě White Eldrazi.
Druhý nejlepší Čech byl Josef Živec, kterému výsledek 4:2 ve druhém dni těsně stačil na top64 (62. místo).
Trojka Martin Jůza, Jiří Obraz a Martin Hrycej si připsala alespoň jeden pro point za vyhraných deset matchů. Smůlu měl naopak Pavel Matoušek, který po výborném prvním dni zvládl v neděli vyhrát pouze jeden zápas...
A teď už se podíváme na decklisty z top16, ke kterým si ještě jako bonus dáme 4C Emerge Marca Tobiasche, se kterým dosáhl na výsedek 9:6.
2. GP Washington D.C. (Standard)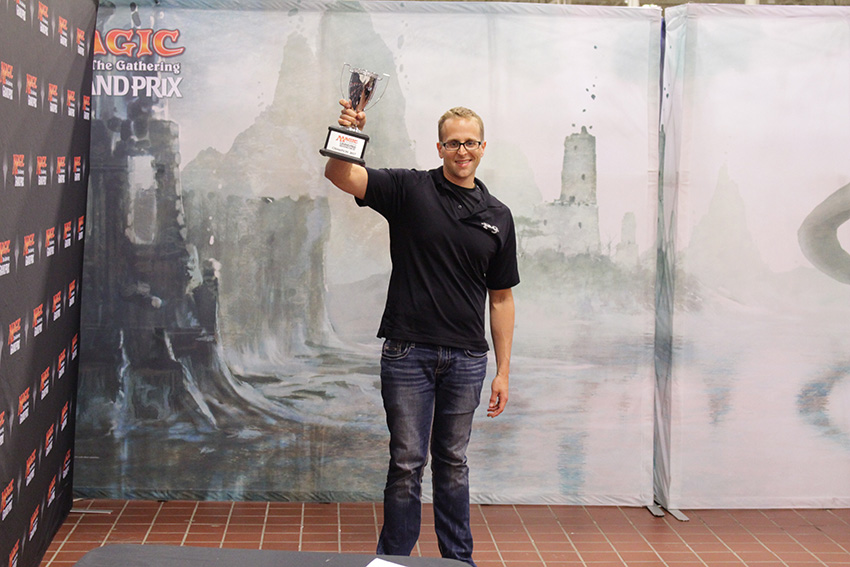 Ve Washingtonu se konalo úplně poslední GP před příchodem Ixalanu. S 1 566 hráči (bez české účasti) tentokráte hravě překonalo evropské GP.
Nejhranější deck turnaje byl Ramunap Red, který obsadil v top32 plných deset míst, včetně jednoho v top8.
Na turnaji bylo k vidění i několik překvapivých inovací - ve Vehiclech se začal hrát Though-Knot Seer, Ramunap Red hrála Warping Wail v sidu kvůli kartám jako Approach of the Second Sun a Fumigate, a do top8 se dostala GW Rampa a White Eldrazi (ti byli dokonce třikrát v top32).
Jak už je v posledních týdnech v amerických GP zvykem, tak v prvním dni váleli Brad Nelson s Coreyem Baumeisterem. Corey uhrál perfektní skóre 9:0 a Brad měl 8:1. Třetí bratrská účast v top8 v řadě jim ale nakonec nevyšla. Zatímco Corey pokračoval ve svém vítězném tažení a třetí top8 na GP za sebou pro něj nebyla překážkou, tak Brad tentokráte skončil se skóre 10:5. Mimo jiné to znamenalo, že se Corey dostal do čela pořadí souboje o hráče roku sezóny 2017/18.
Stejně jako v Turíně, i zde byla velmi rozmanitá top8 se sedmi různými decky. Ve finále se utkali Matt Severa hrající Mardu Vehicly s Thought-Knot Seery a Collins Mullen s GW Rampou a za nimi se seřadily klasické Mardu Vehicly, White Eldrazi, BG Aggro, Ramunap Red, RUG Midrange a Monoblack Zombies.
Z vítězství se nakonec radoval Matt Severa, pro kterého to za poslední rok bylo už třetí vyhrané GP a z toho druhá výhra s Vehicly. Celkem už to byla jeho osmá GP top8.
Mimo top8 už metagame tolik rozmanitá nebyla, Ramunap Red spolu s různými variantami RUG Midrange zabraly osmnáct míst v top32. Jediné dva další decky v top32 byly WU Monument a zajímavý UR s 3:2 splitem mezi Torrential Gearhulkem a The Locust Godem.
3. Online Modern PPTQ & Modern Weekly Challenge
Modernové onile PPTQ bylo s 291 hráči největším non-GP turnajem týdne. Takto velký počet hráčů dokonce znamenal, že se hrálo devět kol, ve kterých bylo na jistotu postupu do top8 potřeba uhrát 8:1.
Na turnaji bylo k vidění opravdu hodně zajímavých brew a to i na nejvyšších příčkách. V základní části měl jako jediný hráč skóre 9:0 CharLy s UR Emkrakul/Through the Breach deckem, ve kterém bylo jinak kontrolní jádro s Cryptic Commandy, Snapcastery a Blood Moony.
Ve top4 ale nakonec nestačil na pozdějšího vítěze, "wordy333", který hrál Dredge s vychytávkou v podobě Failure//Comply v sidu.
Další decky v top8 byly dva Eldrazi Trony, Burn trochu nezvykle v Naya barvách s Atarka's Commandem, Grixis Death's Shadow, Abzan Midrange (ten samý hráč, jenž před týdnem vyhrál MOCS) a Amulet Titan.
Až do čtyřiadvacátého místa byly hráči se skóre 7:2, mezi kterými se našly decky jako UB Control s Jace, Architect of Thought a Kalitasem, Kiki-Jiki kombo s Eldritch Evolution, Fiery Justice a Blood Moony, Mardu Prowess s Monastery Mentorem a Young Pyromancerem, Skred Red a varianta Boros Burnu se Shrine of the Burning Rage.
Celkem bylo v top24 hned dvacet různých decků, když stoprocentní rozmanitost nejvíce pokazila trojice Eldrazi Tronů...
Druhý velký modern na MTGO byla samozřejmě pravidelná challenge, kde trochu nečekaně zvítězil Patxi s Eldrazi and Taxes. Jednalo se o verzi s trojicí Dark Confidantů v mainu.
Za ním se v top8 seřadil UWR (draw-n-go) Control, BW Smallpox s Bitterblossomy, RG Scapeshift, Lantern Control, Kiki-Jiki kombo pilotované stejným hráčem, jako na PTQ, Grixis Death's Shadow a Boros Burn. To máme osm různých decků v top8, z nichž navíc větši ani nepatří mezi teir1 decky...
Ve zbytku top16 mne nejvíce zaujal UR Control, který měl jako winkondici staré dobré kombo Kiki-Jiki + Deciever Exarch.
4. Ostatní Online Challenge (Legacy, Vintage, Commander, Pauper)
Na legacy jsme byli znovu svědky vítězství překvapivého decku, když po Elfech a Dragon Stompy tentokráte zvítězili Colorless Eldrazi.
Za nimi se sařadili dva Grixis Delveři a tři 4C Controly a top8 uzavíraly Lands a Esper Delver.
Nejzajímavější decky v top16 byly UWr Control s Standstillem a Mishrovkami, ve kterém jsme mohli dokonci najít i one-of oldschoolvku v podobě Decree od Justice (původní winkondice hraná v kontrolech se Standstillem) a UWr Topless Miracly bez tradičních Monastery Mentorů, ale zato s dvojicí Gideonů, Ally of Zendikar. Ten byl na turnaji vůbec nějak populární, jelikož jsme ho mohli vidět ještě v Jeskai Stonebladu.
Vintage Challenge byl jeden z prvních větších turnajů po omezení Monastery Mentora a Thornu of Amethyst (a unrestriktu Yawgmoth's Bargainy).
Ani jeden z decků z metagame nezmizel, nicméně se tím formát trochu otevřel a začaly se více prosazovat decky jako UR Delver, či BUG Fish.
A právě UR Delver pilotovaný WinRyderem celý turnaj ovládl, když ve finále porazil Ballista Shopy. Shopy byly i přes omezení nejhranější archetyp v top16 se čtyřmi hráči. Většina z nich místo chybějících Thornů hrála Tangle Wire.
V top8 jsme také mohli vidět Oathy s auriok Salvagery, UW Control se Standstillem a různé mixy Mentora a Tezzeratora, ve dvou případech ze tří navíc ještě s Paradoxical Outcomem.
Ve zbytku top16 byl k vidění například URw Delver, dvakrát BUG Fish, dvakrát Dredge, nebo Paradoxical Storm.
Duel Commander je pro mne trochu zklamání. Kromě toho, že nebyla zabanovaná Breya, nejsou zatím na MTGO k mání ani karty z Commanderu 2017, takže metagame zůstává stále stejná.
Z vítězství se opět radovala Breya, která měla ještě další dva zástupce v top16. Tři hráče měl v top16 ještě Leovold (všechno stejné midrange verze s Timetwister efekty). Další generálové na předních místech byli Tymna s Kraumem (2× v top16), méně tradiční kombinace Thrasiose s Brusem, The Gitrog Monster, Geist of Saint Traft, Sidisi, Undead Vizier (kombo reanimátor), Narset, Enlightened Master, Baral, Chief of Compliance (Polymorph kombo), Ludevic s Kraumem a Animar, Soul of Elements.
Závěrem přichází řada na pauper, ve kterém se nejvíce dařilo Monogreen Aggru, které celý turnaj ovládlo a ještě mělo tři další hráče v top16.
Mezi úspěšné decky se zařadil i RW Metalcraft se třemi hráči v top16. Po dvou hráčích v top16 měl UR Prowess, UB Control a GW Hexproof. Zbylé decky byly Burn s Thermo-Alchemistou a dvojice zajímavých Monoblacků. První hrál více bytostá v čele s Gray Merchantem a druhý byl čistokrevný kontrol s draw enginem v podobě Thornu of the Black Rose.
Zároveň je to snad vůbec poprvé, co v top16 pauper challenge nebyl žádný Delver deck.
5. Jiné zajímavé turnaje
V Japonsku se odehrála dvojice velkých standardů. Ten větší z nich byl Hour of Devastation Standard Masters a zúčastnilo se ho 260 hráčů.
V top16 tu byla k vidění celá řad brew a koneckonců i oba finálové decky nebyly úplně klasické dvojkové záležitosti. Z vítězství se radoval Kyohei Miyake s agresivní verzi BG Deliria, když ve finále porazil zajímavý mix Vehiclů a White Eldrazi, který hrál Jeremy Dézani (Jeremy je velký fanda japonské kultury a v současnosti tam žije).
Další zajímavé decky z předních příček byly Reanimační BUG Midrange, Madru Aggro s Always Watching a Claim//Fame, BR Control, Dark Temur s Woodland Wanderery, RUG Emerge, nebo BR Aggro s Ammit Eternal s Collective Brutality (deck, který uhrál top8 na PT, ale jinak se vůbec neprosadil).