Novinky
Flash News #36/2017
Vítejte u Flash News, které mapují první turnaje s Ixalanem. Možná jste si všimli, že kvůli releasu Ixalanu jsem posledních pár týdnů Flash News trochu opomínal. Správně by na řadu měly přijít Flash News #33, ale kvůli aktuálnosti jsem dal přednost turnajům s novým standardem.
Flash News s přehledem Nationals a dalších uplynulých turnajů budou zveřejněny v dalších dvou týdnech, takže o rekapitulaci našich Nationals rozhodně nepřijdete.
1. GP Shizuoka & Providence (Ixalan Team Limited)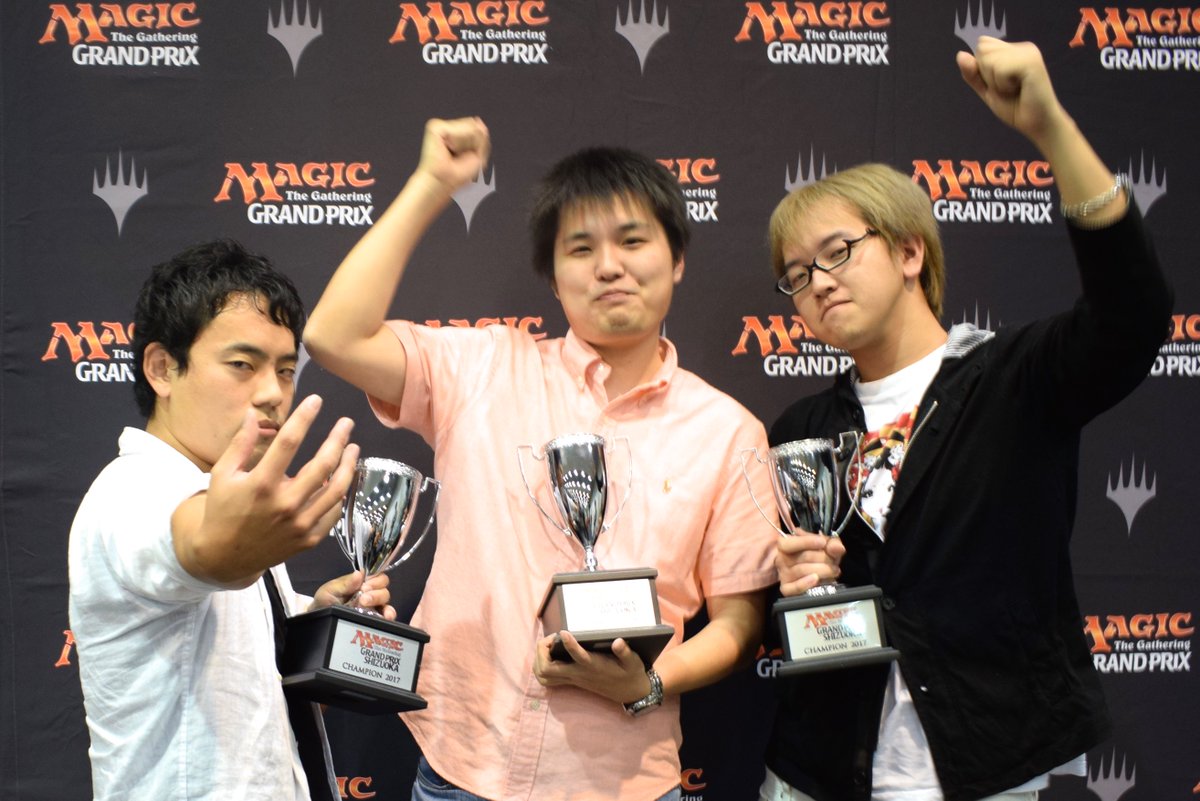 Po téměř měsíční pauze ziviněné návratem národních mistrovství znovu odstartovala GP sezóna, která začala v japonské Shizuoce. V loňské sezóně to bylo dějiště největší dvojkové GP, nicémně team limited zdaleka tak populární nebylo. Museli jsme se spokojit s účastí 557 týmů.
Na turnaji se podle očekávání dobře vedlo týmům složených z pro playerů, když se do finálové top4 dostaly trojice Yuuya Watanabe, Shota Yasooka & Hajime Nakamura a Lee Shi Tian, Jérémy Dezani & Kelvin Chew. Oba týmy ale postupně vypadli s trojkou Michio Abe, Syo Hayakawa, a Kentarou Tachibana, kteří si tak došli pro svůj premiérový GP triumf.
Druhé GP se hrálo v Providence, kam přišlo o pět týmů více, než do Shizuoky. Na GP byli se skvěle předvedla česká dvojice Martin Jůza a Lukáš Blohon, když se oba se svými týmy dostali do top8!
Lukáš spolu s mistrem světa, Brianem Braun-Duinem a Martinem Müllerem z Dánska obsadil osmé místo a Martin Jůza se dokonce spolu s Corey Burkhartem a Andrew Baeckstromem dostal až do finálové čtyřky. V té se narozdíl od Shizuoky nejlépe dařilo zkušeným týmům, takže se ve finále utkal martinův tým s klasickou trojicí William Jensen, Owen Turtenwald a Reid Duke (tým Peach Garden Oath).
Po trojci druhých míst z poledních měsíců a téměř pěti letech od poslední výhry se Martin nakonec konečně dočkal a připsal si pátou výhru na GP. Také se dotáhl v počtu GP top8 na Shuheie Nakamuru a Olivier Ruela, všichni tři už mají 28 (štěstí, že se tentokrát GP neúčastnil Shuhei, kterýžto běžně hraje v týmu s Martinem a Coreyem).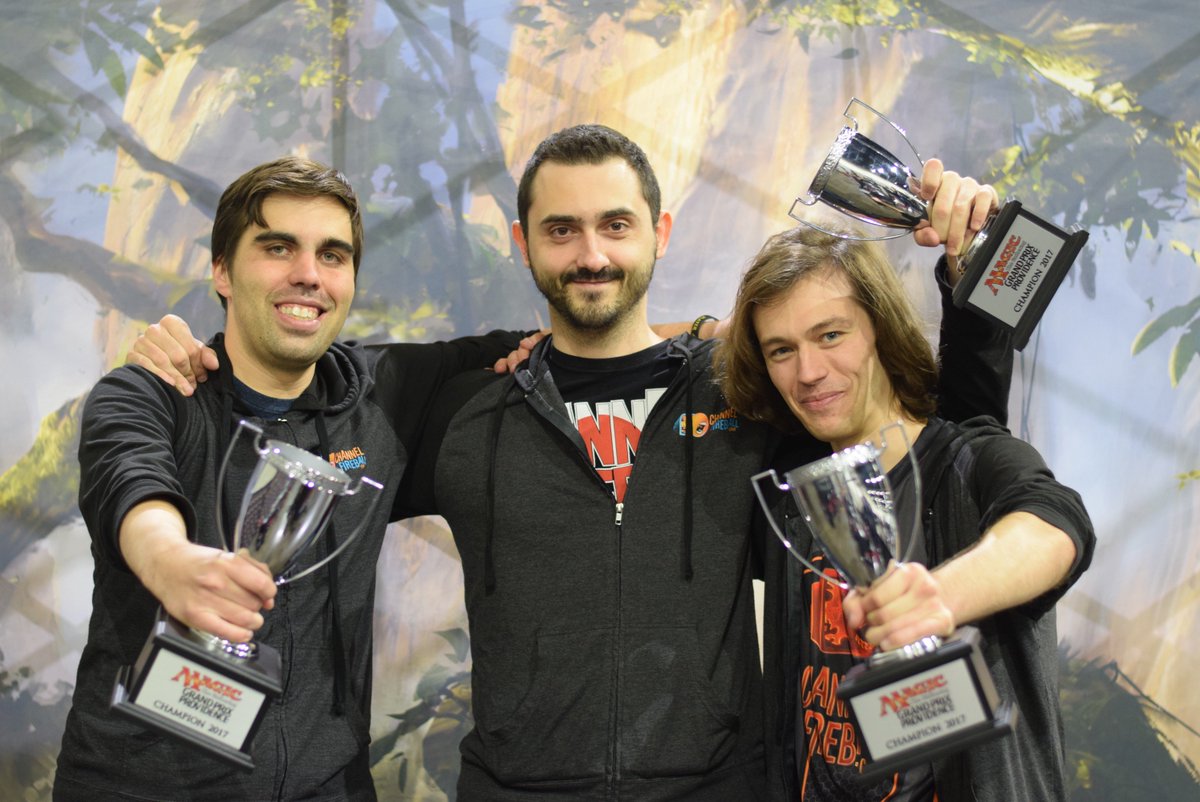 2. SCG Open Dallas (Standard)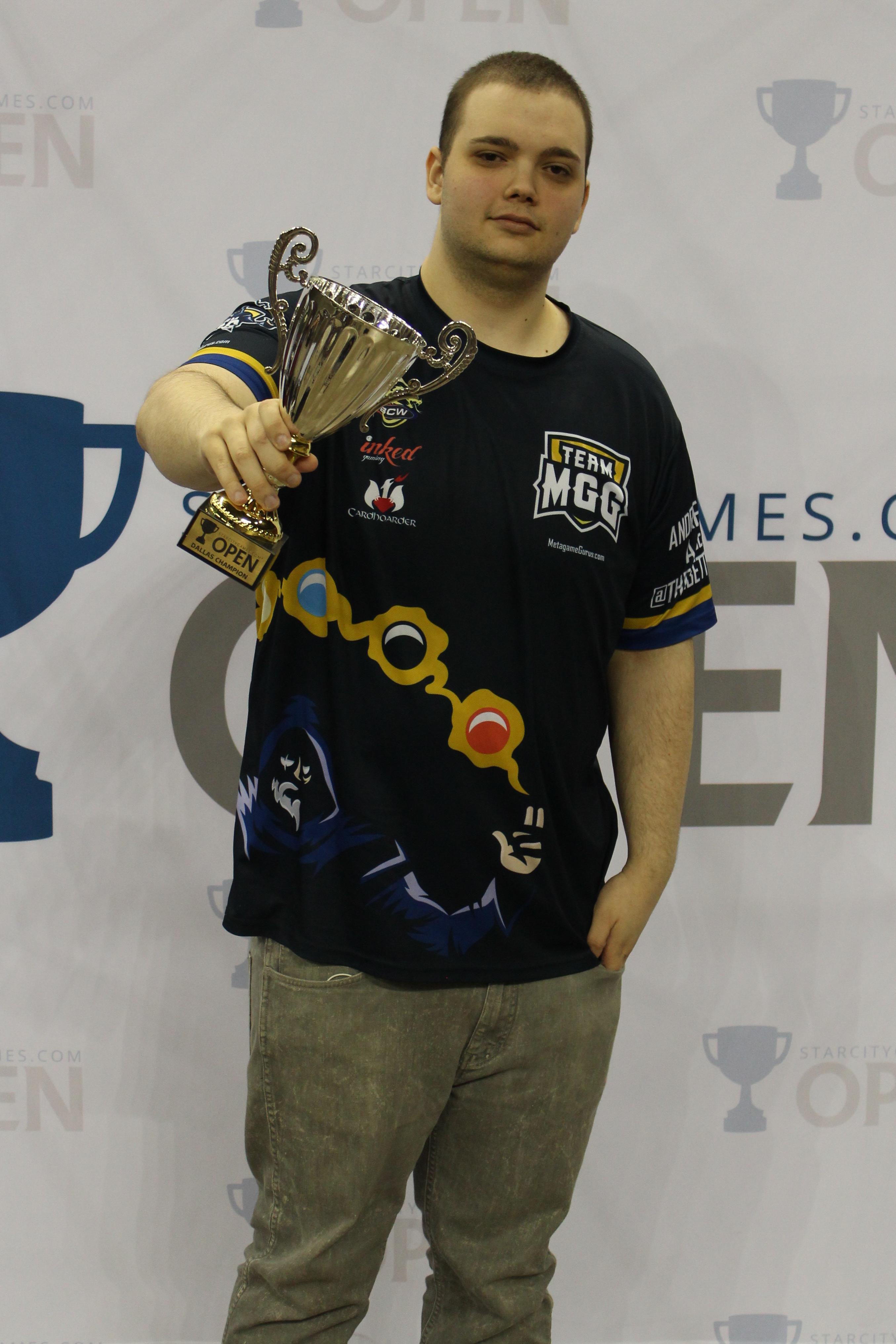 První velký standard po rotaci si nenechalo ujít 586 hráčů. Podle očekávání byly nejúspěšnější decky ty, které byly dobré už před rotací a nebyly jí příliš zasažené.
Byla to zejména trojka Ramunap Red, RUG/4C Energy a UW Approach. Tyhle decky obsadily pět míst v top8 a dokonce hned 42 v top64...
Překvapením turnaje ovšem byl jiný deck - opět šlo o známou záležitost, která byla doplněna o několik nových karet. Byl to GB Constrictor, do kterého byla přidaná modrá na splash kvůli Rogue Refinerovi a Hostage Takerovi. S deckem válcovali konkurenci bratři Jessupové, a kdyby se vinou postavení po základní části nepotkali už v top4, tak jsme mohli vidět bratrský souboj ve finále. Šťastnější z obou bratrů byl Andrew Jessup (jehož twitter je @TheBetterJessup), který zvítězil v bratrském souboji (vyhrál i předtím, když se utkali v základní části) a poté ve finále porazil Ramunap Red.
Andrew je tak mistrem prvního týdne standardu s novou edicí, jelikož vyhrál i první SCG Open po příchodu Hour of Devastation.
Poslední deck, který se probojoval do top8 byl Esper s God-Pharaoh's Giftem pilotovaný Brennanem DeCandiem. V decku oproti předrotačním verzím nahradila černá červenou, jednak kvůli Hostage Takerovi, ale také kvůli extra interakci v podobě Fatal Pushe a Vony, Butcher of Magan.
Sumář celé top64 vypadá takhle:
18× Ramunap Red
15× RUG/4C Energy
9× UW Approach
5× BUG Energy
3× Esper Gift
14× Other
3. SCG Classic Dallas (Standard & Modern)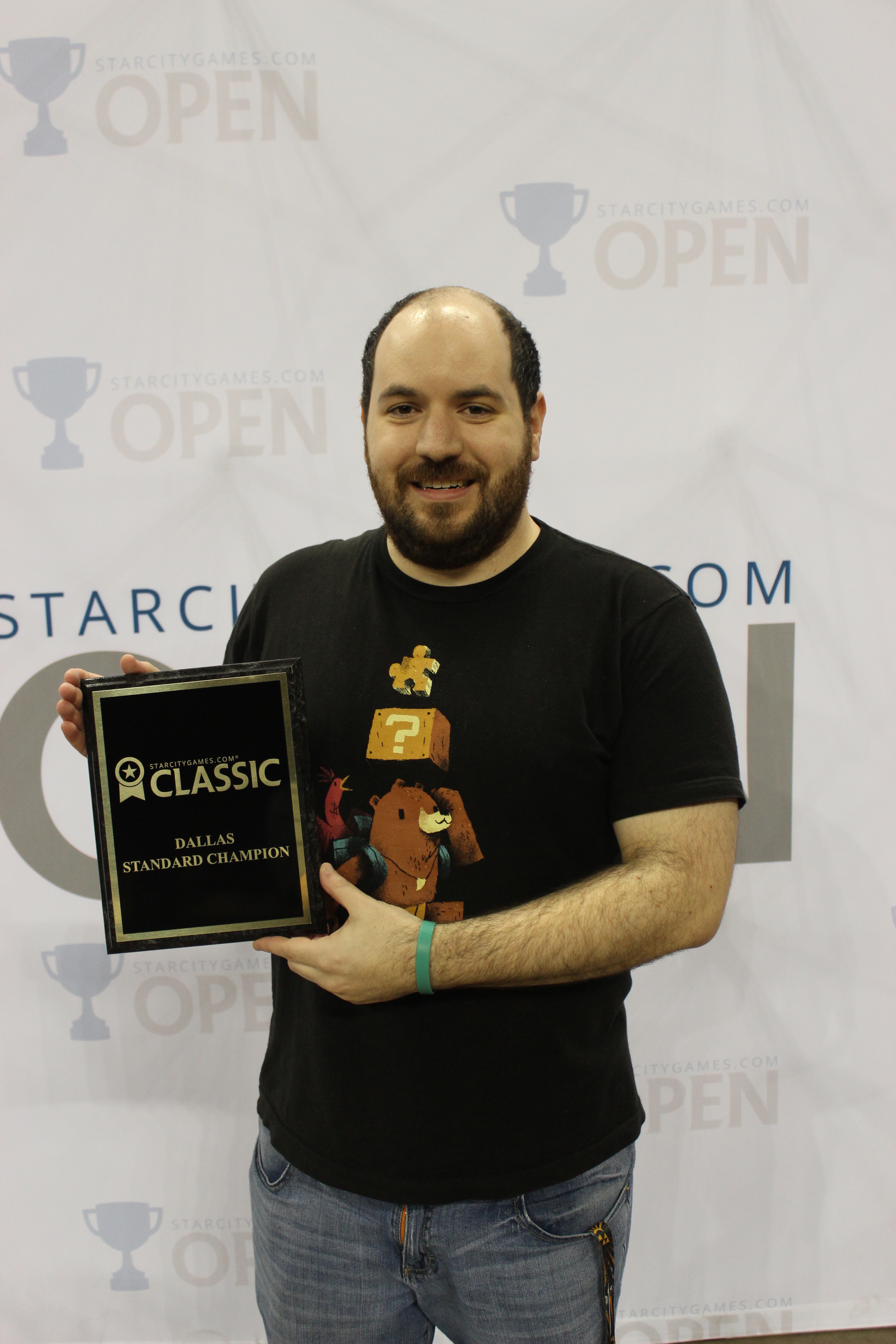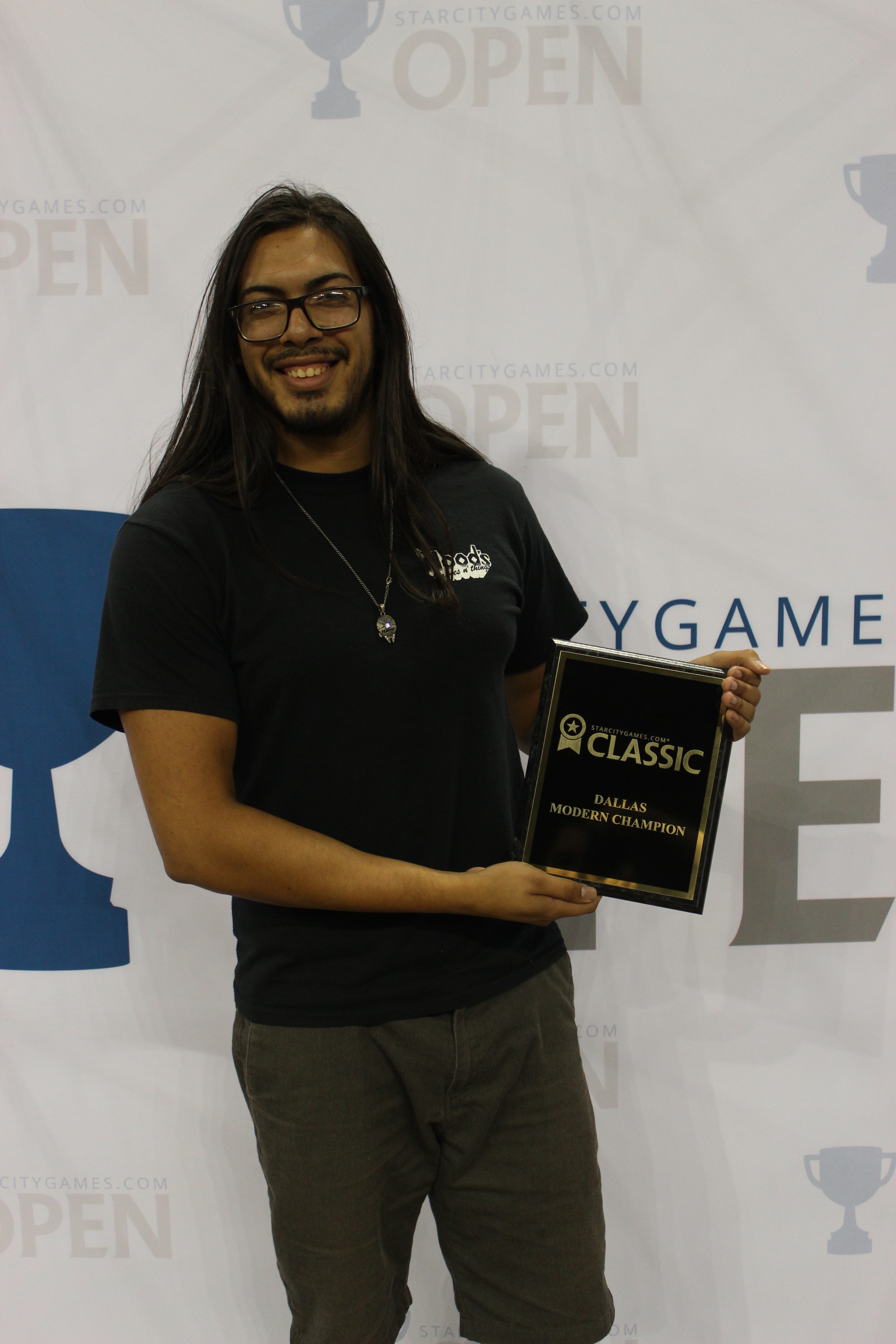 Vedle Open se samozřejmě hrála i dvojice klasik. Dvojkové se zúčastnilo 78 hráčů, kteří si to rozdali v sedmi kolech základních části a top8. Osmnáct hráčů mělo skóre lepší než 4:3, ale hned deset z nich hrál 4C Energy a Ramunap Red.
V top8 ovšem bylo hned šest různých decků a v top8 jsme mohli vidět dva zajímavé Grixisy - první byl kontrol vsázející na kombinaci Vraska's Contempt + Torrential Gearhulk, což je skvělé proti kartám jako Hazoret a Scarab God. Druhý deck, se kterým se stal celkovým vítězem známý brewer, Zac Elsik, byl Grixis Improvise, ve kterém byl hlavní hvězdou Herald of Anguish. Ten je aktuálně ve velmi dobré pozici, jelikož se nehraje tolik Unlicensed Disintegrací a decky jako Ramunap Red a 4C Energy se ho velmi těžce zbavují.
Sumář prvních osmnácti decků:
7× Ramunap Red
3× 4C Energy
2× BUG Energy
6× Other
Modernové klasiky se zúčastnilo úctyhodných 216 hráčů, což znamenalo osm kol základní části a top8.
Turnaj se nesl v duchu velmi rozmanité metagame, když bylo v top8 osm různých decků a v top32 dokonce 24!
Nejúspěšnější byla trojice decků se třemi zástupci v top32 - Elf Company, WR Prison a Death and Taxes.
Vítěz byl ale ze zcela jiného soudku, stal se jím Jacob Rodriguez s oldschool Jundem, když ve finále porazil velmi nepříznivý matchup v podobě Eldrazi Tronu. Bylo zajímavé, že měl v decku hned několik různých čtyřmanovek - Huntmaster of the Fells, Kalitas, nebo Chandra, Torch of Defiance.
Mezi decky v top32 jsme mohli vidět tři různé karty z Ixalanu - podle očekávání byl nejhranější Opt, který jsme mohli vidět v Gifts Stormu a v Death's Shadow. Další dvě karty byly one-ofy v Elfech - Growing Rites of Itlimoc a Shaper's Sanctuary.
4. MTGO Standard PTQ
Do třetice tu máme standard, tentokráte online PTQ, kterého se zúčastnilo velmi pěkných 212 hráčů, což znamenalo osm kol základní části a top8.
Turnaj bez jedniné prohry ovládl "egadd2894", který hrál 4C Energy s trochu větší černou plashí, která zahrnovala maindeck Hostage Takera. V sidu měl také Hour of Glory, což je skvělá odpověď na Scarab Goda a Hazoret. Ve finále porazil další zajímavou verzi 4C Energy, která místo Glorybringerů hrála Verdurous Gearhulky.
Za zmínku také stojí, že do top8 se dostal i Dominik "Lennny" Prošek, jak jinak než se 4C Energy...
Celkem mělo na turnaji devětadvact hráčů skóre 6:3 a hned osmnáct z nich hrálo RUG/4C Energy a Ramunap Red. Třetí nejpopulárnější deck byl samozřejmě UW Approach...
10× Ramunap Red
8× 4C/RUG Energy
4× UW Approach
7× Other
5. Standard Week One Metagame Breakdown
Zkombinujeme-li výsledky všech tří velkých standardů, tak dostaneme nálsedující podobu metagame:
33× Ramunap Red
21× 4C Energy
13× UW Approach
8× BUG Energy
5× RUG Energy
4× Esper Gift
4× Grixis Control
3× Abzan/WB Tokens
2× BG Midrange
2× Grixis Improvise
2× Rb Aggro
2× UB(r) Control
2× Jund Aggro
BG Aggro
Esper Approach
Mardu Vehicles
UG Pummeler
RUG Pummeler
RUG Aggro
RG Dinosaurs
GW Aggro
RUG Control
UB Midrange
Rozděleno na jednotlivé archetypy:
35× Ramunap Red/RB Aggro
26× 4C/RUG Energy
13× UW Approach
8× BUG Energy
7× Grixis/UB Control
4× Esper Gift
3× Abzan/WB Tokens
3× BG Constrictor
2× Grixis Improvise
2× Jund Aggro
2× RUG/UG Pummeler
Esper Approach
Mardu Vehicles
RUG Aggro
RG Dinosaurs
WG Aggro
RUG Control
Nyní je čas se podívat na to, co jednotlivé decky v Ixalanu získaly, a samozřejmě si ukážeme i pořádnou porci decklistů.
Ramunap Red
Nové karty: Lightning Strike, Rampaging Ferocidon, Rigging Runner, Vance's Blasting Cannons
Nejlepší deck posledního PT neztratil při rotaci skoro nic a ještě dostal ideální posilu v podobě Lightning Striku. Většina hráčů také zařadila Rampaging Ferocidony do sidu, jakožto hate proti lifegain kartám a případně i Vance's Blasting Cannons jakožto extra karetní výhodu pro grindy matchupy, se kterou se soupeřům hůře interaguje.
Mohli jsme vidět i extra agresivní verze s Rigging Runnery a případně i verze s černou splashí pro Scrapheap Scroungera a Unlicensed Disintegration.
4C/RUG Energy
Nové karty: Spell Pierce, Hostage Taker, Deathgorge Scavenger, Carnage Tyrant
Energy mechanika je v současnosti velmi úspěšná a i když v Ixalanu s výjimkou Rootbound Crag do decku nepřibyla žádná nová karta, tak je to stále jeden z nejlepších decků na formátu. Nyní už je téměř standardem splashovat černou pro Scarab Goda, což je skvělá karta v mirroru. Díky tomu se ale paradoxně také začínají hrát kusy jako Hostage Taker a Confiscation Coup, což jsou na něj dobré odpovědi.
Ixalan také přinesl několik posil pro sideboard, z nichž jako nejdůležitější zatím vypadají Spell Pierce a Carnage Tyrant.
UW Approach
Nové karty: Search for Azcanta, Opt, Settle the Wreckage, Field of Ruin
Ze všech kontrolů byl v prvním týdnu nejpopulárnější UW s Approachem, což podle mě bylo jednak tím, že odrotované kusy jako Blessed Alliance a Immolating Glare měly docela jednoduchou náhradu v podobě Aether Meltdownu a Farm//Market, ale zejména tím, že bylo hodně hypu kolem Carnage Tyranta, proti kterému je ze všech kontrolů UW jasně nejlepší díky dvojici sweeperů v podobě Settle the Wreckage a Fumigate.
Úplná allstar je v decku Search of Azcanta, která v úvodních kolech vylepšuje draw a poté funguje zároveň jako ramp spell a tutor pro winkondici.
Deck má zároveň vemli dobrý side na Ramunap Red v podobě playsetů Authority of the Consuls a Regal Caracal.
BUG Energy
Nové karty: Hostage Taker, Vraska's Contempt, Deathgorge Scavenger, Spell Pierce, Vraska, Relic Seeker, Duress
Hned několik hráčů se rozhodlo do klasického BG Energy přidat modrou, což má několik výhod. První je Rogue Refiner, který dobře podporuje jiné energy karty jako Glint-Sleeve Siphoner a Longtusk Cub. Druhá výhoda je mnohem lepší manabase, jelikož modrá má k dispozici hned trojci duálních rare zemí v barvách. Třetí výhoda je možnost hrát Hostage Takera, který je dobrý proti kartám jako Hazoret a Scarab God. Problém je samozřejmě v tom, že je to čtyřdrop, který umírá na všechen běžně hraný červený removal.
To nejlépe vyřešil Andrew Jessup, který ho zkombinoval spolu s playsetem Blossoming Deffense, což je zároveň hodně dobrá karta proti Ramunap Redu.
Na Andrewově verzi se mi ale nelíbí absence Verdurous Gearhulka, bez kterého je dost průměrný i Walking Ballista. Ačkoli je Scarab God ve vakuu silnější kartou, tak tady bych dal 100% přednost Hulkovi. Ideální verze by byla zřejmě nějaký mix mezi decky Andrew Jessupa a Levi Pospichala.
Grixis/UB Control
Nové karty: Search for Azcanta, Vraska's Contempt, Opt, Duress, Hostage Taker
Vedle UW Approache byl nejpopulárnější kontrolem Grixis, který má oproti dvoubarvě výhodo lepší manabase. Většinou jsme viděli UR základ se splashí na Scarab Goda a Vraska's Contempt, což je skvělá karta v kombinaci s Torrential Gearhulkem.
Populární byl také čistě UB Control, který má ale nevýhodu v tom, že se hůže zbavuje větších bytostí jako Bristling Hydra či Glorybringer. Proti 4C/RUG Energy proto vypadá jako hodně dobrá sidovka Bontu's Last Reckoning.
Na online PTQ jsme navíc mohli vidět zajímavou midrange-tapout verzi s kartami jako Glint-Sleeve Siphoner, Champion of Wits, či Hostage Taker.
Esper Gift
Nové karty: Chart a Course, Hostage Taker, Seekers' Squire, Vona, Butcher of Magan, Duress, Vraska's Contempt
Další deck, který úspěšně přežil rotaci, byl God-Pharaoh's Gift. Jeho základ se z UW kombinace přesunul do UB, jelikož černá decku aktuálně nabízí karty jako Seekers' Squire (pomáhá odemílat karty pro Gate to the Afterlife a zároveň zajišťuje, že budete každé kolo pokládat zemi) a Hostage Taker.
Pěkná novinka je tu také Chart a Course, což je ideální způsob, jak dostat velké bytosti či Gift do hrobu a zároveň najít Gate of the Afterlife, nebo Refurbish.
Deck byl k vidění ve dvou verzích - první byla více midrange a hrála extra interakci jako Fatal Push a Vona (a po sidu mohla fungovat jako regulérní midrange s více Scarab Gody a Vraska's Contemptem) a druhá se snažila co nejrychleji dostat do hry Gift - dokonce ani nehrála Gate to the Afterlife, za to ale měla playsety Chart a Course, Strategic Planning a Refurbish.
Osobně jsem docela překvapený, že žádný z decků nehrál Noxious Gearhulka, který vypadá jako ideální cíl pro reanimování.
Abzan/WB Tokens
Nové karty: Legion's Landing, Vraska, Relic Seeker, Duress
Ani ztráta Gideona některé hráče neodradila od hraní token strategií. Hlavní výhoda decku je, že je velmi imunní vůči spot removalu a že si může dovolit hrát karty jako Fumigate, které jsou skvělé proti Energy deckům.
Na onlinu je docela populární verze, která splashuje Vrasku, která je hodně fajn s Anionted Procession, ale také je to dobrý payoff pro Legion's Landing, jakožto pro skrytou mana rampu.
GB Constrictor
Nové karty: Ripjaw Raptor, Vraska's Contempt, Duress, Vraska, Relic Seeker, Kitesail Freebooter
I přes ztrátu Hissing Quagmire a Graspu of Darkness se našlo několik hráčů, kteří sáhli po BG decích s Winding Constrictorem. A ačkoli se ztráta Graspu dá nahradit Vraska's Contemptem a navíc jsme do komba s Walking Ballistou získali Ripjaw Raptora, tak si myslím že vinou špatné manabase už deck není zdaleka tak dobrý.
Spohédat se na Aether Hub není úplně ideální a stejně tak nejsem nadšený z toho že bych měl hrát Evolving Wilds a Foul Orchard.
Největšího úspěchu s deckem dosáhl Jacob Nagro, který hrál agresivní verzi bez jediné nové karty v mainu.
Ostatní
Mezi zbytkem decků jsme mohli vidět Grixis Improvise s kartami jako Herald of Anguish a Tezzeret, The Schemer, Jund Aggro s Hear of Kiran a Unlicensed Disintegration, UG Pummelera s Trophy Magem, kalsickou verzi RUG Pummelera, RUG Aggro s Heart of Kiran, postrotační verzi Mardu Vehiclů, dost divoký Esper Control s Approachem of the Second Sun, RUG Control s energy kartami a Dynavolt Towerem a všehovšudy pouze dvojici decků postavených kolem nových karet - RG Dinsaurs a WG Aggro s novými Vampýry.
6. Online Weekly Challenges (Modern, Legacy, Vintage, Commander, Pauper)
Veškerou pozornost na sebe v uplynulém týdnu strhnul standard, ale hrály se samozřejmě i klasické online challenge ve všech možných formátech.
Na modernu se nejvíce dařilo RG Scapeshiftu, který měl dva hráče v top4 a celkové vítězství s ním ukořistil "Gobern", když ve finále porazil zrovna ne příznivý matchup v podobě Gifts Stormu.
Decky na druhém, třetím a pátém místě shodně využily reprint Optu - byly to Gifts Storm, Grixis Death's Shadow a UWR Tempo. Všechny tři ho hrály shodně jako extra cantrip k playsetu Serum Visions.
Další novinku v podobě nového planeswalker pravidla pro změnu využil Osman Ozguney v BG Rocku, kde měl hned šest Lilian. Obsadil s ní šesté místo.
Top8 uzavírali Eldrazi v podobě BW Death and Taxes a Eldrazi Tronu.
Ve zbytku top16 jsme ze zajímavých decků mohli vidět RG Aggro s Hollow One a Vengevine, Mardu Midrange s playsetem Young Pyromancerů a Bedlam Revelerů, Lantern Control s Whir of Invention a konečně UB Control s některými zajímavými kusy, jako například Glimmer of Genius a Scarab God.
Na legacy jsme měli velmi pestrou top8 s osmi různými decky. Zvítězil tu Bryant Cook s jeho klasickým Buring Wish Stormem, ve kterém měl novinku v podobě Perilous Voyage. Poraženým finalistou byl Dmitry Butakov taktéž s již tradičním Aggro Loamem.
Za nimi se postupně seřadily Colorless Eldrazi, Grixis Delver, Dredge, zajíamvý 4C control, což byl v podstatě BUG s bílou splashí pro Lingering Souls a Swordy (a pár sidovek), OmniTell a UR Delver v kontrolnější verzi s Young Pyromancery a True-Name Nemesis.
Ve zbytku top16 jsme mohli vidět Junk Stoneblade, dvoje BG Depthsy, UW Stoneblade s Back to Basics, dvakrát klasický 4C Control,  UW Mentor Miracly a Elfy s červenou splashí pro Ruric Thara.