Novinky
Flash News #47/2017
1. GP Singapore (Ixalan Sealed)
Dva týdny před vánocemi se konaly nejen poslední GP roku, ale také poslední limited před příchodem Rivals of Ixalan.
V Singarupu panovala komorní atmosféra s 575 hráči, ale díky účasti kompletní asijské špičky nebyla o konkurenci nouze. Tomu odpovídala i finálová top8, ve které byla jména jako Tomoharu Saito, Shuhei Nakamura, Yam Wing Chun, či Kenta Harane.
Shuhei Nakamura se tímto osamostatnil na prvním místě v počtu GP top8 (pikantní na tom je, že díky malému počtu hráčů mu dokonce stačilo skóre 12:3). Jako první hráč v historii dosáhl na devětadvacátou top8 (Tomoharu Saito jich má mimochodem už šestadvacet) a zároveň se mohl stát i prvním hráčem, který by vyhrál osm GP, jenomže proti byl hned ve čtvrtfinále právě Tomoharu Saito.
Ani ten se ale daleko nedostal a finále byl souboj dvou méně známých hráčů, ve kterém domácí matador, Lim Zhong Li, porazil Pan Minxinga z Číny.
2. GP New Jersey (Ixalan Limited)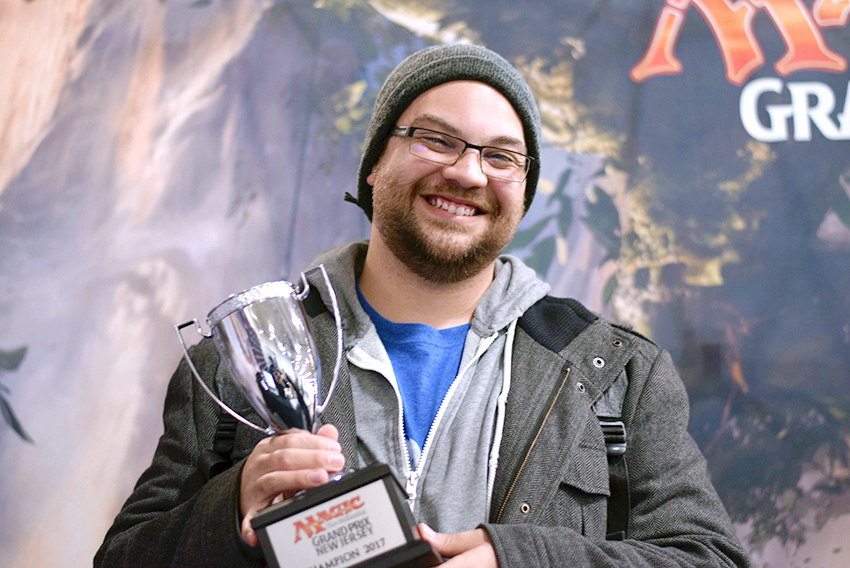 Ani v New Jersey nebyla návštěvnost kdovíjaká, ale 1 133 hráčů úplně neurazilo. Podobně jako v Singapuru i tady platilo, že na předních příčkách jsme po celý víkend viděli hlavně známé tváře.
Do top8 se dostali Seth Manfield, Mike Sigrist, Valentin Mackl, nebo Gerard Fabiano. Podobně jako v Singapuru se ale i zde z vítězství radoval méně známý hráč, kterým byl uřadující kanadský šampion Kale Thompson, jenž na cestě k výhře porazil Gerarda Fabiana a Setha Manfielda.
Zbývá ještě dodat, že obou GP se účastnilo několik nadšenců z České republiky (v Singarupu byl jeden a v New Jersey čtyři), z nichž jako jediný dosáhl na dobrý výsledek Martin Jůza, kterému o kousek unikla top8 v New Jersey, kde obsadil jedenácté místo.
3. Standard MOCS & Modern PTQ
Poslední monthly MOCS uplynulého roku byly zasvědceny standardu a zúčastnilo se jich přesně sto hráčů, z nichž se patnácti podařilo v osmi kolech základní části dosáhnout na šest výher potřebných pro kvalifikaci na další čtvrtletní finále.
Opět se potvrdilo, že na standardu se nedá vůbec inovovat a v top8 skončilo krásných osm energy decků. Na dalších místech byly čtyři Ramunap Redy a jediný zástupce zbytku světa byl UW Gift na devátém místě.
Na druhou stranu, šestnácté místo patřilo zajímavému Grixis Midrangi, ačkoli i ten byl do velké míry založený na energy synergiích...
Online PTQ bylo nejlepší příležitostí, jak si před vánocemi užít modern, takže není překvapivé, že se ho zúčastnilo 347 hráčů.
Jednoznačně nejúspěšnějším deckem turnaje byl starý dobrý Grixis Death's Shadow, s jehož stock verzí celý turnaj ovládl Steve Mann alias RandomDrooler. Další tři hráči se navíc dostali do top16.
Mezi úspěšné decky patřil například i Lantern Control, Boros Burn, Dredge, Gifts Storm, nebo Infect, který v posledních měsících zažívá velkou obrodu a zde měl tři hráče mezi nejlepšími.
V top16 byla i dvě pěkná brew, shodou okolností obě v Grixis barvách. První bylo založené na dvojici Young Pyromancer + Kolaghan's Command a druhé využívalo draw-n-go strategii s nezvykle velkým počtem Torrential Gearhulků, se kterými tu byla opravdu vypečená karta v podobě Consume the Meek.
Celkem na turnaji v devíti kolech základní části uhrálo devětadvacet hráčů skóre 7:2 a lépe, a to s nálsedujícími decky:
1. Grixis Death's Shadow
2. Lantern Control
3. Boros Burn
4. Grixis Death's Shadow
5. Dredge
6. Dredge
7. Grixis Pyromancer
8. Grixis Death's Shadow
9. Gifts Storm
10. Grixis Death's Shadow
11. Grixis Control
12. Death and Taxes
13. Infect
14. Infect
15. UW Control
16. UR Breach Moon
17. 5C Humans
18. Bant Knightfall
19. Infect
20. Abzan Midrange
21. UR Breach Moon
22. Boros Burn
23. Abzan Midrange
24. Gifts Storm
25. Affinity
26. Affinity
27. Gifts Storm
28. Ad Nauseam
29. 5C Death's Shadow
4. MTGO Weekly Challenges (Modern, Legacy, Vintage, Duel Commander, Pauper)
V modernové challengi jsme tentokráte na předních příčkách žádná zajímavá brew neviděli, ačkoli v top8 bylo několik méně obvyklých decků, jako například BG Rock, nebo BR Aggro s Hollow One.
Za zmínku stojí také zajímavý Jeskai Flash s více kusy Vendilion Clique a Archangel Avacyn a také 5C Humani s maindeck Anafenzou.
Ve finále zvítězil Xwhale s Ad Nauseamem, když porazil právě zmiňovaný Jeskai Flash.
V top16 byly dále dva Gb Trony, dvoji další 5C Humani, Eldrazi Tron, Grixis Death's Shadow, Jeskai Control, Boros Burn, Gifts Storm, Affinita a UR Breach.
Na legacy oficiálně začala nová éra nadvlády miraclů, jelikož už podruhé v řadě byl ve finále jejich mirror. Zvítězil "ItIsUnfair", který hrál verzi bez Mentorů a s větším počtem Counterbalancí.
Dominanci Miraclů potvrdili ještě další dva hráči v top16. Konkurovat jim dokázal pouze Grixis Delver, který měl v top16 tři hráče.
Nenadálý úspěch zaznamenal i UB Reanimátor, který měl dva hráče v top16. Obzvláště zajímavá byla verze na pátém místě, která měla vypečený sideboard plán v podobě Pack Rat.
Osobně mne překvapily i přetrvávající úspěchy 4C Mavericku a Eldrazi Rampy, což jsou decky, které se v challengích pravidelně umisťují na předních příčkách, ačkoli bych je neřadil mezi tier decky.
Zbylé decky v top16 byly klasiky v podobě Dark Bantu, Aggro Loamu, BR Reanimatoru, Stormu a Zemí.
Velmi rozmanité pole s několika originálními decky tentokráte nabídla vintage. Z vítězství se radoval BadBrain s atypickou verzí 4C Controlu o BUG základu, která byla postavená na playsetu Dark Confidantů (v decku nebyla Treasure Cruise ani Dig Though Time).
Na dalších místech byly klasické Ravager Shopy (celkem čtyřikrát v top16), klasická verze 4C Controlu (bez Confidantů), UR Delver s Harsh Mentory, kteří jsou zajímaví proti Shopům, nebo Time Vault/Key kombu, Oathy s Paradoxical Outcomem, Time Vault/Key kombem a samozřejmě i Tendrily, Paradoxical Mentor, Dredge se zajímavými cíly pro Dread Return v podobě Ashen Ridera či Dragonlord Kolaghana, UW Landstill, Blue Dredge, další zvláštní verze 4C Controlu s playsetem Jace, Vryn's Prodigy, ale zato bez Mind Sculptorů, Sylvan Mentor a Griselbrand Oath s Time Vault/Key kombem.
Pěkně rozmanité byly i výsledky duel commanderu, kde bylo v top8 osm různých decků!
Z vítězství se radoval Fluffypingo s Breyou, která se po delší době vrátila na nejvyšší stupínek. Za ním se seřadil 4C goodstuff s Thrasiosem a Tymnou, kontrolní verze Leovolda, Monoblue "Extra Turns" s Jacem, UR "Wildfire" Control s Keranosem, UR Tempo s Ludevicem a Kraumem, zelená rampa s Nissou, Edgar Markov (zajímavá verze bez bílých karet a s Blood Moonem), Grixis Control s Kess, 4C Control s Tymnou a Kraumem, další vampýři (tentokráte i s bílými kartami), další Grixis Control s Kess, ve kterém bylo docela dost nestandardních karet (viz decklist), nebo RUG Midrage/Rampa s Thrasiosem a Kraumem.
V pauperu byly nejúspěšnější decky Atog Affinita a Monoblue Delver. S Affinitou zvítězil AlwaysFace a další dva hráči s ní byli v top16. Monoblue Delver byl třikrát v top8 a ještě jdno v top16.
Nejzajímavější deck v top16 byl 4C Control založený na minikombu Mnemonic Wall + Ghostly Flicker.
Kromě toho jsme na předních příčkách mohli vidět Thermo-Alchemist Burn, GW Hexproof, Elfy, dvě Monogreen Aggra, Boros Aggro, UB Delvera s kombem Stripped Riverwinder + Exhume a UB Control.
5. Ostatní zajímavé turnaje
Koncem roku se obvykle konají různé prémiové turnaje, coby vyvrcholení rozličných celoročních sérií. Dva takové byly v Japonsku, ale formát obou byl bohužel standard.
První turnaj se jmenoval jednoduše "The Finals" a zúčastnilo se ho 198 hráčů, včetně spousta známých japonských pro hráčů. Byla v něm velmi "rozmanitá" top8 se třemi Dark Temury a pěti Ramunap Redy.
Z výhry se radoval Kenji Tsumura s Dark Temurem, když ve finále porazil Ramunap Red. Ze známých jen byli v top8 ještě Kentarou Yamamoto a Makihito Mihara.
Trochu více rozmanitosti jsme mohli vidět alespoň v top16, kde byl UW Cycling, UW Gift a BUG Energy.
Druhý turnaj byl finále série God of Standard a přílákal dokonce 235 hráčů.
I tady se všechno podstatné točilo kolem Ramunap Redu a Dark Temuru (oba decky zabraly v top8 po třech místech), ale do top8 tu proklouzl i zajímavý RUG Pummeler a Grixis Control. Celkovým vítězem se ovšem stal Yuuki Mitsuyasu s klasickým Ramunap Redem.
Úplně nejzajímavější deck tu skončil těsně za top8 - šlo o Monoblack Midrange s playsety karet jako Liliana's Mastery a Liliana, Death's Majesty.
I následující turnaj se shodou okolností také odehrál v Japonsku. Šlo o legacy z tradiční série KMC, které se zúčastnilo pěkných 93 hráčů. Na turnaji se velmi dařilo value verzi Alurenu v BUG barvách, která měla dva zástupce v top8, včetně vítězného Takumi Kurokawy.
Zajímavý byl i deck poraženého finalisty, což byl Esper Stonblade s oldschool nádechem bez Deathrite Shamanů a s větším počtem discardů v mainu.
Výčet zajímavých turnajů zakončíme na Filipínách, kde vyvrcholila celoroční duel commander série (podle francouzských pravidel) finálovým tunajem, který si nenechalo ujít rovnou 97 hráčů.
V top8 jsme mohli najít sedm různých decků, včetně několika překvapivých. Na prvním místě skončil deck, který se podle dvojice generálů tvářil jako trojbarva (Thrasios + Kraum), ale při bližším pohledu zjistíme, že šlo vlastně o UR Control s minimální zelenou splashí.
Druhé bylo pouplární 4C Tempo s Tymnou a Kraumem (jediný deck se dvěma zástupci v top8), které následoval Animar (creature kombo/rampa, které zažilo vrchol pouplarity tak dva roky zpátky, kdy se dokonce diskutovalo o možném banu), Zelená rampa s Titanií, BW "Death and Taxes" s Karlovem, Mardu Control s Queen Marchesou (leč chybí v něm moje oblíbená chuťovka v podobě Solitary Confinementu) a klasika v podobě Monoredu se Zurgem.
Všechny decklisty si můžete prohlédnout zde.
A to je pro dnešek vše, příště se uvidíme u rozboru Rivals of Ixalan. Do té doby se mějte fajn.
PS: Tímto vydáním Flash News oslavily pět let existence. Snad to dotáhnu alespoň na deset :)
Kumano
Komentáře
Přispívat mohou pouze přihlášení uživatelé. Pokud chcete vložit komentář, přihlaste se ZDE.