Novinky
Flash News #7/2017 - #2
3. SCG Classic Indianapolis (Standard & Modern)
Větší z obou klasik byla samozřejmě ta modernová, která se mohla pochlubit účastí 296 hráčů. I zde byl nejúspěšnějším deckem Death's Shadow, jenž tu byl dvakrát v top8 a nakonec i zvítězil díky Alexu Wiliamsovi.
Nejzajímavější deck v top8 byla Grixis Goyo's Vengeance, která hrála Kari Zev's Expertise a Breaking/Entering. Podobná verze decku byla k vidění ještě jednou v top16, ale v té byl navíc ještě Brain in a Jar.
Z méně obvyklých decků bylo v top16 ještě kontrolní Mardu a Abzan Evolution, což je deck, který poslední dobou pomalu nabírá na popularitě. A zajímavá techovka byl také Generator Servant v Naya Breachi.
Standard hrálo 132 hráčů a s konkurencí si tu nejlépe poradil Eli Kassis se 4C Saheeli. Hrál méně obvyklou verzi s Aetherworks Marvel, Elder-Deep Fiendy a Kozilek's Returny.
Kromě Saheeli komba, Mardu Vehiclů a BG byly v top16 pouze tři jiné decky - zajímavé BG Aggro s Eldrazi subtématikou, RUG Aetherworky s Ulamogy a UW Control.
4. MTGO Power 9 Challenge (Vintage)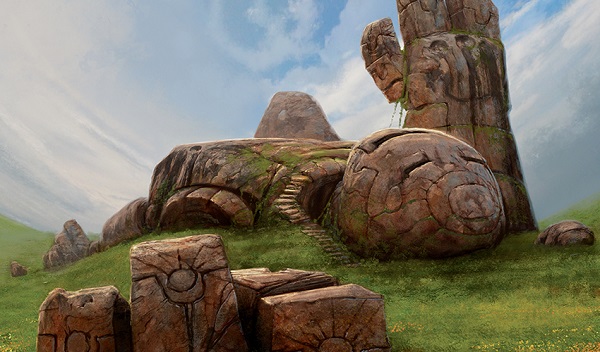 Únorové Power 9 Challenge se účastnilo 63 hráčů, kteří změřili síly v šesti kolech základní části, po které následovala top8.
Po lednové dominanci Shopů, která byla spojená s vydáním Walking Ballisty se opět vrátil na výsluní Gush Mentor, jenž celý turnaj ovládl díky "ecobaronenovi" a dokonce obsadil hned čtyři místa v top5.
Všechny verze kromě jedné hrály maindeck Stony Silence. Zbylá verze hrála více červené pro Young Pyromancera. Zajímavé také je, že většina hráčů začala hrát méně flipovacích Jaců, které nahradili Snapcasteři.
Kromě Mentorů byl v top8 zajímavý BUG Control s Leovoldem a Painful Truths, Oathy s playsety Show and Tellu a Omniscience, Tezzerator a alespoň jedny Shopy.
V top16 jsme ze zajímavých decků mohli dále vidět Paradoxical Mentora, Shopy se Steel Overseerem a Precursor Golemy, mix Paradoxical Stormu a Oathů a konečně také Doomsday.
5. Channell Fireball 4K Legacy
Už je to nějaký ten pátek, co CFB organizovalo větší eventy typu SCG Open (co si pamatuji, tak to byl zhruba rok 2011). Nedávno se ale zčista jasna na CFB objevily decklisty z legačky, které se účastnilo 105 hráčů.
Na turnaji se splitovala finálová top4, která se skládala z UWR Delvera (oldschool deck s Delverem a Stoneforge Mysticem, ve kterém se původně také hrál Geist, ale teď se přešlo ke True-Name Nemesis), Zemí (méně obvyklá verze s Cruciblem, Explozívy a Academy Ruins), BUG Aluren a Shadless BUG.
V top8 byl dále Maverick (s Dark Depths kombem), Miracly, Esper Stoneblade (bez zelené splashe na Deathrite Shamana, ale zato s Lingering Souls) a hlavně pak Goblini (s bílou splashí pro sidovky jako Thalia, Ethersworn Canonist a Rest in Peace).
Zveřejněny byly i decky z top16, kde mne nejvíce zaujal Shardless BUG s malou bílou splashí na Meddling Mage v sidu.
6. Bonus (Modern & Legacy)
Dnešní článek zakončíme jak jinak, než několika bonusovými decklisty. První je modernový BR Control s Blood Moony, který má zajímavé winkondice v podobě Pack Rat a Goblin Rabblemastera. S deckem byl třetí Gianluca Barbati na turnaji s 57 hráči.
Další dva decky jsou legacy brew z japonské série KMC, které se tentokrát účastnilo 76 hráčů. Šestý tam skončil Ryou Uematsu se zajímavým Maverickem, kde hrál Renegade Ralliery a Smuggler's Coptery.
Osmý byl na tom samém turnaji Niwa Hotaka s Blue Moonem, který obsahoval zajímavý package s Trinket Magem, který obsahoval kusy jako Pithing Needle, Explozíva, Sensei, nebo Walking Ballistu.
A to je pro dnešek vše, na viděnou u dalšího vydání.
Kumano
Komentáře
Přispívat mohou pouze přihlášení uživatelé. Pokud chcete vložit komentář, přihlaste se ZDE.