Novinky
Představení Archenemy: Nicol Bolas
Po sedmi letech zde máme další Archenemy produkt, kterému vévodí ten největší zloduch - Nicol Bolas. Proti němu se postaví Hlídka ve složení Gideon, Chandra a Nissa. Zdolají tohoto arcipadoucha? O tomto osudu můžete rozhodnou právě vy!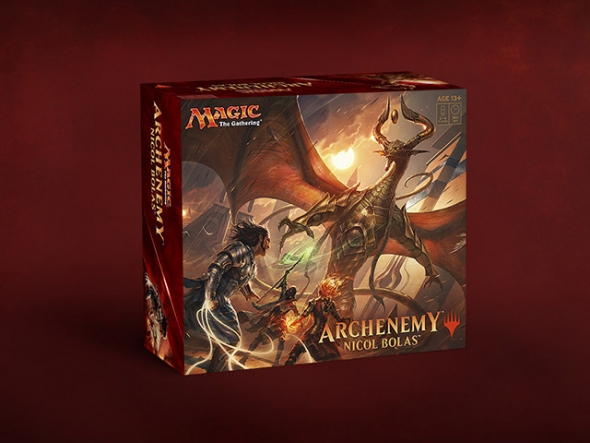 16. 6. 2017 vyšel další Archenemy produkt. Po sedmi letech vydávání Archenemy produktů, o který neměli lidé moc zájem, se WotC rozhodlo jít trochu jinou cestou. Místo generického zlouna, jako to bylo u předchozích produktů, si totiž připravilo opravdového zloducha a to všemi známého a oblíbeného Nicola Bolase. Proti Bolasovi tak bojují planeswalkeři z Gatewatch - Chandra, Gideon a Nissa.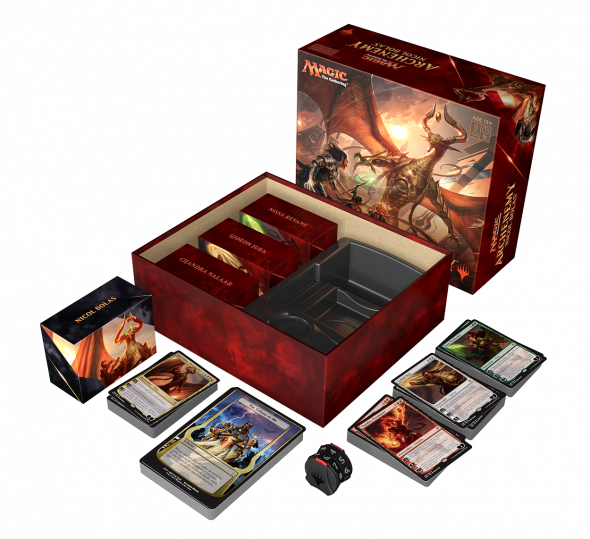 Archenemy je formát, ve kterém tři hráči spojí své síly v boji proti čtvrtému hráči, který představuje takového finálního bosse dungeonu. Hráč bosse začíná hru se 40 životy a má k dispozici deck, který obsahuje tzv. 'Schemes'. Na začátku každé pre-combat main phase Archenemy otočí jedno schéma a vyresolvuje jeho efekt. Schémata mají spoustu různých efektů. Může to být opravdu cokoliv. Dříve jsme se setkali s hledáním zemí, pumpování bytostí, plošného damage bytostem, položením bytosti z ruky do hry (tohle bylo vážně 'super') etc. Následuje společné kolo spojenců. Toto se opakuje, dokud jedna strana nezvítězí.
Jedná z věcí, která mě na Archenemy vyloženě štvala, bylo útočení. Dříve totiž, když Archenemy útočil do nějakého hráče nebo jeho planeswalkera, mohl jen ten hráč útok blokovat. To se nebylo dobré, když jeden z hráčů hrál fritku, druhý rampu a třetí byl jediný, co měl k dispozici nějaké bytosti, co mohly blokovat.
Od Archenemy: Nicol Bolas se mění pravidla právě ohledně útočení/blokování. Od teď pokud Archenemy zaútočí na hráče nebo jeho planeswalkera, může být assignována jakákoliv bytost pod kontrolou jednoho z bránících hráčů z týmu jako blocker.
Když jsme hrávali World of Warcraft raidy, obvykle jsme se nějak domluvili na tom, kdo bude mít jakou roli. Warrior útočil, Priest se snažil léčit o sto šest, Mage se snažil upéct, co uviděl etc. Dost často se bez spolupráce nedalo v dungeonu přežít (resp. určitých abilit) a tak se nikdy nestalo něco jako ve zmíněném příkladu výše s fritkou, rampou a white weenie. V Magicu si každý chtěl zahrát, co chtěl a bylo to také dáno částečně tím, že hráči samotní si museli svůj deck postavit a nikdo neřešil jestli ty decky spolu budou schopni nějak spolupracovat a dost hrám to spíše neprospělo. V Archenemy: Nicol Bolas se však toto mění. Vzhledem k tomu, že WotC toto pojalo jako souboj Nicola Bolase a Gatewatch, bylo schopné přijít i se čtyřmi 'flavorovými' decky.
Každý deck má v čele (ehm, teda v decku) planeswalkera. Všichni planeswalkeři mají novou ilustraci od Chrise Rahna.
Nicol Bolas deck je Grixis control s Nicol Bolas, Planeswalker, trochou akcelerace a nepříjemnými bytostmi jako jsou Archfiend of Depravity nebo Deathbringer Regent, které mohou dosti pokazit hru Gatewatch planeswalkerům. Deck také obsahuje všemi určitě oblíbené Cruel Ultimatum.
Gideon deck má v čele Gideona Juru. Jedná se o mono white, s prapodivným výběrem bytostí a Excoriate, což je velmi drahý a prapodivný removal. V rámci možností se však jedná o velmi dobrý removal na Bolasovi velké bytosti (pokud teda nemáte na stole Gideona a jeho Lawkeepera).
Chandra deck se snaží útočit, jak jen to jde, pokud se Gatewatch dostane do late game má k dispozici karty jako Avatar of Fury, Torchlinga nebo Inferno Titana. Chandra, Pyromaster samotná se postará o karetní výhodu a deck je schopný občas také někam vystřelit trochu toho ohně.
Nissa nám na Amonkhetu trochu zmodrala, takže se jedná o UG deck. Nissa je ve verzi Nissa, Worldwaker. Nissa ráda líže karty a dokáže je přinést i zbytku Gatewatch (a tím pádem i Bolasovi). Mimo jiné ráda rampí a hraje země, za které může zahrát nějaké obludy typu Rampaging Baloths, Greater Sandwurm nebo Scaled Behemoth.
A naposled se podíváme na schémata, které budou hru planeswalkerům z Gatewatch v nevhodný moment kazit. Zde jsou:
Podívejte se na video unboxing Archenemy: Nicol Bolas přímo od Wizards a uvidíte, co vše v této krabici najdete.
Odpočiňte si s kamarády od klasických constructed formátů a oddechněte si u téhle parádní Magicové "deskovky". Archenemy: Nicol Bolas si můžete zakoupit v našem e-shopu zde a tento produkt by neměl chybět každému správnému Magicáři.
Komentáře
Přispívat mohou pouze přihlášení uživatelé. Pokud chcete vložit komentář, přihlaste se ZDE.