Novinky
Ravnica Allegiance Planeswalker Decklists
Stejně jako v předchozí edici, tak i v Ravnica Allegiance nás čekají dva předpřipravené balíčky pro začínající hráče, které by šly označit jako guildovní. První z nich je modro-bílý v barvách Azoriusu pod vládou Dovina a druhý zeleno-červený v barvách Gruulu pod taktovkou Domriho. V každém z nich je 60karetní balíček k okamžité hře a 2 boostery z Ravnica Allegiance.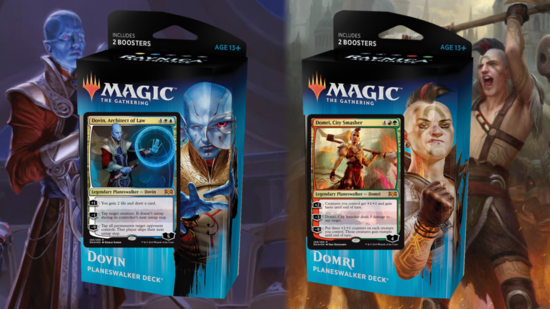 Foto: Wizards of the Coast
Magic Ravnica Allegiance Planeswalker Decks Decklists
Součástí každé Magicové edice jsou i předpřipravené balíčky pro začínající hráče. Díky nim mají k dispozici předpřipravený balíček, se kterým hned mohou začít hrát a nemusí nic stavět.
Vzhledem k tomu, že k Ravnice patří guildy, tak tohle téma se odráží i na planeswalker decích z Ravnica Allegiance. Čeká nás tak souboj guildy Azorius proti guildě Gruul. A pozorní z vás jistě ví, že jde o vůdce Dovina a Domriho.
Každý z Planeswalker Decků obsahuje 4 exkluzivní karty, které nenajdete v boosterech a dále pak set zemí, které jsou jenom v těchto balíčcích a Bundlu.
Magic the Gathering Ravnica Allegiance Planeswalker Deck: Dovin
Dovinův balíček přivolá nefalšované azorijské letectvo, které dovede potrápit nejednoho hráče. A pokud už některá příšera nemá létání, tak má jinou schopnost, kterou dovede škodit soupeři. Samotná letadla nejsou vše, a tak zde najdeme posílání a zabíjení, které je pro kombinaci těchto barev typické. Samotného Dovina pak můžete dostat do hry i přes jeho hledací kartu Dovin's Dismissal. Z nových mechanik zde najdeme Addendum.
Magic the Gathering Ravnica Allegiance Planeswalker Deck: Domri
Domriho armáda volí raději zemi než vzduch a jde o nefalšovaný zeleno-červený tlačák. Kromě malých agresivních goblinů zde najdete i velké pašíky, které v pozdější fazi hry určitě soupeře nepotěší. Nová mechanika Riot je do tohoto balíčku jako dělaná a skvěle jej vylepšuje. Z kouzel zde nechybí typické fritování a posilování, takže pokud vás bude štvát nějaká Dovinova létačka, tak ji jednoduše ufritujete. Domriho dostanete do hry klasicky nebo jej může dovézt příšera Domri's Nodorog.
Jednotlivé balíčky jsou zajímavé protipóly, a pokud si chcete zkusit hru vzduchem i zemí, tak určitě nebudete zklamáni.
Recenze těchto planeswalker decků a nejrůznějších Magicových produktů najdete zde. Tyhle předpřipravené balíčky a další Magicové produkty zakoupíte v našem partnerském e-shopu Veselý drak.
Komentáře
Přispívat mohou pouze přihlášení uživatelé. Pokud chcete vložit komentář, přihlaste se ZDE.