Reporty
Vítězný report z Commanderu v Joysticku - 18. května 2019
Přečtěte si vítězný report z nedávného Commander od Vojty Kotka. Ten proběhl v pražském Joysticku a Vojta celý turnaj vyhrál s Gobliny.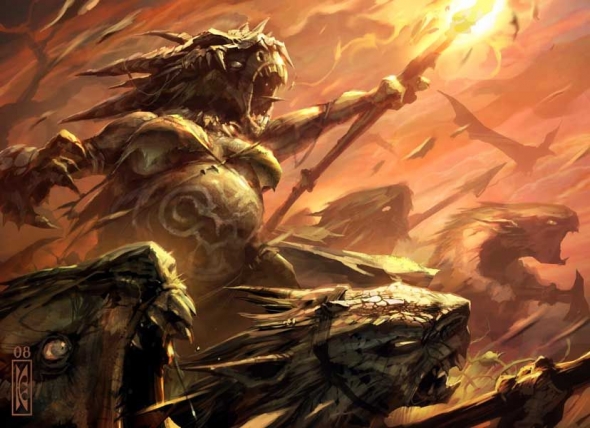 Foto: Wizards of the Coast
Vítězný report z pražského 9th Prague Duel Commander
Every once in a while, when they aren't getting incinerated in lava, crushed under rock slides, or devoured by dragons, goblins experience moments of unmitigated glory in battle.
(Flavortext - Goblin Deathraiders)
Kvůli zkouškovému jsem neměl tolik času natrénovat novou verzi Grenza. To ale nevadilo, neboť každá naprosto nová verze Grenza se liší, a to velmi zásadně, od kterékoliv jiné maximálně 4-6 kartami.
Oproti předcházejí iteraci, jsem nově přidal Gamble, Tainted Pact, Mayhem Devil, Reanimate a nového Krenka. Ven šel povětšinou burn: Goblin Grenade, Reckless Abandon, Mogg Fanatic, Heartfire a Beetleback Chief. Kvůli Tainted Pactu jsem pak ještě musel upravit manabázi, nakonec mi ale přišla stabilnější než předtím. Finální verze balíku najdete zde:
Den G
Vyspal jsem se hezky do růžova a než jsem se nadál, bylo devět a já stál v Joysticku. Zatímco Míra a ostatní pilně připravovali sajtu, začaly se pomalu trousit známé tváře ostatních hráčů. Byl jsem trochu nervózní, neboť jsem měl domluvené půjčení karet od kamaráda Ollieho, který měl podle všeho také hrát. Jenže začátek se blížil a Ollie nikde… Neukázal se ani během úvodního proslovu Michala - Krka - Judge -Krkace. To už jsem psychicky nevydržel a začal obcházet kamarády, zda by mi na poslední chvíli nepůjčili Taited Pact, Backleave Cliffs a Snow-Cevered Swamp. Zadařilo se! Tímto bych rád poděkoval Mírovi Váňovi a Martinu Vlnasovi, kteří mi je půjčili. A dokonce ve foilu.
Ollie přiběhl ve chvíli, když jsem doobalil poslední půjčenou kartu. A to i přesto, že se svojí partou kalil do pěti. Vstával jen kvůli mně. Ještě jednou díky za ochotu i tobě, Ollie..
Na Messenger se rozeslaly první pairingy a já si sedl proti prvnímu soupeři.
Match 1
Zjistil jsem, že hraji proti jedné ze svých nočních můr. Mono-B Sidisi Reanimator.
Vyhrál jsem hod kostkou.
Game 1: I přesto, že jsem nechal ucházející ruku, byla až příliš pomalá. Když oponent zahrál Buried Alive následované Living Death, vytáhl mimo jiné Sundering Titána, kterým mi zničil dvě země, a já tudíž nemohl zahrát vlastní Living Death. Šli jsme na další.
Game 2: Na počáteční ruce jsem měl Gamble, a ten se mi podařilo vyměnit, za Reanimate. Právě včas, oponent totiž zahrál Buried Alive, a já si půjčil jeho Griselbranda. Řekl mi, že to vůbec není hezké. Souhlasil jsem. Shodli jsme i na tom, že reanimace je vlastně velice nefér a žádný hodný člověk by přece něco takového nehrál. Chvíli se ještě snažil vzdorovat, ale to jsem si již zaútočil, líznul 7 a šli jsme na další.
Game 3: Na úvodní ruce jsem měl Reanimate, avšak Thougtseize se ho hned zbavil. Chvíli se zdálo, že ho utlačím, ale stabilizoval se na posledním životě. To už přišla nastavená kola, ale ani jednomu se nepodařilo toho druhého zabít.
Výsledek: Remíza, se kterou jsem byl vlastně dost spokojený. Přeci jen reanimace není dobrý matchup.
Match 2
Zjistil jsem, že sedím naproti známému, který tentokrát vyměnil Queen Marchesu za Traxose. Zaradoval jsem se, neboť na artefakty mám v balíčku zabíjení víc než dost.
Vyhrál jsem hod kostkou.
Game 1: Vlastně to bylo dosti rychlé. Goblin Matrona našla Goblin Trashmastera, a záplava goblinů odnesla železo do sběru.
Game 2: Jako správný goblin Trashmaster pochopil, že má být na úvodní ruce, a tak tam přistál znovu ve čtvrtém kole. Oponenta mi bylo líto, nenechal jsem ho narampit do All Is Dust a to byl konec.
Výsledek: Výhra
Match 3
S jednou výhrou a jednou remízou jsem se potkal s Myšákem - Teferi. Další špatný matchup, na který jsem ale měl v balíčku připravené 3 karty.
Prohrál jsem hod kostkou.
Game 1: Úvodní ruka nebyla špatná, avšak landy se rozhodly zůstat v balíčku, a tudíž jsem zůstal na třech zemích po celou dobu hry. Mé trápení ukončil Teferi s kamarádem Uginem a Tezzeretem.
Game 2: Měl jsem vcelku rychlou ruku a navíc se mi podařilo ve druhém kole resolvnout Goblin Bombardment. Od té chvíle jsem obětovával Gobliny, jak to jen šlo. Nakonec stál Teferi 12 man, Myšák měl 6 Islandů na stole, a já mu zrovna zabil jeho artifact na doubleování many. Bombardment je super karta.
Game 3: Konečně jsem si lízl své "hate" karty na Teferiho - a to rovnou dvě. Nejdříve přistál na stole Goblin Lackey. Následně jsem dostal do hry Kiki-Jikkiho, a po útoku ve 3. kole jsem zahrál Earwig Squad (první hate karta) s Pyroblastem (druhá hate karta) připraveným v ruce. Earwig Squad resolvnula, já jsem exilnul Teferimu 3 wincony: Emracoola, Chainveil a Stázi, a navíc zjistil, že Ugina má na ruce. Myšák si v dalším kole našel High Tide, já ho za odměnu srazil na pět životů, a když se pak ve svém kole pokusil zahrát High Tide do Teferiho s úmyslem se odtapnout a zahrát Ugina, Pyroblast mu vysvětlil, že tude ne…
Výsledek: výhra
Match 4
Začalo přituhovat a já zjistil, že můj další oponent je Yuriko. Dal jsem si tedy druhé pivo.
Navíc jsem prohrál hod kostkou.
Game 1: Ani v době, kdy jsem hrál burn verzi Grenza, jsem si snad nelíznul tolik zabíjení. Nakonec jsem dokázal ustřílet všechny potvory, co měl a ujezdit ho.
Game 2: Bylo to rychlé a bolestné. Myslím, že tomu napomohly i moje missplaye, kdy jsem zapomněl dávat countery z Mimica, nelíznul jsem si za procyklení Gempalma a obecně jsem to dosti zmršil.
Game 3: Zase spousta removalu, ale myslím, že hlavní byl dvakrát topdecknutý land ve chvíli, kdy jsem ho potřeboval. Nejdříve můj třetí hned poté, co jsem vytáhl pomocí Tainted Pactu Pyrokinesis a měl jsem jen karty s CMC 3 a víc. A podruhé, když mě v upkeepu zatapoval Elder Deep-Fiendem a já potřeboval topdecknout land, abych mohl zahrát Chupacabru.
Celkově jsem ale měl během všech třech her velké štěstí, neboť když už se mu podařilo propojit Yuriko s mým obličejem, otočil pouze landy.
Výsledek: Výhra
Match 5
Další známá tvář a známý matchup. Kuba s Kess, u které jsem potřeboval mít buď štěstí v podobě špatné ruky oponenta, nebo líznout jednu z mých více grindících karet.
Vyhrál jsem hod kostkou.
Game 1: Metalic Mimic zůstal na stole o chvíli déle než by bylo záhodno, a společně se svým velmi dobrým kamarádem, Rabblemasterem, ukončil hru během šesti kol. Uznávám, že přes Grenza naslepo otočený Goblin Chirurg také pomohl.
Game 2: Zase vcelku rychlý start, ale tentokrát měl oponent dostatek removalu. Naštěstí se mi podařilo resolvnout Goblin Bombardment, a ze 12 životů se mi pouze díky Bombardment podařilo dostat Kess na 3. Nakonec jsem vyhrál díky tomu, že má Piledriver protekci na modrou, a Kuba ve svém posledním kole nezahrál žádné kouzlo z hrobu.
Výsledek: Výhra.
Se čtyřmi výhrami a jednou remízou mi bylo jasné, že nejvýhodnější je pro mne dát si další remízu, která mi garantuje v top8. S dalším oponentem, který to měl stejně, jsme si tedy dohodli, a zahráli si jen tak.
Match 6
Thrasios/Ludevic burn/midrange
Vzhledem k 3. pivu a předem domluvené remíze jsem si nedělal nijak zvlášť podrobné poznámky.
První hru jsem vyhrál na tempo, druhou jsem prohrál na plné čáře na jeho burn a Heliona. Ve třetí a nejzábavnější jsem na konci jeho prvního kola zahrál Demonic Consultation na Wasteland, čímž jsem si odemlel téměř celý balíček, a byla tak reálná šance, že se dolížu. Naštěstí se to nakonec vyplatilo. Díky Volrath Strongholdě jsem měl navíc jistotu, že mi dolízání nehrozí, a utlačil jsem ho.
Výsledek: Remíza
Konečný výsledek: 4 výhry a 2 remízy
TOP8
Umístil jsem se na hezkém 4 místě, a tak jsem si hned první matchup vybíral, zda začínám, či ne. (Spoiler: Začínal jsem)
Čtvrtfinále
Kytheon
Začínám
Game 1: Hned na začátku jsem měl obrovské štěstí a můj první land mi díky Hideaway schoval na spodek Siege-Gang Commandera. Toho jsem ve 3 kole vytáhl Grenzem do hry a ve 4 kole jsem mu Confluencí zničil Smuggler's Copter a Jitte.
Game 2: Měl jsem pomalejší start, a oponent vyměnil generála z Kytheona na Isamaru - což je velmi chytrý tah - spousta Goblinů střílí za 1. Záplava 2/1 podpořená Mother of Runes a Glorious Anthem mi ukázala, zač je toho loket, a šlo se na třetí.
Game 3: Střídali jsme se v kousání po 3-4 životech, a nakonec jsem byl díky tomu, že jsem začínal, přesně o to jedno kolo rychlejší.
Semifinale
Arahbo
Game 1: Věděl jsem, že nemohu nechat pomalou ruku, a mulligenoval proto na 6. Spousta removalu byla sice super, kočky umíraly jedna za druhou, ale nakonec přistál samotný Arahbo a removal došel. Projel mě kočkou 10/14 trample flying… A já to jaksi nerozdýchal.
Game 2: Znovu mi přišlo dost removalu a tentokrát jsem měl i tlak na oponentovy životy. Gamble mi našel Pyrokinesis a zahodil Pyroblast - lépe už to snad ani nejde. Oponent zahrál Winter orb, která mě trochu zpomalila, ale ne moc. Navíc dělala problém i kočkám, protože stíhaly zahrát pouze jednu za kolo. Nakonec jsem ho utlačil.
Game 3: Znovu se opakovala situace Metalic Mimic + Rabblemaster. A díky tomu jsem byl jen o trochu rychlejší než kočky. A kočky blokovat opravdu nechtějí.
Finále
S Danem máme nahráno spoustu dlouhých her. Už dlouho si ze sebe navzájem děláme legraci kvůli trialu, kde jsme po hodině hraní měli remízu - aneb klasika Rakdos vs Monogreen.
Yisan
Game 1: Naštěstí jsem začínal. Nechal jsem ruku: 5 landů, Goblin Lackey, Liliana, the Last Hope. S Grenzem to šlo po křivce a já doufal, že se Goblin Lackey vymění s nějakým ManaElfem. Jaké bylo moje překvapení, když Dan zahrál forest a nechal mě hrát. Naštěstí jsem si líznul Murderous Redcapa, kterého Lackey položil do hry, a po zahrání Grenza měl v druhém kole ve hře 5 power. Liliana v dalším kole sice žádného Goblina do ruky nevytáhla, ale to nevadilo. V dalším kole ponížila Yisana a Dan byl vcelku rychle utlačen.
Game 2: Nechal jsem si ruku s Boltem, Judith, 4 landy a Goblin Recruiterem. Ve druhém kole přišel Recruiter a já si našel na vršek všechny gobliny, co střílí do potvor. Díky tomu jsem zvládl zabít Yisana asi 3x, a když přišel zelený titán, postarali se o něj Gempalm spolu se Sparksmithemj. Recruiter jak má být….
Konečně se mi to podařilo. Grenzo v top 8 a to dokonce na prvním místě. Zase si budou jednou ve Francii říkat: "Co to tam proboha hrají?".
Je to balíček, který myslím není lehké hrát, ale i tak doufám, že se najde někdo další, kdo se ho rozhodne zkusit. Co je lepšího, než moci brainstormovat nad tím, jak a co vylepšit s dalším Goblin Fanatikem?
"I got it! I got it! I—"
(Flavortext - Mogg Fanatic)
Vojta Kotek
Komentáře
Přispívat mohou pouze přihlášení uživatelé. Pokud chcete vložit komentář, přihlaste se ZDE.