Rubriky
Flash News #2/2019
1. GP Sydney (RNA Limited)
První GP s oficiální ex-post coverage. V Austrálii mají GP vždy spíše komorní atmosféru a na limited to platí dvojnásob. Tentokrát si přišlo zahrát pouze 526 hráčů.
Trofej pro vítěze (tentokráte se stihla včas doručit) pro sebe nakonec získal domácí Jarron Puszet, když v top8 nadraftoval svižný rakdos s dvojicí Rakdos Firewheelerů.
Do top8 se také probojoval Shuuhei Nakamura, čímž se vyrovnal Martiun Jůzovi v počtu GP top8 - oba jich mají dvaatřicet!
2. SCG Open Baltimore (Team Constructed)
Populární týmové constructed přilákalo do Baltimoru 287 týmů (861 hráčů), které v prvním dni bojovaly s velmi neúprosným postupovým klíčem. Pouze týmy se ziskem dvaceti bodů a více si mohly zahrát i ve druhém dni. Podařilo se to pouze prvním pětadvaceti.
Ve druhém dni se nejvíce dařilo trojici Jacob Hagen, Ryan Overturf a Liz Lynn, která si došla pro celkové vítězství s kombinací Wu Aggro (standard), Traverse Phoenix (modern) a UB Death's Shadow (legacy).
Nyní se podíváme podrobně na všechny tři formáty:
Standard
Nejúspěšnější standarový deck byl Esper Control, jenž měl čtyři hráče v top8 a také sedm ve druhém dni, což bylo stejně jako u BUG Midrange, který měl v top8 ale jenom jednoho zástupce.
Naopak velký pokles popularity oproti předchozímu týdnu zaznamenal Monored, který byl ve druhém dni pouze jednou...
7× Esper Control
7× BUG Midrange
3× Wu Weenie
2× RUG Reclamation
1× Bant Midrange
1× Bant Nexus
1× Monoblue Tempo
1× UR Phoenix
1× Monored Aggro
1× 4C Gates
Zajímavé byly obě verze RUG Raclamation, zejména pak ta lépe umístěná, ve které nebyly Nexusy a měla poměrně dost X-spellů, ke kterým tu byly i Primal Amulety. Jako nejdůležitější karta mi tu ale přijde Search for Azcanta. Musím říci, že to je poprvé, co ji vidím hrát v playsetu. S Reklamací je to ale tak silná kombinace, že se tomu vůbec nedivím...
Velmi netradiční byl například také BUG Midrange, který jsme mohli vidět ve finále. Byly v něm karty jako Biogenic Ooze, Karn, či Plaguecrafter...
Modern
Nejpopulárnější archetypy na modernu byly Grixis Death's Shadow a Arclight Phoenix decky. V top25 jim dohromady patřilo deset míst.
Ve Phoenix decích se opět hráči nebáli experimentovat, však hned u vítězného týmu jsme mohli vidět velmi originální verzi s Mishra's Bauble a Traverse the Ulvenwald. Díky tomu mohly být v sidu one-ofy jako Magus of the Moon či Faerie Macabre. Zajímavé je i zařazení Life Goes On, což ale ale při současné popularitě Burnu velmi účinná sidovka.
Další zajímavý Phoenix deck skončil hned na druhém místě. Šlo o hodně agresivní verzi s playsety Skewer the Critics a Light Up the Stage. Díky velkému množství jednomanovek tu byl docela dobrý i Soul-Scar Mage. U téhle konfigurace je taky velké plus, že není tolik náchylná na graveyard hate.
Hodně se od sebe lišily i jednotlivé buildy populární UR verze. Někdo hrál více Crackling Draků, někdo vsázel například na Young Pyromancery, nicméně Ross Meriam, který už s deckem vyhrál jedno Open, vsadil na kombinaci Crackling Draků a Pteramanderů.V mainu měl také velkou spoustu one ofů, což je díky velkému množství cantripů docela fajn věc - ke těmto kartám se totiž prolízáte poměrně snadno. Mezi one-ofy byla třeba Surgical Extraction, Lightning Axe, Izzet Charm, či Flame Slash.
Z decků v top8 bych chtěl ještě zmínit opravdu pěkný Jund Burn, který hrál obě nové spectacle karty, ale zároveň i nadále hrál Eidolony a Searing Blaze. V sidu měl Cindervines a Collective Brutality, což jsou přesně ty karty, ke kterým bych chtěl mít v Burnu přístup (tj. pokaždé, když je úspěšně zahrajete, tak by z toho měla být snadná výhra).
Celá top25 vypadala následovně:
5× Grixis Death's Shadow
3× Dredge
3× UR Phoenix
2× Amulet Titan
2× Humans
1× Traverse Phoenix
1× Monored Phoenix
1× Green Tron
1× Jund Burn
1× Affinity
1× Jeskai Control
1× Ad Nauseam
1× Eldrazi Tron
1× Boros Burn
1× UW Control
Legacy
Nejúspěšnější decky na legacy byly Grixis Delver, Colorless Eldrazi, RG Lands a Miracly (ve verzi s Mentory a Accumulated Knowledge).
Byly tu žádná vyloženě překvapivá brew, ale několik zajímavostí se samozřejmě našlo.
Vítězný tým hrál UB Death's Shadow, v podstatě ve stejnou verzi, která hrál tým CFB na PT 25th Anniversary.
Co se týče zajímavých techů, tak v Miraclech jsme mohli vidět Mission Briefing, které tu má zajímavé intearakce s kartami jako Brainstorm, Counterbalance, či Accumulated Knowledge. Vůbec by mě nepřekvapilo, kdyby se v budoucnu stalo v Miraclech staplem...
Dále jsme znovu mohli vidět Grixis Phoenixe s Dark Ritualy a Buried Alive, ve kterém ale na rozdíl od verze z onlinu byla v mainu Daze.
Čtrnácté místo obsadil Kevin King s opravdu pěknou verzí UR Delvera, kde nebyly kusy jako Stormchaser Mage a Monastery Swiftspear, ale zato tam byl playset Pteramanderů a Young Pyromancerů. Osobně jsem nikdy neměl rád výše zmiňované agresivní bytosti, protože v pozdních kolech rychle ztrácely na síle. Tahle konfigurace se mi líbí nejvíc ze všech, co jsem v poslední době viděl.
Mezi méně obvyklé decky se určitě řadil i UW Stoneblade s Back to Basics, a poslední chuťovkou bylo Experimental Frenzy v sidu RG Zemí.
Přehled top25:
4× Grixis Delver
3× RG Lands
3× Miracles
2× Colorless Eldrazi
2× Eldrazi Post
2× UR Delver
1× UB Death's Shadow
1× BG Depths
1× Storm
1× Grixis Phoenix
1× Aggro Loam
1× Elves
1× UW Stoneblade
1× Monored Stompy
1× Men of Steel
3. SCG Classic Baltimore (Standard, Modern, Legacy)
Je zvykem, že během týmového open se v neděli konají klasiky ve všech třech formátech. A nejinak tomu bylo i v Baltimoru.
Dvojkové klasiky se zúčastnilo 166 hráčů, kteří změřili síly v osmi kolech základní části, kde tentokráte všem stačilo skóre 6:1:1 a lepší.
Výsledky nepřinesly žádné velké překvapení - z výhry se radoval Alex Hon s BUG Midrangem, když ve finále porazil Wu Weenie.
Jediné dva méně obvyklé decky v top16 byly UG Nexus s playsetem Frilled Mysticů (další skvělý follow-up k Reklamaci) a Jeskai Control s Treasure Mapami a Niv-Mizzety.
Dva nejúspěšnější decky byly BUG Midrange a Monored Aggro:
4× BUG Midrange
3× Monored Aggro
2× Gate Nexus
2× UR Drakes
1× Wu Weenie
1× UG Nexus
1× Esper Control
1× Monoblue Tempo
1× Jeskai Niv-Mizzet
Modernové klasiky se zúčastnilo 197 hráčů a nejlépe si v ní dařilo modrým kontrolům, když zvítězil Kazu Negri s Jeskaiem, který byl adaptovaný na novou metagame a nehrál Terminus.
Naproti tomu, poražený finalista, Robert Seder, ve svém UW controlu playset Terminusů měl, což mu v souboji dvou kontrolů bylo bohužel k ničemu...
Úspěch kontrolů ještě podtrhl šestým místem s dalším Jeskaiem Jonathan Sukenik, ve jehož verzi mne zaujal playset Hierographic Illumination. Levný cycling de facto zaručuje, že se včas dostanete ke správným odpovědím a late gamu je to fajn proliz.
V top8 jsme také mohli vidět Green tron, Mardu Burn, Bant Spirity, Whir Prison (kde byla už do první hry winkondice v podobě Thopter-Sword komba) a Colorless Eldrazi.
Top16 skrývala i jedno dost divoké brew v podobě hybridu mezi Blue Living Endem, Kiki-Jiki kombem a Goryo's Vengeancí. V decku bylo také As Foretold a playset Electrodomonancí.
Slušná účast byla i na legacy, kterou si přišlo zahrát 141 hráčů. Stupně vítězů tu obsadily velmi neobvyklé decky - zvítězil Harlan Firer s UW hybridem mezi Delver a Stoneblade strategií - byl tu Delver, Daze, Spell Pierce, ale také Snapcaster Mage a Jace.
Na druhém místě skončil Ben Friedman ze zajímavou verzí Death's Shadow, kteerá nehrála Delvery a vsázela na kontrolnější kusy jako Jace, Vryn's Prodigy, Liliana, the Last Hope a také Hymn to Tourach.
Stupně vítězů doplnil Lyle Rolfes s opravdu nezvyklým brew v podobě UB Tempa s Delvery a Yuriko, ke které tu byly v playsetu Baleful Strixy a Stitcher's Supllieři (ti se dále doplňovali s playsetem Gurmagů).
Na dalších místech už jsme ale nic takhle neobvyklého neviděli - byly tam spíše tier decky: Grixis Control, Sneak and Show, Miracly, dva UW Stoneblady, trojice Grixis Delverů, Elfové, UR Delver, Aggro Loam a BG Depthsy.
4. Online MCQ (Standard)
Očividně to vypadá, že MCQ se teď na onlinu bude konat každý týden. Prvního únorového se zúčastnilo 306 hráčů a vy už určitě víte, že z výhry se tam radoval Lukáš Paugsch s Bant Nexusem.
Možná si teď říkáte, že nastávají temné časy, když takový deck zvítězí na podobně velkém turnaji. Ve skutečnosti ale uhrálo čtyřiadvacet hráčů skóre 7:2 a lepší, a byly mezi nimi pouze dva Nexus of Fate decky.
Strmě stoupla popupularita modrých tempo decků - mezi nejúspěšnějšími decky bylo pět UR Drakeů (čtyři byli dokonce v top8) a čtyři Monoblue Tempa. Zajímavé je, že nejlépe umístěné z nich nehrálo Mistcloaked Heraldy a raději upřednostnilo Surge Mary už do mainu.
Dobré výsledky měl také Esper Control a trochu překvapivě i RUG Reclamation, což byl nejhranější deck s Wilderness Reclamation. Naopak propadl BUG Midrange (sice měl dva hráče v top8, ale další bychom našli až na 28. místě) a Monored Aggro.
Ze zajímavých decků na předních příčkách bych zmínil ještě BUG Climb, kde byly skoro výhradně UG bytosti s counter synergiemi a pouze na splash Cast Down a Find//Finality.
Druhou zajímavostí byli RUG Draci, což byl kontorlnější build UR Drakeů, v kterých byl navíc Hydroid Krasis a také Niv-Mizzet. V decku bylo přitom stále pouhých 21 zemí. S trojicí cantripů se to ale evidentně dá uhrát...
Přehled všech decků se skóre 7:2 a lepším:
5× UR Drakes
4× Monoblue Tempo
4× Esper Control
3× RUG Reclamation
2× BUG Midrange
1× Bant Nexus
1× BUG Climb
1× 4C Gates
1× Nexus Gates
1× Monored Aggro
5. MTGO Weekly Challenges (Modern, Legacy, Vintage, Pauper)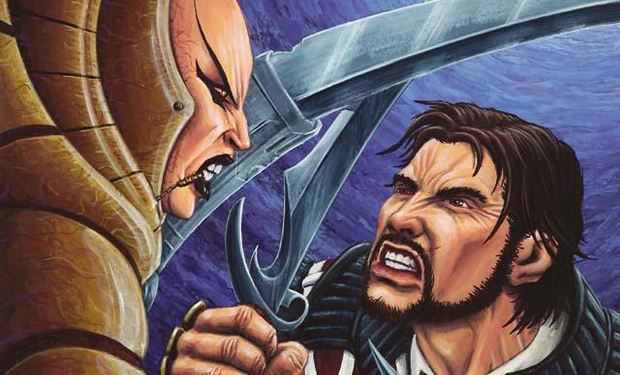 Modernová challenge tentokráte nepřinesla příliš zajímavých výsledků. Osobně mě nejvíce překvapilo, že do top16 se dostaly hned tři Jundy...
Z celkové výhry se radoval "Artem_Kuhtin" s Dredgem, když ve finále porazil Mardu Burn.
Na dalších místech byl právě první z Jundů, Hardened Affinita, All-in Red splashující bílou pro Lightning Helix a další karty v sidu, UR Control s Thing in the Ice, RG Scapeshift a Boros Burn.
Na legacy byl největším překvapením opakovaný úspěch Grixis Phoenixe, se kterým se tnetokráte až na druhé místo dostal "WhiteFaces". Oproti verzím z předchozího týdne tu nebyli Tombstalkeři, které nahradili Dark Confidanti.
Celkovou výhru už podruhé za sebou ukořistil tradiční Storm. A v top8 byl také Eldrazi Post, dvakrát Czech Pile (kterým dali hráči přednost před tradičním Grixisem i za cenu horší manabase), Monored Stompy, Sneak and Show a přece jenom i jeden tradiční Grixis Control.
Nejzajímavější deck v top16 byl originální RUG Control s kartami jako Punishing Fire, Jace, True-Name Nemesis, či Tarmogoyf.
Podobně jako na legacy, i na vintage dokázaly Ravager Shopy obhájit výhru z předchozího týdne. Tentokrát se o to zasloužil Gabriel Nassif alias Bobthedog.
Na dalších místech skončil Blue Dredge, RUG Pyromancer (zelená byla v decku čistě kvůli Ancient Grudgi a Nature's Claimu), Colorless Eldrazi (specialita Nielsa Thiima), Survival Combo a tři Paradoxical Outcomy, z nichž ten nejlépe umístěný hrál Lavinie a také Karakas, který Lavinia může ochránit před removalem, ale hlavně může vrátit do ruky soupeřovu :)
Nejzajímavější deck v top16 byl Esper Control skončivší na třináctém místě. Zařazení mezi kontroly je tu ovšem trochu nadsazené, deck sice obsahuje kontrolní karty jako Jace, Mana Drain a Lavinia, ale taky tu jsou komba s Tinkerem (Colossus a Voltaic Key + Time Vault) a chuťovky jako Notion Thief, Gifts Ungiven či Timetwister.
V pauperu byl tentokrát nejúspěšnější deck Therom-Alchemist Burn, takže jsme se konečně dočkali karty z RNA v top8. A to v docela velkém počtu, protože Burny byly v top8 hned čtyři a ještě jeden další v top16!
Mezi nejúspěšnější decky ale samozřejmě stále patřil i Boros Monarch (3× v top16) a Delver decky (5× v top16), z nichž byla nejpopulárnější UB varianta - přece jenom Gurmag Angler je asi druhá nejlepší bytost do tempo strategie...
Tentokrát jsme tu měli i jedno velmi zajímavé brew v podobě Enchantment Controlu v Abzan barvách. Základní engine decku byl Heliod Pilgrim a Kruphix's Insight a jako winkondice tu bylo minikombo Pestilence + Protective Sphere (o téhle kartě slyším poprvé v životě).
6. Duel Commander Darmstadt (French EDH)
V německém Darmstadtu letos začala první velká německá pravidelná série ve francouzském duel commanderu. Prvního turnaje se zúčastnilo 36 hráčů, mezi kterými bylo k vidění šestadvacet unikátních generálů či partner kombinací, včetně dvou novinek v podobě Prime Speaker Vannifar a Judith, the Scourge Diva.
Pouze pět generálů mělo na turnaji zastoupení tří a více hráčů. Byli to: Leovold (5×), Ludevic (5×), Tymna (5×, Kraum (4×) a Thrasios (4×).
Z toho je víceméně jasné, že i finálová top8 byla velmi rozmanitá. Finále se nakonec nehrálo, ale probovala se do něj velmi pěkná tempo verze Jenary a Abzan Midrange (s "aristocratí" tématikou) s Reyhanem a Tymnou.
Na dalších místech byli dva Leovoldi (hodně kontrolní buildy bez manaelfů), Big Boros se Sylvií a Khorvathem, UR Tempo s Adeliz, Death and Taxes s Karlovem a pěkné RUG Tempo s netradiční kombinací partnerů Ludevic + Thrasios.
Všechny decklisty z top8 si můžete prohlédnout zde. Z turnaje taky vzinkl velmi pěkný report, který si můžete přečíst zde (v angličtině).
7. Bonusové decklisty (Various)
RG Monsters - Ken Ikubo (Top Rare Card struggle Osaka, 47 hráčů, 7. místo)
Mardu Angels - Yuito Tsumurai (Let's 5 Standard Tokio, 80 hráčů, 5. místo)
4C Vannifar - Yoshinobu Satou (Let's 5 Standard