Rubriky
Flash News #3/2019
1. GP Toronto (Modern)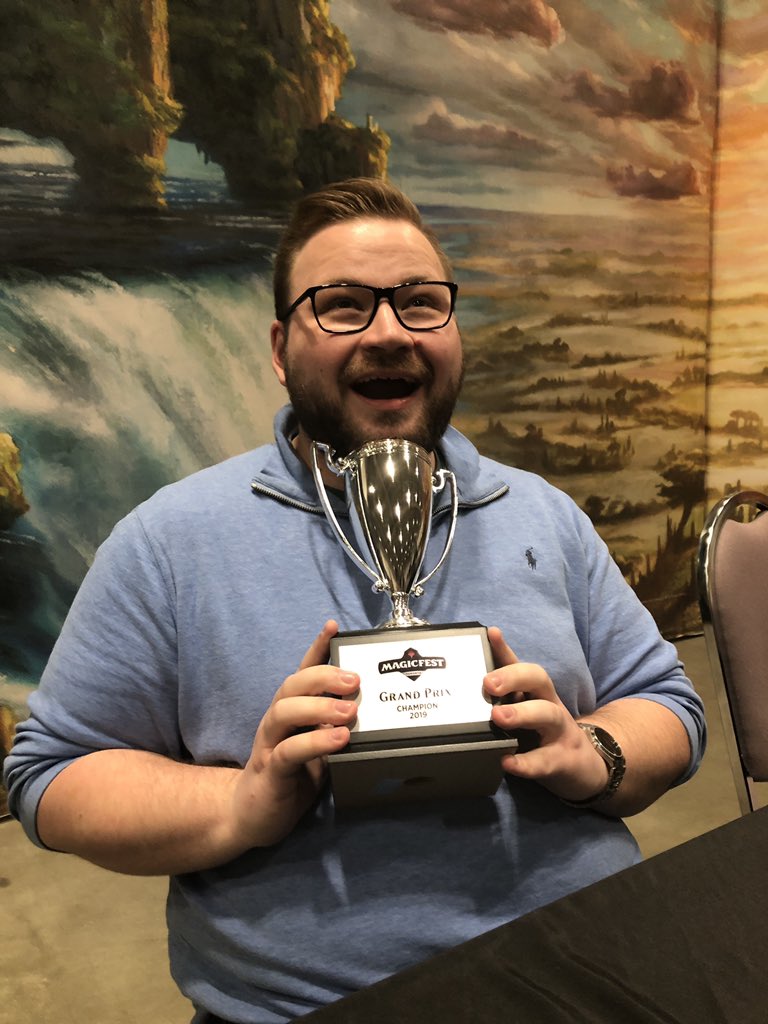 První GP s oficiální coverage od CFB. Prozatím byla trochu chaotická a v prvním dni bylo nejvíce informací na twitteru, ale věřím, že do budoucna se to bude jenom zlepšovat.
Na start prvního dne se postavilo 1 317 hráčů, z nichž 239 získalo v prvních osmi kolech šest výher potřebných k postupu do další části turnaje.
Dva suverénně nejhranější decky ve druhém dni byly UR Phoenix a Burn - oproti třetímu a čtvrtému (Dredge a Amulet Titan) nejpopulárnějšímu decku měly takřka dvonásobné zastoupení!
Zatímco Burnu se ve druhém dni výsledkově tolik nedařilo, tak UR Phoenixe můžeme v klidu označit za nejúspěšnější deck turnaje. V top8 měl dva zástupce a v top32 hned šest!
Ve finále se ale utkaly dva decky ze zcela jiného soudku - Grixis Death's Shadow a trochu překvapivě i Whir Prison. Nakonec to byl Michael Rapp a jeho Grixis Death's Shadow, který díky levné disrupci a rychlému clocku dokázal zvítězit.
V top8 byly také dva GB Rocky (což je trochu překvapivé, jelikož mají celkem problémy proti Phoenix deckům), RG Scapeshift a Dredge.
Ve zbytku top32 mne překvapily hned tři Ad Nauseamy, dvoje UR "Extra Turns" a taky Lantern Control, který za poslední půlrok z modernu skoro úplně znizel... A zmínit musím i Affinitu na jedenáctém místě, což byla jedna z prvních takto úspěšných variant s Experimental Frenzy.
Kompletní přehled top32:
1. Grixis Death's Shadow
2. Whir Prison
3. UR Phoenix
4. RG Scapeshift
5. Dredge
6. UR Phoenix
7. GB Rock
8. GB Rock
9. Green Tron
10. UR Extra Turns
11. Frenzy Affinity
12. Boros Burn
13. Ad Nauseam
14. Humans
15. UR Extra Turns
16. Dredge
17. Ad Nauseam
18. UR Phoenix
19. Abzan Company
20. Gw Tron
21. Boros Burn
22. Lantern Control
23. Hardened Affinity
24. UR Phoenix
25. Bant Spirits
26. Jund Midrange
27. Hardened Affinity
28. Jeskai Control
29. Ad Nauseam
30. UR Phoenix
31. UR Phoenix
32. Humans
2. SCG Open Dallas (Standard)
Do Dallasu si přišlo zahrát standard 651 hráčů, z nichž čtyřiašedesát postoupilo do druhého dne (skoro jako tenisový grand slam).
Bylo zajímavé sledovat, jak se bude vyvíjet metagame. Oproti Open v Indianapolis z metagame úplně vymizelo Monored Aggro, které na pozici nejlepších aggro decků nahradilo Wu Weenie a Monoblue Tempo.
Pokud budeme počítat všechny mikro-archetypy, tak nejhranější čtyři decky byly Esper Control (10 hráčů), Monoblue Aggro (10 hráčů), BUG Midrange (9 hráčů) a Wu Weenie (8 hráčů).
Když to ale trochu zjednodušíme, tak dojdeme k následujícím číslům:
11× BUG Midrange
10× Esper Control
10× Monoblue Tempo
10× Wx Weenie
9× Nexus Ramp
5× URx Drakes
2× Esper Midrange
7× Other
Šest nejhranějších archetypů tedy tvořilo ve druhén dni skoro celé herní pole, což nezní moc povzbudivě, hlavně když si vezmeme, že je to stále teprve třetí týden s novou edicí...
Naštěstí nám to vynahradily decky z kolonky "other". Byl mezi nimi například Big Red s malou černou splashí, se kterým se dokonce až do top8 probojoval Jody Keith. Dále Bant Midrange postavený kolem Hero of Precinct One, Mardu Aristocrati s kartami jako Judith a Priest of Forgotten Gods, kontrolní verze Wilderness Reclamation s Niv-Mizzety, či Chromatic Black, ve které ale k mému velkému zklamání nebyly žádné karty z RNA...
Celkovým vítězem se nakonec stal Robert Wagner-Krankel s Monoblue Tempem, když ve finále porazil Esper Control (hrál ho Jonathan Hobbs, který má tak dvě druhá místa na dvojkovém SCG Open v řadě).
Třetí místo patřilo zajímavé verzi Wu Weenie, ve které byly lifegain synergie s Ajani's Pridemate, Leonin Wanguardem a Healer's Hawkem. Poslední místo v top4 zabral UG Nexus ve velmi přímočaré verzi, kde byl playset Search for Azcanta - sice je to legendární karta, ale je to asi nejlepší engine s Reklamací, takže mi playset přijde naprosto v pořádku.
Zbylé dva decky z "velké šestky" byly na osmém (BUG) a čtrnáctém místě, které obsadil Jonathan Job s kontrolnější verzí Drakeů, kde byla splash pro Krasise a také maindeck Niv-Mizzet.
V top16 ještě stála za pozornost přímočará verze White Weenie bez splashí, kterou hrál Tom Ross (skončil mu kontrakt u RnD) a BUG Midrange se Zeganami a Hadana's Climbem.
3. SCG Classic Dallas (Standard + Modern)
Nedělní dvojkovou klasiku si nenechalo ujít 193 hráčů, což znamenalo osm kol + finálovou top8, do které se opět nedostal jeden smolař se skóre 6:1:1...
Nejúspěšnější deck turnaje bylo White Weenie, jehož hráči svedli souboj ve finále a v top8 je ještě doplnil další hráč. Nejnovějším trendem bylo omezit modrou splash na minimum - vítězná verze Abea Corrigana měla z modré pouze Negate v sidu.
V top8 byl také Bant Nexus, Monoblue Tempo, Gate Nexus, Esper Control a brew v podobě Bant Flashe s Wilderness Reclamation.
Další velmi neobvyklý deck jsme mohli vidět na jedenáctém místě, které obsadil Ryder Aguilera s Monoblack Aggrem, které obsahovalo celkem dost hand disrupce díky kartám jako Drill Bit a Kitesail Freebooter.
Nedělní modern si přišlo zahrát 244 hráčů, což dokonce stačilo na devět kol. To samozřejmě znovu znamenalo, že bylo nesmírně složité se dostat do top8. Nakonec bylo k jistotě postupu potřeba uhrát 7:1:1 (jeden šťastlivec postoupil i se 7:2).
V top16 měl největší zastoupení Dredge se čtyřmi hráči, ale do finále se nakonec probojovaly úplně jiné decky - Humani a Eldrazi Tron, což příliš nekoresponduje s metagame posledních týdnů...
Trofej pro vítěze nakonec získal Patrick Claggett s Humany po přesvědčivé výhře 2:0.
Další místa v top8 obsadil již zmiňovaný Dredge (byl tam hned dvakrát), RG Scapeshift, Boros Burn (se splashí pro Cindervines v sidu), Green Tron a Monored Phoenix.
Ani na dalších místech nebyly žádné výstřední decky. Jediné, co by stálo za zmínku, je Jeskai Control, který obsahoval kombo Through the Breach + Emrakul.
4. Online MCQ (Standard)
Tentokráte se mi nepodařilo najít info o počtu účastníků, nicméně hrálo se klasických devět kol, ve kterých třiadvacet hráčů mělo skóre 7:2 a lepší.
Dva nejúspěšnější decky turnaje byly BUG Midrange a UR Drakes, které kompletně obsadily první čtyři místa (zvítězil "ArielNagy" s BUGem). Všechny úspěšné BUGy byly klasické verze s Vivien a větším počtem removalu - je vidět že experimenty se Zeganou a Hadana's climbem se zase tolik nechytly...
V top8 bylo také Monored Aggro se splashí pro Cindervines v sidu, Wu Weenie (opět splash pouze pro sidovky) a zvláštní mix UR Drakes a Jeskai Controlu, který obsahoval Teferi, Niv-Mizzety, ale zároveň i Dive Downy a Chart a Course.
Nějaká zcela originální brew bychom mezi úspěšnými decky hledali marně, jediný méně obvvyklý deck tam byli GW Tokeni...
8× BUG Midrange
4× UR Drakes
3× Wu Weenie
2× Rx Aggro
2× UG Nexus
1× Jeskai Drakes
1× Monoblue Aggro
1× Bant Nexus
1× GW Tokens
5. Monthly MOCS (Standard)
Na onlinu se uskutečnily hned dva premiové eventy během jednoho víkendu! Musím ale konstatovat, že MOCS série kvůli aréně trochu přišla o svou prestiž. Minimálně, co se standardových turnajů týče.
Tohoto monthly turnaje se zúčastnilo 101 hráčů, což je hodně nízké číslo - v loňském roce účast běžně přesahovala 300 hráčů...
Podoba turnaje zústala nezměněná - v osmi kolech bylo potřeba k postupu do čtvrtletního finále alespoň šestkrát zvítězit, což se povedlo čtrnácti hráčům.
Žádný z hráčů nedosáhl na perfektní skóre 8:0 a o první čtyři místa se podělili hráči s výsledkem 7:1. Byl mezi nimi Esper Control, Wu Weenie, Monoblue Tempo a zajímavý GW Midrange s token tématikou, který dobře využíval Growth-Chamber Guardiany, když je kombinoval s Ajanim a Venerated Loxodonem.
Celkově byl nejúspěšnější deck turnaje White Weenie, které mělo mezi kvalifikovanou čtrnáctkou hned pět zástupců:
4× Wu Weenie
3× BUG Midrange
2× Esper Control
1× Monoblue Tempo
1× GW Midrange
1× White Weenie
1× UR Drakes
1× RUG Drakes
6. MTGO Weekly Challenges (Modern, Legacy, Vintage, Pauper)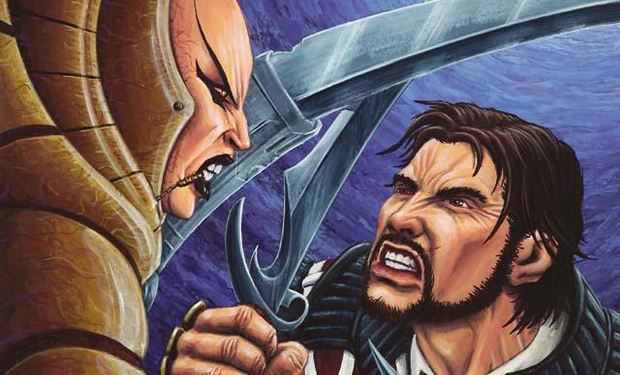 V modernové challengi jsme byli ve finále svědky souboje dvou Primeval Titan decků, které ovšem nebyly v úplně tradičních verzích.
Zvítězil "PuntThenWhine" s Amulet Titanem, ve kterém hrál alternativní winkondici v podobě Hive Mindu (spolu s playsetem Lotus Bloomů). Ve finále zvítězil nad RG Scapeshiftem, ve kterém byl pro změnu Madcap Experiment a nezvykle i playset Mwonvuli Acid-Mossů.
V top16 jsme vůbec viděli spoustu neobvyklých decků - UR Phoenixe s větším počtem Pteramanderů a Chart a Course, White Eldrazi s Chalice of the Void, Grixis Control s Cruel Ultimatem, UB Control s nenápadnou bílou splashí pro karty v sidu, nebo Living End s Archfiendy of Ifnir.
Spoustu zajímavostí se odehrálo i na legacy. Z výhry se tu radoval "DNSolver" s hodně kombo-oriented verzí BG Depthsů, která hrála de facto pouze discard, hledání zemí a karty na ochránění komba.
Velmi neobvyklý byl deck poraženého finalisty. Šlo o mix Delvera a UW-Stonebladu, který ovšem navíc hrál ještě Nivmagus Elementaly a Flustestormy.
Další místa patřila Death and Taxes, Stormu, netradiční komboverzi Elfů, kde nebyl Natural Order ani Glimpse of Nature (Hrála karty jako Priest of Titania, Sylvan Messenger a coby kombo-engine Beast Whisperery. Winkondicí tu byl Ezuri a Mirror Entity), Grixis Delver, Mentor Miracly a tradiční verze BG Depthsů (s Dark Confidanty, Abrupt Decayi a Sylvan Library).
Mimo top8 mne zaujal neobvyklý BUG Control s Noble Hierarchy a Esper NIc Fit s Arena Rectory, který byl moc pěkně postavený - rozumná manová křivka a co nejvíce dobrých karet v palysetech.
O třetí vítězství vřadě se na vintage marně poukošely Ravager Shopy. Navzdory tomu, že měly v top16 nejvíce zástupců (pět), tak se ve finále musely sklonit před Paradoxical Outcomem Michaela Bondeho (alias lampalot). Šlo o verzi s Night's Whispery a Tendrils of Agony. V decku nebyla žádná Lavinia, jako techovka na mirror byl v sidu Kambal (a v mainu jedna Mystic Remora).
Výsledky tenotkráte nebyly příliš rozmanité - v top16 byl jediný neobvyklý deck, což byli 5C Humani na třetím místě. Zajímavé bylo, že narozdíl od modernu tu byl větší důraz kladen na hate kusy a karetní výhodu z Dark Confidanta a až v sidu byl Thalia's Lieutenant a Mayor of Avabruck.
V top16 dále byly dva další Paradoxical Outcomy, dva Blue Dredge, UWR Control (ve kterém nechyběla Lavinia) a hned čtyřikrát RUG Pyromancer, jehož nejlepším výsledkem ovšem bylo až jedenácté místo.