Rubriky
Flash News #5/2017
1. GP Pittsburgh (Standard)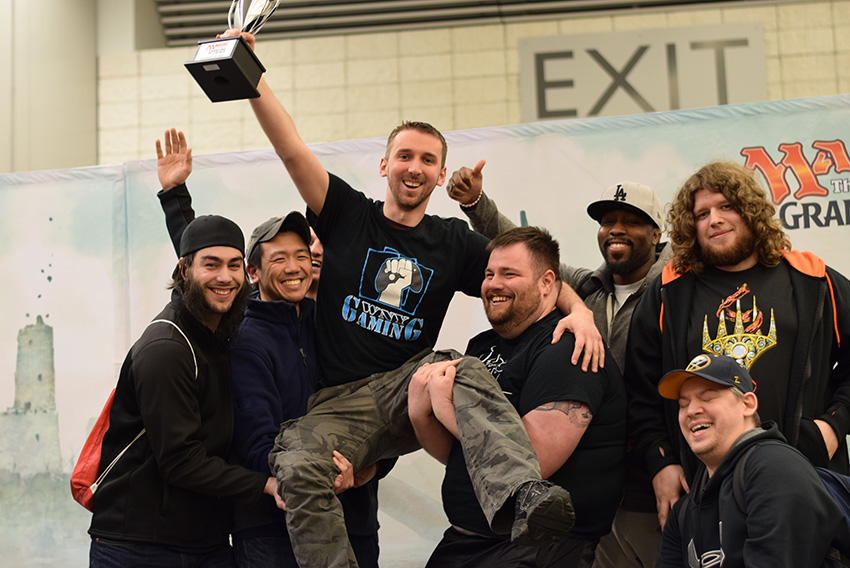 Prvního dvojkového GP po PT se zúčastnilo 1 333 hráčů. GP, která následují po PT, jsou většinou ve znamení změny metagame, ať už je to proto, že se na PT objevil nějaký nečekaný a dobrý deck, nebo proto, že se všichni připravili na deck, který na PT dominoval.
Tentokráte se ale nic takového nestalo. GP bylo ve znamení pokračujícího souboje Vehiclů proti BG deckům. Jediné, co se změnilo, bylo zařazení více karet, které jsou dobré v souboíchi těchto decků. Mohli jsme tak vidět maindeck Gifted Aetherborny, Gonti a také více Aethersphere Harvesterů.
Jediný další deck, který těmto dvěma dokázal konkurovat, bylo Saheeli kombo, a hlavně jeho různé čtyřbarevné varianty (s Aetherworky, Deliruim subtématikou, nebo více planeswalker-heavy verze).
Asi vás vůbec nepřekvapí, že v top8 bylo 5× BG, dvoje Vehicly a jedno Jeskai Saheeli kombo. Tím to ale nekončí, dominance těchto decků byla tak obrovská, že zabraly do posledního místa celou top32! Za dobu, co dělám Flash News si nepamatuji, že by standard byl v tak špatném stavu, jako je právě teď...
Konkrétní složení top32 bylo následující:
8× Mardu Vehicles
7× GB Delirium
5× GB Goodstuff
4× GB Energy
3× 4C Saheeli Marvel
2× Jeskai Saheeli
4C Saheeli Walkers
GBu Delirium
4C Vehicles
Pozitivní je, že GB je alespoň lehce kustomizovatelný deck, takže jsme mohli vidě hned několik různých verzí, ať už s delirium tématikou, agresivní energy verze s Greenbelt Rampagerem a Blossoming Deffense, verze zaměřené na mirror se Servantem of the Conduit a Gontim, nebo goodstuff verze se Sylvan Advocatem a Oath of Nissa.
A právě poslední zmiňovaná verze na GP triumfovala v rukách Ryana Harea, když ve finále porazil Vehicly Bronsona Gervasiho.
Zajímavé bylo, že v top8 prakticky nebyli žádní známí hráči (ačkoli Hunter Cochran už v minulosti jedno GP vyhrál) a že Anand Khare uhrál top8 na dvou GP v řadě, přičemž předchozí GP bylo limited.
2. Standard Monthly MOCS
Ještě chvíli zůstaneme u standardu, jelikož tento měsíc připadlo MOCS právě na standard. Účastnilo se ho 181 hráčů, kteří v osmi kolech potřebovali dosáhnout alespoň na šest výher, což je hranice potřebná pro kvalifikaci do finálového MOCS turnaje. To se nakonec podařilo šestadvaceti hráčům, z nichž hned patnáct hrálo nějakou variantu GB (sedm hráčů měli rekord 7:1 a z nich hrálo šest GB).
Dalších pět hráčů hrálo Vehicly a jediný další deck, který měl mezi kvalifikovanými alespoň dva zástupce, byl UR Conrtol s Dynavolt Towerem. Zbylá místa obsadilo RG Aggro s Pummelerem, Sultai Control s Delirium tématikou, BR Zombies a Saheeli Aetherworks:
9× GB Energy
6× GB Delirium
3× Mardu Vehicles
2× 4C Vehicles
2× UR Tower
RG Pummeler
Sultai Delirium Control
4C Saheeli Aetherworks
BR Zombies
Nejzajímavější deck z tohoto výčtu byl pravděpodobně Saheeli Marvel, ve kterém byl docela nezvykle playset Heart of Kiran a také maindeck Confiscation Coupy. Zajímavá je také sideboard plán s Gideony a Soriny, které deck v podstatě neumí zacastit, pokud ve hře není Oath of Nissa. Možná si ale vzpomenete na to, jak Raphael Lévy hrál v GW Chandry, které mohl zahrát pouze přes Oath, kdyžto tady byla alepoň teoretická šance za pomoci Servantů a Aether Hubů...
3. MTGO Legacy Challenge
Únorová legacy challenge měla překvapivý "breakout" deck, kterým byli Komboelfové. Ti obsadili hned tři místa v top8 a ve finále hráli mirror, ve kterém zvítězil známý milovník tohoto decku, Julian Knab (Julian23 na MTGO).
Julian byl v minulosti znám odporem k Natural Orderu, ale nyní se vrátil k osvědčené verzi s Ordery a dvěma Behemothy. Za zmínku stojí dva one-ofy v mainu, kterými jsou Scavenging Ooze a Leovold. To jsou cíle pro Zenith, které pomáhají v boji proti jiným kombodeckům.
Komba jsou pro elfy všeobecně velmi téžké matchupy, takže vás asi nepřekvapí hned deset sidovek, které jsou tu právě proti kombům. A nechybí tu ani Nissa, což je skvělá záložní winkondice, kterou využijete například proti Miraclům.
A když je řeč o Miraclech, tak vězte, že elfové sice ovládli top8, ale nejhranější deck v top16 byly právě Miracly (v top8 byla zajímavá verze bez Mentorů a s playetem Predictů). Kromě těchto dvou decků byla top16 velmi rozmanitá:
3× Elves
4× Miracles
Monored Prison
BUG Delver
ANT
4C Delver
OmniTell
RUG Tempo
Aluren
BUG Edric
Eldrazi
Vidíte, že je zde i několik rogue decků, počínaje Monored Prisonem, což je v poslední době docela populární deck. Tahle verze se inspirovala z GP Chiba, kde byl k vidění takřka identický decklist, na kterém mne nejvíce zaujal playset Fiery Confluencí.
Opravdu zajímavý deck je RUG Tempo bez Delverů a Goyfů, což je metagame call proti Miraclům a Fatal Pushi. Z bytostí tu je dvojice Nimble Mongoose a True-Name Nemesis, na které jsou spot removaly krátké, a doplňuje je duo Hooting Mandrillů, které jsou imunní vůči Boltu a Pushi.
Nejoriginálnější deck v top16 byl určitě bytůstkový BUG Midrange s Aether Vialy a Edricem, se kterým skončil patnáctý "kaluma". Pouze příliš nerozumím tomu, proč v decku není Green Sun's Zenith a hlavně Brainstorm, když je tam tolik one-ofů...
Pokud máte nedostatek legacy contentu, tak z turnaje zveřejnili videa vítězný Julian Knab a také Alexander Jonathan (pilot RUG Tempa).
4. Paupergeddon Milán (Pauper)
Nemyslel jsem si, že ve Flash News někdy budu psát o něčem podobném, nicméně v Miláně se uskutečnil Pauper turnaj, kterého se zúčastnilo neuvěřitelných 213 hráčů.
Pokud nevíte, co je to pauper, takže vězte, že se jedná o variantu allcommonu, kde se mohou hrát karty, které vyšly na MTGO jako common.
Na formátu je i několik zakázaných karet, mezi kterými vyniká Cloudpost, Treasure Cruise a takřka všechny Storm karty. A ačkoli je zakázaný Cloudpost, tak na formátu je Tron, jehož UR verze tu patří mezi nejlepší decky.
Další populární decky jsou Affinita, Monoblack, Monogreen Aggro, nebo UB "Blink" Control.
Z dostupných zdrojů není jasné, jestli se turnaj dohrál až do konce, nebo jestli top8 splitovala, ale každopádně v ní byly hned čtyři Trony, Affinita, Monoblack a UB Control.
Tři Trony hrály package s Mystical Teachings a Pulse of Murasa a jeden hrál Rhystic Circle. Affinita nejvíce profitovala z Atoga, ke kterému tu byl Fling a Temur Battle Rage, Monoblack pro změnu hrál bytosti s ETB triggery v kombinaci s Unearthem a UB Control také spoléhal na ETB riggery, ale v kombinaci s Ghostly Flickerem. V decku je také "nekonečná" smyčka Archeomancer + Reaping the Graves.
Z turnaje byly zveřejněny i decklisty z top16, kde byl ještě navíc RG Madness, Naya Aury a UWR Tokeni se zajímavým kombem v podobě Keep Watch + Rites of Initiation.
Na všechny decky se můžete podívat zde.
5. Bonus (Modern)
Na závěr tu mám trojici zajímavých modernových decků. První je Saheeli Kombo, se kterým vyhrál turnaj o 36 hráčích Yuuki Takano. Ano, opravdu se jedná o Saheeli na modernu. Deck je v barvách Jeskaie a v podstatě je podobný Nahiri verzi decku. Máme tu akorát o něco více bytostí, které jsou fajn value cíle pro Felidara.
Ta pravá třešnička na dortu je ale transformační sideboard s Gifty. V některých matchupech je autowin Iona a Elesh, ale osobně se mi nejvíce líbí schopnost hrát grindy hry s Titánem a Keranosem. Transformační sideboard plán byl vždy silnou stránkou i u Splinter Twinu.
Druhý deck je UB Tezzerator, jenž dovedl k pátému místu Takumi Yoshiiho na turnaji o 37 hráčích (se skóre 4:1:1). Deck plně využívá nových karet, když hraje playset Fatal Pushů a hlavně Whir of Invention, což je podle mě karta, která by z Tezzereta mohla na modernu udělat hratelnou kartu.
Kromě toho, že s ním můžete daleko snáze sestavit Thopter Sword kombo je samozžejmě super, že může lehce najít one-ofy jako Spellskite, Pithing Needle a také sidovky typu Grafdigger's Cage a Witchbane Orb.
Poslední deck je Zoo, které využívá karty s mechanikou revolt, konkrétně Narnam Regedage a Hidden Herbalist (a také Fatal Push). Díky playsetům Burning-Tree Emissary a Hidden Herbalist může mít deck velmi explozivní druhé kolo, které v kombianci s Bushwhackerem může znamenat i hodně přes 10 damage.
Zajímavá mi přijde i černá splash, kterou kromě Pushů využijete i na Thoughtseizy v sidu. Jenom mi přijde divný playset Spirit of the Labyrinth v sidu, Thalia mi přijde mnohem lepší.
A to je z dnešního vydání vše. Přiště se můžete těšit na modernový speciál. Do té doby se mějte fajn.
Kumano
Komentáře
Přispívat mohou pouze přihlášení uživatelé. Pokud chcete vložit komentář, přihlaste se ZDE.