Modern
Kumano bloguje: Modern Brewing
Banování na Modernu je za námi, takže se můžeme podívat na zajímavé balíčky, které by se mohli objevit na tomto formátu.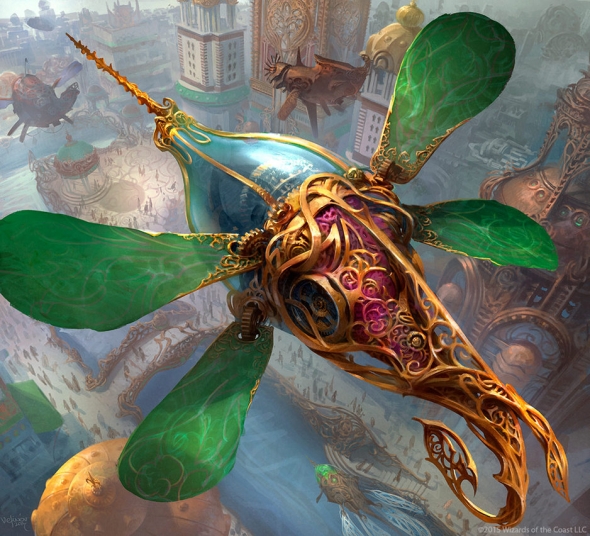 1. UB Tezzerator
Na začátek jsem vybral deck, který využívá obou nových karet. Jedná se o tap-out control, s primární winkondicí v podobě planeswalker dua Tezzeret + Liliana. Tezzeret zároveň pomáhá hledat Thopter Foundry kombo. Dva kusy od každého by měly být akorát, vzhledem k tomu, že to není primární winkondice.
Je také docela možné, že by v decku měly být Nexusy (Inkmoth s Tezzeretem umí zabít na dva útoky) a v závislosti na metagame jde také pozměnit složení artefaktů v mainu. Umím si klidně představit verzi s Chalicemi a Ensnaring Bridgem v mainu. A další pěkný hate kus je například Torpor Orb...
2. Gifts Tron
Další možnost, jak využít Thopter Foundry, je samozřejmě s Gifts Ungiven, které se nejčastěji hrají v UW Tronu. Na rozdíl od RG verze, která se s Karnem a Uginem tváříponěkud přísně, mi takhle verze vždycky přišla velmi zábavná.
V decku je tolik pěkných interakcí - Gifty s Unburial Rites, Mindslaver a Academy Ruins, Thopter Foundry, Treasure Mage package, Snapcaster Mage... Komu by se nelíbilo si s tak všetranným deckem zahrát.
3. Blue Moon
Tady už končí všechna sranda, Blue Moon je tradiční zástupce draw-and-go controlů a když bych měl vybrat jeden deck, který podle mě Vize nejvíce posílí, tak by to byl právě tenhle.
Deck se vlastně od banu Splinter Twinu vůbec nezměnil. Pouze jsem přidal pár manlandů (sice jdou proti myšlence Blood Moonu, ale často se mohou hodit) a více zabíjení type Roast, jelikož si myslím, že Eldrazi zůstanou nadále součástí metagame a kvůli Cavernám bude potřeba hrát nějaký "těžkotonážní" removal.
4. UW Command Control
Když už je řeč o draw-and-go kontrolech, tak nesmíme opomenout ani UWčko, což je od nepaměti nejklasičtější kontrolní kombinace. Tahle konkrétní verze se speciálně soustředí na value získanou pomocí bytostí jako Snapcaster Mage a Wall of Omens. K tomu tu speciálně máme Ojutai's Commandy a Restoration Angely.
Jako extra údernou dvojici do lategame jsem vybral Batterskull a Elspeth. Další možnost je Dragonlord Ojutai, ale taky je docela možné, že s extra draw v podobě Ancestral Vizí stačí oněch pár bytostí s flashem a Kolonády...
5. Grixis Dwellers
Grixis nabral na popularitě s vydáním Jace (Vryn's Prodigy), ale na Eldrazi byly hrátky s Jacem a Kolaghan's Commandem krátké. Po banu se ale všechno mění - decku přibyla lišácká interakce mezi Ancestral Vizemi a Dark-Dwellery, kteří jsou navíc skvělí s Commandem.
Díky přítomnosti Eldrazi bych ale doporučoval vynechat karty jako Remand, Spell Snare a Though Scour a hrál bych raději více úderných kusů jako Terminate i Thoughtseize.
6. RG Tron
Zajímavé je se podívat i na to, jaké možnosti se otevírají deckům, které ban více či méně zasáhl. Dominanci Eldrazi trochu nezaslouženě odnesl i Tron, který přišel o klaiskcou late-game winkondici v podobě Eye of Ugin a Emrakula.
Tím se nám v decku otevírá místo pro karty jako Ugin, Sundering Titan, nebo dokonce World Breaker. Mně osobně docela zaujala možnost hrát Sanctum of Ugin, což oceníte v momentech, když už máte tron a další hledání zemí už by jinak nemělo žádné relevantní cíle.
Díky Sanctu bych také hrál pár kusů jako All is Dust a World Breaker a nebál bych se zařadit i pár Ulamogů. S vyšším počtem Eldrazi zároveň nabírá na síle i Kozilek's Return, u kterého mám navíc rád, že jde najít pomocí Ancient Stirrings.
7. Eldrazi Processors
Nový směr si musejí najít i Eldrazi. A jak už jsem říkal včera, přímo se nabízí interagovat se soupeřovými suspend kartami, což nejlépe umožňují Blight Herder a Wasteland Strangler. Mezi hlavní enablery navíc patří Relic of Progenitus, který se bude velmi hodit proti Thopter Foundry. A celkem zajímavý je s processory i Ashiok.
8. GW Company
Pokud metagame zaplaví decky s Ancestral Vizemi a Thopter Foundry, lze se na to adaptovat i tak, že budeme hrát co nejvíce hate karet. GW Company byla ve velmi dobré pozici před banem Splinter Twinu, ale když modré kántrspelly vytlačili Eldrazi, tak byla takřka nehratelná.
S novými změnami se to ale otáčí o 180°. Karty jako Thalia a Voice of Resurgence jsou proti modrým kontrolům naprosto parádní. Stejně tak bude skvělá i Caverna, Spellskite a Scavenging Ooze. A pokud by se Vize hrály opradvu ve velkém, máme tu další sidovky jako Spirit of the Labirynth, nebo Eidolon of Rhetoric (vynikající na Snapcastera).
A co si o nových změnách myslíte vy? Ve jakých decích se nejlépe uchytí nové karty a jak uspějí Eldrazi a Tron bez Eye of Ugin?
Kumano
Komentáře
Přispívat mohou pouze přihlášení uživatelé. Pokud chcete vložit komentář, přihlaste se ZDE.