Modern
Modern před Pro Tour Rivals of Ixalan
Vzhledem k blížícímu se Pro Touru Rivals of Ixalan, který je ve formátu Modern, a následným modernovým Grand Prix (včetně jednoho v poměrně blízkém Lyonu) jsme pro vás připravili přehled aktuální Modernové metagame.
Tento článek nebude příliš přínosný pro ty, co Modern aktivně hrají, má sloužit pro lepší orientaci lidem kteří toho o současném Modernu (či Modernu obecně) příliš nevědí a chtějí si zahrát Grand Prix či sledovat coverage z Pro Touru. Nebudeme tedy zabíhat do žádných velkých detailů.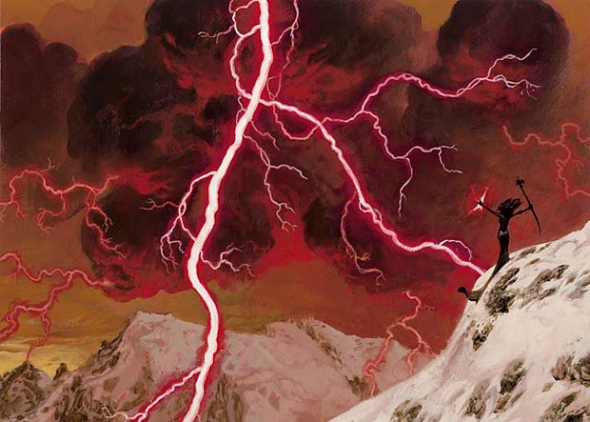 Pohled na Modern metagme před Pro Tour Rivals of Ixalan
Nejprve si zmíníme, co to vlastně Modern je. Pokud již s formátem máte zkušenost, následující sekci můžete s klidem přeskočit.
Co je to Modern?
Modern je spolu s Legacy a Vintage jedním z nerotujících formátů. To znamená, že legální edice na formátu neubývají, pouze přibývají nové. Stejně jako u obou Eternal formátů (označení pro Vintage a Legacy, tedy formátů kde jsou legální všechny sady s nestříbrnými okraji) je jeho důležitou součástí banlist karet, které jsou příliš silné a tudíž je zakázáno s nimi hrát. Na Modernu jsou legální edice, které mají "moderní" okraj karty, od čehož je odvozen i název formátu. Jedná se o sady od Eighth Edition (osmé edice) dál. Jde tedy o "něco mezi" Standardem a Legacy. Zahrajete si starší karty než na dvojce a nemusíte hlídat, kdy co rotuje, ale zároveň si nezahrajete tak silné karty jako Legacy. Kompromisem je také cena decků, které jsou většinou dražší než ty na Standard (za to vám ale déle vydrží, pokud vám zrovna něco nezabanují) a levnější než na Legacy, kde jsou drahé především karty z Reserved Listu.
Seznam edic legálních na modernu a zabanovaných karet můžete najít například na stránkách WotC.
I když Modern často sklízel kritiku kvůli neinteraktivním hrám a drsným banům, poslední dobou je na tom podle mě i jiných dobře a pyšní se rozmanitou metagame. Dále si shrneme ty aktuálně nejhranější a nejúspěšnější balíčky. Existuje samozřejmě spousta jiných zajímavých decků, nemůžeme však zmínit vše.
Tron
Začneme asi největším strašákem, kterým je Tron. Jedná se o balík postavený kolem tří Urza zemí, které dokáží společně vygenerovat velké množství bezbarvé many. Je to tedy rampa.
Karty jako Expedition Map či Ancient Stirrings vám pomohou tuto svatou trojici poskládat, poté již přichází čas velkých spellů. Těmi jsou tradičně Wurmcoil Engine, Karn Liberated, Ugin, the Spirit Dragon či zástupci Eldrazi: Ulamog, the Ceaseless Hunger či World Breaker, kteří se kombí se Sanctum of Ugin.
Existuje také čistě Eldrazi verze tohoto decku, kde máte přístup také k Eldrazi Templu a hrajete karty jako Thought-Knot Seer, Reality Smasher, Endbringer či All is Dust. Jako ultimate mana sink v tomto decku slouží Walking Ballista.
Tenhle deck byl na Modernu odjakživa, ale až v poslední době se stal dominantním. Posilami byli jak Eldrazi tak třeba výše zmiňovaná Walking Ballista (i když na chvíli ho také oslabil ban Eye of Ugin, který byl mířený na Eldrazi).
Pro další inspiraci si můžete přečíst report z GP Lyon od Lukáše Paugsche, na který si vzal Mono Green verzi Tronu.
Death's Shadow
Dalším silným deckem se spoustou variant je Death's Shadow, který však patří mezi agresivní balíčky, kterým však nechybí ani nějaká ta card advantage. Využívá karet, které vám ubírají životy, jako jsou fetchky, shocklandy, Thoughtseize a Street Wraith k tomu aby vyprodukovali velkého jednomanového pašíka.
Jak jsem zmínila výše, existuje více variant. Momentálně nejpopulárnější je Grixis, který hraje Gurmag Anglery spolu s levnými prolizy a Stubborn Denialem a vytváří tak velice nepříjemné tempo, zároveň Snapcaster Mage v kombinaci s Kolaghan's Commandem tvoří celkem silnou lategame.
O tomto decku relativně nedávno napsal report Josef Živec. Pokud vás zajímá, jak balíček šlape v akci, určitě stojí za přečtení.
Dále existují varianty v Jund/Abzan/4c barvách využívající karty Traverse the Ulvenwald společně s Tarmogoyfy, Grim Flayery, Temur Battle Ragem a nějakou tou Lilianou. Bílá se někdy hraje kvůli Lingering Souls a Ranger of Eos.
BGx Midrange
Midrange decky se zelenočerným základem máme na modernu také odjakživa. Začalo to Jundem, který byl dlouhou dobu dominantní, než mu byli zabanování Bloodbraid Elf a Deathrite Shaman. Jund pak trochu odpadl a objevil se Abzan, který měl přístup k Pathům či Lingering Souls. Nyní jsou Rock decky opět trochu na ústupu, ale například MKM ve Frankfurtu na začátku rocku vyhrála čistě GB verze tohoto decku.
Tyto decky tradičně porážely modré controly, ovšem s unbanem Ancestral Recallu se tento matchup dost zhoršil a navíc s nástupem Tronů už pro něj zdánlivě není místo. I přesto se čas od času někde objeví.
Základem je discard, zabíjení, efektivní příšery a nějaká ta Liliana. Prostě samé dobré, férové karty.
Nedávno jsme tu měli rozbor poněkud netradiční verze Abzanu Rostislava Shejbala, pokud tedy zvažujete, že byste Abzan Midrange přecijen chtěli hrát, můžete ji vyzkoušet.
Nakonec musíme zmínit i Jund, který byl dřív na výsluní díky Bloodbraid Elfovi, Lightning Boltu a Terminačce, později jej posílil třeba Kolaghan's Command, který byl obzvlášť efektivní proti Affinitě. Můžete se podívat na experimenty s Jundem na současném modernu Reida Duka, který zkouší neobvyklé karty jako je Goblin Rabblemaster či Hazoret.
Affinita
Affinita nebo v dnešní době spíše už Roboti je balík, který hráče těší (či častěji spíš straší) už od počátku modernu a ještě nějakou dobu předtím. První ochutnávku jsme dostali s Mirrodin blokem (Arcbound Ravager, Glimmervoid, Cranial Plating a další), kde vyšla spousta artefaktů a karty s mechanikou "Affinity for artifacts". Tuhle mechaniku už ale v decku moc nenajdete, maximálně u nějakého toho Thoughtcastu. Balík byl velice silný jak na svém Standard formátu, tak na Extended. Navíc později přibyl Scars of Mirrodin blok, který přinesl další silné artefakty (Mox Opal, Inkmoth Nexus, Etched Champion). Ban si na Modernu vysloužily artefaktové země (Seat of Synod atd.), se kterými by byl balík již moc přesílený.
Síla Affinity byla vždy proměnlivá, existuje na ní totiž spousta hate karet od "2 for 1" Ancient Grudge přes karty jako je Shatterstorm, Stony Silence a Kataki, War's Wage, které board plný artefaktů naprosto zdecimují.
Tento balíček je známý především svou rychlostí. Neúprosně útočí jak na life total, tak i pomocí poison counterů (díky Inkmoth Nexusu). Pyšní se vylepšeným Lightning Boltem v podobě Galvanic Blastu. Navíc někdy díky nulovým artefaktovým bytostem a Springleaf Drumu a/nebo Mox Opalu dokáže vysypat celou ruku na stůl už v prvním kole. Umí vygenerovat libovolnou manu, což dává prostor všelijakým sajdovkám, ale je nutné si dávat pozor, abyste měli dostatek artefaktů pro karty jako je Glimmervoid.
I když se Affinita může zdát jako "tupý tlačák", není tomu úplně tak. Tlačák to sice je, ale je taky velice složitá na hraní zejména kvůli složitým kombatům plných zásadních rozhodnutí okolo Arcbound Ravagera a taky kvůli náročnosti mulliganování.
Burn
Pečení, zlatý standard každého formátu. Na Modernu se sice nejedná o Mono Red, jak tomu je zvykem třeba na dvojce nebo na legacy, zejména díky lehkému splashování Boros Charmu a Lightning Helixu, zelená je v balíčku kvůli Destructive Revelry v sideboardu.
Jinak se od typického pečení ničím neliší. Hrajete pár levných rychlých bytostí a nepříjemného Eidolona, kterého moc karet na Modernu neobejde. Pak už jen soupeře dorazíte burn spelly. Tenhle deck málokdy bývá mezi těmi úplně nejlepšími na formátu, ale vždy je dobrý a patří mezi ty cenově dostupnější a také není příliš těžký na hraní, i když složitá rozhodnutí vás čekají s jakýmkoliv balíkem.
5c Humans
Asi největší novinka na formátu. Tenhle balík je pořádně divoký a umožní vám například ve druhém kole díky Noble Hierarchovi zaútočit 4/4 Mantis Riderem. Zahrajete si karty z nejnovějšího bloku - Unclaimed Territory a Kitesail Freebooter. Vešel se i Reflector Mage, který si přednedávnem vysloužil ban na Standardu. Zahrajete si všechny barvy. Co víc si přát? I když je pořád nejasné, jak dobří humani opravdu jsou, rozhodně je to zajímavý deck s velkým potenciálem. Přednedávnem o něm napsal rozbor Josef Živec, takže pokud vás zaujal, rozhodně si jej přečtěte.
Valakut
Do této kategorie spadá jakýkoliv deck, který používá Valakut, the Molten Pinnacle jako win kondici. To byl dříve klasický Scapeshift, který se hrál i na Extended, obvykle v RUG barvách s Cryptic Commandy, Remandy a Snapcastery. Základem byly samozřejmě ramp karty jako Explore, Search for Tomorrow či Sakura-Tribe Elder. Díky Scapeshiftu pak můžete najít na sedmi zemích Valakut + 6 hor a dát soupeři za 18, nebo na osmi zemích najít 2 Valakuty a 6 hor a dát soupeři za 36. Je užitečné, že Stomping Ground a Cinder Glade jsou hory a nemusíte tak hrát samé basicy.
Později se objevila pětibarevná verze decku s Bring to Light, který uměl najít jak Scapeshift, tak různé "one-of" karty jako Damnation. Ta se nakonec moc neuchytila. Jako bonus zmíním kuriózní 150-ti karetní Bring to Light, ve kterém je úplně všechno a zabíjí často také Valakutem.
V současné době se hraje v podstatě jen jedna verze: Titan Shift, který hraje Primeval Titana a nemusí tak vždy zabíjet jen na samotný Scapeshift s dostatkem zemí. Stačí Titanem najít nějaké ty Valakuty a pak každý ramp spell a každá hora či každý útok titánem ubírá soupeři cenné životy. Na položení země se navíc nedá reagovat, takže i když oponent stabilizuje, časem si prostě horu líznete a je po něm. Report z turnaje s tímto deckem nám nedávno poslal Tom Pečinka.
UWx control
Je zde i něco pro milovníky klasického modrého controlu. Ten přidává bílou hlavně kvůli Pathům, Kolonádám a Supreme Verdictům. Více populární než čisté UW je Jeskai, který je poslední dobou hrán ve verzi s Geisty a Spell Quellery (tím pádem se zbavil Verdictů), takže to není už 100% control. Základem decku jsou Cryptic Command a Snapcaster Mage, takže si modrý mág stále přijde na své.
Objevila se také verze Jeskaie s "překvapením" v podobě Through the Breache a Emrakul, kterou pro vás rozebral Josef Živec.
Storm
Storm po banu Gitaxian Proby oživil Baral, Chief of Compliance. V balíčku se prosadily Gifty, které mu přidaly další level složitosti, a určitě se nejedná o balíček pro začátečníka. Je to asi "nejčistší" kombo, které na formátu najdete, protože 1/3 Baral asi nikoho neujezdí a nemáte ani žádné zabíjení v main decku (kromě toho že můžete soupeři sklidit stůl nelethálním Grapeshotem).
Storm vyměnil po banu Proby Pyromancers Ascension za Barala a Gifty. Spoléhá na slevy z bytostí a Gifty najde nejčastěji něco jako dva Rituály/Manamorphose, Past in Flames a Grapeshot, případně další rituál podle toho co má na ruce.
Collected Company decky
Company zamíchala nejen dvojkou, ale i modernem, kde se hraje i třeba v Knightfallu či v Elfech, nejvíc se ale prosadila v polokombo Abzanech. Ty umí hrát midrange hru s value kartami jako je Eternal Witness nebo právě CC, ale pomocí ní a Chord of Calling také hledají combo, které umí přidat "nekonečně" životů a díky Vizierovi of Remedies nově také vytvořil "nekonečně" velkou bytost a vygenerovat "nekonečno many". Nekonečno je v uvozovkách, protože opravdové nekonečno v Magicu nastat nemůže, musíte vybrat nějaké konkrétní číslo, ale může být jakkoliv velké.
Matně si vybavuji kuriózní situaci, kdy si jeden hráč přidal milión životů, a přesto prohrál na to, že mu je všechny soupeř sebral. Jak? Díky emblemu z Liliany, the Last Hope, která generuje Zombie tokeny exponenciální rychlostí (na konci každého kola se počet více než zdvojnásobí a posloupnost 2, 6, 14, 30, 62, 126... roste opravdu rychle, někdy okolo 20. kola jste již v řádu miliónů). Jak nám spočítal Frank Karsten, abyste měli opravdovou jistotu, číslo by se mělo pohybovat v řádech stovek triliónů.
I když máte "nekonečno" životů, můžete stále samozřejmě prohrát na dolízání nebo třeba na Infect. Tenhle deck má ale i spoustu způsobů jak opravdu vyhrát a ne jen neprohrát.
Protože toho balík umí opravdu hodně - dokáže poskládat několik různých komb, prohledat celý deck Viscera Seerem nebo Duskwatch Recruiterem a další vychytávky, nebudu jej tu více rozebírat a odkážu vás na rozbor od Josefa Živce, kde najdete všechny potřebné informace.
Lantern Control
Asi nejkontroverznější hráč na Modernu, který naštěstí není tak populární jako jednu dobu býval. Většina lidí jej nesnáší hlavně kvůli tomu, jak nudné a neinteraktivní jsou hry proti němu, ale část hráčů s v podobném typu balíku libuje. O co tedy v téhle hromadě artefaktů jde? Jedná se o takzvaný Prison deck, jeho cílem je zabránit soupeři dělat cokoliv relevantního (hlavně útočit a lízat relevantní spelly) a počkat než doslova umře nudou. Dobře, tak to úplně není, ve skutečnosti soupeři semele všechny karty v knihovně, málokdy na to ale dojde. Obvykle oponent vzdá mnohem dříve, protože prostě už nic nemůže udělat.
Cílem je poskládat lock v podobě Lantern of Insight, co nejvíce artefaktů co umí odstranit vrchní kartu knihovny jednoho nebo obou hráčů a Ensnaring Bridge. Díky Lanterně vidíte, co mají oba hráči na vršku a pak pomocí karet jako je Codex Shredder můžete oponentovi semlít cokoliv dobrého a sobě naopak cokoliv špatného. Ve chvíli, kdy vyresolvujete Bridge a soupeř je pod kontrolou, máte již vyhráno. Nemůže útočit a nikdy si nelízne nic dobrého, takže mu pomalu ale jistě zlikvidujete knihovnu. Nepříjemný může být Ancient Grudge, ale obvykle máte eventuelně Bridgů a Lantern více, takže vás nepotrápí ani ten.
Další
Nedá se zmínit vše, co na tomto obsáhlém a v současnosti velice rozmanitém formátu můžete najít, tak tu pro jistotu zmíním pár balíčků, které se sice do přehledu nevešly, ale existují a jsou více či méně hratelné:
Bant Company (Knightfall)
Hatebears/Death and Taxes
Blood Moon decky
Grixis Delver/Pyromancer
Ad Nauseam
Living End
Merfolk
Komentáře
Přispívat mohou pouze přihlášení uživatelé. Pokud chcete vložit komentář, přihlaste se ZDE.