Novinky
Challenger Decks 2019 - informace o produktu
Challenger Decks 2019 jsou představěné balíčky na Standard určené pro pokročilejší hráče. Vycházejí 12. dubna 2019 a vybírat můžete mezi čtyřmi variantami.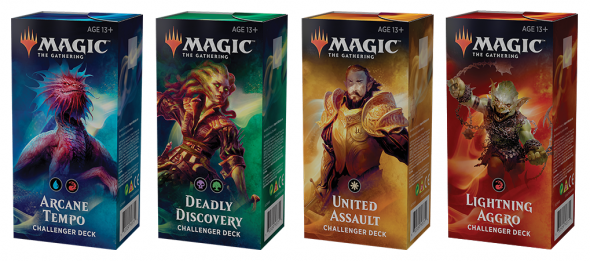 Challenger Decks 2019 - představení produktu
Challenger Decks 2019 jsou již druhou várkou představěných balíčků na Standard včetně sideboardu, které jsou připravené rovnou na turnaj. Tvoří solidní základy těch nejlepších decků v současné metagame a jsou tak vhodné pro hráče, kteří chtějí začít s turnajovým hraním a svůj balík postupně vylepšovat.
Balíčky stejně jako loni obsahují spoustu atraktivních reprintů na Standard jako například 2x History of Benalia, celé playsety Benalish Marshallů, Runaway Steam-Kinů a Goblin Chainwhirlerů, Rekindling Phoenix, Vraska, the Relic Seeker, GB a UR duály, Jadelight Rangeři, Arclight Phoenix, Niv-Mizzet či Experimental Frenzy.
Vycházejí 12. dubna 2019 a jejich cena se nejspíš bude pohybovat mezi 600 a 1000 kč podle toho, který balíček si vyberete: Mono White United Assault, Mono Red Lightning Aggro, Green-Black Deadly Discovery či Blue-Red Arcane Tempo.
Důležité odkazy (budou postupně doplňovány):
Decklisty
Jak se vám líbí letošní výběr balíčků?
Komentáře
Přispívat mohou pouze přihlášení uživatelé. Pokud chcete vložit komentář, přihlaste se ZDE.