Novinky
Flash News #12/2016
1. SCG Open Baltimore (Standard)
Na druhý týden nového standardu se v Baltimoru sešlo 537 hráčů, kteří pokračovali v trendu velké popularity Bant Company, která do druhého dne postoupila v 53 kusech, což bylo přes 40% herního pole. Pro srovnání, další úspěšné decky byly GW Tokeni a BW Control, které ve druhém dnu dohromady obsadily 15 míst...
Přes to všechno se Bant Company neradovalo z celkové výhry, protože v top8 všechny postupně vyřadil Osyp Lebedowicz s GW Tokeny, ve kterých hrál tři Tragic Arrogance v mainu, což bylo do této metagame opravdu super.
Nejzajímavější deck v top8 byl UG Crush Coryho Dissingera, se kterým dokonce skončil první po základní části. Řekl bych, že v decku bylo pár pěkných synergií, například Den Protector + Crush a Traverse the Ulvenwald + Ishkanah/Emrakul, ale jinak to mělo daleko k optimálnímu buildu (v top8 velmi hladce prohrál 2:0 s Company).
Další zajímavý deck v top8 byli Abzan Walkeři s Oath of Liliana. Ačkoli se mi Oath of Liliana velmi líbí, tak si myslím, že lepší je ho hrát v BW verzi, jelikož podobný Abzan má velmi špatnou manabase a bez Oath of Nissa je téměř nemožné zahrát všechno po křivce (zejména WW pro Gideona je velký problém).
Mimo top8 jsme ze zajímavých decků mohli vidět updatovanou verzi BUG Midrange Aliho Aintraziho, klasický Grixis goodstuff, velmi originální Esper Enchantmenty s kombíčkem Starfield of Nyx + Lunar Force, Monowhite Midrange s Eldrazi Displacerem, agresivní verzi Spiritů s playsetem Always Watching a konečně jako bonus Mardu Demonic Pact s Harmless Offeringem a Nahiri.
2. SCG Classic Baltimore (Modern & Legacy)
Modernu se zúčastnilo 217 hráčů a zvítězil v něm Justin O'Keefe s podceňovaným Dredgem. Šlo o velmi zajímavou verzi s Greater Gargadonem a Bridge from Below.
Nezklamal ani Jeff Hoogland, který hrál Kiki-Chord s Eldritch Evolution. Oproti předchozí verzi z decku vyřadil Nahiri s Emrakulem. A díky Evoluci obohatil deck o sedmimanovku v podobě Elesh Norn. V decku byla kromě Evoluce ještě jedna další nová karta v podobě Selfless Spirita, což byl one-of pro Chord.
Nové karty pak byly ještě k vidění v Bant Retreatu Lloyda Kurtha, který hrál Thalie a Spell Quellera a poté tu byl ještě jednou Spell Queller v 5C Creature Aggru, kterým se evidentně nechal z předchozího týdne inspirovat Michael Kinney, což mu nakonec vyneslo 13. místo.
A ještě bych rád zmínil dvě zajímavé sidovky ve starých známých decích. První je Bitterblossom v Affinitě, což hrál Pieter Tubergen (5. místo). A druhá je Nissa, Voice of Zendikar, kterou hrál Todd Stevens v Infectu (15. místo).
Na legacy bylo slušných 118 hráčů a k vidění bylo trochu neobvykle i plno zajímavých decků a techovek.
Z vítězství se radoval Ben Friedman se svou speciální verzí 4C Delvera, kde místo Young Pyromancerů hraje Snapcastery a taky celý playset Gurmag Anglerů!
Poraženým finalistou byl David Courson s Bant Deathbladem, ve kterém hrál playset True-Name Nemesis.
Na pátém místě jsme mohli vidět další deck s novou kartou, což byl Death and Taxes s Thaliemi, která se pomalu stává pevnou součástí decku (popravdě se není čemu divit, jelikož fečky a duály hraje skoro každý a kromě toho Thalia například ještě obehrává Sneak Attack).
Šesté místo obsadil Paul Michel se zajímavou verzí BUG Delvera, ve které hrál místo Goyfů Nimble Mongoosy a kromě toho hrál i dvojici Vendilion Clique. Agresivní plán podpořil ještě playsetem Stiflů.
Sedmé místo patřilo dalšímu Deathbladu, který měl ale tentokráte Esper základ s Thuoghtseize a Lingering Souls. I tady bylo zajímavé, že v decku bylo více True-Name Nemesis (tři kusy). Perlička také je, že Michael Sol neměl Tropikáč, takže hrál Breeding Pool a stejně to stačilo na top8 (pokud nehrajete Daze, tak není zase tak hrozné hrát jeden shockland).
Další zajímavá techovka byly Engineered Explosives v Miraclech Edwina Penay, se kterými skončil na osmém místě. Explozíva jsou skvělé proti Delver deckům, které mají většinu bytostí za jednu manu a navíc je můžete hrát s Academy Ruinou, což ale nebyl tenhle případ, protože Edward hrál zajímavou verzi, ve které bylo více feček a žádné duály, což mu umožnilo hrát více kusů Back to Basics v sidu a jeden manideck Blood Moon.
Poslední specialitka byl UW Stoneblade Daniela Feltnera, se kterým skončil na třináctém místě. Daniel totiž v decku hrál Thought-Knot Seery, které enabloval pomocí playsetu Mishra's Factory a ještě extra Mutavaultu a Academy Ruins. A zajímavý byl i 1:1 split mezi Jacem a Elspeth, Knight-Errant.
3. GP Sydney (Eldritch Moon + Shadows over Innistrad Limited)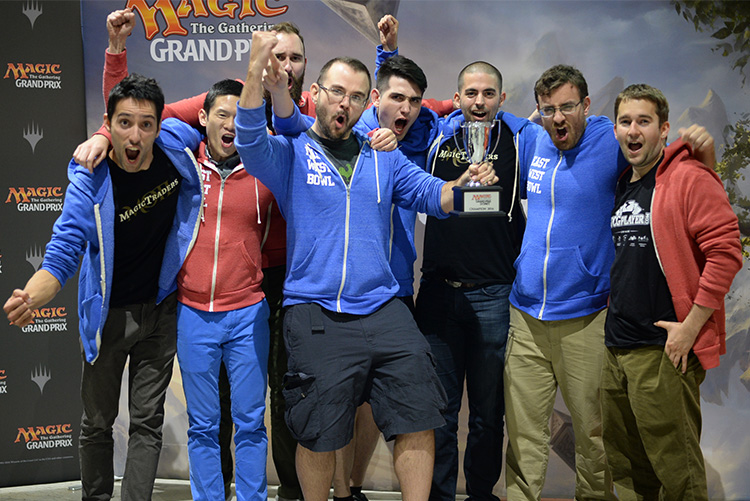 Před PT se konala trojice limited GP a i když v reálném čase Sydney končilo jako poslední, tak díky českému úspěchu a rozhodování o GP Masterovi se ideálně hodí na začátek.
GP se účastnilo 1 076 hráčů, včetně většiny PT favoritů, mezi kterými nechyběla česká šestka Ondřej Stráský, Lukáš Blohon, Martin Jůza, Petr Sochůrek, Dominik Prošek a PT debutant, Jan Ksandr.
Všem šesti se podařilo postoupit do druhého dne, kde se dařilo hlavně trojici Jan Ksandr, Petr Sochůrek a Ondřej Stráský. Petr nakonec skončil na 38. místě, Stráča na pěkném čtrnáctém (což znamenalo výhru 1 000$) a konečně Jan Ksandr si to namířil rovnou do top8, kde nadraftoval all-rare UB deck s Emrakulkou, Dark Salvation, Nephalia Moondrakes a Voldaren Pariah.
Tím to ale neskončilo, Honza totiž otevřel ještě Tamiyo, kterou se nakonec rozhodl splashovat přes dva Terrariony.
Ve čtvrtfinále porazil místního pro hráče, Bena Secka, potom si dokonce vyšlápnul na Bena Starka, ale ve finále nakonec nestačil na Scotta Lippa, který měl velmi svižné GW Aggro. I tak je to ale fantastický úspěch, hlavně když si uvědomíme, že to byla první honzova GP top8.
Na GP se rozhodovalo i o titulu GP hráče roku, který měl na dosah BBD, jenže do top8 se dokázal probojovat Seth Manfield, který ho o tenhle titul v případě výhry mohl připravit. Naštěstí pro BBDho Setha v rozhodující hře v semifinále potkalo manascrew a Brian se tak kvalifikoval na MS jednotlivců.
4. GP Stockholm & GP Montreal (Eldritch Moon + Shadows over Innistrad Limited)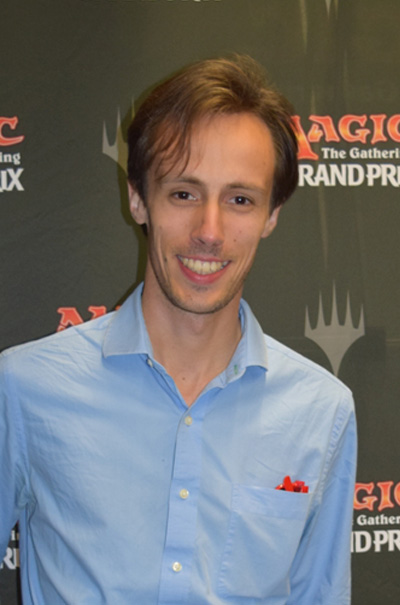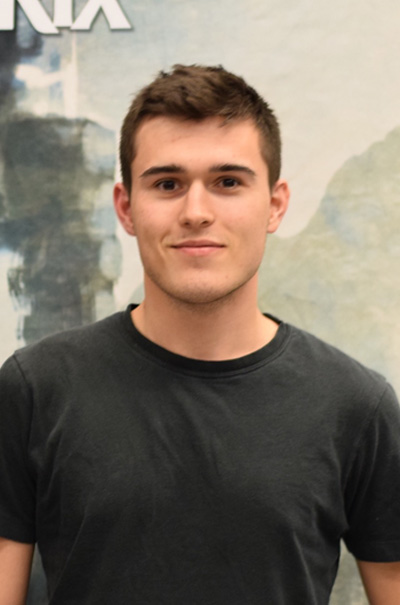 Další dvě GP už nebyly z pohledu českého diváka příliš zajímavé. Ve Stockholmu bylo 1 244 hráčů, a jelikož to tam od nás není zase tak daleko, tak mezi nimi bylo i osm našich hráčů.
Do peněz se z nich dokázal dostat jenom Tom Ristovský, který skončil na 45. místě. A jeden pro point získala ještě Klára Čelikovská za 118. místo.
Celkovým vítězem se stal holanďan Elmer van Eeghen, který využil toho, že v top8 nebyla zase tak velká konkurence (hned pro pět hráčů z top8 to byla první "topka" na GP).
Montreal se s 1 348 hráči stal největším z trojice GP a zároveň to bylo jediné GP bez české účasti.
Do top8 se dostalo sedm místních hráčů, mezi kterými bylo jediné známější jméno, což byl Robert Lombardi, který letos už jedno kanadské GP vyhrál - standard v Torontu s Esper Draky.
Druhé vítězství tady ale nepřidal, domácím hráčům totiž výhru vyfounkul jediný ameřičan v top8, Hunter Cochran.
5. Big Magic Open Vol.7 (Standard, Modern & Legacy)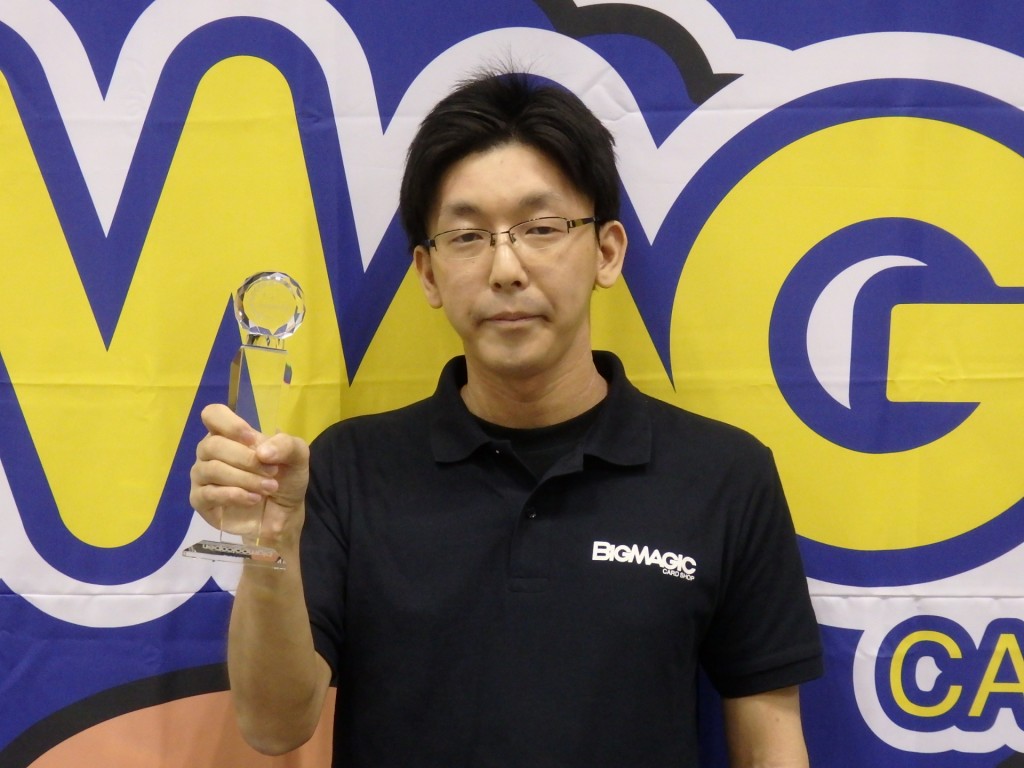 Big Magic Open je série pořádaná japonským obchodem Hareruya. Osobně bych jí přirovnal k evropskému Bazaar of Moxen, nebo MKM Series.
Dvojky se tu účastnilo 400 hráčů, a ačkoli i tady zvítězilo Bant Company, tak se v top32 objevila celá řada zajímavých decků, což ostatně v Japonsku není nic neobvyklého... Tady je přehled decků v top32:
9× Bant Company
3× Sultai Midrange
2× UR Eldrazi Control
2× GB Rites
BG Delirium
Esper Midrange
4C Emerge
UW Spirits
GB Emerge
Abzan Seasons Past
BW Control
Mardu Legends
Esper Dragons
Bant Humans
RW Burn
Monowhite Humans
Mardu Angelic Pact
URb Madness
GW Tokens
UR Prowess
První zajímavý deck byl na čtvrtém místě. Šlo o GB Delirium s playsetem Ishkanahů a Elvish Visionary, kteří zde byli jako enableři pro Westvale Abbey (Traverse umí s deliriem hledat i nonbasic).
Pátý skončil Takeuchi Ryota se zajímavou verzí Esper Midrange, kde byla základní karta Eldrazi Displacer, ke kterému tu byl Wasteland Strangler, Avacyn, ale třeba i Spell Queller a Dragonlord Silumgar. A po sidu tu nechyběl ani Reflector Mage.
Na šestém místě byl dost možná nejzajímavější deck celé top32. Šlo o čtyřbarevný selfmill, ve kterém byl Kozilek's Return v kombianci s emerge bytostmi jako Elder-Deep Fiend, ale také Prized Amalgam s Stitchwing Skaabem a Take Inventory.
Těsně za top8 skončil Kawakami Takehito s zajímavou verzí GB Emerge, kde byl jak Distended Mindbender, tak i Decimator of the Provinces. Konzistenci decku dodával Oath of Nissa, Foul Emissary a dokonce i Woodland Bellower.
Třináctý byl Kawashima Masashi se zajímavou verzí BW Angelů, do kterých přidal Nahiri, která umožňuje stabilněji složit dohromady Briselu.
A legendární tématiku využil i Kubota Hirofumi, který Briselu zakomponoval do Mardu Demonic Pactu, ve kterém hrál Angelic Purge a Harmless Offering, který si uměl najít pomocí Dark Detition. A zajímavé bylo, že v decku hrál i Gideony, kteří mi tu přijdou horší než Nahiri.
S pěknou verzí GB Rites obsadil Ishii Hiroyuki 21. místo. Ten totiž kromě klasických synergií jako Zulaport Cutthroat + Nantuko Husk/Westvale Abbey vsadil i na jednu z nových karet, kterou je Voldaren Pariah. A zajímavý byl i playset Distended Mindbenderů v sidu.
Třiadvacátý byl Yajima Tatuaki se zajímavým RW Burnem. Bílá deck obohatila o Declaration in Stone, Needle Spires a hlavně Nahiri, která představuje super value s Dark-Dwellery a případně i Bedlam Revelerem.
A na úplném konci top32 byly dva zajímavé decky s Fevered Visions. První byl koncipován jako madness s kartami jako Just the Wind a Fiery Temper, ale nechybělo v něm ani hrobolezecké téma v podobě oblíbené kombiance Prized Amalgam + Stitchwing Skaab. A druhý byl byl více zaměřen na prowess bytosti jako Curious Homunculus, Thing in the Ice a Bedlam Reveler. Zajímavé je, že jako jeden z enablerů tu bylo Pieces of the Puzzle, což není zrovna běžně hraná karta.
Modernu se zúčastnilo 152 hráčů a herní pole bylo velmi pestré, což jasně dokumentuje top32, ve které se žádný deck nenachází vícekrát, než třikrát:
3× Affinity
3× Jund Midrange
3× Dredge
3× UWR Aggro
2× Burn
2× Elves
2× Infect
Esper Control
Merfolks
GW Hatebears
Ad Nauseam
Monowhite Humans
Abzan Eldrazi
Abzan Evolution
Eldrazi and Taxes
Esper Mentor
UWR Nahiri
Kiki Evolution
Abzan Midrange
GW Hexproof
Při pohledu na decky na nejvyšších příčkách by asi málokdo trefil vítězný deck, což byl Esper Control Takaya Saita. Šlo o zajímavou tapout verzi s UW základem s Wall of Omens, Kitchen Finks, Restoration Angely, Lingering Souls a několika planeswalkery. Poněkud neobvyklý je i docela vysoký počet wrath efektů (třikrát Supreme Verdict a Engineered Explosives) a playset Ghost Quarterů v manabase, což je ale velmi dobré proti všem manlandům a taky proti Tronu, který jinak bez většího množství kántrspellů takřka nemůžete porazit.
Druhým finalistou byl Keita Kawasaki s Jundem, ve kterém hrál novou posilu v podobě Grim Flayera a také Olivie namísto Kalitasů. A pokud se ptáte, jak na Grim Flayery vzal místo, tak vězte, že cutnul one-ofy jako Maelstrom Pulse, nebo Dreadbore a také hrál pouze jeden Kolaghan's Command.
Ve zbytku top8 mě pak nejvíce zaujali Elfové s maindeck Chameleon Collosusy, kteří jsou super na midrange jako Jund, Abzan, nebo Grixis a také s Lead the Stampede, což je další skvělá karta do attrition-based matchupů. Nevýhoda ale je, že bez Chordu se nemáte tak flexibilní side, což tady bylo vyřešeno tím, že se hrálo více karet podobného ražení -  čtyři kusy removalu, čtyři kusy graveyard hatu a proti kombům Stain the Mind.
Mimo top8 bylo možné vidět například Dredge s Collective Brutality, GW Hatebeary (Craig Wescoe speciál), klasický oldschool Monowhite tlačák s human tématikou (Thalia's Lieutenant je očividně fajn i na modernu), zajímavé Eldrazi s černou místo modré, kvůli Distended Mindberderům, agresivní UWRko se Spell Quellery, Abzan Evoluci se Spike Feeder/Archangel of Thune kombem, Esper Midrange s Monastery Mentorem, nebo agresivní Abzan Midrange s Anafenzami (skvělý maindeck hate proti Dredgi).