Novinky
Flash News #21/2018
Dnes si ve flash News zrekapitulujeme SCG Open Dallas, pravidelné MTGO Challenge, velký turanj ve francouzském  duel commanderu a jako bonus si dáme modernovou Vizier Company.
1. SCG Open Dallas (Modern)
Turnaj, který dostal přezdívku SCG Dredge Open.
Díky dobrým výsledkům na onlinu si chtělo opravdu nezvykle velké množství hráčů Dredge vyzkoušet i v reálu a byly z toho skvělé výsledky ve druhém dni, kde byl Dredge s deseti hráči suverénně nejhranějším deckem. Hrál ho dokonce i Caleb Scherer, který poprvé po vydání Barala na modernu nehrál Storm - a to už o něčem svědčí!
Celkem se Open účastnilo 683 hráčů, z nichž postoupilo do druhého dne 65 (všichni se skóre 6:3:1 a lépe).
Hned deset z nich hrálo Dredge a další populární decky byli Humani (7), Bant Spiriti (6), Green Tron (6) a Burn (5).
V top8 bylo nejvíce Humanů a Dredge, přičemž hned ve dvou čtvrtfinálových zápasech jsme mohli sledovat právě tenhle matchup, který se pro Humany nevyvíjel příliš dobře, když oba zápasy prohráli. Nejlépe připravený na Dredge byl s Humany Zan Syed, když měl Grafdigger's Cage a Tormod's Crypty v sidu, ale ten shodou okolností jako jediný s Dredgem nehrál a nestačil na Traverse Death's Shadow Petera Holmena.
Ten pak oba dva Dredge dokázal porazit a to i přesto, že měl pouze dvě Surgical Extrakce v sidu. Kombinace rychlého clocku, discardu a Stubborn Denialů se ukázala být celkem účinná i bez dalšího graveyard hatu. I tak by ale stálo za zvážení do aktuální metagame vyměnit pár "bublin" za Nihil Spellbomby.
Zbylé dva decky v top8 byly Green Tron a Infect. V top16 jsme dále mohli vidět Ironworky, trochu překvapivě i RG Ponzu, Gifts Storm a také zajímavé brew v podobě UR Prowessu s Thing in the Ice, Bedlam Revelery, ale hlavně playsetem Arclight Phoenixů. Patrně se nejednalo o nejlepší verzi Pheonix decku, ale jeho potenciál jsme mohli vidět v jednom z feature matchů, kde ve třetím kole útočila transformovaná Thing in the Ice a dvojice Fénixů.
Další méně obvyklé decky v top32 byly Bant Company (midrange verze bez komb), Hollow One a Green Devotion (se splashemi na Blood Moon, Rest in Peace a Worship), kterou hrál znamý specialista natento archetyp, Anthony Skrzypczak, kterého tu zdaleka nezmiňuji poprvé...
2. SCG Classic Dallas (Standard & Modern)
V nedělních klasicách se udála nebývalá věc - standard překonal v návštěvnosti modern (148 vs. 143 na modernu), což je možná vůbec poprvé v stávajícím formátu SCG Open! To samozřejmě jenom dokazuje, že je tu po letech konečně povedený standard formát, který si hráči pochvalují.
Nejvíce zástupců v top16, včetně celkového vítěze, měl GB Midrange. Vítězný Maxwell Jones hrál verzi s Doom Whisperery a Wildgrowth Walkery. Mnohem zajímavější byla ovšem varianta skončivší na sedmém místě, kde bylo spoustu selfmillu a playsety Molderhulků a Find//Finality.
Zajímavý deck skončil na druhém místě - šlo o Big Red, kde bylo několik méně obvyklých karet, jako třeba Dismissive Pyromacer, Sarkhan a Verix Bladewing.
V top8 byli i dvoji Boros andělé, což je v podstatě antideck proti GB Midrangi - playset Tocatli Honor Guardů, resilientní hrozby jako Adanto Vanguard a Rekindling Phoenix a samozřejmě velký počet flyerů, to je proti GB ideální recept na úspěch.
Další decky v top8/top16 byly UB Midrange s Disinformation Campagnemi, Esper Control, GW Explore s playsetem Path of Discovery (a s malou černou splashí pro Find//Finality), zajímavá verze UR Pheonixe s Mission Briefingy a Search for Azcanta, GW Tokeni a i klasické Monored Aggro.
Modernovou klasiku si podmanil Drake Sasser s obvyklou verzí Humanů, ovšem ve zbytku top8 to už bylo mnohem zajímavější.
Mohli jsme tu vidět dva Staxy s Whir of Invention, Skred Red, Amulet Titana s novinkou v podobě Adventurous Impulsu, či Eldrazi Tron, který ještě před několika měsíci patřil mezi tier decky, ale dnes už ho skoro nevídáme...
V top16 bylo navíc několik přímo obskurních decků - Martyr Proc, Merfolci (s Mistcallery coby zajímavou hate kartou proti Dredgi), Monored Draci a Monogreen Aggro s Aspect of the Hydra s bílou splashí na hate karty v sidu (Rest in Peace, Stony Silence).
3. MTGO Weekly Challenges (Modern, Legacy, Vintage, Duel Commander, Pauper)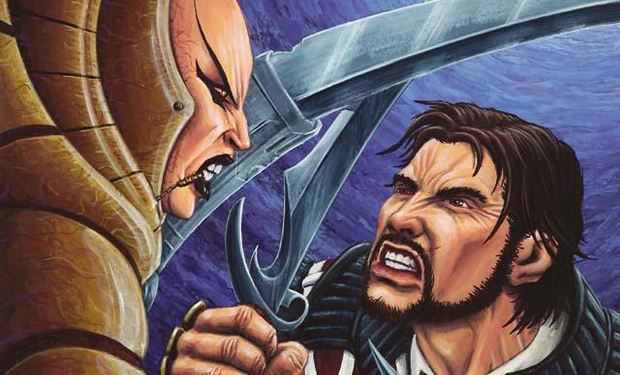 Velmi nečekaného vítěze měla modernová challenge, kde triumfoval "Archgaze" s RG Aggrem s Cragganwick Crematorem, o kterém jsem psal už minulý týden.
V top8 s ním porazil Dredge, Merfolky (s playsetem Mistcallerů) a ve finále Jund (zvláštní verze s playsetem Thoughtseize a zcela bez Inquisition of Kozilek), což podle mne vůbec nejsou jednoduché matchupy (ale koneckonců co je pro modernové RG Aggro dobrý matchup). Zajímalo by mne, jak hry probíhaly a kolikrát deck zabil kombinací Cremator + Greaterwurm.
Další decky v top8 byly Boros Burn, Whir Stax, druhý Jund a druhý Dredge.
Mimo top8 mne zaujal zejména Martyr Proc a dvojice BW Eldrazi, kteří profitují z playsetu Reliců v mainu (v jednom decku byla dokonce k Relicům ještě navíc i maindeck Nihil Spellbomb).
Na legacy jsme už potřetí za sebou měli ve finále ten samý matchup, ale tentokrát v něm poprvé Miracly (verze s Accumulated Knowledge a Back to Basics) porazily Dredge.
V top8 je dále doplnil BR Reanimator (bez alternativních winkondicí v sidu), další Dredge, dvojce dalších Miraclů, Burn a 4C Control Tomáše Mára.
Mnohem zajímavější to bylo zejména ve zbytku top16, kde byl Aggro Loam, Elfové s několika zajímavými techovkami (Archon of Valor's Reach, Wren's Run Packmaster) a také Assassin's Trophy v sidu, což je pro deck jako elfové jasný upgrade oproti Abrupt Decayům, dále Men of Steel, zajímavá verze eldrazi kombinující rampu s Post zeměmi s klasickými bytostmi jako Matter Reshaper, Thought-Knot Seera či Reality Smasher, Miracly s Teferim, Grixis Delver s Goblin Cratermakerem (Eldrazi Post je poslední dobou velmi populární), 4C Control s Dack Faydnem a Punishing Firy a konečně znovu (stejně jako o týden dříve) i RW Painter s playsetem Smuggler's Copter.
Vintage oproti legacy přinesla ve srovnání s předchozími týdny zcela nečekané finále, ve kterém Ravager Shopy porazily pěkný BUG Control s kartami jako Leovold, Jace, Snapcaster, či Assassin's Trophy.
Další decky v top8 byly dva obvyklé Paradoxical Outcomy s nejrůznějšími komby, Dredge, trochu netradiční UWR Landstill (většinou se hraje jenom jako UW), oldschool storm s Dark Peticemi a Yawgmoth's Bargainami a klasický Survival s Hollow One a Vengevinami.
Mezi devátým a šestnáctým místem byly hlavně modré kontroly - dvakrát UR Pyromancer, UWR, 4C s Dark Confidanty a Deathrite Shamany (opět z dílny Tomáše Mára) a dost zvláštní 4C s kartami jako Garruk Relentless, Fiery Confluence, či Regrowth.
Bylo tu i jedno bláznivé brew, které se snažilo zvítězit prostřednictvím jednoho z trojice komb Painter + Grindstone, Leyline of the Void + Helm of Obedience a Voltaic Key + Time Vault.