Rubriky
Flash News #26/2018
1. GP Varšava (GRN Sealed)
První evropské limited GP s Guilds of Ravnica si nenechalo ujít velmi slučných 1 823 hráčů, mezi nimiž byla i početná česká výprava čítající 53 hráčů.
Po prvním dni měli naši hráči turnaj velmi dobře rozehraný - čtveřice Martin Jůza, Jan Ksandr, Jan Hanzálek a Martin Dědek měla skóre 8:1 což znamená, že i se skóre 3:3 ve druhém dni je to slušná šance na top64, která získává finanční prémie.
Není přiliš velké překvapení, že nejlépe ze všech si nakonec vedl Martin Jůza, který ještě dvě kola před koncem bojoval o top8. Ve čtrnáctém kole ale byl nad jeho síly Eduardo Sajgalik. Poslední kolo Martin vyhrál, takže z toho nakonec bylo alespoň pěkné čtrnácté místo.
Ostatním českým hráčům se bohužel ve druhém dni vůbec nevedlo a do top64 se dokázal probojovat už jenom Jan Hanzálek (52. místo).
Ve finálové top8 byla pravděpodobně nejzajímavější událost diskvalifikace Christiana Seibolda za jeho shady play s Counterspellem (oficiální stanovisko hlavního rozhodčího zde).
Také tu byly k vidění dva celkem zajímavé příběhy. Tím prvním byl návrat Juliena Nuijtena na nejvyšší příčky. Julien se stal v roce 2004 mistrem světa v pouhých patnácti letech. Po pár letech se ale stáhnul do ústraní a tohle byl jeho první velký výsledek od roku 2007.
Druhá zajímavá událost byla celková výhra Eduarda Sajgalika, který zvítězil na takto velkém turnaji až při své deváté top8 (nejvíce top8 bez výhry má pro zajímavost Bram Snepvangers, a to rovnou dvanáct)! Perlička také je, že Eduardovi na turnaji velmi přálo štěstí a ve druhém dni se mu podařilo nadraftovat Golgari s double Izoni a double Underrealm Lichem. S deckem měl samozřejmě 3:0...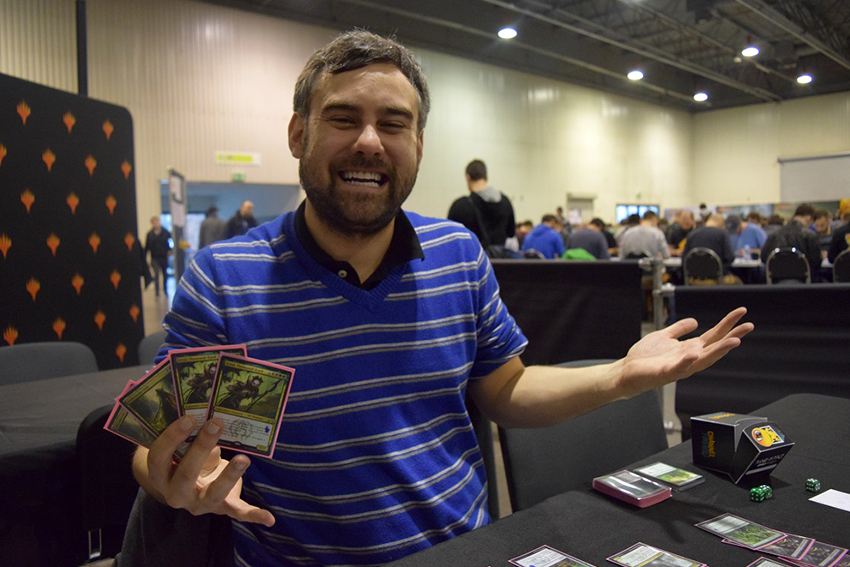 2. Online Monthly MOCS (Standard)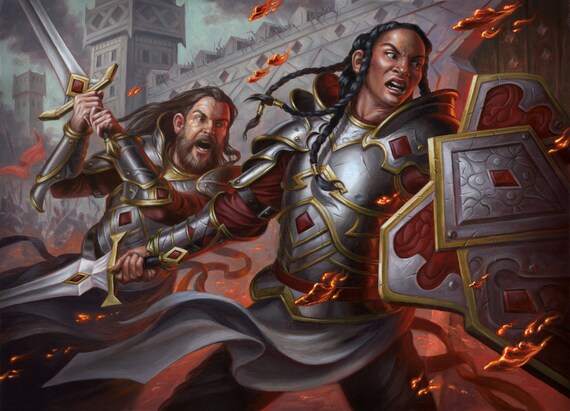 Minule jsem říkal, že competitive standard má aktuálně na online spoustu příznivců, a nejinak tomu bylo i v listopadových MOCS, kterých se zúčastnilo dokonce hned 407 hráčů!
Turnaj měl klasickou podobu, když se hrálo osm kol, v nichž pro kvalifikaci do čtvrtletního finále bylo potřeba vyhrát alespoň šest zápasů. To se díky velkému počtu účastníků povedlo rovonu pětapadesáti hráčům, nicméně prohlédnout jsme si mohli pouze decklisty prvních dvaatřiceti, jejichž souhrn vypadá takto:
8× GB Midrange
7× UR Phoenix
5× Jeskai Control
3× Boros Weenie
3× Jeskai Niv-Mizzet
2× Grixis Midrange
1× Big Red
1× Boros Midrange
1× BUG Ramp
1× Boros Angels
Metagame se tedy oproti předchozímu týdnu vůbec nezměnila. Pouze dva hráči měli perfektní skóre 8:0 a nejlepší pomocné měl "Tiemuuu" s Boros Weenie, kterému tak už druhý týden za sebou patřilo celkové první místo.
Nejzajímavějším deckem v top8 byl BG Midrange s nižší křivkou a kartami jako Thorn Lieutant, Plaguecrafter, Midnight Reaper a hned pěti Vraskami, přičemž Vraska, Relic Seeker tu byla coby vrchol křivky a hlavní midrange hrozba.
Další neobvyklé decky v top32 byly Big Red s větším počtem maindeck Banefirů, Grixis Draci s Treasure Mapou, coby hlavní engine kartou, Boros Midrange s velkým počtem hromadného zabíjení (podobný deck hrál na GP Milwaukee Sam Black, kde ale nepostoupil do druhého dne) a dost divokou GBu Rampu s playsetem Treasure Map, Karnů a Carnage Tyrantů, kde byla zajímavě jediná maindeck modrá karta playset Thought Erasure.
3. MTGO Weekly Challenges (Modern, Legacy, Vintage, Duel Commander, Pauper)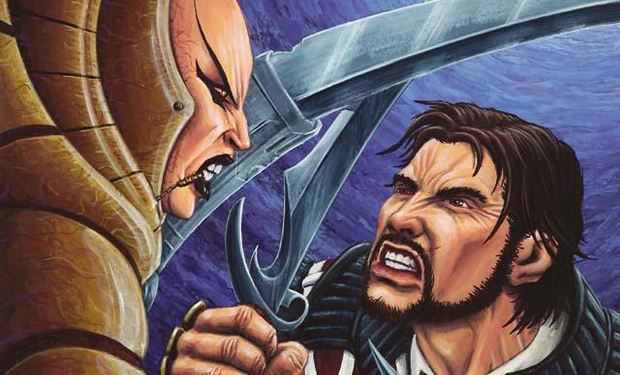 V modernové challengi si nejlépe vedly červené argesivní decky, které tvořily celou polovinu top8.
Ve velmi netradičním finále zvítězil mix UR Phoenixe a Hollow One, kde bylo několik velmi zajímavých karet, jako třeba kombinace Bedlam Reveler + Maximize Velocity, nebo Shrine of the Burning Rage v sidu.
Druhé místo patřilo Eldrazi Tronu, který podle mne zvolil špatný poměr základních hate karet - Relic of Progenitus je aktuálně o dost lepší, než Chalice of the Void a i to přesto, že v decku byly i Simian Spirit Guidy.
Další z výše zmíněných červených agresivních decků v top8 byly Boros Burn, UR Wizardi a klasický RB Hollow One.
Nejvíce míst v top16 ale už podruhé za sebou ukořistil BG Rock - opět měl dva zástupce v top8 a třetího v top16.
Mimo top8 mne zaujal především RUG Control s Blood Moony a také Ironworks Combo, které při pilotování na onlinu vyžaduje opravdu pevné nervy.
Velmi vzácná věc se udála na legacy - ve finále se střetly dva decky, které nehrály modrou! Šlo o souboj mezi Death and Taxes a Aggro Loamem, ze kterého vzešel vítězně "AvocadoToast" s klasickou verzí Death and Taxes.
Další místa patřila Grixis Controlu, Miraclům (s několika zajímavými one-ofy, jako třeba Brightling a Wasteland), Storm, UR Delver, OmniTell a další Miracly.
Nejzajímavější deck v top16 byla bez diskuze velmi neobvyklá Monoblue verze Painter//Grindstone komba, která obsahovala velmi silné záložní plány v podobě Sai a The Antiquities War. Přítomen tu byl i zajímavý toolbox s Trinket Magem, který obsahoval karty jako Engineered Explosives, Walking Ballista, nebo Aether Spellbomb.
Artefaktové decky získaly v polsledních letech spoustu silných kusů a v poslední době se v online challengích stále častěji umisťují na předních příčkách různá brew. Jsem zvědavý, jestli z toho postupem času vznikne nějaký tier deck.
Vintage si zcela podmanily Paradoxical Outcome decky, které kompletně obsadily pomyslné stupně vítězů. Zajímavé je, že v minulosti více hráčů preferovalo verze s Time Vault//Voltaic Key kombem, ale tady všichni shodně vsadili na variantu s Night's Whisper a Tendrills of Agony.
Další úspěšné decky byly White Eldrazi, agresivní Shopy s Thraxosem, Precursor Golemy a Null Rody (tj. verze bez Ravagerů), BUG Control, Dredge a klasické Ravager Shopy, Survival Combo a URg Control.
Na předních příčkách tentokráte chyběly nějaké neobvyklejší decky...
Duel commander opět nenabídl žádné velké překvapení. Dva nejúspěšnější decky byly Breya a Kess, když dohromady obsadily osm míst v top16. S Breyou ukořistil celkovou výhru "Mogged".
V top16 byli také tři Leovoldi a dva Teferi (Temporal Archmage). A do top8 tentokráte pronikly i dva decky mimo "velkou čtyřku". Byly to 5C Goodstuff s Najeelou (celkem mne udivuje, že Najeela dostává přednost třeba před Horde of Notions, když v decku jsou kromě manovačů už asi jenom tři další bytosti) a Monogreen skládačka s Yisanem.
V pauperu byla na předních příčkách velká převaha Delver decků. V top8 zabraly po dvou místech UB a UR varianty, ovšem do finále se ani jeden Delver nedostal.
Vítězem se stal "Entropy263" s Teachings Tronem, když ve finále porazil Monogreen Aggro.
Další decky na předních příčkách byly Boros Aggro, UW Blink, UB Control, Monowhite Heroic a také Monoblue varianta Delvera (v top16 bylo dohromady devět Delver decků - nutno ale dodat, že někeré verze místo Delverů hrají Augury of Bolas).
4. Duel Commander Praha (French Commander)
Letošní poslední duel commander ze série "Bohemia MTG Commanders" se odehrál v pražském Joystick Baru a zúčastnilo se ho rekordních 59 hráčů.
Suveréně nejhranějším generálem byla Kari Zev, se kterou na turnaj vyrazilo sedm hráčů. Další populární generálové byli Tymna (4), Arahbo (3), Teferi, Temporal Archmage (3), Akiri, Line-Slinger (3) a Saskia the Unyielding (3).
Pokud nemáte Monored na duel commanderu rádi, tak pro vás mám hned na začátek dobrou zprávu, žádná Kari Zev se totiž do top8 nedostala.
Top8 byla klasicky velmi rozmanitá se sedmi (respektive devíti) různými generály, když tu coby jediný duplicitní generál byla Kess (tu hráli na turnaji dva hráči a oba postoupili do top8).
Finále bylo soubojem partnerů, ve kterém Jakub Lerl s komboverzí Thrasiose a Tymny porazil hodně netradiční 4C Goodstuff s Akiri a Reyhanem, jenž pilotoval David Čihák. Deck uměl hrát dlouhé midrange hry, ale obsahoval zároveň i Melira kombo a nechutnosti jako Arena Rector + Ugin, či Greater Gargadon + Balance (hlavní tématika decku bylo obětovávání vlastních bytostí).
Další decky v top8 byly už zmiňované Grixis Controly s Kess, Esper Control s Aminatou, White Weenie s Kytheonem, 4C Aggro se Saskií a Monogreen Toolbox s Yisanem. Všechny decklisty z top8 si můžete prohlédnout zde.
5. Duel Commander Rennes (French Commander)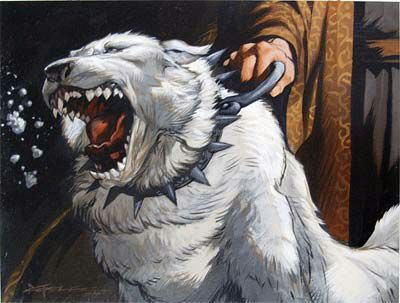 Ještě chvíli zůstaneme u francouzské varianty duel commanderu, protože velký turnaj se odhrál i v Rennes, kam si přišlo zahrát 89 hráčů.
Bohužel, z turnaje nebyl zveřejněný žádný metagame breakdown, takže máme k dispozici pouze decklisty z top8.
Z té vyplývá, že se na turnaji hodně dařilo Gitrog Monstrům, které obsadily tři místa v top8. Do finále se ale probojovaly zcela rozdílné decky - White Weenie s Isamaru a UB Tempo s Yuriko, které pilotoval Alexander Louskotoff, pro kterého to bylo druhé finále na takto velkém turnaji během jednoho měsíce (obě byly samozřejmě s Yuriko). Hráči se ve finále rozhodli pro split, což bylo zřejmě hlavně z časových důvodů...
V top8 byl také artefaktový midrange s Akiri a Silas Rennem a dvojice kontrolů v méně tradičních barvách - UB s Lazavem (kde ale nechyběla ani kombo vložka s Phyrexian Dreadnoughtem) a RUG s Thrasiosem a Kraumem.
Na decklisty z top8 se můžete podívat zde.
6. Bonus - legacy
V rámci bonusu se dnes opět podíváme na legacy. Máme tu poměrně velký turnaj z Japonska, který organizovali Hareruya Games. Šlo o turnaj z klasické série God of Legacy (s pořadovým číslem #12) a zúčastnilo se ho 306 hráčů.
Když se mluví o Japonsku, tak se nemůže nikdo divit, když se na předních příčkách najde pár méně obvyklých decků. Tady ale bylo finále opravdu hodně divoké. Utkaly se v něm totiž BG Depthsy s unikátním brew v podobě Red Eldrazi, což byl v podstatě mix Dragon Stompy a Eldrazi Aggra, kde byl ještě zajímavý plán B v podobě Punishing Firů a Grove of the Burnwillows. To samozřejmě znamenalo, že v decku nemohl být Blood Moon, což bylo ve finálovém matchupu rozhodně mínus a proto nakonec zvítězil Shou Ogasawara s Depthsy.
Zveřejněny byly decklisty z top16, ze kterých vyplývá, že nejpopulárnější decky na turnaji byly Miracly, Grixis Delver, Dragon Stompy a Colorless Eldrazi.
Bylo tu i jedno další zajímavé brew v podobě UR Delvera s playsety Nivmagus Elementalů a Flusterstormů.
1. BG Depths
2. Red Eldrazi
3. Dragon Stompy
4. UWr Miracles
5. Dragon Stompy
6. Colorless Eldrazi
7. Grixis Delver
8. Mentor Miracles
9. Grixis Delver
10. BG Depths
11. Nivmagus Delver
12. Grixis Delver
13. Colorless Eldrazi
14. Mentor Miracles
15. Dragon Stompy
16. Colorless Eldrazi
Druhá velká legačka bylo neoficiální brazilské mistrovství, kterého se zúčastnilo 149 hráčů.
Z výhry se tu radoval Gabriel Casas s Mentor Miracly a za ním se seřadilo několik méně obvyklých decků jako Elfové (s maindeck Assassin's Trophy), Eldrazi Post (s Leyline//Helm kombem v sidu) a Goblini.
Eldrazi Post byl vůbec nejúspěšnějším deckem turnaje, když měl v top8 hned tři hráče!
A zbylá dvojice decků v top8 byla Storm a BR Reanimator (s Bitterblossomy v sidu).
Tím jsme se dostali až na úplný konec. Mějte se v novém roce fajn a uvidíme se zase u dalšího vydání.
Kumano
Komentáře
Do nového roku přeji CMUSu hodně čtenářů a ať už se konečně spraví ty decklisty.
0 hlasů
Přispívat mohou pouze přihlášení uživatelé. Pokud chcete vložit komentář, přihlaste se ZDE.