Rubriky
Flash News #43/2017
1. GP Portland (Standard)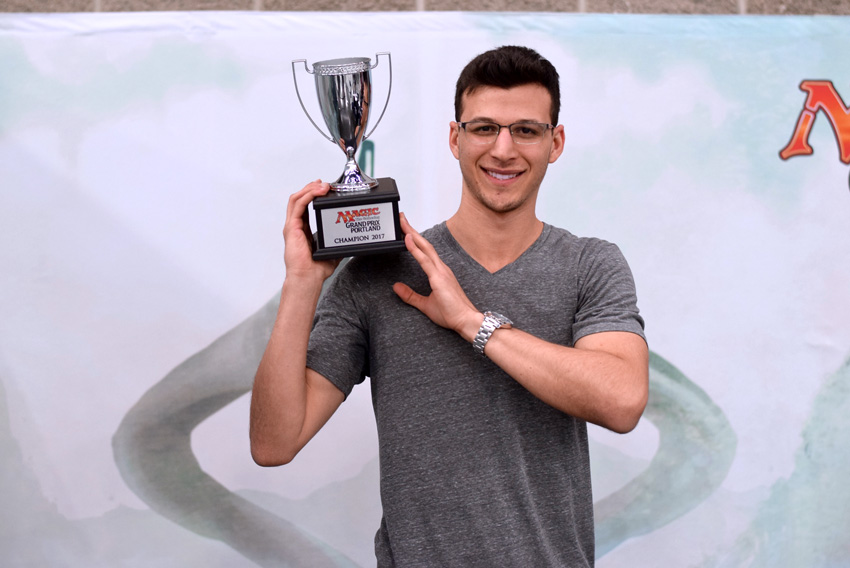 Možná vám to přijde jako překvapivý fakt, ale už v polovině listopadu se konalo letošní poslední standardové GP.
Podle předpokladu hrály mezi 1 688 hráči (bez české účasti) prim zejména RUG/BUG Energy decky a Ramunap Red, které dohromady zabraly nekompromisních čtrnáct míst v top16.
Jedním z odvážlivců, kterým se dařilo s jinými decky, byl James Stevenson, jenž skončil na krásném třetím místě s neobvyklou RG verzí Pummelera, kde hrál červenou mimo jiné kvůli dvojici Samut (double-strike je v tomhle decku dost dobrý, zejména se dvojicí "myšek", které dávají trample). V decku byla ještě malá černá splash kvůli Duressu a osvědčené Cartouche of Ambition v sidu.
Druhým pilotem neobvyklého decku byl Corey Burkhart, který skončil na patnáctém místě s UW Cyclingem. Šlo o updatovanou verzi decku, se kterým měl úspěch na PT Eliott Boussaud. Na rozdíl od něj ale Corey nehrál černou (původní deck měl v sidu Scarab Gody), ale pouze přímočařejší UW verzi. I tak měl ale v sidu alternativní winkondice v podobě Gearhulků a Regal Caracalů.
Zajímavý byl ještě deck na šestnáctém místě. Šlo o mix BUG Energy a UG Pummelera. V decku byly klasické energy bytosti, které byly doplněny o karty jako Cartouche of Knowledge, Blossoming Defense, či Hashep Oasis.
V bitvě o celkové vítězství jsme mohli vidět klasický souboj mezi Ramunap Redem Brandona Goe a RUG Energy Shahara Shenhara. Ten nakonec zvítězil hladce 2:0, ačkoli měl Brandon v decku Rampaging Ferocidony i Harsh Mentory. Shahar si tak pořádně spravil chuť po dvou těsných missech top8 na GP Phoenix a PT Ixalan (deváté a čtrnácté místo). Zároveň to byla vůbec jeho první velká top8 od jeho výhry na MS 2014.
2. SCG Open Baltimore (Team Constructed)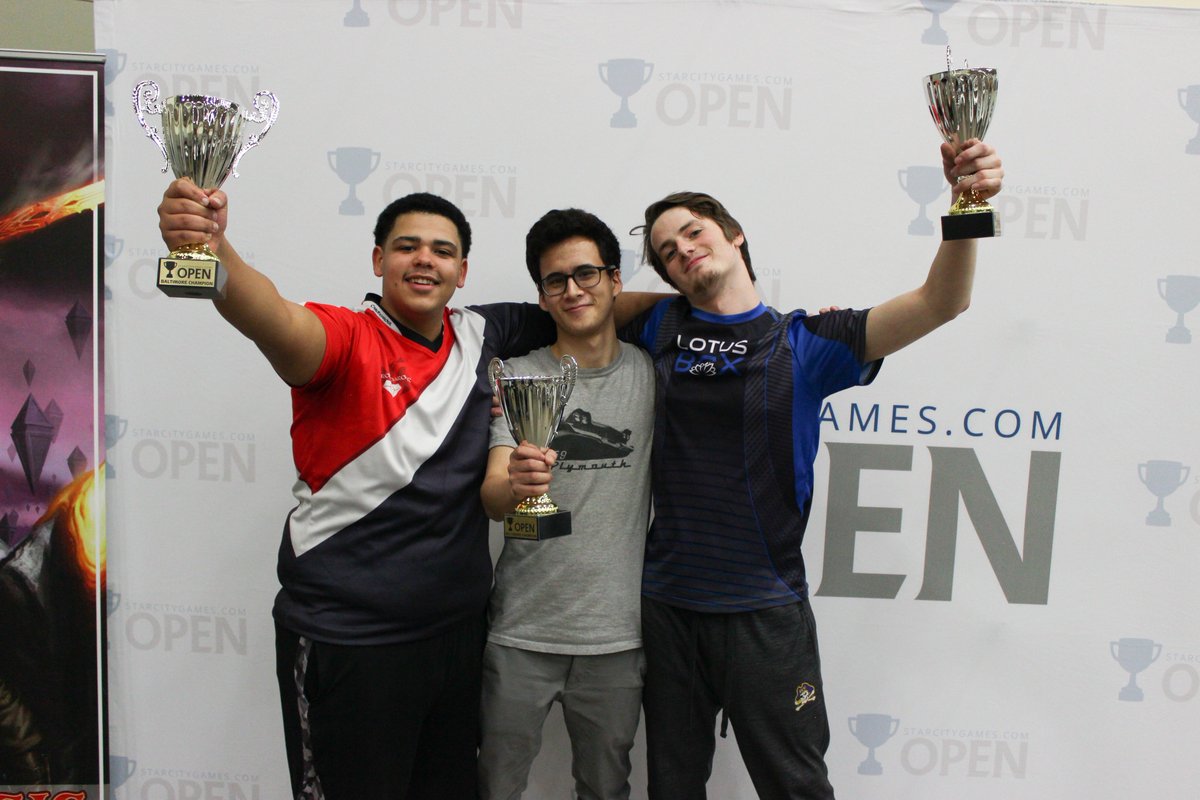 V Baltimoru se po delší odmlce konalo SCG Open ve formátu týmových trojic, kdy vždy jeden z trojice hraje standard, modern a legacy.
Turnaje se účastnilo 274 trojic, které se v prvním dni utkaly v devíti kolech. Opět tu byl trochu zvláštní postupový klíč, který povolil účast ve druhém dni pouze týmům, které získaly 19 a více bodů, což znamenalo, že měl druhý den komorní atmosféru s pouhými osmadvaceti týmy (jeden byl během druhého dne navíc diskvalifikovaný).
Pro vítězství si došla trojice Oliver Tiu, Dylan Donegan a Noah Walker, které se vyplatila velmi konzervativní volba decků - RUG Energy na standard, Grixis Death's Shadow na modern a Czech Pile (4C Control) na legacy.
Jednotlivé formáty ve druhém dni vypadaly takto:
Standard
7× RUG Energy
4× Dark Temur
3× Ramunap Red
2× BUG Energy
2× Sultai Red
2× Esper Approach
1× GUb Pummeler
1× UB Gift
1× 4C Marionette Master
1× UW Approach
1× Jeskai Approach
1× Grixis Midrange
1× Monoblack Aggro
Zde byly nejzajímavější decky Jeskai Approach s alternativním sideboardem, který obsahoval Enigma Draky a Huatli, 4C Midrange s Marionette Mastery a Tezzeretem, a Monoblack Aggro s chuťovkami jako Sky Skiff, Fourth Bridge Prowler, či Supernatural Stamina.
Za zmínku také stojí, že Brennan DeCandio pomohl svému týmu k sedmnáctému místu s Grixis Midrangem, jenž byl kopií decku, který o týden dříve obsadil deváté místo na GP Atlanta. Deck tak zřejmě nebude úplně špatný...
Modern
3× Grixis Death's Shadow
3× Jeskai Control
2× Gifts Storm
2× Boros Burn
2× Jeskai Tempo
2× Jund Midrange
2× Affinity
1× Abzan Delirium
1× 8-Rack
1× 5C Humans
1× Dark Jeskai
1× UR Breach
1× URg Breach
1× BR Hollow One
1× GW Company
1× Eldrazi Tron
1× BUG Midrange
1× Infect
1× Abzan Company
Modern byl tradičně velmi rozmanitý - ve druhém dni jsme mohli vidět hned osmnáct různých decků. Nejrozšířenější byli decky v Jeskai barvách, z nichž jsme mohli vidět tři kontrolní verze, které profitovaly z vydání Search for Azcanta. Hodně se mi líbila zejména verze Ali Aintraziho, ve které byli dva Gearhulci a Nahiri.
Zajímavou verzi hrál i Travis Perlee, který do decku přidal černou, díky čemuž mohl hrát Lingering Souls a Kolaghan's Command.
Mezi ostatními decky mě zaujal například 8-Rack s playsetem Pack Rat, UR Breach se zelenou splashí, která zahrnovala alternativní sideboard s Tarmogoyfy a Tireless Trackery, hodně přímočará verze Jundu s nízkou křivkou (ve které se mi ale nezdá absence Abrupt Decaye), Abzan Delirium s Traverse the Ulvenwald, BR Aggro s Hollow One, BUG Midrange se Search for Azcanta a také zajímavé využití Hazoret, kterou jsme mohli vidět  Affinitě a v Jundu.
Legacy
6× Lands
5× Grixis Delver
3× Colorless Eldrazi
2× Czech Pile
2× Omni-Tell
1× BUG Delver
1× BR Reanimator
1× UWR Stoneblade
1× Monored Sneak Attack
1× UWR Miracles
1× Esper Deathblade
1× Metalworker Stax
1× Storm
1× Aggro Loam
1× Burn
V legacy části byly možná trochu překvapivě nejhranějším deckem Země (Lands), což bych přisuzoval dobrému matchupu s Grixis Delverem a 4C Controlem (Czech Pile). Oba decky totiž také patřily k tomu nejhranějšímu...
Populární byli i Eldrazi, Omni-Tell a dva hráči hráli různé varianty Stoneforge Mystic decků.
Ve druhém dni jsme viděli v podstatě pouze tier decky, takže o nějakých překvapivých secret techách není vlastně co psát. Pokud bych měl alespoň zmínit dva nejméně rozšířené decky, tak by to patrně byl Monored Sneak Attack a Metalworker Stax.
3. SCG Classic Baltimore (Standard, Modern, Legacy)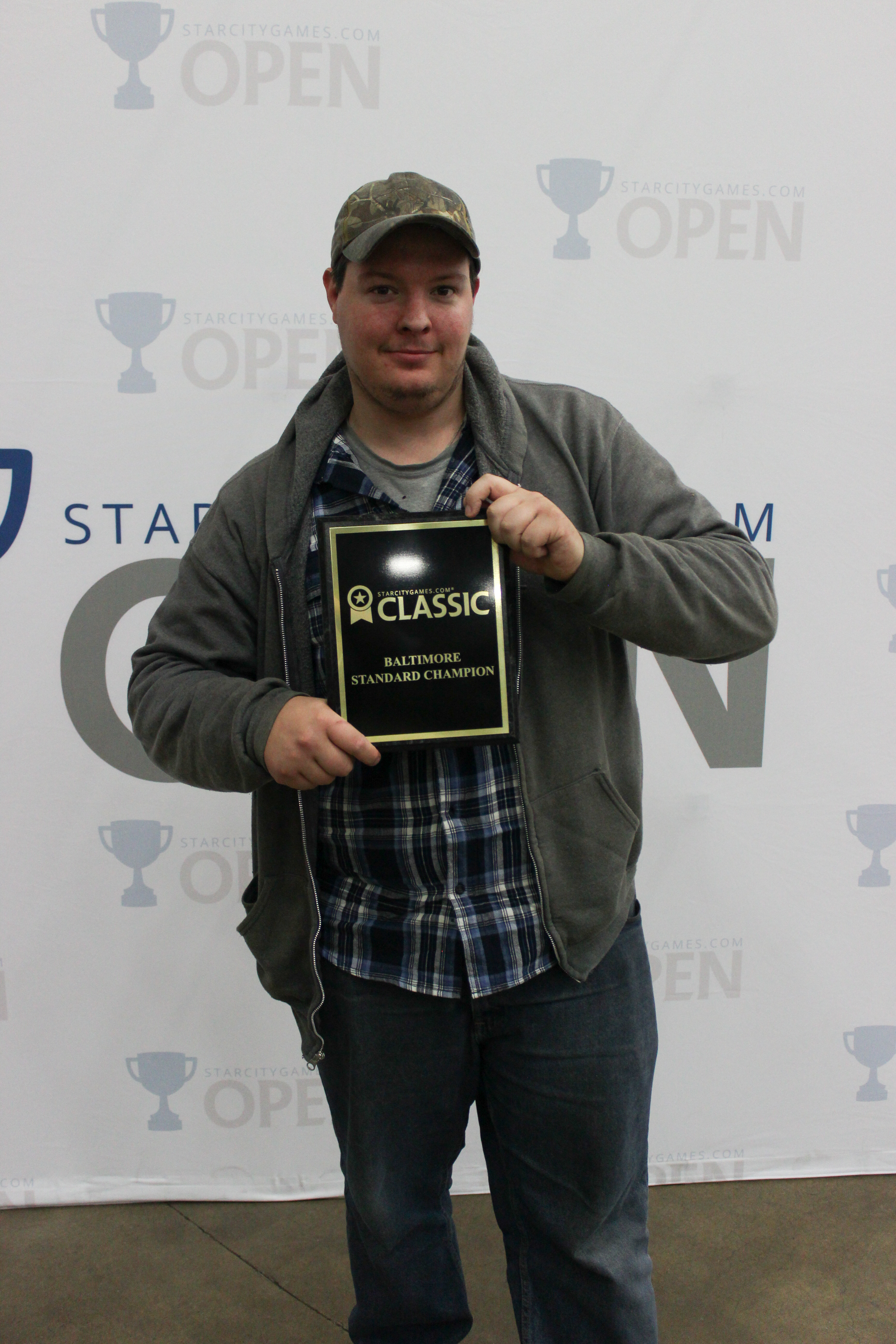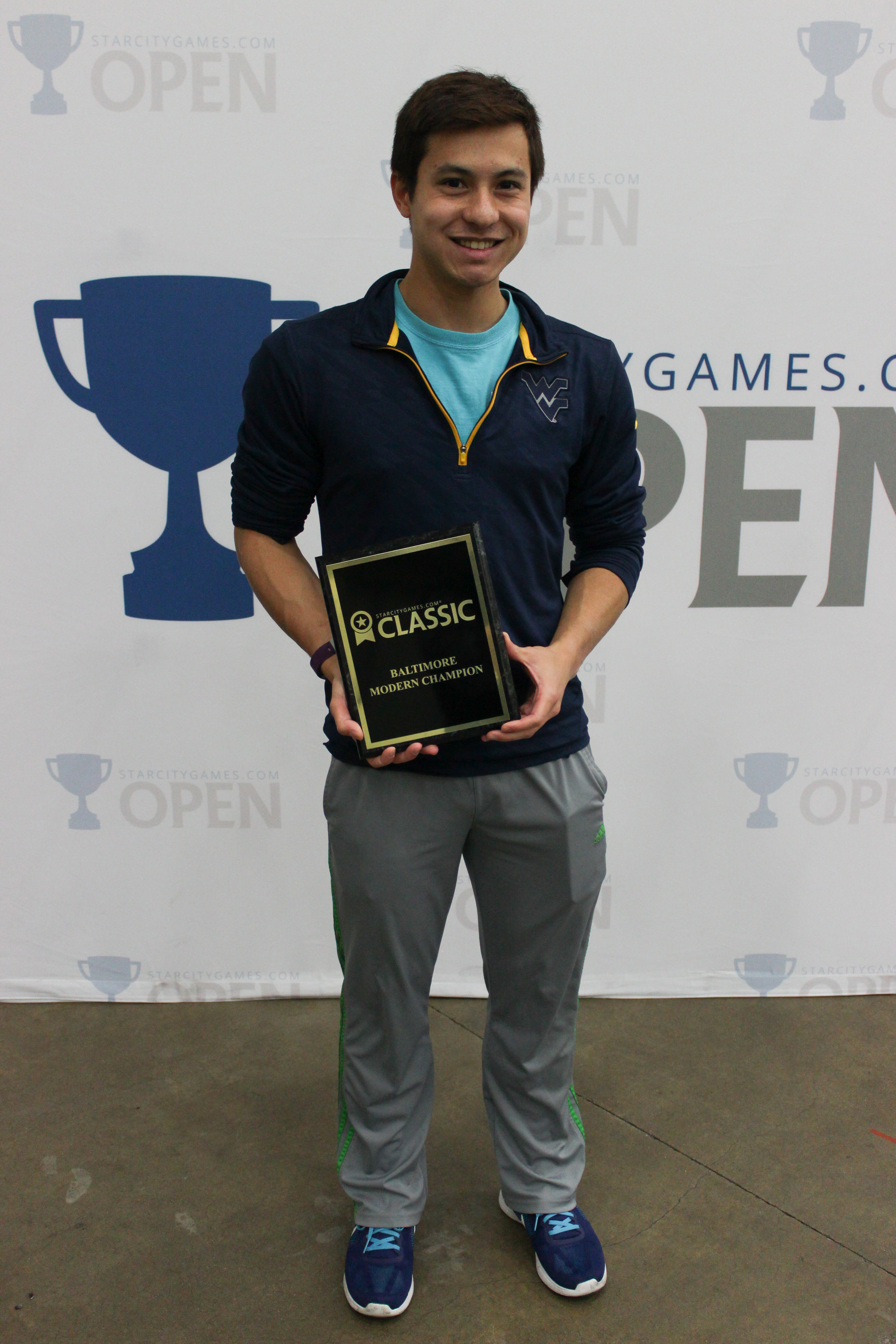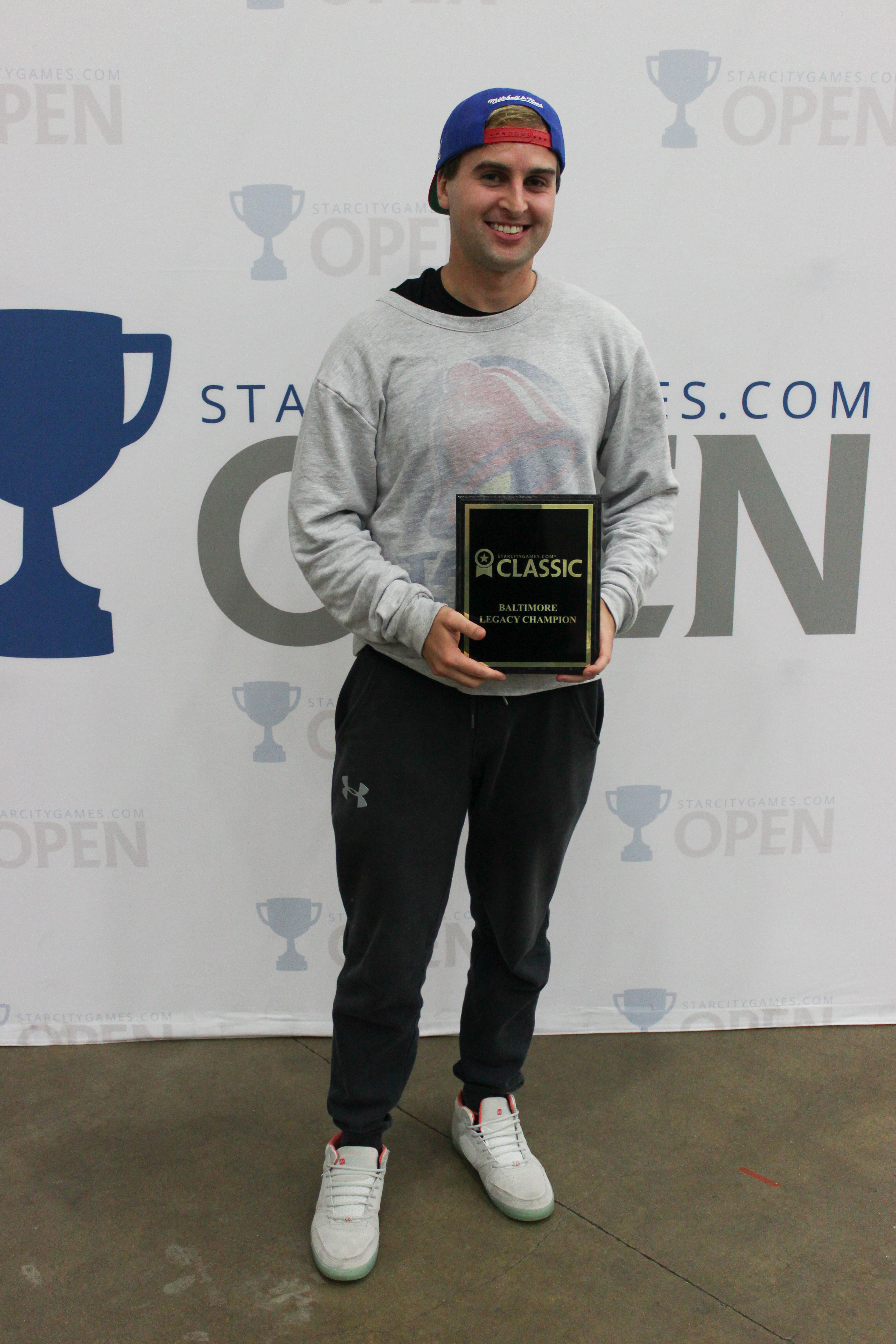 Pro týmové open je specifické, že každý z formátů má v neděli vlastní sideevent. Standard měl překvapivě dobrou účast se 105 hráči. Na předních příčkách byly zejména Energy decky a také kontroly s Approachem. Dohromady měly tyto dva archetypy dvanáct zástupců v top16.
Vítězem se stal Michael Kurant, když ve finále zvítězil v miroru Dark Temurů.
V závěru top8 jsme mohli vidět i dvě méně obvyklé monocolored aggra. První byl Monoblack (v poslední době populární verze s Heart of Kiran) a druhé bylo originální Monowhite brew se Sramem.
Zbylé dva decky v top16 byly Mardu Vehicly a Esper Midrange s Tezeretem a Marionette Masterem.
Největší návštěvnost měl modern, jenž atakoval kvótu dvouset hráčů (197). V top16 jsme mohli vidět třináct různých decků, přičemž největší zastoupení tam měl Boros Burn se třemi hráči.
Celkový vítěz byl ale ze zcela jiného soudku. Ve finále porazil Kazu Negri s Abzan Company Johna Bonneta pilotujícího Eldrazi Tron. Tento spíše nepříznivý matchup se mu podařilo zvrátit díky playsetu Tidehollow Scullerů v mainu a dále díky další disrupci v sidu, kterou představoval Distended Mindbender.
Z originálních decků v top16 bych zmínil zejména RUG Control s Aether Vialy, Eternal Witnessami a Cryptic Commandy, Esper Mill s novinkou v podobě Fraying Sanity, nebo zajímavou BW verzi Eldrazi s playsety Wasteland Stranglerů a Relic of Progenitus.
Legacy se účastnilo 120 hráčů a největší úspěch tu měl klasický Grixis Delver, který zabral hned čtyři místa v top8 (a jedno další v top16).
Ve vyřazovacích bojích ale všechny zaskočil Jack Kitchen s Dredgem. Například jeho finálový soupeř, David Miller s Miracly, měl jako jediný graveyard hate v decku dvě Surgical Extrakce...
Nejzajímavější deck v top8 byli určitě White Eldrazi Tima Turnera, ve kterých nechyběly Smuggler's Coptery a také kombo hrávané na vintage - Eldrazi Displacer + Containment Priest.
Mimo top8 byl nejzajímavější Maverick s Punishing Firy a Dark Depths kombem, se kterým skončil na devátém místě Tyrik Strachan.
4. Online RPTQ Rivals of Ixalan (Modern) + Modern Challenge
Vrcholem týdnu na MTGO bylo RPTQ na PT Rivals of Ixalan, který se uskuteční v únoru ve španělském Bilbau. Turnaje se zúčastnilo 146 hráčů, z nichž se po osmi kolech kvalifikovalo osm nejlepších.
Po osmi kolech nezbyl žádný neporažený hráč, ale hned šestice měla skóre 7:1. Na předních příčkách byly dosti nečekané decky - první dvě místa obsadily dva Dredge a za nimi skončila RG Ponza, která by se díky evolvu v posdních několika měsících měla nazývat spíše RG Midrange s Blood Moony...
Další dvě příčky patřily Boros Burnu (čistě RW verze, která v sidu zajímavě hrála místo Pathů Chained to the Rocks), Affinitě a posledním deckem se skóre 7:1 byli Eldrazi and Taxes s velkým počtem Dark Confidantů, který mi v tomhle decku přijde opravdu sebevražedný, jelikož je tam celkem dost karet za tři a dokonce i čtyři many...
Poslední místa v top8 ukořistili Jacob Wilson s velmi přímočarou verzí Infectu, ve které mě celkem zaujal sideboard, kde jsou ve velmi hojném počtu zřejmě dvě nejlepší sidovky pro tenhle deck - Spell Pierce a Shaper's Sanctuary, a "Dimitrakis" s pěknou verzí Boglů s maindeck Leyline of Sanctity, která je podle mě v decku vynikající, ale navzdory tomu ji v mainu skoro nikdo nehraje...
Hráči se skóre 6:2 se umístili až do dvacátého místa a mohli jsme mezi nimi vidět Kiki Moon, Abzan Company, další Eldrazi and Taxes, 3× Death's Shadow (jeden Grixis a dvě 5C), Lantern Control s Whir of Invention, 2× 5C Humany, Breach Moon, do třetice Dredge a Boros Burn.
RPTQ ale nebylo jediným velkým modernovým online turnajem, hrála se samozřejmě i weekly challenge, ve které se nejvíce dařilo deckům se Search for Azcanta.
"PeroLeMetemosBrutal" s Jeskai Tempem (ve kterém nehrál Geisty, místo kterých hrál Avacyn a Spell Snare) ve finále porazil UW Control pilotovaný RemiFortierem.
Na dalších místech jsme mohli vidět Grixis Death's Shadow, Gb Tron, Eldrazi Tron, tři Boros Burny, Bogles s playsetem Cartouche of Solidarity (další způsob, jak obehrát Lilianu a karty jako Blessed Alliance), Living End s playsetem Gemstone Caverns, Dredge, Abzan Company, další Jeskai Tempo a několik specialit, u kterých je hlavní poznávací znamení to, že je hrají stále ti samí hráči pořád dokola (Ad Nauseam). Byl to: Blue Tron (shoktroopa), Mardu Pyromancer (pjc08) a Tezzerator (oRS).
5. Ostatní Weekly Challenge (Legacy, Vintage, Duel Commander, Pauper)
Legacy challenge ovládly dva decky a to Miracly a Grixis Delver. Dohromady obsadily polovinu míst v top16 a rovným dílem si rozdělily první čtyři příčky.
Z vítězství se radoval Dazai s UW verzí Miraclů s Mentory v mainu a Back to Basics v sidu. Na jeho verzi bylo také zajímavé, že hrál už v mainu dva Flusterstormy.
Kromě Miraclů a Grixis Delvera bylo v top8 ještě možné spatřit Aggro Loam, Coloress Eldrazi Omni-Tell a UR Delvera (verze se Stifly a Young Pyromancery).
A ani na dalších místech nebyly k vidění žádné vylomeniny, snad s výjimkou Eldrazi Rampy, se kterou skončil desátý ProfessorFrench, což považuji za dobrý úspěch. Deck totiž nemá žádnou karetní selekci a jeho "heavy hitters" jsou v mnoha matchupech úplně k ničemu. Věřím, že něco můžete uhrát s Chalice zahranou v prvním kole, ale ta je mnohem lepší v klaiskcých Eldrazi, nebo Monored Stompy...