Rubriky
Flash News #44/2017
1. GP Lyon (Team Limited)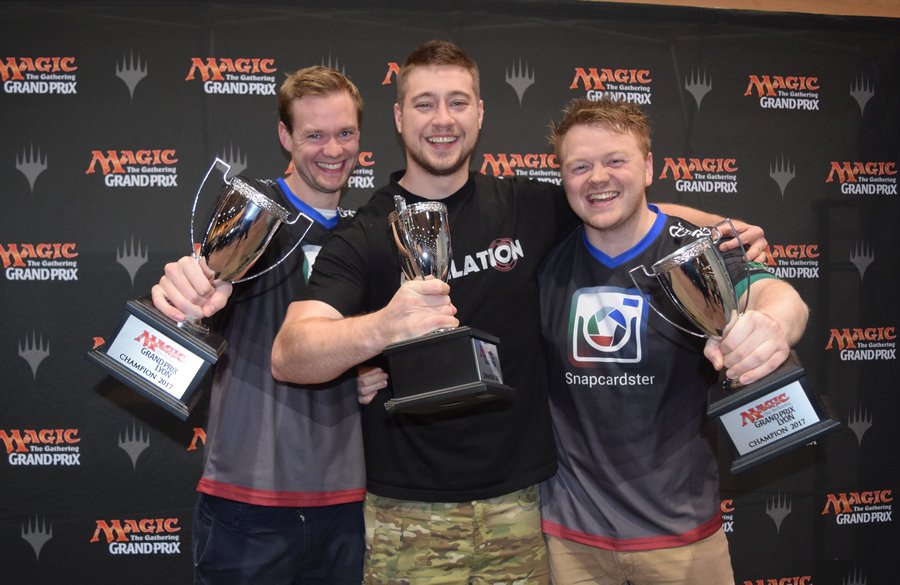 V Lyonu se konalo populární týmové limited, které přitáhlo pozornost i mnohých českých hráčů. Celkem se GP účastnilo 628 týmů, což byla druhá největší účast na evropském GP v letošním roce.
Všechno hlavní na GP bylo v dánské režiji. Ve finále se totiž objevilo šest dánských hráčů. Více známá trojice Thomas Enevoldsen, Christoffer Larsen a Michael Bonde porazila tým Marcus Hensing, Kasper Nielsen a Alexander Pasgaard. Ačkoli se může zdát druhá trojice méně známá, tak vězte, že všichni tři hráči už měli předchozí GP top8.
Pikantní na výhře trojice Enevoldsen, Larsen a Bonde je především to, že turnaj začali dvěma prohrami, ale poté až do úplného konce pouze vítězili, což znamenalo šnůru patnácti výher v řadě! Pro Christoffera Larsena to také byla druhá GP top8 ve dvou týdnech, přičemž obě byly v limited.
Mezi top sto týmy se našli čtyři se českou účastí. Jednatřicáté místo patřilo trojici Arnošt Žídek, Richard Glasner a Michal Hříbek, hned za nimi skončili Petr Sochůrek, Martin Jůza a Grzegorz Kowalski, devětaosmdesátý byl tým ve složení Martin Müller, Lukáš Blohon a Joel Larsson, a konečně šestdevadesátí skončili Jiří Obraz, Josef Živec a Pavel Matoušek.
Za zmínku ještě stojí, že GP se účastnili také pro hráči, kteří se připravovali na WMC. Mohli jsme například vidět japonský tým v plném složení, Reida Duka, který spojil síly s Benem Starkem a Alexanderem Haynem a zahrát si přišel i Kai Budde, který se GP v posledních letech účastní jenom velmi sporadicky.
2. RPTQ Rivals of Ixalan
Koncem listopadu přišla řada na RPTQ Rivals of Ixalan, jenž se konalo v sedmatřiceti destinacích, což ještě doplnily dva online turnaje.
PT Rivals of Ixalan se bude konat v únoru ve španělském Bilbau a jeho formátem bude team constructed, což znamenalo, že kvalifikace neprobíhala v obvyklém standardu, který vystřídal modern.
Největší RPTQ byly v Tokiu (143 hráčů) a v Madridu (106 hráčů), což byly jediné dvě destinace, kde se kvalifikovalo osm hráčů.
Naproti tomu nejmnší RPTQ bylo v Limě (hlavní město Peru), kde se málem ani nehrálo. Devět hráčů je celkem směšné číslo...
Z České republiky to bylo nejblíže do Varšavy a Norimberku, avšak ani v jednom z těchto míst se žádný český hráč nekvalifikoval.
Na stránkách WoTC lze nahlédnout do decklistů z osmadvaceti míst, k čemuž jsem navíc přidal decklisty z Tokia. Celkem to dělá 120 kvalifikovaných hráčů, mezi kterými bylo sedmatřicet různých decků. Nejhranější byly klasiky jako Affinita, Storm, či Vizier Company, ale našly se i zajímavá brew, jako například Jund Loam, BW Zombies, či Death's Shadow s Tribal Flames. Překvapila mne také stále vzrůstající obliba 4C/5C Humanů, se kterými se kvalifikovalo osm hráčů.
12× Affinity
10× Gifts Storm
9× Vizier Company (různé barevné kombinace)
8× Grixis Death's Shadow
8× 4C/5C Humans
8× Eldrazi Tron
6× Jeskai Tempo
6× UW Control
6× RG Scapeshift
4× Lantern Control
4× Boros Burn
3× Dredge
3× UR Breach Moon
3× RG Hollow One
3× RG TitanBreach
3× Abzan Midrange
3× Ad Nauseam
2× Bant Knightfall
2× Vizier Elves
1× Gr Tron
1× Bring to Light Scapeshift
1× Tribal Death's Shadow
1× Grixis Control
1× Jund Death's Shadow
1× Merfolk
1× Jund Loam
1× Infect
1× Eldrazi and Taxes
1× Bogles
1× RG Ponza
1× 5C Death's Shadow
1× Skred Red
1× GW Company
1× BW Eldrazi
1× BW Zombies
1× Jund Midrange
1× BG Rock
3. Online RPTQ Rivals of Ixalan #2 (Modern)
Poslední RPTQ se konalo prostřednictvím MTGO a mohlo se pochlubit účastí 193 hráčů.
Shodou okolností to vyšlo tak, že po osmi kolech dosáhlo přesně osm hráčů na skóre 7:1. Nejlepší pomocné z nich měl "filippidis", který hrál pěknou verzi Boglů s maindeck Leylinami. Za ním se seřadili Merfolci, dvě Jeskai Tempa, Mardu s playsety Young Pyromancerů a Bedlam Revelerů, Gifts Storm, Vizier Elfové (s one-of Growing Rites of Itlimoc) a Boros Burn.
Dalších osmnáct hráčů zakončilo turnaj se skóre 6:2. Nejzajímavější decky mezi nimi byly Monoblue Tron s playsetem Walking Ballistů a Affinita s Tezzeretem a Thoughtcasty.
4. MTGO Weekly Challenges (Modern, Legacy, Vintage, Duel Commander, Pauper)
Ani v dnešním díle nebude chybět pravidelný přehled online challengí, který započneme modernem.
V něm jsme byli svědky poměrně atypického finále mezi čistě zeleným Tronem (nejpřímočařejší verze decku) a Bogly, ve kterých kromě jednoho Spirit Mantlu byly pouze karty za jednu manu. Karty jako Oblivion Stone a Ugin ale Boglům příliš nesvědčily, což vedlo ke hladké výhře tronu.
Stoupající oblibu Boglů v posledních týdnech potvrdil i další hráč na třetím místě, jenž hrál verzi s maindeck Leylinami a Unflinching Courage (tj. verze, která vyhrála RPTQ).
Na dalších místech byl UW Control (se zajímavými kousky jako Runed Halo, Disallow a Settle the Wreckage), Amulet Titan, zajímavý Grixis Death's Shadow s Jace, Vryn's Prodigy a Claim//Fame, Dredge, RG Scapeshift, Jeskai Tempo, Mardu (populární verze s playsety Bedlam Revelerů a Young Pyromancerů), dvojice Jundů, další RG Scapeshift, Affinita, Eldrazi and Taxes a klasický Grixis Death's Shadow.
Finále legacy challenge nám nabídlo souboj mezi dvěma klasickými tier decky - Koleigh1 se Zeměmi (Lands) v něm porazil Grixis Delvera pilotovaného Gul_Dukatem. Určitě mu k tomu dost pomohlo, že v jeho verzi decku byl nejen playset Wastelandů, ale i Ghost Quarterů. A jak známo, tak Delver decky nehrají žádné basicy...
Nejzajímavější deck z top16 skončil na třetím místě. Šlo o UW Landstill, který byl ale o dost agresivnější, než běžně vídané verze a to díky playsetu Myth Realised. A do agresivnějšího pojetí se dobře hodily i Daze.
V top8 byly ještě dva další UW Controly. Jeden byl s Mentory a druhý byl v klasické kontrolní verzi se Search for Azcanta a červenou splashí v sidu.
Další decky na předních příčkách byly Burn, Monored Sneak Attack, Czech Pile, hned čtyři další Grixis Delverové, dvoje Death and Taxes, Manaless Dredge (se zajímavou možností nasidování Mindbreak Trap a Force of Will) a Storm.
Nejúspěšnějším vintage deckem byly Oathy, které měly tři hráče v top8 a dalšího v top16. Zajímavé je, že jednotlivé verze se od sebe dost lišily. Zatímco dva hráči hráli aktuálně nejpopulárnější verzi s Inferno Titány, tak zbylí dva měli dost odlišné verze. Jedna byla s Griselbrandem a Time Vault/Key kombem a druhá dokonce se Show and Telly, Omniscience a zajímavým toolboxem pro Burning Wish, který zahrnoval kombo killy přes Enter the Infinite a Tendrils of Agony.
Oath byl sice nejúspěšnějším deckem, ale celkového vítězství se nedočkal. Ve finále se totiž nejlépe dařilo Dmitri Butakovi s klasickým UWR Mentorem, kde měl v sidu hned sedm karet specifický zaměřených proti Oathům. Podobný deck byl i na třetím místě, pouze s tím rozdílem, že kvůli velké popularitě hrál už v mainu Containment Priesty. Paradoxně ale nehrál žádný další hate v sidu (kromě jedné Fragmentize), takže to měl ve výsledku proti Oathům spíše horší.
V top8 byl dále Paradoxical Tezzerator, který měl zajímavý side s Leyline//Helm kombem, 4C Control (BUG s červenou splashí na Pyroblast a artefaktový hate v sidu) a Ravager Shopy.
Několik velmi originálních brew jsme mohli vidět v top16. Deváté místo patřilo zajímavému Stormu s playsetem Baralů, Burning Wishů, Frantic Searchů a hlavně Accumulated Knowledge, které tu zajímavě spolupracovaly se všemi ostatními kartami (nutno zmínit i oldschool "kombo" s Intuicí). Hlavní winkondice decku byl Grapeshot, nebo Blightstell Colossus v kombinaci s Time Walkem.
Na desátém místě skončil Esper Midrange se Stoneforge Mysticy a Trinket Magy. Zajímavé je, že v decku byli one-of planeswalkeři jako Tezzeret, Agent of Bolas a Gideon, Ally of Zendikar a také dva kusy Paradoxical Outcomu čistě pro value (v decku byl i Mentor).
Poslední brew byl Grixis Midrange s Dark Confidanty a Goblin Weldery. Primární winkondice bylo Vault//Key kombo, ale v decku byla i Sphinx of the Steel Wind a trojice planeswalkerů. Jako nejzajímavější mi na decku přijde fakt, že je zde staré dobré kombo playset Dark Confidantů + playset Forsáží, nemluvě o Sfinze... Myslím si, že to pravé ořechové by to bylo teprve po zařazení Digu a Treasure Cruisy.
V duel commanderu se nám díky Edgaru Markovovi konečně pořádně zamíchala metagame. Deck totiž trestá všechny greedy čtyřbarevné midrange a kontroly, které se spoléhají na kánrování a spot removal. A naopak dává šanci jiným creature deckům a kombům.
Nejvíce z toho zcela evidentně profitovaly zelené creature decky, speciálně Marath, který je velmi dobrý v soubojích s jinými creature decky, mimo jiné díky jednoduchému kombu s Nightshade Peddlerem.
S Marathem také celý turnaj ovládl Dmitri Butakov, jenž si tak za jeden víkend připsal dvě vyhrané challenge. Ve finále porazil právě vampýry.
Celkem byli v top16 tři Marathové a čtyři Edgarové. Dále jsme na předních příčkách mohli vidět kombo Leovolda (všechny možné Timetwister a Time Walk efekty), zcela novou verzi Tymny a Krauma bez bytostí, ale zato s velkou porcí hromadného zabíjení, UWR Control s Narset, rampu s Nissou, RUG rampu s Thrasiosem a Kraumem, neobvyklé monoblue Wizardy s Azami, 4C Midrange s Thrasiosem a Tymnou, Monoblue Control s Jacem a Wildfiry s Keranem.
Pauper se po dvou týdnech, kdy bylo na předních příčkách k vidění relativně hodně monoblack decků vrátil do vyjetých kolejí, kdy jsme na předních příčkách viděli klasické tier decky. Pozitivní alespoň je, že v top8 bylo osm různých decků.
Pauper také ovlivnila změna rarit u některých reprintů v Iconic Masters. K vidění byly zejména dva kusy, které jsou nově jako common, a to Seeker of the Way (v Boros Aggru) a Lead the Stampede (a Gu Elfballu).
Pro první místo si došli Ug Elfové (modrá je v decku výhradně kvůli Distant Melody), které pilotoval "TrulyUnknowing", když ve finále porazil Monoblue Delvera.
Na dalších příčkách skončila Atog Affinita, Tireless Tribe Combo, 4C Tron, Boros Aggro, Monogreen Aggro a Bogles.
Mimo top8 mne nejvíce zaujaly UR Faerie na jedenáctém místě. Deck je velmi podobný klasickému UR Delverovi, ale je více situován pro delší grindy hry s playsetem Mulldrifterů a one-of Deprive.