Rubriky
Flash News #45/2017
1. World Magic Cup (Ixalan Sealed + Standard)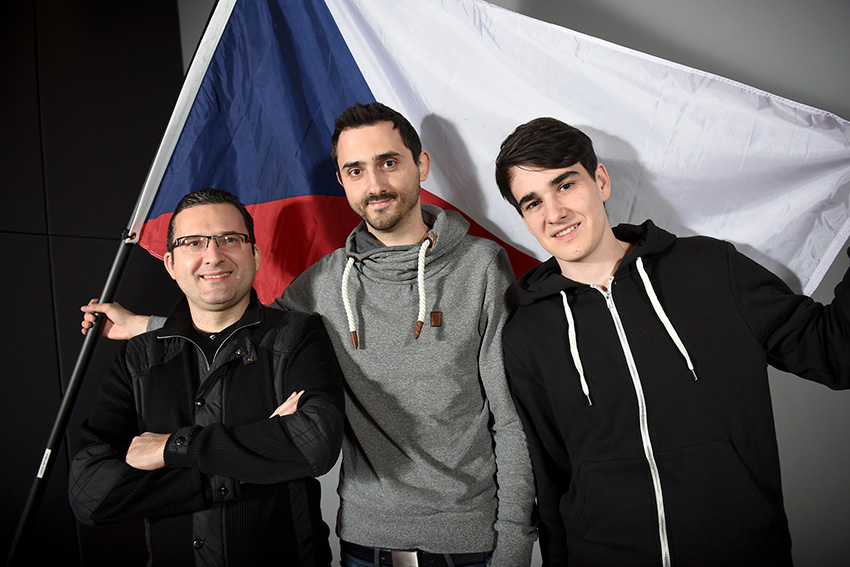 Týmového mistrovství se letos zúčastnilo třisedmdesát týmů, včetně české trojice Martin Jůza, Tomáš Langer a Tomáš Jirkal.
Turnaj měl opět specifickou strukturu, když se první den hrály tři kola sealed decku a čtyři kola standardu. Po pěti kolech se do druhého dne kvalifikovaly automaticky všechny týmy, které dosáhly na čtyři výhry, což se týkalo i našeho.
Zbylé týmy musely skončit do dvaatřicátého místa, což byla spodní hranice pro postup do druhého dne.
V něm se týmy rozdělily do čtyřčlenných skupin, ve kterých se hrály tři zápasy, po nichž dva nejlepší týmy postoupily do další fáze. Takto se hrálo dvakrát, načež zůstalo už jenom osm nejlepších týmů.
První den bylo nejzajímavější sledovat, jaké decky jednotlivé týmy zvolí, jelikož týmový formát je při konstrukci celkem svazující. Nejčastějíší konfigurace byla RUG/4C Energy, Ramunap Red a UW Control/Gift.
Pouze jeden tým nehrál žádný energy deck, a to Paraguay. Ramunap Red naproti tomu nehrálo hned třináct týmů, z nichž většina jako hlavní aggro deck měla Mardu Vehicly a Monoblack Aggro. Z energy decků byl nejhranější BUG, což bylo způsobeno zejména tím, že umožňoval hrát Ramunap Red a UW Control bez nutnosti jakýchkoli kompromisů.
Celkový metagame breakdown vypadal takto:
60× Ramunap Red
25× UW Gift
25× BUG Energy
22× RUG Energy
16× UW Cycling
16× UW Approach
9× Dark Temur
8× Sultai Red
8× Mardu Vehicles
5× Monoblack Aggro
3× Abzan Tokens
3× UGb Pummeler
3× Esper Approach
3× GW Aggro
2× 4C Energy Control
2× UB Midrange
2× UB Control
1× UW Eternalize
1× BG Aggro
1× UB Gift
1× UW Monument
1× BUG Reanimator
1× Esper Cycling
1× BUG Aggro
Největší novinkou byla kombinace UB Controlu a RUG Energy, kterou hrál Marc Tobiasch, jenž je znám nákloností k nekonvenčním deckům.
Neobvyklá byla například i čistě BG verze energy decku, nebo dost šílené WU Aggro s Oketra's Monumentem, které z části vypadalo, jako kdyby někdo vytáhl náhodné karty z bedny :)
Co se týče celkových výsledků, tak už jsem naznačil, že naše výprava bez problémů prošla do druhého dne. V něm se ve skupině utkala s Čínou a Uruguay a po nehozhodném výsledku jí čekal rozhodující zápas o postup opět s Čínou. Tu se jim podruhé porazit nepodařilo a turnaj zakončili na sedmnáctém místě.
O mnoho lépe se dařilo slovenskému týmu, který se ve složení Ivan Floch, Ondrej Kedrovič a Peter Snoha probojoval až do top8, kde ale ve čtvrfinále nestačil na Německo.
Papírově nejzajímavější souboj v top8 jsme mohli vidět v semifinále, kde se utkala Itálie s Japonskem. Italové se jako první mohli stát dvojnásobnými vítězi WMC, přičemž Andrea Mengucci by byl jako jediný při zisku obou triumfů. Japonská supertrojice Yuuya Watanabe, Kenta Harane a Shota Yasooka (ten ke své nelibosti hrál Ramunap Red) ale nic podobného nehodlala připustit a nakonec si po porážce Itálie a polského týmu ve finále došla pro titul.
2. SCG Invitational Roanoke (Standard + Modern)
Po třech letech zrušili SCG své mistrovství, a jejich sezóna tak skončila už začátkem prosince v Roanoke, kde se konalo Invitational a také modernové Open.
Nejprestižnější bylo samozřejmě Invitational, které mělo klasickou třídenní strukturu, kdy se v pátek a v sobotu hrála čtyři kola standardu, která následovala čtyři kola modernu. Nedělní finálová top8 byla opět záležitostí standardu, ačkoli modern by byl přece jenom divácky zajímavější, než standard.
Turnaje se účastnilo 288 hráčů, mezi kterými nechyběly největší hvězdy série (Brad Nelson, Todd Stvens) a čestní hosté jako Samuel Black, či Brian-Braun Duin.
Ve standardové části turnaje byl suverénně nejhranější a nejúspěšnější deck RUG Energy, který spolu se 4C verzí decku tvořil dvě třetiny metagame ve druhém dni. S obrovským odstupem byl druhý nejhranější deck Ramunap Red a alespoň pět hráčů měl ještě UWx Approach.
66× RUG/Dark Temur
15× Ramunap Red
7× UWx Approach
13× Other
Jediný hráč, který uspěl s jiným deckem, byl Craig Rocco, jemuž se podařilo uhrát 7:1 s Jund verzí energy decku.
V top8 bylo celkem 4× RUG Energy, 2× Dark Temur a 2× Ramunap Red (z toho jednou verze bez Hazoret a s Treasure Map) a mezi decky se skóre 7:1 a lépe byly taktéž čtyři RUGy, dvakrát Ramunap Red a po jednom Dark Temur, zmiňovaný Jund a Esper Approach.
Tato malá rozmanitost je samozřejmě divácky neatraktivní, což vedlo SCG k tomu, že na první půlrok roku 2018 stáhly z programu všechny dvojkové open, které nahradí týmové constructed.
Modern byl tradičně o mnoho rozmanitější, ve druhém dni bylo mezi hráči k vidění přes třicet různých decků. Nejpopulárnějším deckem bylo Jeskai Tempo, kterému šlapal na pty Grixis Death's Shadow, Affinita, Vizier Company, nebo různé verze Tronu:
14× Jeskai Tempo/Control
10× Grixis Death's Shadow
9× Affinity
9× Vizier Company
8× Gx Tron
7× Eldrazi Tron
5× Boros Burn
38× Other
Rozmanitá byla i skladba decků, které v základní části dosáhly na skóre 6:1:1 a lépe. Nejvíce ohlasů si získal pravděpodobně Sam Black, který hrál "novou" verzi Lantern Controlu s Whir of Invention a Tezzerety v sidu. Dále jsme mezi úspěšnými decky mohli spatřit Eldrazi Tron, RG Scapeshift, Grixis Death's Shadow, 5C Humany s playsetem Dark Confidantů (což mi přijde jako dost dobrá volba, jelikož deck jinak nemá příliš reach v lategame), Jeskai Tempo, Infect (s Jacem, Vryn's Prodigy), Ad Nauseam (s playsetem Leyline of Sanctity v mainu) a dvojici Affinit.
V top8 se k tomu navíc přidal zajímavý RUG Midrange s Blood Moony, Boros Burn, Gifts Storm a další Grixis.
Jako nejzajímavější aspekt v top8 mi přišel mezigenerační souboj mezi ostřílenými lišáky a velmi mladými, dalo by se říci až nezkušenými, hráči. Na jednu stranu jsme tu měli ostřílené lišáky jako Gerard Fabiano, Sam Black, nebo Eli Kassis, a proti nim stanuli dva velmi mladí hráči, patnáctiletý Austin Collins (dostal se do top8 s kombinací Ramunap Red a Grixis) a dokonce třináctiletý Rio Trevathan (kombinace Treasure Red a Boros Burn).
Lépe se nakonec vedlo ostříleným lišákům, když ve finále porazil Eli Kassis Sama Blacka ve souboji Dark Temuru s klasickým RUGem. Myslím si, že jejich modernový souboj (Storm proti Lanternu) by měl úplně jiné grády...
3. SCG Open Roanoke (Modern)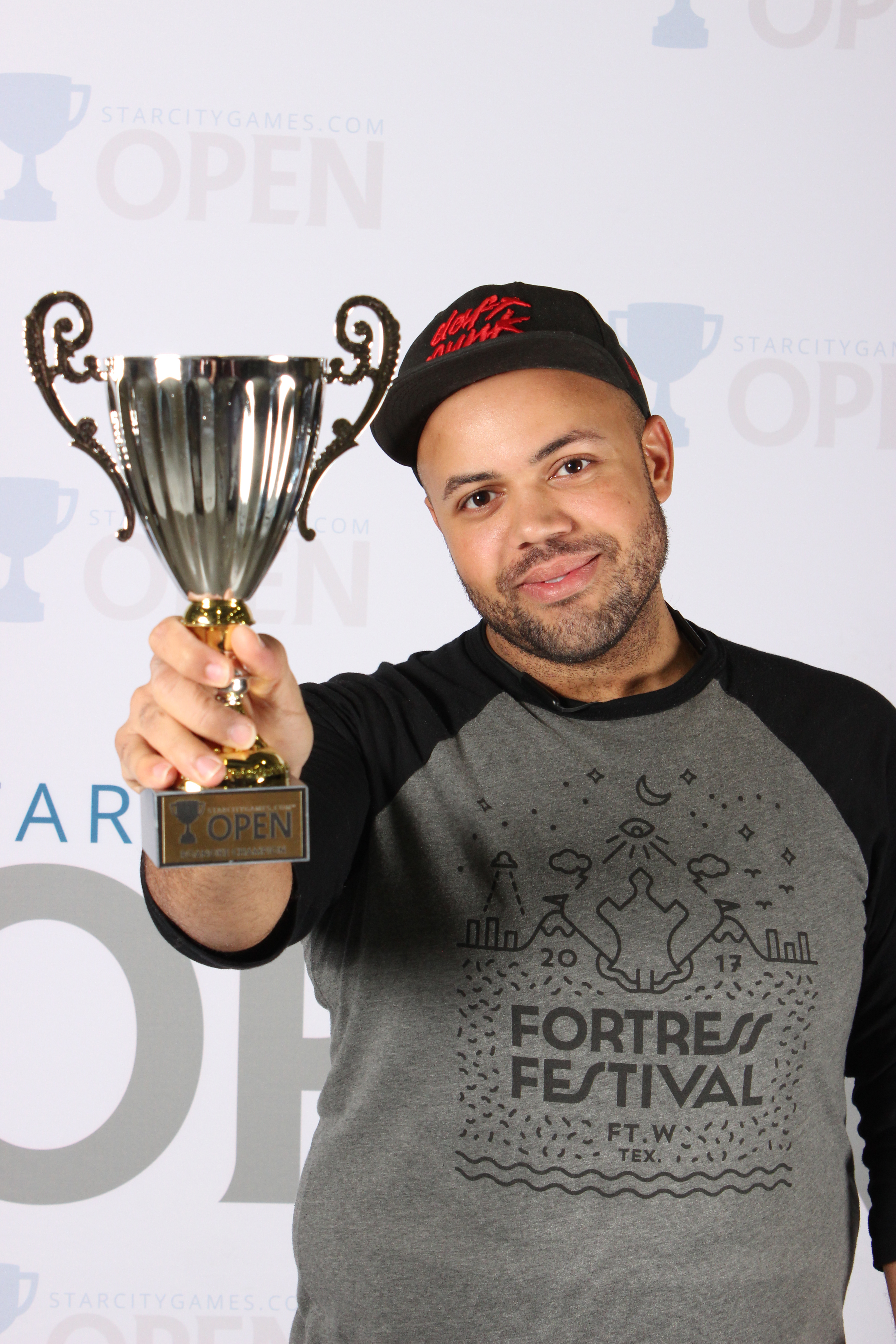 Hlavní pozornost směřovala na invitational, nicméně ještě více účastníků mělo klasické open se 306 hráči.
Z těch postoupilo do druhého dne sedmasedmdesát, mezi kterými bylo k vidění třicet různých decků. Metagame zde byla podobná, jako na invitational (snad s výjimkou Vizier Company), posuďte sami:
8× Affinity
8× Eldrazi Tron
7× Grixis Death's Shadow
6× Jeskai Tempo/Control
5× Dredge
4× RG Scapeshift
4× 5C Humans
4× Eldrazi and Taxes
4× Boros Burn
3× Jund Midrange
24× Other
Nejzajímavější to bylo shodou okolností v top8, kam se probojovalo sedm různých decků. Ve finále se střetly dva různé Trony, Eldrazi proti klasickému zelenému, který byl bez jakékoli splashe, což je v posledních pár týdnech sílící trend.
Zvítězil Benedict Chukwuma s Green Tronem, což byl zároveň i flavor win. Eldrazi titáni by podle mě měli zvítězit nad eldrazi drobotinou.
Na dalších místech byl Dredge, zajímavý All-in Red, který díky playsetům Simian Spirit Guide a Desperate Ritualu pravidelně zvládá zahrát trojmanovku v prvním kole, GW "Mono-threedrop" Company, dvojice Grixis Death's Shadow a zajímavý RG Scapeshift s Mwonvuli Acid-Mossy a Chandrou Flamecaller (a černou splashí pro playset Slaughter Games v sidu).
Zbytek top32 už takhle rozmanitý nebyl a obsahoval hodně Affinity, Dredge a Eldrazi Tronů:
4× Affinity
3× Dredge
3× Eldrazi Tron
2× Grixis Death's Shadow
2× Jeskai Tempo
2× Rabble Jund
2× 5C Humans
Dark Jeskai
UW Control
Lantern Control
Gb Tron
Kiki Moon
Boros Burn
Za poroznost stojí především Dark Jeskai Travise Perlee, se kterým sbírá dobré výsledky už téměř rok a půl. Pokud si vzpomínáte, tak jsem ho zmiňoval už při předchozím týmovém open.
4. SCG Classic Roanoke (Modern & Standard)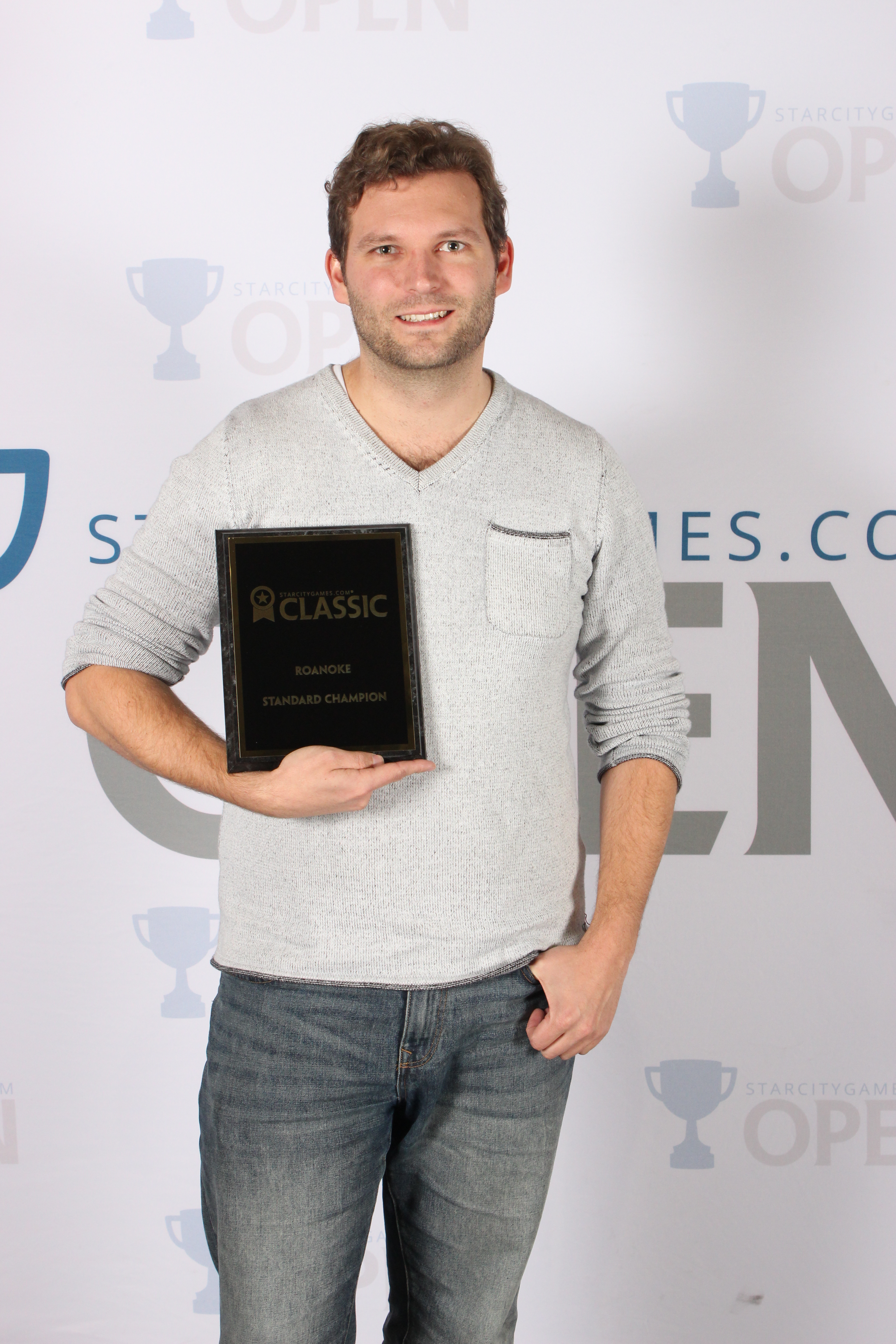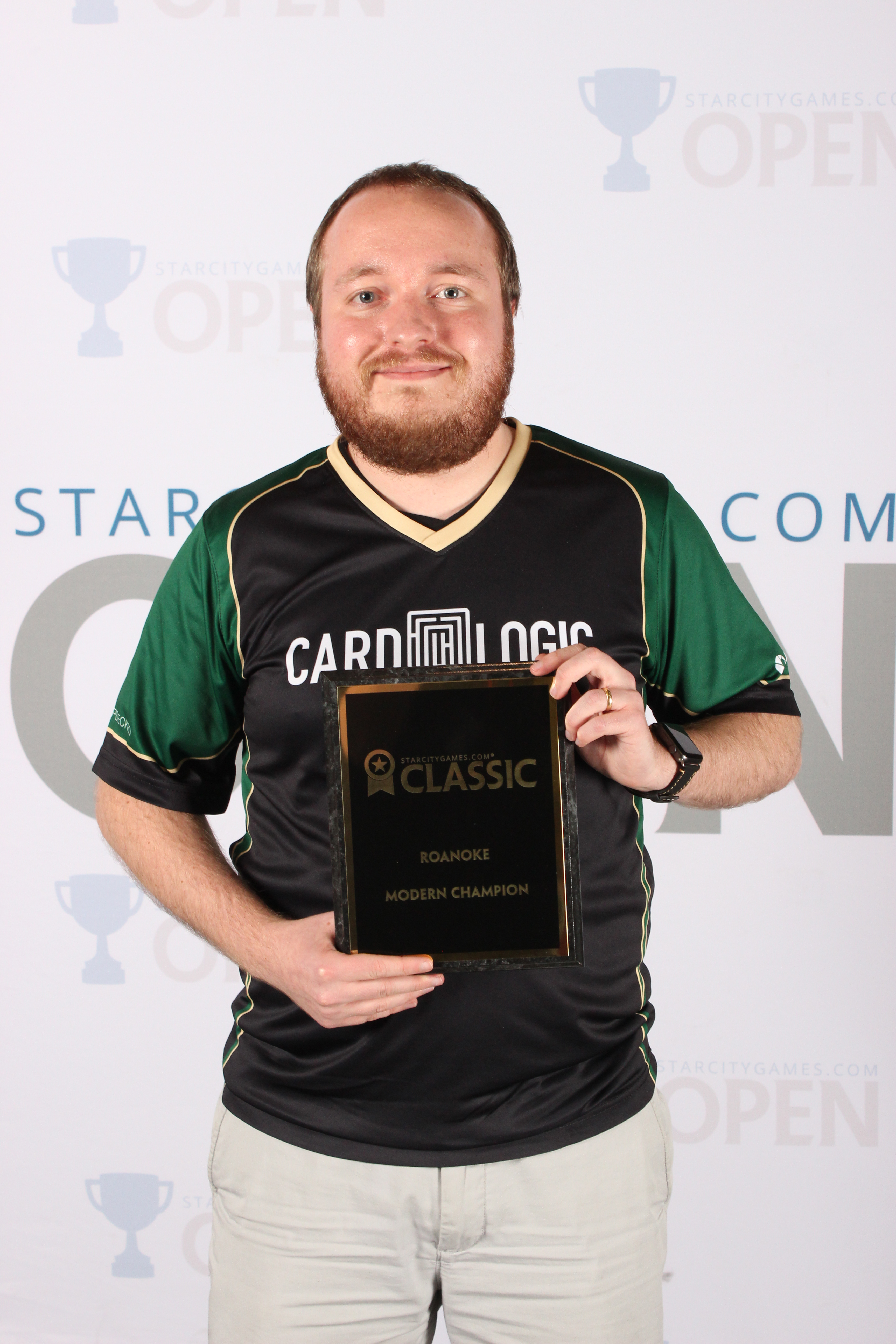 Hrály se samozřejmě i klasiky, které měly shodou okolní stejný počet účastníků (jednadevadesát).
Na standardu se již klasicky nejvíce dařilo RUG Energy, jejíž piloti si ve finále střihli mirror. Z něj vyšel vítězně Andre Euler, když se nezalekl Brada Nelsona. U obou finalistů byl zjímavý velký počet Vizierů of Many Faces, kterýžto je celkem dobrý právě na mirror.
V top16 bylo dohromady pět Dark Temurů, tři RUGy, dva Sultai Redy, dva Esper Approache, Monoblack Aggro, UW Gift, Ramunap Red a Grixis Control.
Nejzajímavější bylo Monoblack Aggro, se kterým byl třetí Danny Jessup. Šlo o verzi s velkým počtem vehiclů v mainu a s playsety Ruin Riderů a Gifted Aetherbornů. Trochu netradiční byl i vyšší počet Key to the City v mainu.
Modernová klasika měla překvapivě jako nejvíce zastoupný deck v top8 8-Rack, který tam měl hned tři hráče. Dvě verze byly víceméně klasické, a poslední měla v mainu playset Pack Rat.
Žádný z hráčů 8-Racku ale neprošel přes čtvrtfinále, kam postoupilo Jeskai Tempo, Eldrazi and Taxes, Lantern Control a zajímavé brew v podobě WR Enduring Idealu.
S konkurencí si zdárně poradil Mark Stanton s Jeskai Tempem (verze s Geisty a bez Search for Azcanta).
Další decky v top16 byli Vizier Elfové, Death and Taxes, Amulet Titan, GW Hatebeaři, Boros Burn, Copter Merfolk, Affinita, Eldrazi Tron a 5C Humani (s Dark Confidanty).
5. Online PTQ (Standard)
Navzdory tomu, že standard jsou hlavně nekonečné souboje energy decků, tak online PTQ mají stále hojnou účast. Tentokrát se znovu podařilo překonat hranici tříset hráčů (305), což znamenalo dokonce devět kol, ve kterých bylo potřeba uhrát 8:1.
V top8 bylo sedm různých energy decků, ale na všechny dokázal vyzrát "_sameold" s Ramunap Redem. Paradoxní je, že to byl vůbec jediný hráč Ramunap Redu mezi hráči se skóre 7:2 a lépe, kterých bylo čtyřiadvacet.
Ze zbylých decků v top8 byla nejzajímavější agresivní verze RUGu s Greenbelt Ramagery, Voltaic Brawlery, Blossoming Defense a dokonce i párem River's Rebuků v mainu. Podobný deck byl ještě jednou v top16.
Celkem bylo rozložení decků se skóre 7:2 a lépe následující:
8× RUG Energy
5× Dark Temur
3× UGb Pummeler
2× RUG Aggro
1× Rmunap Red
1× BUG Energy
1× Sultai Red
1× UW Gift
1× UW Approach
1× Esper Approach
6. MTGO Weekly Challenges (Modern, Legacy, Vintage, Duel Commander, Pauper)
Přehled pravidelných challengí nemůžu načnout jinak, než modernem. O ten byl tak velký zájem, že měla základní část dokonce osm kol (standardně mívá šest, či sedm), v nichž hned sedmnáct hráčů dosáhlo na šest výher.
V top8 se nejlépe dařilo uživateli s nickem "CharlesBukowski", který hrál Dredge se zajímavou sideboardovou techovkou proti kombům v podobě Failure//Comply. Ve finále porazil pěkný Jeskai Control se Search for Azcanta.
Na dalších místech bylo Jeskai Tempo, RG Breach, Grishoalbrand, Green Tron (vítěz z minula), další Dredge a Affinita.
Hned za top8 skončil Sam Pardee s inovativní verzí 5C Humanů, ve které hrál Phantasmal Image a extra onedrop v podobě one-of Experiment One. Jko skvělá vychytávka mi přijde hlavně Image, která tu může fungovat jako extra disrupce, lord, nebo může třeba zkopírovat soupeřova Titána.
Další zajímavé decky byly UB Faerie na jedenáctém místě, které byly trochu rozpolcené s klasickými kontrolními kusy jako Ancestral Vision a Cryptic Command, tempo kartami jako Remand a Bitterblossom, a také playsetem Liliany of the Veil. Zvláštní byly také některé sidovky, jako třeba Hostage Taker, Wurmcoil Engine, či Disdainful Stroke.
Pěkný byl i Amulet Titan na třináctém místě, který se hodně spoléhal na Azusu a Lotus Bloom a hrál jakožto alternativní winkondici Hive Mind, co bylo poměrně standardní během začátků tohoto decku.
Poslední dvě zajímavosti byli extrémně agresivní Goblini (swarm strategie v kombinaci s Bushwhackery) a RG Hollow One s jedenácti efekty typu Fiathless Looting, Burning Inquiry, či Goblin Lore.
Při procházení výsledků legacy jsem měl menší deja vu, ve finále totiž Koleigh1 se Zeměmi porazil Grixis Delvera, což je navlas stejný výsledek jako před týdnem.
A stejně jako před týdnem byli ve zbytku top16 ještě čtyři další Grixi Delverové.
Zbytek se ale naštěstí lišil. V top8 jsme mohli spatřit Storm, čtyřbarevný Maverick s playsetem Green Sun's Zenithem, což je specialita "Olivettiho", UWR Stoneblade, ve kterém byly místo True-Name Nemesis Spellstuter Sprity, Death and Taxes s playsetem Judge's Familiarů a dva další Grixisy.
Za top8 byli k vidění UW Miracly s velkým počtem Search for Azcanta (tři kusy) v mainu, dva 4C Controly, BUG Delver, UW Landstill s Myth Realised (o kterém jsem mluvil už před týdnem), dva Grixis Delverové a velmi originální Nic Fit s Academy Recruitery, ke kterým byli v decku chuťovky jako Curse of Death's Hold, Dovescape, či dokonce Overwhelming Splendor.
Vintage byla ve znamení dominance modrých kontrolů. Ve finále se utkaly dva čtyřbarevné o různých základech. Zvítězil thepowernine, jehož verze 4C Controlu měla UWR základ se zelenou splashí. Na proti tomu poražený finalista (jhk_) měl 4C Control s BUG základem a červenou splashí.
I na třetím místě byl modrý kontrol - v grixis barvách s Young Pyromancery a s černou karetní výhodou v podobě Night's Whisper a Painful Truths.
Čtvrté místo obsadil první kombodeck - téměř Monoblue (v mainu byl jako jediná nonblue karta Dack Fayden) Tezzerator s Paradoxical Outcomy, Thoughtcasty a Thirst for Knowledge.
Další zajímavý kontrol byl na pátém místě RUG s velkým množstvím planeswalkerů (včetně Chandry, Torch of Defiance), kde hlavní důvod pro zelenou splash byla Sylvan Library.
Šesté místo patřilo hybridu stormu a kontrolu s Baraly, Gifts Ungiven a Burning Wishi.
Další příčky v top16 obsadily už výhradně klasické tier decky - dvakrát Inferno Oath, čtyřikrát Ravager Shops, dvakrát UWR Mentor a jeden Dredge.
V duel commanderu se nejlépe vedlo deckům s Leovoldem, které měly čtyři hráče v top16 a to včetně celkového vítěze, který hrál midrange verzi pouze s minimem lock karet (dvě verze byly midrange a dvě kombo s kartami jako Howling Mine a Rites of Flourishing). Naopak velký ústup ze slávy zažili vampýři, na které byli všichni dobře připravení. Vidět jsme mohli karty jako Engineered Plague, Goblin Sharpshooter, či Zealous Persecution.
Na předních příčkách se také objevil dost opomínaný deck, jehož vznik umožnil Commander 2017. Jedná se Grixis Control s Kess. Ačkoli jsme v minulosti mohli vidět Grixis s Vial Smsherem a Kraumem, tak tenhle deck potěší zejména milovníky klasických counter-draw kontrolů.
V top16 byla dále kontrolní verze Tymny s Kraumem (ale i jedna klasická tempo verze), dvě Narset, RUG Rampa s Thrasiosem a Kraumem, Marath, dva Keranové, 4C Goodstuff s Thrasiosem a Tymnou, jeden poslední Edgar Markov a kombo Sisidi s Necrotic Ooze a Painter/Grindstone komby.