Rubriky
Flash News Speciál - ohlédnutí za rokem 2017
Leden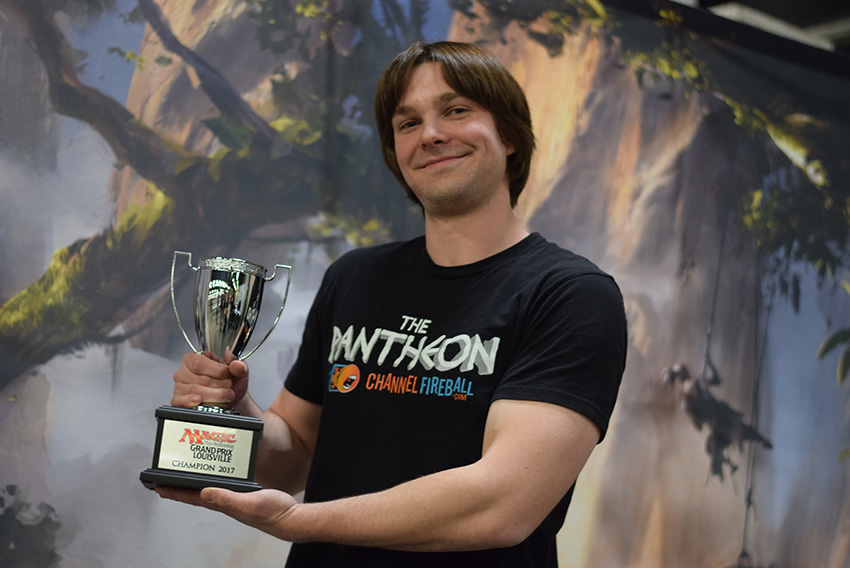 Rok 2017 zahájilo legacy GP v Louisville, kde mezi 1 607 hráči triumfoval Reid Duke s vlastní verzí BUG Controlu, která byla postavená na interakci mezi manovači a silnými třídropy v podobě True-Name Nemesis a Leovold, Emissary of Trest.
Zbytek ledna byli hráči zaměstnáni releasem Aether Revoltu, s jehož nástupem na formát proběhla velká změna, když byla zabanovaná trojice karet - Emrakul, the Promised End, Smuggler's Copter a Reflector Mage. Šlo o první ban na standardu od června 2011, kdy byl zkázán Jace se Stoneforge Mysticem.
Banovalo se i na modernu - ten opustila Gitaxian Proba a Golgari Grave-Troll
Před PT se hrály dvě velké dvojky v rámci SCG Open - první se zúčastnilo 604 hráčů a zvítězil zde Brennan DeCandio za pomocí dvou nových karet, Winding Constrictor a Walking Ballista.
O týden později Open zcela ovládly decky s kombem Saheeli Rai + Felidar Guardian. Ze 428 hráčů se nejvíce dařilo Dylanu Doneghanovi s Jeskai verzí decku. Ve finále byla k vidění i čtyřbarevná varianta decku. Z dnešní perspektivy je úsměvné, že tehdy nebyl v decku Attune with Aether a jako hlavní fixace tam byl playset Evolving Wilds.
Konala se také první ze čtvrtletních kvalifikací na MTGO Championship, což byla záležitost modernu. Zvítězil zde Corey Burkhart s Grixis Controlem a druhým kvalifikovaným byl neméně známý hráč v podobě Steva Rubina, jenž pilotoval Bant Company.
Týden před PT se již tradičně na GP hrálo limited. Jedno z GP se konalo v Praze, druhé bylo v San Jose (1908 hráčů).
Pražské GP se do paměti hráčů zapsalo hlavně díky spektakulárnímu požáru stánku s občerstvením během pátečního programu (který byl pak bohužel celý zrušen). Možná vás ale překvapí, že GP se 2 005 hráči zůstalo až do konce roku coby největší evropské GP.
Vítězem se tu stal Yusuf Kemal-Vefa, což byl vůbec první zástupce tureckého magicu, který triumfoval na GP, či PT. Z našich hráčů se do peněz dostal pouze Michal Hříbek, kterému patřilo konečné třiatřicáté místo.
V San Jose se z výhry radoval neznámý John Asbach.
Únor
Hlavní událostí únoru byl pochopitelně PT Aether Revolt v Dublinu, kterého se zúčastnilo 425 hráčů, včetně devítí českých reprezentantů.
Turnaj naprosto opanovaly Mardu Vehicly, které měly šest zástupců v top8. Ve finále v mirroru porazil brazilský Lucas Berthoud Marcia Carvalha. Zajímavostí je, že ve standardové části turnaje měl 100% win se skóre 12:0.
Na turnaji se také extrémně dařilo našim hráčům. Oba dva non-vehicle decky v top8 totiž patřily právě jim. Po dlouhých sedmi a půl letech byl v top8 Martin Jůza s vlastním brew v podobě Jund Aggra a dopnil ho tam ještě Jan Ksandr s agresivní verzí BG Deliria, který byl dokonce teprve na svém třetím PT!
Skvělé výsledky naší výpravy tím ale neskončily, do top64 se ještě probojovali Martin Hrycej a Lukáš Blohon.
O týden později se hrál opět standard, a to na GP Pittsburgh, kam přišlo 1 334 hráčů. Celé GP se neslo ve znamení souboje GB Deliria proti Vehiclům, ze kterého vzešlo vítězně GB, když s ním zvítězil Ryan Haare. Šlo o agresivní verzi s nižší křivkou, která hrála Sylvan Advocaty a více kusů třímanové Nissy.
Další týden patřil modernu, když se hrálo GP Brisbane a Vancouver. Na australském GP (966 hráčů) byl průlomovým deckem Dredge týmu MTG Mint Card (po banu Trolla nad deckem všichni zlomili hůl), nicméně vítězem se nakonec stal domácí matador Oliver Oks s Lantern Controlem.
Velkým překvapením skončilo druhé modernové GP, kterého se zúčastnilo 1 545 hráčů. Turnaj totiž opanovala skupinka pro hráčů se zcela novou verzí Death's Shadow zaměřenou na delirium, jejiž základy byly v Jund barvách, ale často se splashí na bílou. Revoluční byl zejména velmi nízký casting cost většiny karet, což předtím u midrange decků nebývalo pravidlem.
Z vítězství se radoval Josh-Utter-Leyton právě se čtyřbarevným Death's Shadow. Modern se hrál i na týmovém SCG Open, kde zvítězila trojice Mat Nass, Sam Pardee a Ben Stark. Modernovou část turnaje hrál Mat Nass a nebyla rozhodně náhoda, že i on hrál čtyřbarvnou vezi Death's Shadow.
Závěrem února se v Utrechtu konalo první evropské dvojkové GP roku. Zahrát si přišlo 1 232 hráčů včetně třiadvaceti našich.
Triumfoval zde Samuel Vuillot s novou verzí Mardu Vehiclů, ve které byli Walking Ballisti, jenž byli důležitější proti neustále se zlepšujícím 4C Energy deckům se Saheeli kombem.
Na GP se celkem dařilo i našim hráčům - Ondřej Stráský skončil s netradičním RUG Controlem jedenáctý a na peníze těšně dosáhli i Petr Sochůrek a Martin Jůza na 63. a 64. místě.
Březen
Začátek března patřil MTGO Championshipu, do kterého se kvalifikoval i náš Lukáš Blohon. Turnaj měl skvělou coverage, když jednotlivé zápasy komentovali hráči jako Reid Duke, či Patrick Chapin, ale standard moc zajímavý nebyl. Na turnaji se hrály de facto jenom dva decky - Mardu Vehicly a 4C Saheeli.
Až do finále se probojoval Lukáš Blohon se 4C Saheeli, kde ale nestačil na Joshe Utter-Leytona s Vehicly, jenž si tak připsal druhou velkou výhru během jednoho měsíce.
Týden na to se konala dvojice standardových GP v Barceloně (1 262 hráčů) a New Jersey (1 627 hráčů).
Oba turnaje byly pokračováním soubojů mezi Mardu Vehicly a 4C Saheeli. Za delší konec poprvé tahaly 4C Saheeli decky, které ovládly oba dva turnaje.
Pro nás bylo nejdůležitější, že v Barceloně jsme se dočkali dalšího skvělého úspěchu, protože oním vítězným hráčem se 4C Saheeli byl Petr Sochůrek. A další dobrý výsledek si připsal i Martin Hrycej, který skončil na čtyřiačtyřicátém místě.
V New Jersey si své premiérové vítězství na GP připsal Corey Baumeister.
Zajímavé věci se děly alespoň na modernu. Na SCG Open v Dallasu (887 hráčů) se v top8 objevil "nový" deck v podobě GW Collected Company Todda Stevensona. Vítězil ale i nadále midrange s Death's Shadow v Jund barvách...
O týden o později se hráči standardu znovu snažili na dvou GP vyzrát na dvojici dominantních decků, což se jim povedlo tak napůl.
Japonskou Shizuoku (2 717 hráčů) ovládly Vehicly, které tam zabraly šest míst z top8. Celkovým vítězem se stal Ryohei Kirino.
Naproti tomu v brazilském Porto Alegre (576 hráčů) triumfoval Victor Fernando Silva s RUG Controlem, který měl transformační sideboard s Longtusk Cuby a Tireless Trackery.
Kromě toho se konala i první zastávka v rámci MKM Series v italském Miláně, kde se zrodil nejzajímavější výsledek na legacy, kterou mezi 134 účastníky vyhrál Marius Hausmann s novou verzí Food Chainu, která obsahovala playset Walking Ballistů.
Poslední březnový víkend patřil v Orlandu (1 284 hráčů) Kaladeshi a Aether Revoltu, jelikož se hrálo limited. S konkurencí si v něm nejlépe poradil Joel Larsson, ale ještě zajímavější bylo čtvrté místo Chrise Pikuly, což byl jeho nejlepší výsledek od listopadu 2005. Díky tomu by mohl v budoucnu znovu usilovat o uvedení do Hall of Fame.
Duben
Duben načalo oblíbené týmové GP ve formátu unified modern. Zahrát si přišlo 556 týmů. Ve finále porazila trojice Gregory Orange, Adam Jensen a Andrejs Prost aktuálně nejobávanější tým na světě - Owen Turtenwald, Reid Duke a William Jensen.
Vítězný tým hrál trojkombinaci UW Control, Jund Midrange a Affinita, zatímco Peach Garden Oath vsadili na Grixis Control, Abzan Death's Shadow a Eldrazi Tron.
Nejzajímavější z finálových decků byl UW Control, který byl s kartami jako Ghost Quarter, Spreading Seas a Condemn specificky zaměřen na porážení Death's Shadow decků.
Zajímavý turnaj bylo také evropské mistrovství v eternal formátech, které pořádal Bazaar of Moxen. Legacy byla se 448 hráči beznadějně obsazená již během předregistrace. Turnaj potvrdil dominanci Miraclů, když ve finále zvítězil v mirroru Thomas Mechin. Největším překvapením ale byli hned troji elfové v top8.
Druhým vrcholem akce byla vintage, které se zúčastnilo 152 hráčů. Papírově nejlepší deck zde byl UWR Mentor, ale nakonec se jeho pilotům příliš nevedlo a finále bylo ze zcela jiného soudku - Joaquin Solis s White Eldrazi v něm porazil Ravager Shopy pilotované dalším španělským hráčem, Aurelio Crespem.
Další týden se konalo poslední GP před releasem Amonkhetu. Šlo o týmové limited v Mexico City. Tahle lokace bohužel příliš hráčů nenalákala a šlo tak o letošní nejmenší GP s pouhými 444 hráči.
Ve finále se utkaly dva super týmy - trojice Andrew Cuneo, Eric Froehlich a Ben Stark porazila Matta Nasse, Jacoba Wilsona a Sama Pardeeho.
Do top24, která brala finanční prémii, se dostali i dva naši hráči. Martin Jůza byl spolu s Corey Burkhartem a Shuheiem Nakamurou šestý a Ondřej Stráský spolu s PVm a Thiagem Saporitem devatenáctý.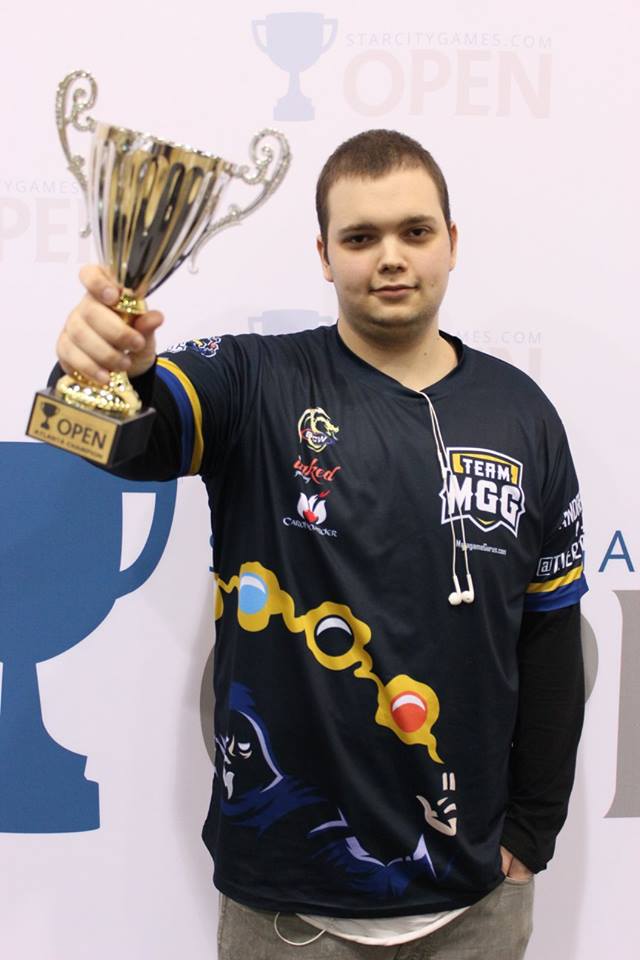 Následoval release Amonkhetu, který pořádně zamával s eternal formáty. Na legacy byla konečně zakázána Sensei's Divining Top a na vintage došlo k omezení Gitaxian Proby a Gushe.
Po několika dnech, kdy se s Amonkhetem mohlo hrát na MTGO, přišla ještě jedna nečekaná, leč vítaná zpráva. Původní změny v banlistu byly ještě doplněny o zákaz Felidar Guardiana na standardu.
Na víkendovém SCG Open v Atlantě (505 hráčů) byly tak rázem největším favoritem na výhru Mardu Vehicly. Předpoklady plně naplnil Andrew Jessup, když triumfoval s verzí decku, ve které byla pouze jedná nová karta jakožto one-of a to Cut//Ribbons.
V top8 bylo hned pět vehiclů a pouze dva nové decky v podobě WR Humanů a Monoblack Aggra.
Konala se také druhá zastávka MKM Series, a to ve Frankfurtu, kde byla opravdu parádní návštěvnost. Modernu se zúčastnilo rekordních 674 hráčů a z výhry se v něm radoval Simon Bülhoff s Affinitou.
Legacy měla 437 hráčů a vítězství v ní uzmul Johannes Gutbrod se Show and Tellem, když ve finále porazil BR Reanimator.
Květen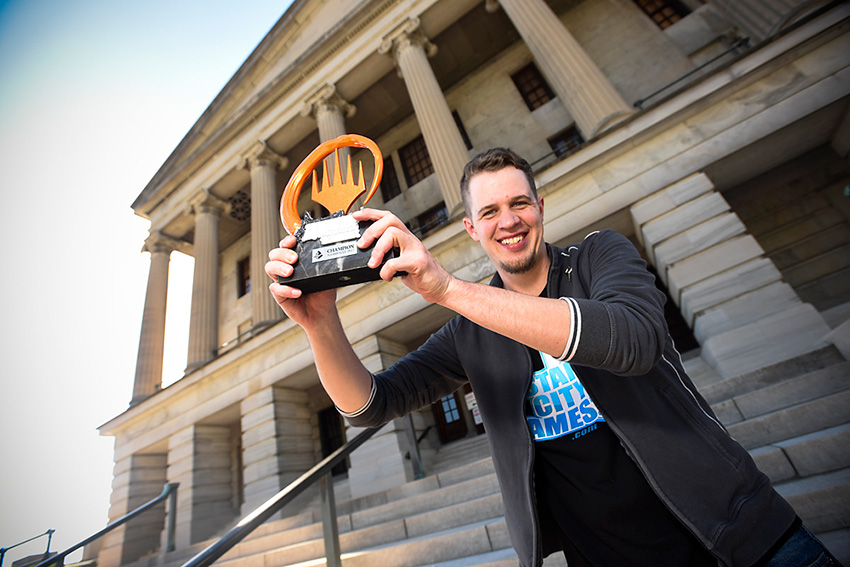 Před PT se konala trojice limited GP. Hrálo se v Asii, v Evropě a v Americe. Nejméně hráčů přišlo do Pekingu (1 029), kde se z výhry radoval singapurský Kelvin Chew.
Lepší to bylo v Richmondu, kde bylo hráčů 1 593. Jelikož se i následný PT konal za velkou louží, tak se GP účastnili i Petr Sochůrek a Ondřej Stráský. Na GP dokázal Brian Braun-Duin uhrát 15:0, ale poté se stal obětí tzv. 15:0 kletby a vypadl ve čtvrtfinále. Z vítězství se radoval doposud neznámý Michael Baraniecki.
Z našeho dua si lépe vedlo Petru Sochůrkovi, který se těsně dostal do finančně ohodnocené top64 (59. místo).
Překvapivě nejvíce hráčů přišlo do Bologny (1 669), kde bylo i osmadvacet zástupců českého magicu, kteří se na turnaji rozhodně neztratili.
Parádní jízdu předvedl Martin Jůza, který se probojoval až do finále, kde bohužel nestačil na domácího Corrada De Sio. Smůlu měl Michal Brodzák, který se skóre 13:2 skončil na pomocné desátý. Do peněz se dostal ještě Tomáš Langer, který obsadil dvaačtyřicáté místo.
O týden později se v Nashvillu konal PT Amonkhet, kterého se zúčastnilo 379 hráčů, včetně devíti našich.
Turnaj byl naprostým propadákem z pohledu Mardu Vehiclů, a naopak jsme po dlouhé době viděli návrat na výsluní pro Aetherworks Marvel, kterému sekundoval pouze nový deck v podobě Monoblack Zombies.
Top8 se skládala ze čtyřech RUG Marvelů, dvou Monoblack Zombáků, BW Zombáků a zbytek světa zastupovalo BG Aggro s velmi nízkou křivkou.
Ve finále se utkali dva ostřílení mazáci - Yuuya Watanabe s Marvelem a Gerry Thompson se Zombies. Poměrně hladce zvítězil Gerry, pro kterého to byl už druhý vyhraný PT.
Pro českou výpravu tentokráte skončil turnaj velmi špatně. Do peněz se dostal pouze Martin Jůza za šedesáté místo.
O týden později Marvely zombákům porážku pěkně oplatily, za což mohla hlavně adice Chandry Flamecaller. Na GP Montreal (848 hráčů) i GP Santiago (718 hráčů) jsme ve finále mohli vidět mirrory RUG Marvelů. Z vítězství se radovali Kevin Jones a Mauro Sasso.
V Santiagu bylo i několik českých hráčů, kteří dosáhli na velmi dobrá umístění. Smolně devátý byl Martin Hrycej, třicátý Martin Jůza a devětatřicátý Ondřej Stráský.
Konalo se i finále druhé letošní sezóny na MTGO, kde se soupeřilo o dvě další místa pro online mistrovství 2018. Podobně jako u prvního finále se i tentokráte dařilo známým hráčům. Ze 137 hráčů se kvalifikovala dvojice Brock Parker (RUG Marvel) a Dmitry Butakov (Jund Aggro).
Zbytek měsíce patřil modernu, kde nejvíce uřadovala Grixis verze Death's Shadow, která už byla několik týdnů předtím považována za nejlepší verzi decku. Zvítězil s ní Brad Nelson na SCG Open Baltimore (rekordních 903 hráčů) a také Mattia Rizzi na GP Kodaň (1 836 hráčů), ačkoli ve spěchu napsal do decklistu omylem Flooded Strand místo Scalding Tarn a musel s touto chybou odehrát celý turnaj.
V Kodani byla samozřejmě i česká výprava čítající šestadvacet hráčů. Nejlepší výsledek z ní uhrál Martin Jůza, který jako jediný skončil v top64 (třinácté místo), když vsadil na Elfy, ve kterých měl nové infinite kombo s Vizierem of Remedies a Devoted Druidem.
Poslední turnaj bylo GP Kobe, kde mezi 2 802 hráči triumfoval Joe Soh s vlastním brew v podobě BW Eldrazi.
Červen
Začátkem června se konala trojice dvojkových GP, kde byl veřejným nepřítelem číslo jedna RUG Marvel. Nekonečné mirrory začaly hráče nudit a návštěvnost pomalu upadala...
První GP bylo v Manile (Filipíny), kam přišlo 757 hráčů, kterým se na Marvel povedlo vyzrát. Zvítězil tu Ryoichi Tamada s UW Flashem.
Marvel byl poražen i v Amsterodamu, kam si přišlo zahrát 1 170 hráčů. Dočkali jsme se tu dalšího velkého úspěchu, když tu triumfoval Lukáš Blohon s BG Deliriem, kde měl kvůli Marvelu playset Dissenter's Deliverancí.
Dobrý výsledek naší výpravy ještě podtrhl třináctým místem Jiří Obraz, devatenáctým Martin Jůza a třicátým Petr Sochůrek.
Zastavit Marvel se nepodařilo pouze v Omaze (832 hráčů), což ale není divu, jelikož ho hrál Brad Nelson.
O týden později si hráči odpočinuli od standardu u modernového SCG Open, kde v konkurenci 742 hráčů zvítězil Todd Stevens s Eldrazi Tronem.
V polovině června se konala největší událost roku v podobě mamutího GP Las Vegas, které trvalo čtyři dny a zahrnovalo tři různé main eventy. Jako první se hrála legacy, které se zúčastnilo 2 656 hráčů. Poté následovalo limited s 2 562 hráči a končilo se modernem, kterému se 3 410 hráči až do konce roku vydržel primát v kategorii největší event.
V legacy bylo dost překvapivé finále, ve kterém Death and Taxes porazily UR Delvera. Vítězem se stal Andrew Calderon.
Limited opanovala známá jména, když ve finále porazil Thiago Saporito Steva Rubina.
A konečně v modernu zvítězil Mani Davoudi s Affinitou, když ve finále porazil Death and Taxes Theau Meryho. Kromě toho, že šlo o největší turnaj roku šlo také o jedno z nejdivnějších finále, protože v rozhodující hře vyhrál Mani po mulliganu do čtyř, protože jeho soupeř nechal ruku s ne-moc dobrým "kombem" v podobě Aether Vial + Stony Silence.
V top8 tu byla také k vidění dost divoká kreace v podobě UB "Time Walk" decku.
Závěr června patřil týmovému limited, které se hrálo na GP Sydney (284 týmů) a GP Cleveland (537 týmů).
V Sydney triumfovali domácí hráči James Wilks, Simon Linabury a Ivan Schroder, a v Clevelandu se konečně radovala nerozlučná trojka Reid Duke, Owen Turtenwald a William Jensen, když ve finále porazili Martina Jůzu, který byl v obvyklé trojici se Shuheiem Nakamurou a Corey Burkhartem.
Červenec
Prázdniny načaly SCG se svým Invitational v Cincinnati, kde se hrál první standard po dalším banu, který tentokráte potkal dominantní Aetherworks Marvel.
Turnaje se zúčastnilo 547 hráčů a triumfoval v něm Brain Koval s neobvyklou kombinací decků v podobě Death and Taxes na modernu a Grixis s Metalwork Colosussem na standardu.
Hlavní novinkou víkendu byl dvojkový WU Midrange založený na Oketra's Monumentu, který nejvíce propagoval Todd Anderson, za což mu bylo odměnou celkové čtvrté místo.
O týden později bylo v centru dění SCG Open Cincinnati, což byla první velká dvojka s Hour of Devastation (487 hráčů). Za nejlepší deck byl považován již zmiňovaný WU Monument, ale všechny dokonale zaskočil Michael Hamilton s Jeskai Controlem (s malou splashí na Nicol Bolase) vlastní konstrukce.