Novinky
Flash News #23/2016
1. GP Chiba (Legacy)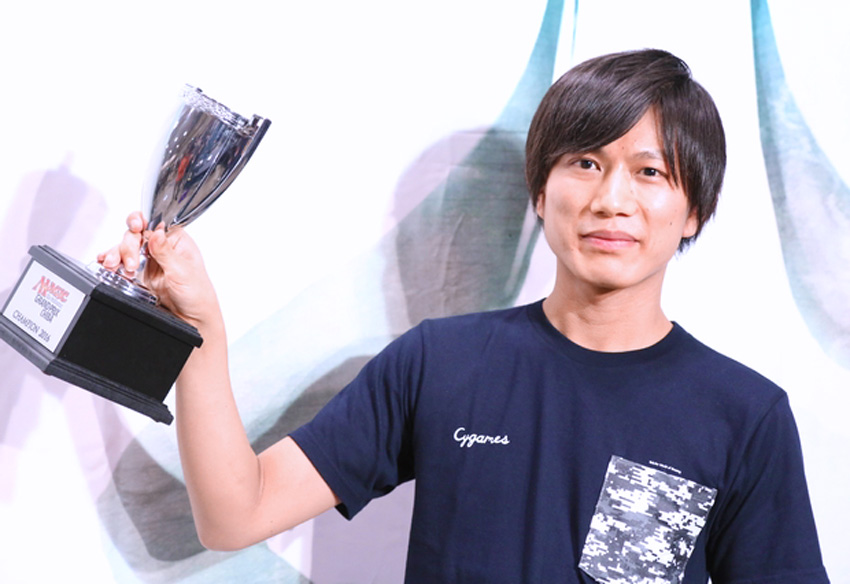 Japonsko a legacy, to je kombinace, která vždy slibuje plno zajímavých decků. GP se účastnilo 2502 hráčů a zajímavé na tom bylo, že Tomoharu Saito zasponzoroval vstupné pro 500 studentů, což je pěkný způsob, jak podpořit mladé hráče v hraní.
Už po prvním dni bylo jasné, že o zajímavé decky na předních příčkách nebude nouze, když mezi neporaženými decky figuroval Monored Prison, Food Chain a Monored Grindstone.
Do druhého dne celkem postoupilo 749 hráčů, mezi kterými nebyly trochu překvapivě nejpopulárnějším deckem Miracly, nýbrž Colorless Eldrazi, které hrálo 99 hráčů.
Decky, které měly ve druhém dni alespoň dvacet zástupců, byly tyto:
Eldrazi - 99 hráčů
Miracles - 78 hráčů
Shardless BUG - 61 hráčů
Grixis/4C Delver - 56 hráčů
Death and Taxes - 55 hráčů
Omni-Tell - 35 hráčů
Infect - 29 hráčů
UR Delver - 27 hráčů
Storm - 26 hráčů
Lands - 24 hráčů
Burn - 23 hráčů
Tin Fins - 22 hráčů
BUG Delver - 20 hráčů
Reanimator - 20 hráčů
Navzdory tomu, že byli nejpopulárnějším deckem Eldrazi, tak nejúspěšnější zůstaly Miracly, které byly ve třech v top8, a dokonce hned 13× v top64.
Z top64 byly zveřejněny všechny decklisty, a její celkové složení bylo následující:
13× Miracles
7× 4C Delver
7× Colorless Eldrazi
6× Death and Taxes
4× Shardless BUG
3× UR Delver
3× Elves
3× Omni-Tell
2× BUG Food Chain
2× Sneak and Show
2× Monored Prison
Storm
Esper Stoneblade
Monored Painter
BUG Delver
BR Reanimator
4C Ninja
Lands
Dredge
Infect
Merfolk
Jund
UW Stoneblade
V top8 bylo kromě trojice Miraclů možné vidět dvakrát Sneak and Show, Storm, Death and Taxes a Elfy.
Co se týče konkrétních jmen, tak ze známých hráčů tam byli Yuuya Watanabe s Miracly (prý je hrál poprvé v životě) a Kentaro Yamamoto, který se Sneak and Show celé GP vyhrál, když ve finále porazil Miracly Atsukiho Kihary. Zajímavé je, že pro Kentara to byla vůbec první výhra na GP, ačkoli to byla už jeho devátá top8. Od jeho první GP top8 už uplynulo více, než sedm let...
Ze samotných decků v top8 byly nejzajímavější Miracly Kouichi Miyabeho, který hrál netradičně čistou UW verzi, ve které bylo hlavním benefitem duo Back to Basics v základu. Kromě toho měl v mainu ještě one-of Stifle, Spell Pierce a Misdirekci. A v sidu měl pak zajímavý creature package s Cavernami, Mentory a Meddling Mage.
Další zajímavý deck byli Komboelfové Akiry Honmy. Ten měl jednak v mainu malou modrou splash na Leovolda, ale nejzajímavější volba byla Nissa, Vital Force v mainu. Obvykle se jako midrange resilietní hrozba hrává Garruk Relentless, ale Nissa umí zabít mnohem rychleji, její emblém je super a za pozornost stojí i fakt, že umí untapnout Cradlu.
Pěkné bylo, že Akira nezůstal jenom u černé a modré splashe, ale v sidu měl k Zenithu/Orderu i Gaddock Teega a Ruric Thara, čímž byl deck efektivně pětibarevný (to by se zvládlo i díky Progenitovi, ale tyhle karty se daly v pohodě zahardcastit).
V top8 byla i hezká verze Death and Taxes, ve které byl párek Sanctum Prelatů a dokonce i one-of Palace Jailer, kterého Liu Jin trochu úsměvně zahrál v top8 na feature proti Yuuyovi Watanabemu jenom proto, aby o monarcha vzápětí příšel díky Monastery Mentorovi.
A když už je řeč o Miraclech Yuuyi Watanabeho, tak za zmínku určitě stojí jeho techovka na miror v podobě Gideona, Ally of Zendikar. Ten se celkem běžně hraje v sidu Death and Taxes, ale v miraclech ho vidím poprvé.
Hned za top8 jsme mohli vidět například dva UR Delvery (i když Stormchaser Mage je podle mě na legacy příšerná karta), Esper Stoneblade s Tasigury, Monored Paintera s playsetem Chander (Torch of Defiance), dvojici Food Chainů, nebo 4C Delvera s Chandrami v sidu.
Ve druhé polovině top64 byly dva Monored Prisony (opět Chandra v akci), speciální kontrolní verze 4C Delvera se Snapcastery a Leovoldem a poté dvě velmi zajímavá brew. První byla čtyřbarva s BUG základem, která hrála playset Ninjů of the Deep Hours, jenž kombinovala s Baleful Strixami, Shardless Agenty a Eternal Witnessami. Druhý deck byl agresivní UW Stoneblade s bytostmi jako Spell Queller, Mausoleum Wanderer, nebo Meddling Mage.
2. MKM Series Prague (Standard, Modern, Legacy, Vintage)
Koncem listopadu se už podruhé do Prahy podívala MKM series, která se narozdíl od loňska uskutečnila v centru pohybové medicíny a to dokonce ve větším přízemním sále, který umožňoval podstatně navýšit kapacitu.
To se hodilo hned na sobotním modernu, kterého se zúčastnilo 293 hráčů, což dokonce znamenalo devět kol základní části, ve kterých bylo potřeba na top8 uhrát nekompromisních 7:1:1 (jednomu smolaři ani to nestačilo).
Podle coverage MKM byl nejhranější archetyp tuctový BGx Midrange, následovaný Infectem a Collected Company/Chord of Calling decky. Mně osobně se ale při letmém pohledu zdálo, že všichni hrají Dredge...
Velký nárůst popularity zaznamenal Skred Red, který tvořil 3% metagame. A mezi top10 decků se vešly třeba i Eldrazi and Taxes a Bogles.
Překvapením turnaje ale nakonec byl úplně jiný deck, a to stará dobrá Affinita. Ta v posledních měsících vypada opravdu bídně a dokonce se její popularita smrskla na pouhá tři procenta fieldu (ano, Affinitu hrálo stejně hráčů jako Skred Red). Navzdory tomu to byl jediný deck, který se do top8 dokázal dostat ve dvou, a v rukách jednoho ze dvou českých hráčů v top8, Štěpána Dudeška, také celý turnaj ovládla.
Druhý český zástupce v top8 byl Ivan Gruber s Boros Burnem, jenž vypadl v českém semifinále se Štěpánem.
Zbytek top8 obsahoval Elfy, Skred Red, Infect, Mardu Midrange a Merfolky.
Nejzajímavější z decků v top8 byli Elfové Philippa Schmidta, se kterými se dostal až do finále. Philipp totiž vsadil na kartu, která zatím na modernu čeká na svůj okamžik slávy, na Eldritch Evolution. Dále je zajímavé, že v mainu nehrál černou splash na Shamana of the Pack, ale bílou na Selfless Spirita a Mirror Entity.
Hlavní síla Eldritch Evolution je ale samozřejmě v sidovkách jako Kataki, Melira, Burrenton Forge-Tender, nebo Yixlid Jailer (úplně zapomenutá karta proti Dredgi, která řeší úplně všechno, včetně otravné Conflagrate).
Zajímavé karty jsme pak mohli vidět i v Mardu Toma Fishera, který hrál několik méně populárních karet jako Brimaz, Grim Lavamancer, Painful Truths, nebo Olivia Voldaren. A trochu netradiční byla i druhá Affinita v top8, která obsahovala velké množství hate karet, ať už to byla maindeck Spellskita a Blood Moon, nebo Rest in Peace, Chalice of the Void a další Blood Moony v sidu.
V coverage jsme také jako bonus mohli vidět zajímavou variantu Kiki-Chordu, se kterou uhrál 6:3 belgický hráč, Amand Dosimont. Amand hrál playset Eldritch Evolution, velký počet Winessek a Restoration Angelů, playsety Pathů a Boltů a celý playset Blood Moonů v sidu!
Druhý sobotní main event byla Vintage, které se účastnilo 29 hráčů, což znamenalo pět kol základní části a top8, na kterou stačilo 3:1:1.
Turnaj byl velmi neúspěšný pro naše hráče, když do top8 postoupil pouze Liří Lebeda s vlastním brew v podobě UB Aggra s Delverem a Death's Shadow (postupoval z prvního místa po základní části). V top8 ale vypadl s Eldrazi Aggrem Erika Szanta. Zajímavé bylo, že Erik hrál unpowered verzi decku, která by s výjimkou Strip Miny byla zcela legální na legacy. S deckem se dokonce dostal až do finále, kde ale byl nad jeho síly Anton Karlinski s Vryn's Mentorem.
Ve zbytku top8 jsme mohli vidět Tezzerator s Grindstonem, BUG Fish, další unpowered Eldrazi, Dredge a další Tezzerator, tenkokráte UB verzi s Thoughtcasty.
Hlavní nedělní událostí byla legačka, kterou si nenechalo ujít 216 hráčů. Nejhranějším deckem tu byly Miracly, následované Sneak and Show, Death and Taxes, Eldrazi a BR Reanimatorem.
Po osmi kolech základní části vykristalizovala top8, ve které bohužel nebyli žádní čeští hráči (nejlepší z nich byl Martin Všianský na desátém místě), a která se skládala ze dvou Miraclů, zajímavého 4C Delvera (bez červené), Dredge, BR Reanimatoru, klasického 4C Delvera, Zemí a Food Chainu, který pilotoval Rémy de Brugiére, což byl jediný hráč, který se dostal do top8 s 21 body.
V top8 potvrdil svou extratřídu Angelo Cadei, což je v posledních letech jeden z nejlepších hráčů Miracles na celém světě, který podobné turnaje vyhrává jako na běžícím páse, i když se mu zatím vyhýbá nějaký větší úspěch na GP. Ve finále tu porazil Země pilotované Alexanderem Beiersdorferem.
Už jsem nakousl, že velmi zajímavý deck v top8 byl 4C Delver Nicklase Krulla. Narozdíl od klasické 4C verze totiž neměl Grixis základ, nýbrž Esper, který byl doplněn o zelenou. Bílá decku přináší Stoneforge Mystika, Swordy, Lingering Souls a další sidovky. Zajímavé je, že Nicklas neměl v celých 75 kartách ani jednoho Jace, ačkoli měl v sidu například Sorina (Lord of Innistrad).
Pěkný byl také BR Reanimator Mikaela Lindena, který hrál v mainu "kombo" Tirespout Tyrrant a Animate Dead a také tři Collective Brutality, což je pro Reanimaci nejlepší způsob, jak se zbavit Deathrite Shamana.
Velmi se mi líbil i Mikaelův sideboard, kde měl namísto splashe Abrupt Decayů, nebo Wear//Tear přímočařejší plán s City of Traitors a Sneak Attackem.
Na závěr nám zbyl Standard, kterého se účastnilo 75 hráčů, mezi nimiž bylo pouze minimum českých hráčů, ale paradoxně se právě tady dočkali největších úspěchů.
Hned tři se totiž dostali do finálové top4, která se nakonec rozhodla splitnout ceny. Byli to Jan Ksandr s Jund Aetherworky, Dominik Prošek se 4C Vehicly a Jiří Obraz s BG Deliriem (jediný neporažený hráč v celém turnaji, když měl v základní části pět výher a dvě remízy). Zbylý hráč v top4 byl Eliott Boussaud s RW Vehicly.
Největší inovaci v top8 předvedl Kristoffer Scheyer, který hrál Zombie Delirium s Prized Amalgamy, Huanted Dead a také one-of Decimator of the Provinces a Voldaren Pariah, což byly cíle pro Traverse the Ulvenwald.
3. Online PTQ (Standard)
Poslední listopadový týden se na MTGO konaly dva prémiové turnaje, a první z nich bylo dvojkové PTQ, kterého se účastnilo 96 hráčů, na které čekalo sedm kol základní části a top8.
Díky předchozím úspěchům RG Marvelu se po dlouhé době razantně změnila metagame, když úplně vymizelo BG Delirium a daleko více se začala prosazovat aggra.
V top8 měl ale znovu největší zastoupení RG Marvel (se kterým mimochodem dokázal Jaberwocki opět dát 7:0 v základní části), který tam byl ve třech. Celkové vítězství ale připadlo Mardu Vehiclům, které pilotoval Brandon Burton alias sandydogmtg.
Na předních příčkách se nám také objevily některé méně populární decky jako GB Aggro, UR Control, nebo Wb Humani. A celá top16 vypadala následovně:
4× Mardu Vehicles
3× RG Aetherworks
3× BR Aggro
2× UW Flash
GB Aggro
UR Control
BW Humans
WR Midrange
4. MTGO Power Nine Challenge (Vintage)
Klasické měsíční Power 9 Challenge se v listopadu zúčastnilo 51 hráčů, což znamenalo šest kol a top8.
V základní části se velmi dařilo Jaroslavě Štefánkové (stsung), která jako jediná ze všech dosáhla perfektního skóre 6:0 s obvyklým URw Delverem. V top8 ale bohužel nestačila na Ravager Shops hráče s nickem "k0de".
Finále byl souboj zajímavé verze UW Mentora "littledarwina" s neméně zajímavou verzí Staxu, kterou hrál vintage specialista Rich Shay (The Atog Lord). Z výhry se nakonec radoval littledarwin se svým UW Mentorem.
Na decku je zvláštní to, že nesplashuje žádnou další barvu, že má v sidu opravdu hodně artefaktvého hatu a dále tři maindeck Flusterstormy a také Skullclamp. Za většinu těchto změn patrně může velká popularita Paradoxical Outcomu.
Rich Shay hrál zajímavou verzi Staxu se všemi možnými Stax efekty a s minimem bytostí (Lodestone Golem, Phyrexian Revoker, Mishrovky). Zajímavé je napřílad, že hrál dva Bazaary, ačkoli v decku nebyly žádné Uba Masky.
Kompletní top16 vypadala takto:
1. UW Mentor
2. Stax
3. UWR Mentor
4. Ravager Shops
5. URw Delver
6. Ravager Shops
7. Counter-Dredge
8. Paradoxical Storm
9. Eldrazi White
10. UWR Mentor
11. Paradoxical Storm
12. Saheeli Oath
13. Paradoxical Mentor
14. Paradoxical Storm
15. UR Delver
16. UWR Mentor Walkers
Jak vidíte, v top16 byly hned čtyři decky s Paradoxical Outcomem, z nichž tři byly klasické Stormy s playsetem Mox Opalů a jeden byl takový mix mezi Mentorem a klasickým Stormem (hrál one-of Mentora, Snpcastera a Jace, ale zároveň hrál i Necropotenci, Dark Petition a Bargainu).
Hodně zajímavé byly i Oathy se Sun Titany a Shaheeli Rai, nebo Mentor s větším množství planeswalkerů, mezi které patřili Jace, the Mind Sculptor, Jace, Vryn's Prodigy, Dack a Narset.