Novinky
Flash News #30/2017
V těchto Flash News nás čeká rekapitulace jen jednoho Grand Prix, ale o to více se mrkneme na RPTQ turnaje. Dále nebude chybět várka Online zajímavostí a bonus, který potěší příznivce formátu Vintage.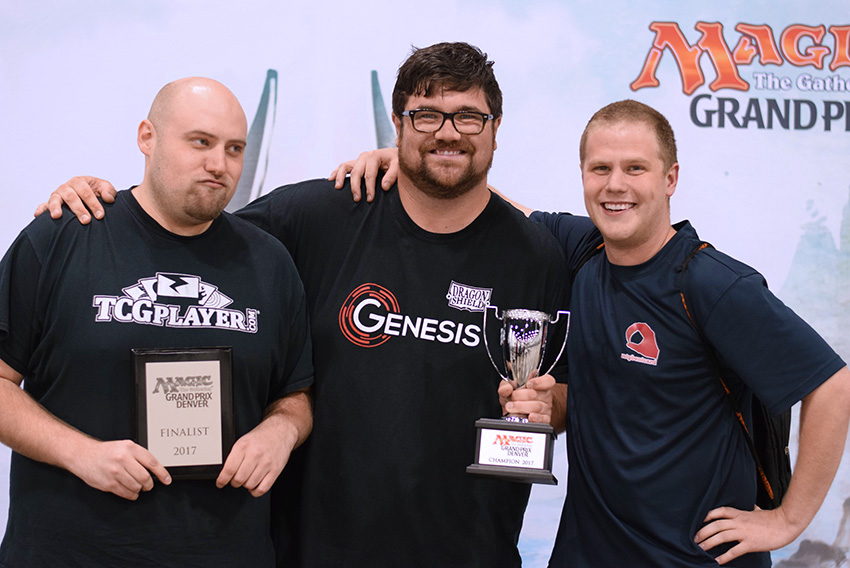 1. GP Denver (Standard)
Po modernovém týdnu se na GP okruh opět vrátil standard, na který si našlo cestu 1 188 hráčů (bez české účasti).
Tři nejpopulárnější decky víkendu byly Rumanap Red, Monoblack Zombies a RUG Midrange, ve kterém se prosadil trend z onlinu, kde se začala splashovat černá pro Scarab Goda, který je téměř neporazitelný v mirroru.
Takhle vypadal přehled decků se skóre 7:2 a lépe po první dni:
Ramunap Red - 33 hráčů (23,1% fieldu)
Monoblack Zombies - 25 hráčů (17,5% fieldu)
Mardu Vehicles - 10 hráčů
4C Scarab God Midrange - 10 hráčů
RUG Midrange - 9 hráčů
Jeskai Gift - 6 hráčů
UR Control - 6 hráčů
BG Aggro - 5 hráčů
UW Approach - 5 hráčů
UW Gift - 5 hráčů
RG Ramp - 3 hráči
Největším překvapením turnaje byly určitě decky s God-Pharaoh's Giftem, které hrálo plno známých hráčů, jako třeba Corey Burkhart, Mike Sigrist, Zac Elsik, nebo Owen Turtenwald. Dohromady Gift decky obsadily šest míst v top32.
Za úspěchem decku stojí hlavně lépe modifikované verze, které hrají playset Archangelů of Invention jakožto hlavní top-end kartu a dále levnou interakci v podobě Walking Ballisty a více způsobů, jak najít Gate to the Aetherlife (Trophy Mage a Glint-Nest Crane).
Hráči z CFB pro ještě lepěí konzistenci do decku přidali červenou, která umí rychleji plnit hrob díky kartám jako Cathartic Reunion a Insolate Neonate. Další plus jsou také sidovky jako Chandra a Glorybringer. Na druhou stranu se už do decku nevejde Refurbish, který je dobrý do metagame plné Abradů...
Ačkoli byly ale Gift decky šestkrát v top32, tak top8 se jim vyhnula... V té byl hlavním příběhem RUG Midrange, který postavil Brian-Braun Duin. Šlo o verzi se všemi nejlepší energy kartami v playsetech, které doplnily karty jako Glorybringer a Skysovereign, Consul Flagship. Zajímavé je, že v mainu nebyla Chandra.
Kromě BBDho hráli na kartu stejný deck i Brad Nelson a Corey Baumeister. A všichni tři s ním naprosto drtili konkurenci. Nejen, že se dostali do top8, ale nakonec se vyřadili až v top4 mezi sebou. Ve finále Brad Nelson porazil BBDho a připsal si tak již své třetí GP vítězství.
Mnohem zajímavější ale bylo, že se s Corey Baumeisterem stali prvními bratry, kteří spolu byli ve dvou GP po sobě v top8!
Celkem byl ale znovu nejhranější deck v top32 Ramunap Red, tentokrát se šesti hráči. Dohromady v ní bylo jedenáct různých decků, včetně méně obvyklých jako WU Monument (ten byl dokonce v top8), UR Zomb-Emerge, White Eldrazi a GW Eldrazi Rampy.
V coverage jsme také jako bonus mohli vidět BW Tokeny s Anointed Procession, se kterými uhrál 11:4 Alex Sittner a BUG Energy Midrange, jenž dovedl Viet Tran k výsledku 10:5.
2. MTGO Regional PTQ (Standard)
Po delší době se na onlinu konalo constructed RPTQ, účastnilo se ho 135 hráčů, kteří si to rozdali v sedmi kolech základní části. Postupový klíč byl dost neúprosný, s výjimkou dvou hráčů bylo ke kvalifikaci na PT Ixalian (postupovala celá top8) potřeba uhrát poctivých 7:0.
V top8 byl nejúspěšnější deck Monoblack Zombies, který byl hned třikrát mezi neporaženými decky. Zbytek ale obsahoval hned pět různých decků - UR Control, RUG Midrange, BG Aggro, RG Rampa a Ramunap Red.
Celkem devatenáct hráčů mělo skóre 6:1 a lépe. Zde je přehled decků, které hráli:
5× Ramunap Red
4× RUG Midrange
3× Monoblack Zombies
1× UR Control
1× BG Aggro
1× RG Ramp
1× 4C Scarab God Midrange
1× BG Delirium
1× Jeskai Gift
1× Mardu Vehicles
3. Ostatní RPTQ (Standard)
Kromě online RPTQ se hrálo ještě v dalších sedmatřiceti destinacích. Díky sníženému limitu pro kvalifikaci celé top8 na 94 hráčů se na dvou místech kvalifikovalo osm hráčů. Bylo to Tokio, kam přišlo přesně 94 hráčů a také Monza se 105 hráči. Stále tak platí, že v Itálii je na RPTQ největší konkurence.
Na opačném konci se nacházelo Guatemala City se směšnými osmi hráči (jenom v tom samotném městě žije třináct milionů lidí).
Malá konkurence byla i v destinacích, které nám byly nejbližší. Ve Varšavě bylo 37 hráčů a v Lipsku 51. Ve Varšavě se ale nikdo z českých hráčů nekvalifikoval a z Lipska nejsou dostupné žádné výsledky...
Hned z devětadvaceti míst byly publikovány decklisty, jejichž souhrn vypadá takto:
23× Ramunap Red
19× Monoblack Zombies
18× RUG Midrange
9× BG Aggro
8× Mardu Vehicles
7× UW Approach
6× 4C Scarab God Midrange
5× UR Control
4× Jeskai Gift
4× RG Eldrazi Ramp
2× BG Delirium
2× Red Eldrazi
UW Gift
BW Tokens
UB Reanimation Control
UB Control
RUG Aggro
Grixis Control
New Perspectives
RUG Pummeler
BW Sunmare
BUG Reanimator
Black Eldrazi
BUG Delirium
BR Aggro
Osobně mě nejvíce překvapila docela velká popularita UW Controlu s Approachem of the Second Sun. Jinak se jednalo o víceméně klasickou metagame posledních týdnů.
Našlo se samozřejmě i několik zajímavých brew, mezi kterými mne nejvíce zaujalo BR Aggro, BUG Delirium s Championem of Wits, BW Lifegain s Crested Sunmare a neobvylá verze New Perspectives komba.
4. MTGO Weekly Challenges (Modern, Legacy, Vintage, Commander, Pauper)
Modernová Challenge byla z pohledu Flash News spíše zklamáním, jelikož kromě Blue Tronu a Colorless Eldrazi byly v top16 samé tier decky.
Zvítězil kanister s Lantern Controlem, když ve finále porazil UW Control Gul_Dukata. Nutno říci, že od zavedení weekly challenge turnajů jsou tihle dva suverénně nejúspěšnějšími modernovými hráči s několika výhrami a nespočtem umístění v top8.
Na dalších místech skončily dva Gifts Stormy, dvoje Eldrazi and Taxes, dva RG Scapeshifty, Affinita, další UW Control, Boros Burn, dva Eldrazi Trony a Copter Merfolci.
Legacy zažila strmý nárůst popularity 4C Controlu, který představoval celou polovinu top16. Jeho nejlepší hráč byl ale pouze na šestém místě. Bylo ale rozhodně zajímavé sledovat, jak snadno kustomizovatelný tenhle deck je.
Jednotlivé verze se opravdu hodně lišily. Někdo hrál True-Name Nemesis s Unearthem, někdo playsety Thoughtseize a Hymn to Tourach a vidět jsme mohli i karty jako Flusterstorm, Dead/Gone, Night's Whisper, nebo dokonce i Famaliar's Ruse a Ninja of the Deep Hours ve verzi s playsetem Baleful Strix a Snapcasterů.
Celkovým vítězem se stal Julian Knab s Elfy, které maximálně využil toho, že 4C Control je pro ně jeden z nejlepších matchupů na fieldu. Zajímavé je, že hrál v mainu dvě Nissy, Vital Force i přesto, že měl v mainu 61 karet.
Ještě zajímavější mi ale přijde, že ve finále porazil Dragon Stompy, které vypadaly jako naprostý antideck. Osm hormadných ničení v mainu v kombinaci s kartami jako Chalice of the Void, Trinisphere a Blood Moon vypadá pro Elfy takřka neporazitelně, leč Julian zvítězil hladce 2:0.
Dragon Stompy by se dokonce daly označit za nejúspěšnější deck turnaje, jelikož měly ještě dalšího hráče v top4. Ten hrál klasickou verzi s Goblin Rabblemastery.
Ve výčtu zajímavých decků nesmí chybět ani Esper Delver s Lingering Soulsy, Gurmag Anglery a Thought Scourem, který skončil na pátém místě, a také Esper verze "Topless Miraclů", která kombinovala Monastery Mentora s kartami jako Daze a Cabal Therapy. A pro kontrol s UW základem je docela neobvyklý i velký počet Wastelandů. S tou skončil na patnáctém místě "PhilLesh".
Zbylé decky v top16 byly Grixis Delver, Grixis Control a Omni-Tell.
Ve Vintage Challenge byl opět nejúspěšnější deck Ballista Shops, který obsadil čtyři místa v top8, potažmo šest v top16. K vidění byly opět různé verze - s Precursor Golemy, Steel Overseery, Wurmcoil Engine, ale třeba i se Steel Hellkite, nebo Razormane Masticore.
Ballista Shopy ale nedosáhly na celkové vítězství, to patřilo Tezzeratoru s Paradoxical Outcomem, Mentory a samozřejmě i Tendrills of Agony. Tomu říkám být greedy!
Tezzerator byl třetí nejhranější deck v top16. Hráli ho čtyři hráči a každý měl jinou verzi. Kromě vítězné to byla Monoblue verze s Paradox Enginem, klasická Grixis verze s Thoughtcasty a Paradoxical Outcomem a konečně i kontrolní Grixis s Goblin Welderem a Thirst for Knowledge.
Druhý nejhranější deck v top16 byl samozřejmě Mentor s pěti hráči. Poprvé po dlouhé době předčila v popularitě Esper verze s Night's Whisperem klasickou UWr verzi.
Kromě těchto tří decků už se na přední příčky dostal pouze jeden další - byl to klasický BUG Fish s nejnovějším přírůstkem v podobě Ramunap Excavatora.
Commander tentokráte nezopakoval fiasko s jednatřiceti hráči. Bez ohledu na celkový počet hráčů ale platilo, že Breya je stále nejlepší deck na formátu, což tu potvrdila celkovým vítězstvím a dalšími dvěma v hráči v top4.
Stejný počet hráčů v top16 jako Breya měl ještě Leovold (čtyři), který měl na desátém místě zajímavou verzi s extra koly, "draw seven" efekty a Aetherflux Reservoirem.
Populární opět bylo i 4C Tempo s Tymnou a Kraumem (třikrát v top16), a na předních příčkách bylo i UR Tempo s Ludevicem a Kraumem, dva Monogreeny s Nissou a Selvalou, kombo Sidisi (Painter + Grindstone, Necrotic Ooze + Phyrexian Devourer & Walking Ballista) a Monoblue Control s Jacem.