Novinky
Flash News #9/2016
1. GP Pittsburgh (Standard)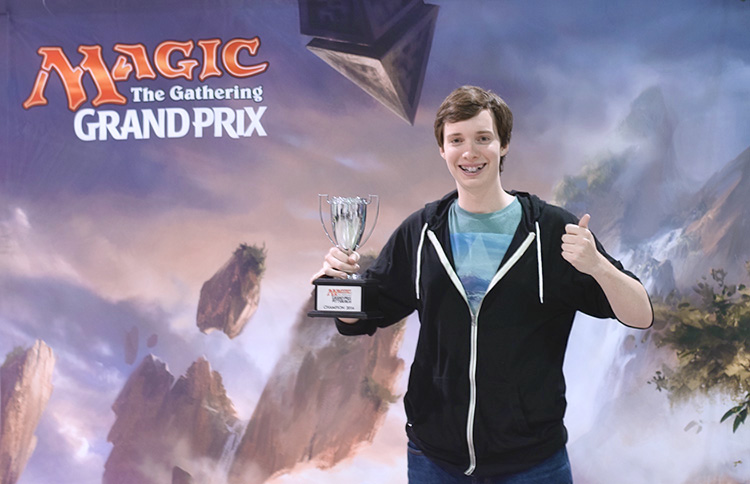 Poslední dvojku před příchodem nové edice si nenechalo ujít 1 378 hráčů. Bohužel, formát se ke konci sezóny trochu zvrhnul a najít na předních místech jiný deck, než GW Tokeny a Bant Company, bylo takřka nemožné.
Tyhle decky zabraly hned sedm míst v top8. Zbytek světa zde zastupoval Aleksa Telarov s GBu Midrangem.
Šampionem se nakonec stal Evan Petre s GW Tokeny, když v top8 porazil dva největší favority, Steva Rubina (také GW) a Pascala Maynarda (Bant Humans).
Pár zajímvých decků se naštěstí našlo alespoň v top32. S velmi neobvylkým deckem skončil jedenáctý Chris Kemple. Šlo o plně bezbarvou rampu (v decku nebyl ani jeden barevný spell), která využívala karet jako Hedron Crawler, Hedron Archive, nebo Oblivion Sower k tomu, aby nakonec zahrála jednoho z dvojice eldrazi titánů.
Podle mě si to ale Chris pokazil jedním Swampem, což měl zcela určitě být Wastes...
Osmnáctý byl Tyler Hill se zajímavou verzí GW Tokenů (či spíše Planeswalkerů), do které přidal na splash červenou (na rozdíl od Raphaela Levyho i se zeměmi, které produkují červenou manu) pro Nahiri a Dragonlorda Atarku.
Kromě toho, že Nahiri umí dobře rozčísnout boardstall je další výhodou této kombinace, že máte manlandy k Sylvan Advokátovi.
23. místo patřilo Alexi Bianchimu s UR Flyery s dračí tématikou. Různé verze Flyerů poslední dobou vídamé stále častěji, jelikož je to celkem dobrá strategie proti GW i Bantu. Tohle je ale poprvé, co vidím, že někdo hrál celý playset Icefall Regentů.
Létající tématiku zakomponoval do své Bant Company i Craig Rocco, který skončil na 26. místě.
Craig se rozhodl nehrát Tireless Trackera a Jace a místo toho sáhl po spirití dvojce Rattlechains a Bygone Bishop. Zajímavý je také playset Smasherů v mainu, což jsme doposud vídali hlavně ve verzích s Cryptolith Rites.
Poslední zajímavý deck v top32 byla UG Rampa s Crush of Tentacles, se kterou skončil na 27. místě Allen Sun.
Oproti klasické RG Rampě je tu hlavní rozdíl v tom, že tady nejsou žádní velcí finisheři a hlavní winkondice je Crush a Part the Waterveil, které můžete skombinovat třeba s Den Protectorem a Nissou. A zajímavý je i transformační sideboard se Sylvan Adkováty a Deathmist Raptory.
Jako bonus byl v coverage ještě uveden deck Bena Friedmana, se kterým Ben skončil na padesátém místě se skóre 11:4.
Po pravdě moc nevím, jak mám deck popsat. Ben v podstatě nacpal všechny tučné pašíky do jednoho decku, ať už to byli Draci, Eldrazi, Woodland Wanderer, nebo Woodland Bellower.
Dost důležitá je v decku rampa, kterou tu zastupuje Deathreap Cultivator a Explosive Vegetation. Nejsem si ale jistý, jestli deck dokáže porazit Displacera s Reflector Magem a samozřejmě budou problematická i rychlá aggra, kvůli kterým je v sidu hned playset Radiant Flamů a Roasty.
2. GP Taipei (Standard)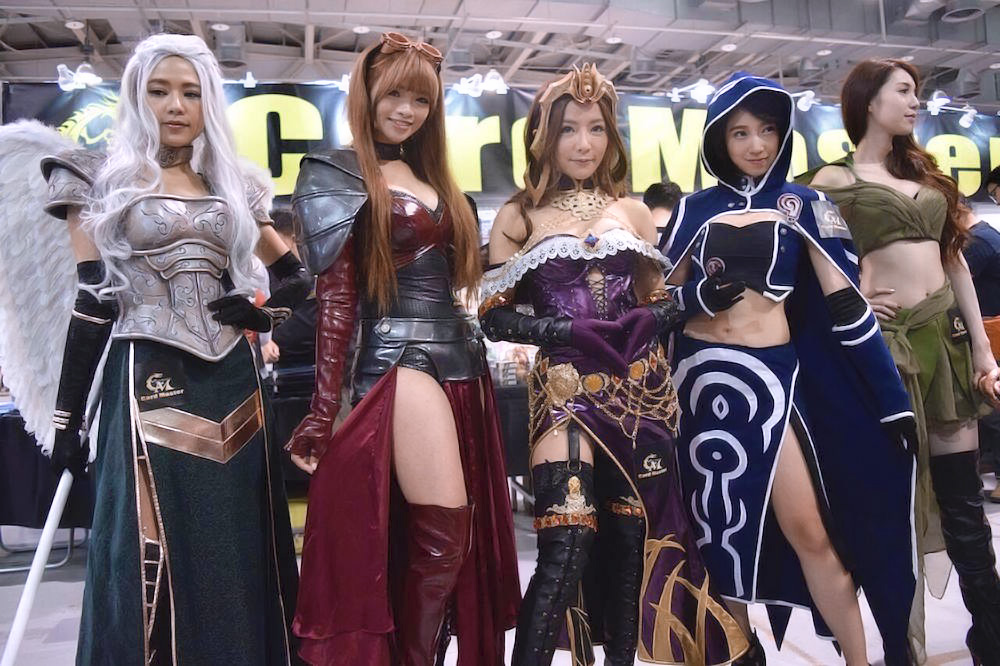 Na Taiwanu se odehrálo poměrně komorní GP s účastí 792 hráčů. Paradoxně ale díky tomu bylo těžší se probojovat na nejvyšší příčky, jelikož si GP nenechala ujít většina asijských prohráčů.
Bohužel, většina prohráčů opět sáhla po Bantu, nebo GW a tak jsme i tady měli velmi nudnou top8, ve které bylo 4× Bant Company, 2× GW Tokeni, Bant Humani a zbytek světa zastupovala RG Rampa.
Pro svoje druhé GP vítězství si došel Yuuki Ichikawa s Bant Company, když ve finále porazil GW Tokeny pilotované místním prohráčem, Huang Yung-Mingem. I na dalších dvou místech byli pro hráči - Lee Shi Tian a Yuta Takahashi.
Z méně obvyklých decků v top32 bych zmínil Jund Midrange, se kterým skončil na třináctém místo Sung Bok Tung. Jednalo se o poměrně standardní build, jenom mě trochu překvapila absence Languishe.
Dvacáté místo obsadil s UW verzí Flyerů Sun Bo. Ten se pro změnu úplně vyhnul dračí tématice (místo Scornu hrál Void Shatter) a raději sáhnul po kartách jako Gideon a Hangarback Walker.
S hodně divokým deckem byl na 27. místě Zsolt Tokoli (nenechte se zmást jménem, hrál za Singapur). Jednalo se o 4C Rampu, která měla podobný základ jako UG rampa s Crushem. Navíc byl v decku Dragonlord Atarka, Reflector Mage a hlavně Descend Upon the Sinful, což tu byla i regulérní winkondice, jelikož tu s deliriem pomáhalo hned sedm Oathů.
V sideboardu pak opět máme možnost přejít na agresivnější plán s Tireless Trackery a Ojutaiem.
V coverage byla dále zmíněná updatovaná verze Esper Draků Shota Yasooky, se kterou uhrál 10:5, což stačilo na 77. místo.
Hlavní změny oproti PT byly úplná absence Scornů a dále Avacyn a Kalitas v mainu. Zajímaví jsou také Gideoni v sidu a one-of Tragic Arrogance v mainu.
3. GP Sao Paulo (Team Sealed)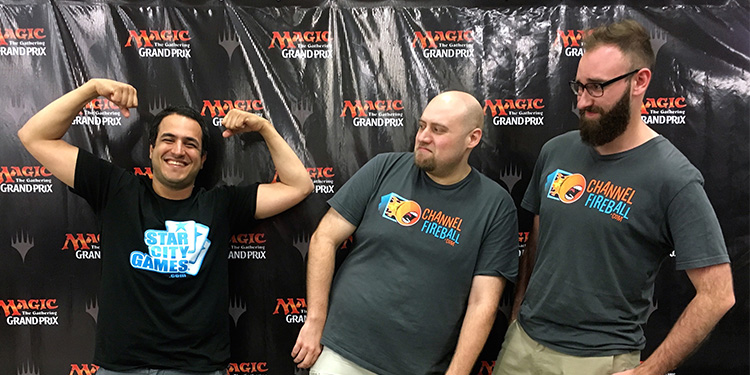 Týmová GP jsou sice zábavná na hraní, ale bohužel nejsou příliš divácky vděčné, takže to vezmu opravdu ve zkratce.
GP se účastnilo 362 týmů a nejzajímavější na sledování byl souboj týmů BBDho a Tomoharu Saita, kteří se přetahují o GP hráče roku. Ve druhém dni se oběma týmům velice dařilo, ale Tomoharu měl nakonec smůlu a jeho tým skončil pátý velmi těšně na pomocné (o dvě setiny procenta).
BBD nakonec vypadl v top4, takže před posledním GP sezóny má na Tomohara náskok jednoho bodu. A teoretickou šanci má stále i Reid Duke, který ztrácí pět bodů (a také Seth Manfield, ale ten nemůže obsadit slot na MS, jelikož má jakožto obhájce titulu místo zaručené).
V top4 došlo ke kurióznímu přehmatu rozhodčích, když někdo udělal pairingy random, namísto podle pořadí v základní části. Osobně nechápu, že to nikomu z rozhodčích, nebo samotných hráčů nepřišlo podezřelé...
Vítězi se nakonec stala trojice Carlos Romao, Eloi Pattaro a Francisco Barciella. A ano, je to ten samý Carlos Romao, který se stal mistrem světa v roce 2002. Mně osobně vždy potěší, když vidím, že se slavným oldschool hráčům daří i dávno potom, co se stáhli z profi scény.
4. SCG Open Dallas (Modern)
Modern týden před WMCQ, to byla ideální konstelace pro úplné naplnění kapacity, což se podařilo už během předregistrace. Z tisícovky předregistrovaných hráčů jich nakonec dorazilo jenom 996, ale stejně to je více, než kolik bylo hráčů třeba na GP Taipei...
Ani maximální návštěvnost ale nerozhodila pětici kamarádů, kteří reprezentovali tým MetaGameGurus (MGG). Byli to Danny a Andrew Jessupovi, Kevin Jones, Jim Davis a Peter Ingram.
Z této pětky se hned čtyři hráči dostali do top8 (pouze Danny Jessup byl s Infectem ostudně až jednatřicátý) a tři do top4 (Peter Ingram v top8 vyradil v mirroru UWR Nahiri Jima Jonese).
Jejich hegemonii nakonec nikdo nenarušil a vítězem se nakonec stal Kevin Jones s Grixis Delverem, když ve finále porazil Infect Andrew Jessupa.
Další decky v top8 byli Jund, Atarka Zoo, Living End a Melira Company (navíc i s Archangel kombem a s chuťovkou v sidu v podobě Phariky).
Hned za top8 skončil Joseph Freeman s Eldrazi & Taxes, což je poprvé, kdy vidím, že tenhle deck dosáhl na takto dobrý výsledek. Osobně se mi tenhle deck moc nelíbí, má hrozně málo removalu, jeho bytosti nejsou nic extra (snad kromě Seera) a v lategame je dost bezzubý.
U téhle konkrétní verze se mi docela líbí Blade Splicer, jelikož 3/3 golem je excelentní v kombatu. Možná by nebylo od věci hrát jich víc a kromě Displacerů zařadit třeba i Restoration Angely.
V top16 byly také dva Kiki-Chordy - oba s Nahiri a malou modrou splashí, zejména pro maindeck Glen Elendru (zajímavý mi ale přišel i Keranos v sidu).
Jedním z nich byl Jeff Hoogland, který tak letos stále pokračuje v sérii, kdy skončil na všech SCG Open v top32.
Se čtyřbarvou vlastní konstrukce obsadil dvanácté místo Eric Liu. V podstatě šlo o Grixis Control doplněný o Pathy, Timely Reinforcements a v sidu o Lingering Souly. Pokud ale nejsou Souly v mainu, tak osobně nevidím důvod, proč zbytečně zatěžovat manabase další barvou...
Poslední zajímavý deck v top16 byl Blue Moon Jacka Kiefera s Thing in the Ice. Docela rád bych si přečetl článek od někoho, kdo s touhle kartou hrál, jelikož mně se vždycky zdálo, že Věc skoro nic nedělá a raději bych hrál libovolnou jinou bytost (Klika, Jace).
Všeobecně si také myslím, že Blood Moon aktuálně není v metagame moc dobře umístěný, jelikož jsou na vzestupu Grixis a Jeskai, kterým Moon příliš nevadí.
Mimo top16 mi přišel ještě zajímavý GW Hexproof Iana Jashewaye, ve kterém jsou hned dvě nové karty, a to Open the Armory a Gryff's Boon, což je celkem pěkná vychytávka.
I tady ale musím říci, že pozice decku na formátu se trochu zhoršila, jelikož Nahiri může způsobit pěkný blowout s Daybreak Coronetem a plno decků má také v sidu více kusů Engineered Explosives, což je pro deck podobně devastující, jako pro Affinitu Stony Silence...
A na závěr tu máme Monoblue Tron Travise Parkera. Na tomhle decku se mi líbí, že je velmi snadno kustomizovatelný, takže do něj můžete nacpat všechny své pet karty (taková obdoba legacy Nic Fitu). Tady mi asi nejzajímavější přijde maindeck Chalice a Thought-Knot Seer.
Jako celkem vtipná karta tu může být i Epiphany at the Drownyard, ačkoli je tu pouze jako one-of.
5. SCG Classic Dallas (Standard & Legacy)

Dvojky se účastnilo 201 hráčů a v top8 byly hned tři non-GW decky! Byli to WR Humani, kontrolnější verze Naya Midrange s Chandrami, Nahiri/Atarkou a Radiant Flames a konečně zvláštní GB deck, který byl takovou míchanicí mezi klasickým Rockem a Seasons Past.
Deck obsahoval některé rampící elementy, mimo jiné Ulvenwald Hydru a From the Beyond, ke kterému tu byli dva World Breakeři a Ulamog, ale jinak hrál klasické value bytosti jako Tireless Tracker, Sylvan Advocate, nebo Gitrog Monster.
Trochu zvláštní mi přijde, že v decku byla jednom jedna Dark Petiton a nula Season's Pastů.
S deckem se dokázal dostat až do finále Bennett Bartlett, ale nakonec v něm nestačil na Bant Company.
Mimo top8 byl pak nejzajímavější deck Mardu Control, což je takový král midrangů, jelikož má k dispozici všechen nejlepší removal a všechny planeswalkery. K tomu je tu pak dvojice vynikajících bytostí, Kalitas a Goblin Dark-Dwellers.
Legacy se účastnilo dokonce 202 hráčů a stala se kořistí Jarroda Feighta s Death and Taxes, když ve finále porazil Eldrazi Bena Kendricka.
Eldrazi mají sice daleko silnější bytosti, ale dovedu si představit, že tu zafungovala kombiance Wastelandů a Rishadan Portů.
Ze zajímavých decků byl v top8 zejména Doomsday, což je vlastně taková komplikovanější verze Stormu.
Pokud nevíte, jak Doomsday funguje, tak jsou v podstatě dva způsoby, jak z pěti karet vyhrát hru. První je s Laboratory Maniacem (Ideas Unbound, Lion's Eye Diamond, Laboratory Maniac a  2× Gitaxian Probe) a druhá se Shelldock Islem a Emrakulem.
Mimo top8 byla nejzajímavější zvláštní verze Jundu, se kterou skončil dvanáctý Tom Nelson. Byla to planeswalker heavy verze s Garrukem Relentless a Arlinn Kord. A zajímavé byly i maindeck Chains of Mephistopheles.
Oproti klasické verzi v decku nebyl Bloodbraind a Punishing Fire. A bez Punishing Firů se zároveň otevírá možnost hrát v sidu Blood Moony.
6. Bazaar of Moxen Strasbourg (Legacy, Modern, Standard)
Jedna ze tří hlavních evropských eternal sérií tentokráte pokračovala v samotné Francii, kde se čekala nejvyšší návštěvnost. Avšak díky tomu, že různých sérií je tolik, tak se stalo, že všechny mají dosti průměrnou účast, z čehož nijak nevybočilo ani 167 hráčů hrajících main event (legacy).
Husarský kousek se tu povedl Antonu Karlinskimu, když dokázal obhájit výhru z Madridu. Opět hrál Eldrazi, ale tentokráte přidal do decku Displacery. Ve finále opět porazil Miracly, tentokráte verzi s Mentory Johannese Gutbroda.
Na třetím místě byli Chaos Elfové se zajímavou techovkou v sidu v podobě Armageddonů.
Nejzajímavější deck v top8 ale zcela jednoznačně patřil Pierru Canalimu, který hrál BUG Elfball s Oppozicí! Deck se hodně podobal Elfům, ale měl navíc přístup k Probám s Terapiemi. Jako value karty k Oppozici tu byli Coiling Oracle a Shardless Agent. A nesmíme zapomenout na trojici Garruků (Wildspeaker).
V sidu pak stojí za zmínku hate proti kombům v podobě Thornů of Amethyst a Winter Orby proti Miraclům a Eldrazi.
Ostatní formáty bohužel už tak zajímavé nebyly. Modernu se zúčastnilo 177 hráčů a zvítězil v něm Samuel Vuillot, když ve finále ovládl mirror Infectu.
Dvojku hrálo 104 hráčů a z vítězství se v ní radoval Eliott Boussaud s Uw Prisonem.
Zajímavé na tom je, že to zdaleka nebyl nejzvláštnější deck v top8. Ten hrál bez diskuze Didier Boitel. Šlo o velmi zvláštní BW Aggro s kartami jako Drana, Relentless Dead, Ayli, nebo Gideon.
7. Standard MOCS
Vrchol dvojkové sezóny na MTGO si nenechalo ujít 446 hráčů, což znamenalo klaiscký neúprosný klíč v základní části, kdy bylo z deseti kol potřeba devět výher do top8 (dva šťastlivci postoupili s 8:2).
V top8 dokonce byly hned tři jiné decky, než Bant a GW a jeden z nich dokonce celý turnaj vyhrál! Byli to WR Humani pilotovaní BradPitKeeperem, což je docela známý modo grinder.
Zbylé dva non-GW decky v top8 byly dvě RG Rampy, z čehož jedna byla s Pyromancer's Goggles, což je verze, kterou už dnes skoro nevídáme.
Těsně za top8 skončili UR Draci s playsetem Fevered Vizí v mainu. Vize jsou podle mě neprávem opomíjenou kartou, které v rozletu brání hlavně Dromoka's Command. Osobně u nich po rotaci očekávám velký vzestup popularity.
Jinak ale ve zbytku celé top32 nebylo k vidění nic moc zajímavého...
8. MTGO Vintage Challenge
Poslední Power Nine challenge si nenechalo ujít 69 hráčů a zajímavé bylo, že narozdíl od turnajů v reálu se tu příliš nevedlo Shopům a Eldrazi.
Vítězem se stal Diophan s Grixis Pyromancerem, který obsahoval nejnovější techovky proti Eldrazi v podobě Baleful Strixy a Snuff Outu.
Na druhém až čtvrtém místě byli tři Mentor decky, ze kterých byl nejzajímavější Esper, který splashoval černou pro Baleful Strixy a Cabal Therapy.
Šestý byl Dredge a sedmý byl nejlepší Eldrazi deck v podobě mixu mezi vintage Shopy a legacy Eldrazi.
Poslední dvě místa v top8 patřila dvojici Stormů, z nichž hrál jeden v mainu playset Confidantů a Pack Rat. Osobně mi to přijde hodně zvláštní, ale vzhledem k tomu, jak málo removalu se na vintage hraje, to může být velmi dobrý plán B.
V top16 jsme dále mohli vidět White Eldrazi, UWr Mentora, jedny trochu zvláštní Shopy s Wurmcoilami a Porcelain Legionáři, Oathy s Auriok Salvagery, další Oathy s Tezzeretem a Time Vaultou (a Helm of Obediance kombem v sidu) a poté trojici klasických TKS Shopů.
9. Duel Commander Palaiseau
Ve francouzském Palaiseau se konal triál na Demonic Commander v Rouenu, což je tradičně největší turnaj v duel commanderu na světě (více o něm v příštích Flash News).
Turnaje se zúčastnilo 55 hráčů a z vítězství se radoval Yohan Blanchard s hodně kontrolní verzí Nina, kde byl jakožto hlavní winkondice (nepočítám Blood Moon) Splinter Twin.
Poraženým finalistou byl Kaourintin Le Guiban s Narset, což je klasický tap-out kontrol s hromadou Time Walků a planeswalkerů.
Ve zbytku top8 byl dále Doran Rock, Geist, Jenara, Prossh a dvě Sidisi (Necrotic Ooze/Shallow Grave kombo).