Články
Ultimátní karty od Tempest po Exodus
Po skvěle rozjetém Mirage bloku, který jsme si představili v předchozím článku, teď naskočíme na jeden z nejlepších bloků ve hře Magic: the Gathering. Tempest blok obsahuje hlavní edici Tempest a dva menší sety Stronghold a Exodus. V nich vyšla spousta ultimátních karet, které daly vzniknout nejednomu legendárnímu balíčku.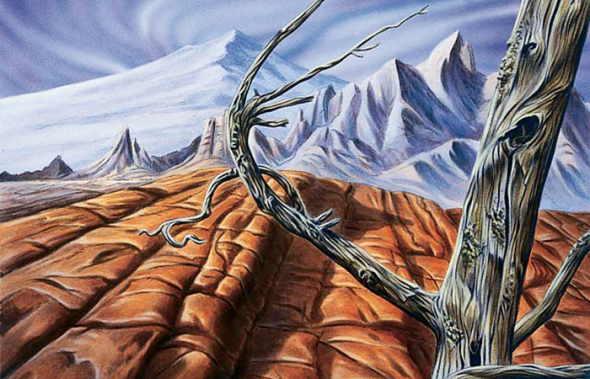 Foto: Wizards of the Coast
Ultimátní karty od Tempest po Exodus
Cursed Scroll
Tradewind Rider
Bonus: Reanimate
Ultimátní karty Stronghold (1998)
Ensnaring Bridge
Hermit Druid
Bonus: Wall of Blossoms
Ultimátní karty Exodus (1998)
Survival of the Fittest (a Recurring Nightmare)
Oath of Druids
Bonus: City of Traitors
A to by bolo asi tak všetko. Na budúce rozoberiem ďalší broken (v intenciách priemernej sily "okolitých" sád vo svojej dobe  - možno i najsilnejší vôbec) blok v dejinách Magicu a síce Urza´s Ságu. Tam už to bude ale bohužiaľ hlavne o presilených kombo kartách, takže sa tam až tak nerozpíšem. Možno. Verím, že vám môj článok spríjemnil čas, možno vyvolal pár (dúfam) pekných spomienok a ak som sa i náhodou v niečom pomýlil, budem rád ak mi to dáte vedieť v komentároch.

Přečtěte si úvodní článek s výběrem těch nejlepších karet v karetní hře Magic: the Gathering
Komentáře
Přispívat mohou pouze přihlášení uživatelé. Pokud chcete vložit komentář, přihlaste se ZDE.