Ostatní
Lost in Translation: PTQ Gatecrash: Wien - Tournament Report
I don't write in Czech (at least no better than a 4 year old) and my spoken Czech is a disaster. Yet since Lubos and Pavel thought it would be a good idea that I write the tournament report for PTQ Vienna.. This article will be in English. Luckily for you (and me)
Google Translate
exists. That being said… Here's the article.  
Fresh off of PTQ Munich, which ended slightly sour for all of us and can be read about
here,
Pavel Ceska and I were still hungry for PTQs (and a ticket to San Diego). He mentioned that Lubos Lauer (aka Mr. CMUS) was driving to Wien the next weekend and they had a free slot in the car. I was sold and come Saturday at 5:30am I was in a car filled with our "diplomatic delegation to Austria". The delegation / elite, crack unit was comprised of…  
A-Team
Lubos Lauer (aka Pan CMUS)
Pavel Ceska (aka Pan Pod)
Daniel Prosek (aka Lenny nebo Lenny bez Bong)
Petr Sochurek (aka Kikac nebo Pan Smoula)
Justin Hamilton Salem (aka Ambassador)
 
On the ride down between deck-tech talk, rambling, raving and Lubos music, I started making bets with the four others. The bets were simple: If you win, you get a beer. If you lose, you buy me a beer.  I highly recommend doing this during long trips to Magic Tournaments. Why? Because if you're X-3 drop, you can at least get drunk for the rest of the tournament. The bets were as follows:
 
Lubos Lauer – Could only make 2 big mistakes over the tournament. (As he was playing UW Control, I told him I would count that as a mistake as it's horrible).
Daniel Prosek – Was playing Jund with Boom//Bust and if he won a game by Cascading into Boom//Bust, he would win a beer.
Pavel Ceska – His bet was he had to play 1 card of my choice within the 75 cards of his Melira Pod deck.
Petr Sochurek – Since Kikac can't go more than 1 hour without saying the word "smoula", his bet was he can't say luck, unlucky or 'smoula' at any point during the tournament… I knew the moment I made this bet, I would have a beer.
 
When we arrived to Spielraum in Wien, we saw a few familiar Czech faces. Some from Prague and some from Brno. Attendence was less than we expected at 117 players, but you could be sure competition was going to be tight. I noticed a few silver level players from Germany.. most of which were definitely playing combo (German's I've found, more than anyone love combo. I think this has something to do with the Blitzkrieg…). Also among the 117 was a certain Slovak who I told Kikac months ago was 'Awesome'. This player was Milan Niznansky and he is awesome not because he top-16 in GP Bochum. But from the fact in the sideboard to his WG aggro deck he ran 3 Black Cats…
 
3 Black Cats without any black mana. This kid has Balls of Steel and Stone Cold Style.
Kikac pointed Milan out to me as he was sleeving up his deck.
"That's the Black Cat kid."
"OH MY GOD! DUDE! YOURE THE BLACK CAT KID?! YOU ARE AWESOME!"
 
He turned away from me and gave an expression that said he'd been made fun of for that probably 1000x before… I saw him putting a Black Cat in a brown sleeve and hoped it wasn't to wish me bad luck…
 
Days before the tournament, I was on the fence to play either my ScapeGifts deck, Jund or 5c Zoo. I ended up deciding Zoo because I wanted the games to be over quickly. Typically when you want a quick game it means you play combo, but since I've played combo at every PTQ before this, I needed to change up my style and wanted something a bit more consistent, so Zoo was the choice. It was much like the deck I helped Tomas Vanek build for PTQ Munich… but with some changes. I considered these cards to be the most key:
 

Tribal Flames kills everything. Geist needs to be answered and Bloodbraid is 3 damage and petroleum for your deck. By taking out Goblin Guide and Steppe Lynx for Bloodbraid Elf and a mix of Grim Lavamancer and Noble Hierarch, I was giving the deck more gas, more damage and a faster start to get the real beaters into play.
 
Yet while I felt the deck was explosive, I wasn't sure about the Jund match up. Against all other match ups the deck just wins.. But with Jund it's a different story. If you don't kill them or push them to the defensive in from turns 1-5, you're in a lot of trouble. Rather than putting in anti-Jund cards maindeck (Smiter, Souls, Swords) I decided I would stick with the original plan to deal damage as fast and as consistent as possible. With Zoo, if they are at less than 10 life, you can literally win out of nowhere. Besides I had 2 Obstinate Baloth's in the sideboard (which ended up being totally worthless…)…
 
Before seating's were called, I felt I need something for an aggro mirror. I had Elspeth Knight-Errant but it seemed unnecessary. While talking with Tomas Vlcek, a very good Legacy player from Prague, about powerful cards in Legacy that are not getting played in Modern. I mentioned Chalice of the Void, Engineered Explosives and then he told me: "Ensnaring Bridge".
I found the edge I needed for aggro mirrors.
 
I ran to the counter and bought 1 Ensnaring Bridge (in german), changed my decklist and went to my seat.
The final decklist I used was:
 
ZOO
Justin
Main Deck
Sideboard
1

Grim Lavamancer


2

Noble Hierarch


4

Deathrite Shaman


4

Dark Confidant


4

Tarmogoyf


4

Geist of Saint Traft


4

Bloodbraid Elf


4

Lightning Bolt


4

Lightning Helix


4

Tribal Flames


2

Path to Exile


4

Marsh Flats


3

Scalding Tarn


2

Verdant Catacombs


2

Arid Mesa


1

Misty Rainforest


1

Forest


1

Plain


1

Stomping Ground


1

Sacred Foundry


1

Steam Vents


1

Blood Crypt


1

Godless Shrine


1

Overgrown Tomb


1

Temple Garden


1

Breeding Pool


1

Hallowed Fountain

2

Rule of Law


2

Stony Silence


2

Ancient Grudge


3

Rakdos Charm


2

Aven Mindscensor


2

Obstinate Baloth


1

Slaughter Games


1

Ensnaring Bridge
We got our pairings and I found a few of the Czech Team, wished them luck.
 
ROUND 1 – Affinity
This was when I knew I had a deck that could make top-8 if things went well. In the first game, on turn 2, I was at 15 life with a Noble Hierarch and just played a Geist of Saint Traft. I passed the turn, thinking my opponent had a slower hand (he only had a Darksteel Citadel, a Vault Skirge and a Memnite). Then he does what affinity does. Springleaf Drum, Glimmervoid, Mox Opal, Cranial Plating, equip the Vault Skirge, I go down to 8 and have a big problem…
 
But this is why Zoo is not only good, but can win out of nowhere. I swing for 6 with the Geist and on his turn, used Helix on his Vault Skirge. The next turn I attacked with Bloodbraid, cascading into Tribal Flames and with the help of a Lightning Bolt he was dead. From 25 life to 0 in 2 turns.
 
Game 2 I snapkeep on a hand with Stony Silence, removal and Dark Confidant. We trade creatures and then I play Ensnaring Bridge and show him a hand full of burn and he offers me a handshake.
 
Intermission: Kikac looked totally depressed after the round as he had drawn (against Solar Flare). He wanted to say "smula" and even Pavel said he looked as if he wanted to explode…
He sort of looked like this: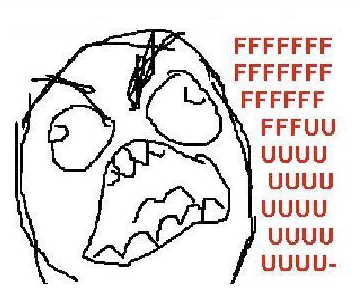 ROUND 2 – UW Aggro Control
I think UW is a bad deck right now. It needs a splash (Red preferably), is too slow and really has only 2 great cards for the meta. Vedalken Shackles and Baneslayer Angel.
 
Even with Blade Splicer, Restoration Angels and a Baneslayer, the Zoo deck I had was too fast and too explosive for him.
 
ROUND 3 - Infect
Here is a lesson / tip for anyone playing infect: When you sit down and arrange your deck and scorecard.. Do NOT write 20 life / 20 life and then put a 10 below it. This told me what he was playing and I knew I had to mulligan till I had a hand with at least 2 removal spells..
Which is what I did.
 
I won game 1 easily (sometimes using Lightning Bolts on my turn to force him in using his Apostle's Blessing so I can block during his attack).
 
When we were sideboarding I realized I had absolutely nothing for him apart from Rule of Law.. Then I saw Ensnaring Bridge… I shrugged and threw it in the deck.
 
While I had lots of burn, he seemed to have an endless supply of creatures and the fact he had 4 cards in his hand worried me. He played Blighted Agent with 4 cards in his hand. I had a full board, including a Dark Confidant and a hand with a single Lightning Bolt.
Then this happened.
 
Dark Confidant gives me a land.. and then I draw Ensnaring Bridge. His life total is at 10. I attack with everything and he gives me a strange look.. Then blocks with a noble hierarch putting him at 5. I then play the land, bolt my own Dark Confidant, drop Ensnaring Bridge on the table and saw him do this: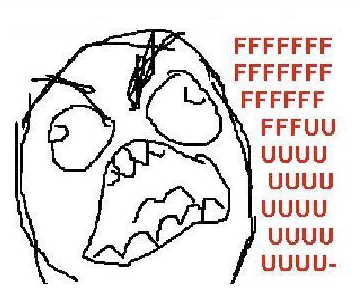 He was dead in 2 turns when I drew a Tribal Flames.
 
ROUND 4 – Affinity
We played 3 games. I lost 2 and he lost 1. I threw game 3 away because I kept a greedy hand with Stony Silence, Path to Exile, Noble Hierarch, Plains, Overgrown Tomb, Bloodbraid Elf and a Lightning Bolt. I knew I was in trouble when he played two Master's of Etherium… and I never drew a fetch land but only more burn, a forest and a tarmogoyf. As Kikac wanted to say but couldn't: smoula. I showed my opponent my hand full of Bolts, Helix, Flames and Bloodbraids and he shook his head. "Lucky." He said. "Pretty much." I offered with a nod.
 
ROUND 5 – Jund-Vine
I call this Jund-Vine over Dredgevine because it was more Jund than Dredge. A very interesting list though using Jund staples like Liliana of the Veil, Dark Confidant, Deathrite Shaman and Abrupt Decay with other cards like Faithless Looting, Gravecrawler, Bloodghast and of course, Vengevine.
 
I was blown out on Game 1. Game 2 went really quick but Game 3 started to drag on and on.. And I was getting very tired after having 3 hours of sleep. Somehow even while playing sloppy I managed to kill him.
 
ROUND – 6 Spirit Jund (played by Jaroslav Bouček)
We knew that the winner of this game would be in the Top-8 so we agreed to do a split. Jaroslav, whom I'd never met, is a very cool guy. Definitely the kind of man you would have a beer with.
He wins the die roll, draws his cards and laughs. The bastard laughed…
"Does that mean your hand is awful or its that good?" I ask. Jaroslav looks up from his hand, wide smile on his face and says: "It's that good."
He starts off with a fetch taking to him 17 and hits me with a Thoughtseize…
QUIZ TIME: You are playing Jund against Zoo and cast Thoughtseize while you hand is a Lightning Bolt, a fetch land, Liliana, Goyf and Shaman.
Your opponent reveals his hand and you see…
 

What do you take?
…if the answer is anything apart from Bloodbraid Elf, you've just lost the game. Why? Because while Geist is awesome, Bloodbraid Elf keeps you in the game. It means you can hit 1 of 14 removal spells pretty easily. It means you're going to deal damage, which means you have a chance.
 
Jaroslav took Geist of Saint Traft and we traded Shaman's with Bolts.
With his board being loaded with Goyf and Liliana on turn 4, I started pulling lands thanks to a turn 3 Dark Confidant.
With the lands I was able to cascade from Bloodbraid Elf AND since his life was pretty low already (1 fetch land, 1 shock, 1 more Thoughtseize that took a Tribal Flames), he was dead on turn 5. He had the nuts and it didn't help.
Unfortunately for me… luck and Bloodbraid Elf couldn't carry the next 2 games.
 
This match up is a mess for Zoo. They out 2 for 1 you. They have removal only for your creatures and when you want to use burn on them, you have to use it on their Shaman, Dark Confidant or Liliana.
 
Zoo's only hope is that you can put enough damage on them in the first 4 turns that you can kill them when the game grinds on (as long as they are not gaining life with Shaman of Finks).. Which is hard to do since you have to assume you're losing cards to Inquisition of Kozilek / Thoughtseize in the first 2 turns.
 
That being said I wasn't mad about losing to Jaroslav. He was too cool to be mad at and I wanted him to win the Ticket to San Diego.
 
ROUND 7 – GR TRON
I don't remember much about this game because I was literally falling asleep when we were playing. I know I misplayed at somepoint on lost Game 2 but the match up is so good for Zoo it's disgusting as long as you don't over-commit (and lose to a pyroclasm)
So I ended with 5-2 which is pretty good considering the sheer amount of Jund at the tournament. If their was another PTQ before Gatecrash, I would be tempted to play it again but would change the sideboard with 2 x swords and 4 x Loxodon Smiter / Lingering Souls.
 
AFTERMATH
We watched Jaroslav (who made top-8) lose in the first round to the Jund mirror. All I remember from the top-8 was that it was an orgy of Jund. Some with Boom//Bust. Some with Souls. But all Jund. In fact the whole PTQ seemed like an Orgy of Jund with a mix of combo and loads of UW decks at X-4. I did see one GW Aura Deck getting crushed to a pyroclasm..
 
Although by far, the most interesting aspect of the Top-8 was that BLACK CAT kid made it with a bizarre but cool Scapeshift deck (using Kiki-Twin in the sideboard as an alternate win condition).. He lost in the Semi Finals, leaving Jund (without Boom//Bust) to take down, yet another PTQ and clearly making it "the deck to beat".
 
Theirs a phrase in English that says: "If you can't stand the heat, get out of the kitchen." I think you can apply something similar to Modern right now, because; If you can't deal with Jund, then get out (or get knocked out) of the tournament.
FINAL RESULTS:
Daniel Prosek (Jund with Boom//Bust) 5-2
Justin Hamilton Salem (5c Zoo) 5-2
Petr Sochurek (Jund) 4-2-1
Pavel Ceska (Melira Pod) 4-3
Lubos Lauer (UW Control) 2-3-2
BEER BET RECAP
Pavel Ceska lost a beer because he scooped on the bet (not wanting to run Stonecloaker or Flickerwisp in his 75).
Lubos Lauer lost a beer because he made more than 2 mistakes which were: 1. Trying to Cryptic Command a Slaughter Games. 2. In the same game; playing a Vendillion Clique.. while he had a Clique already in play. And 3. Playing UW control.
*note: Lubos won the game where he Commanded Slaughter games
Petr Sochurek lost a beer because he said 'smula' after Round 6.. Which was probably good because he was going to explode if he didn't.
Daniel Prosek gets a beer because he killed his UW opponent on a Boom//Bust off a Bloodbraid Elf in Round 4.
Feel free to leave comments in Czech or English. And bonus points to anyone points out a playable, solid card from Legacy that can be used in Modern (a la Vlcek with Ensnaring Bridge). If I play it, I'll buy you a beer ;)
 
Cazart,
Justin
Komentáře
Přispívat mohou pouze přihlášení uživatelé. Pokud chcete vložit komentář, přihlaste se ZDE.