Články
Ultimátní karty z Odyssey, Torment a Judgment
Přečtěte si rozsáhlý článek o nejsilnějších kartách z Magic the Gathering edic Odyssey, Torment a Judgment, který vám představí nejen jednotlivé kousky, ale i zajímavé decklisty.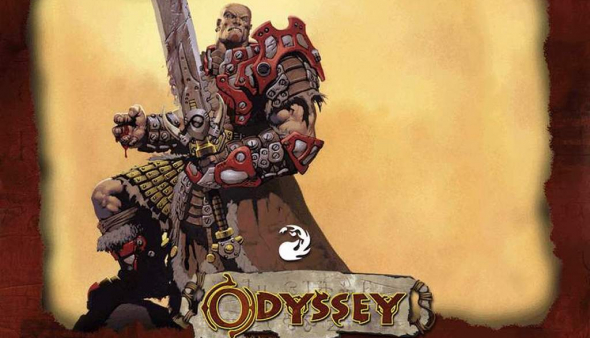 Zdravím všetkých. Som tu znova s ďalším dielom mojich neoficiálnych "Dejín MtG". Teda ich "sub-série" Ultimatívnych kariet. A pokračujem znovu tam, kde som naposledy skončil. Už som prebral karty od Štvrtej po Ice Age, od Homelands po Alliances, blok Mirage, extra silné bloky Tempest a Urza´s Saga a tiež "slabé" Mercadian Masques. No a naposledy to bol zase silný blok Invasion, ktorý  príbehovo zakončil ságu ťahajúcu sa Magicom niekoľko posledných rokov. No a tak bol čas na nový svet a nový príbeh.
No a nasledujúci set Odyssey ho predstavil. Aj keď to s tým novým svetom to teda až také horúce nebolo. Išlo o (do istej miery) zdevastovanú Dominariu s príbehom odohrávajúcim sa asi storočie po sade Apocalypse. Príbeh bol o boji "rádu" Order proti "rádu" Cabal. V príbehu sa vyskytovali nové legendy - červený a potom zelený (môj obľúbený) Kamahl, jeho sestra Jaska, ale i nedávno sa navrátivšia Copatá či Chainer. No a bol tu i legendárny artefakt Mirari. Ja síce nie som ten správny, čo by mal rozoberať príbeh, ale musím povedať, že mne sa páčil. Viem, že všetci na tom neboli rovnako a veľa hráčov s ním bolo nespokojných, podobne ako s kartami s tohto setu (neoprávnene), ale to bolo podľa mňa spôsobené i tým ako hráčov namlsal predchádzajúci set. No ale už k jednotlivým sadám.
Odyssey (2001)
Bola sada, ktorá prvýkrát primárne upriamila pozornosť hráčov na hrob. Doteraz bola jedinou stratégiou, ktorá "cielene" využívala hrob viac menej iba reanimácia. Staré decky nazývané za mojich čias Godzila sa ale zamerali iba na to, ako dostať nejakú silnú bytosť lacno do hrobu a potom lacno z neho. Odyssey ale priniesol flashback, ktorý prvýkrát urobil z hrobu druhú knižnicu a tiež threshold, ktorý z hrobu pre zmenu posilňoval veľký počet kariet. Prevažne bytostí. A silných kariet bolo nakoniec naozaj, naozaj dosť. Bola tu Entomb, dvojka k spomínanej Reanimation, ktorá dokázala už v prvom kole dostať do hrobu potrebnú bytosť (neskôr ale i iné karty ako napríklad Life from the Loam). Tiež tu bol silný kombo kúsok - Tainted Pact a "dredge" kúsok Cephalid Coliseum. Uplatnenie našlo i Buried Alive (hlavne v spolupráci s Nether Shadow-om) a tiež cyklus nových "lhurgoyfov" ako bola Terravore, či v minulom článku spomínaná Cognivore. Na extended sa v UB Reanimátore hrávala Careful Study a Upheaval pomáhal Psychatog-ovi a tiež vytvoril "vlastný" deck. Bola tu (svojho času jedna z najdrahších kariet sady) Call of the Herd, ktorá bola výborná v dobe kedy 3/3-ka za 3 many ešte nebola iba "draft ok" a tiež svojho času silný Roar of the Wurm. No a na legacy sa niekedy hrával Firebolt, rovnako ako bol Mystic Enforcer hlavný bijec v UGW Thresholde a Wild Mongrel jedna z najsilnejších bytostí svojich čias. Pričom tých v tej dobe hrávaných kariet tam bolo ešte viac. Ale ja osobne (pre pravidelných čitateľov neprekvapujúco) ešte musím poukázať na vysoký počet hrateľných účok v tejto sade. Ale teraz už k ultimátnym kartám.
Psychatog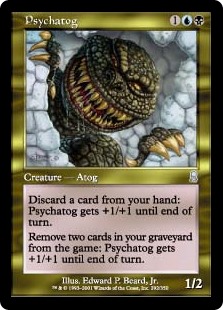 Bola bytosť, ktorú som nemal rád. Vo svojej dobe bol dominantnou bytosťou na type 1 (staré vintage), type 1,5 (stará legacy) a tiež na type 2 (štandard). Bol tvárou mnohých kontrolov a kombo balíkov. Ja som si teraz vybral jednu z ranných verzií tohto decku. Ale zase to bola verzia,  s ktorou Carlos Romao vyhral Majstrovstvá sveta v roku 2002. A ono napríklad taký Nightscape Familiar teraz možno vyzerá úsmevne (rovnako ako samotný Psychatog), ale v tej dobe bola schopnosť zlacňovať modré kúzla na regenerujúcej bytosti naozaj silná. Zvlášť ak ste mali k dispozícii jedny z najsilnejších modrých kúzel v dejinách, ako Counterspell, Fact or Fiction či Upheaval. A tak tento UB Psychatog balík dokázal napĺňať ruku rovnako dobre ako hrob a tak nemal Psychoatog problém narastať do monštruóznych rozmerov a jednoducho prevalcovať a porážať jedného súpera za druhým. No a Cunning Wish-om ste si zase mohli instantne zájsť do sideboardu po tú práve potrebnú kartu (Gainsay, Mana Short, Ghastly Demise, ...), takže bol i dostatočne konzistentný a odolný.
Standstill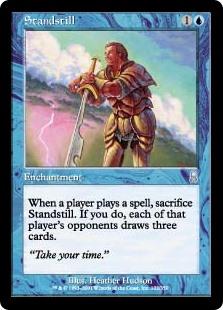 Tu som sa musel veľmi rozhodovať medzi touto kartou a Shadowmage Infiltrator-om. A napriek tomu, že bol Infiltrator svojho času naozaj silná bytosť a bol dominantnou súčasťou modro-čiernych deckov, tak Standstill predsa len stvoril vlastný deck. Mne osobne najviac zarezonoval na legacy, kde sa v priebehu času hrával v rôznych farebných kombináciách. UW Landstill, ktorý súperov porážal kombináciou Mishra's Factory, Decree of Justice a poprípade Elspeth, Knight-Errant, UR Landstill, ktorý mal k dispozícii Faerie Conclave, Lightning Bolt a občas i (čo chvíľa prichodivšieho) Grim Lavamancer-a, až po Four Color Landstill verziu využívajúcu Nantuko Monastery, Swords to Plowshares a Pernicious Deed. A popravde sa v azorius a jeskai kombinácii na tomto formáte hráva dodnes. Pointa bola ale stále rovnaká - "znegovať" súperovo prvé kolo (Fow, StP, ...) a v druhom zahrať Standstill. A tak, ak chcel súper hrať, musel "prerušiť nečinnosť" ako prvý a darovať vám 3 karty. A ak to neurobil, tak ste ho vlastne prinútili nerobiť nič a pomaly ste ho ohlodávali pomocou Conclave, či iného manlandu. Osobne som si najviac zapamätal jeho modro-červenú variantu hrajúcu s Ravnicou doraziacu Electrolyzu, ktorá bola výborná ak ste čelili mase menších bytostí. Netvrdím, že to bola najsilnejšia verzia (mala problémy s väčšími bytosťami), ale mne sa páčila. Pridávam decklist, o ktorom nie som úplne presvedčený, že to bol turnajový build, ale vystihuje podľa mňa podstatu balíka.
Nimble Mongoose
a
Werebear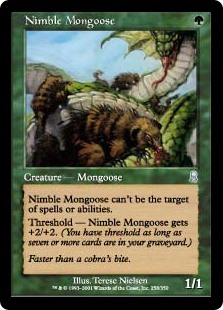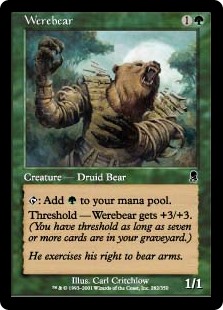 Nehral som legacy dlho a nehral som ju dobre, ale k mojim najobľúbenejším balíkom - na ktorých hru som sa i rad pozeral - patrili UGw a UGr Threshold. Pointou decku bolo čo najskôr a čo najlacnejšie naplniť hrob. Na to slúžili hlavne fečky a karty ako Predict alebo Mental Note. Pretože na zabitie súpera sa používali bytosti, ktoré rástli vďaka plnému hrobu. Preto bolo v decku i prerušovanie, ktoré sa dalo hrať zadarmo - ako Daze a Force of Will - pretože manu sme potrebovali práve na vykladanie bytostí. A aj keď top end tvorili (v závislosti od farebného zloženia) bytosti ako Mystic Enforcer alebo Fledgling Dragon, hlavnými bijcami boli práve Mongoose a Werebear. Mongóza sa ťažko zabíjala a Warebear dokázal (po nabehnutí) thresholdu útokom oberať súpera o pätinu životov. A to bola v tej dobe naozaj sila. Pričom dokázal tiež pomôcť s hraním drahších kúzel. Hlavné ale bolo, že sme ich vedeli dostať na stôl (a zväčšiť) naozaj skoro. Jediná vec, ktorá mi trochu vadila bola malá variabilnosť decku. Hralo sa stabilne 10 bytostí (dva playsety pozemných zelených a k tomu dvoch lietačov), 4 kúsky removalu (Bolt alebo Swords), 8 – 10 kusov prerušovaní (FoW, Daze, Counterspell) a potom už iba nejaké to modré ťahanie kariet/plnenie hrobu (Brainstorm, Mental Note, Predict, ...), ktoré sa klasicky "dalo zahodiť do FoW". No ale zase vďaka zeleným  lacným, ale veľkým bytostiam (a sideboardu) dokázal deck  súperiť i z vtedy najsilnejším legacy deckom - Goblinmi (teda ... bol najsilnejší podľa toho, koho ste sa spýtali) a tak bol naozaj populárny. Občas  sa hrala i verzia s nejakým tým Cunning Wish-om v maine, s ktorým sme v prípade nutnosti chodili po instanty do SB.  Potom sa tam presúval i jeden StP z mainu. A bol to tiež deck, ktorý ak to preženiem "nepotreboval súpera". Proste sa s ním hráč "vyhral" sám. Ale nechápte ma zle, nebolo to také otravné ako modernové Eggs (a podobne). Súper do hry mohol zasiahnuť a často i zasiahol. Samozrejme hlavne pomocou grave hate. Bol to ale naozaj zábavný deck, ktorý mal zaujímavé hry, pretože "hral Magic" a zabíjal bytosťami. Táto verzia UGw Thresholdu je z doby okolo roku 2005, nie je tiež z konkrétneho turnaja, ale podľa mňa pekne ukazuje to, o čom ten deck bol.
Bonus: Shadowmage Infiltrator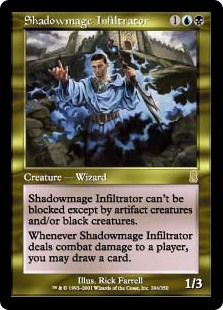 Bol invitational karta Johna Finkela a bol to nový lepší Ophidian a vo svojej dobe bol (i u nás) veľmi cenená karta. Možno nenaplnil očakávania do neho kladené úplne (ľudia boli príliš vyhajpovaní), ale rozhodne stopu zanechal. No a bol to znovu sám veľký Finkel, ktorý upgradeoval svoj starý Forbidian deck, pridaním Infiltrátora a pár ďalších kariet. Hrávali sa rôzne farebné verzie od Dimir, Esper, Sultai až po UGBW a vo všeobecnosti sa vžili už rovno pod názvom Finkel. Alebo Finkula - ak ste hrali i Meddling Mage (invitational karta Chrisa Pikulu). Magicoví hráči naozaj neboli "proslulí" svojou  sofistikovanosťou pri vytváraní názvov deckov :o) No a ako príklad som vybral decklist, s ktorým Josh Smith vyhral GP Houston v roku 2002 vo formáte extended. Deck využíval Infiltrátora ako zdroj kartovej výhody (logicky), pričom mu v tom pomáhali Fact or Fiction (pre tých čo čítali môj posledný článok z tejto série tiež ... logicky). Zvyšok balíku už potom tvorilo klasicky iba modré ťahanie kariet, kde bol mimo iné i nedávny navrátilec na štandard – Impulse a čierny discard a ničenie – Duress, Diabolic Edict. No a zelená tam bola viac menej iba kvôli najlepšiemu globálnemu ničeniu tej doby - Pernicious Deed. No a tento v podstate kontrolný balík vyhrával buď Morphling-om, čo bola v tej dobe stále výborná bytosť, alebo dvoma Faerie Conclave.
Torment (2002)
Pokračoval v predstavených mechanikách flashback a threshold, ale priniesol i svoju vlastnú a naozaj silnú mechniku – madness. No a za zmienku určite stojí, že Torment bola čierna sada. Nielen tým, že väčšina kariet bola čierna (mala napríklad 40 čiernych kariet oproti 21 zeleným a bielym), ale ono i sila jednotlivých kariet bola výrazne na strane čiernej farby. Herne sa podľa mňa jednalo o nie veľmi vydarený ťah, ktorý sa Wizardi pokúsili napraviť už hneď v nasledujúcej sade. Najlepšou ukážkou toho boli pre mňa silné "tainted lands" ako Tainted Wood, ktoré dávali čiernu manu alebo manu inej jednej farby, ak hráč kontroloval bažinu. Bol tu ale tiež nový Dark Ritual v podobe Cabal Ritual-u a predchodkyňa Damantion - Mutilate. Na legacy sa hrávala Nantuko Shade a jeden z prvých dredge enablerov Putrid Imp. Mesmeric Fiend možno nebol ultimatívna bytosť, ale svojho času bol všade, dokonca to dotiahol na extended. No a Ichorid sa hrával v dredge balíkoch dokonca na legacy. Dominanciu čiernej mal podčiarknuť i vracajúci sa Sengir Vampire, ale doba už bola niekde inde :o( To len na pripomenutie toho, že ten (mnou a ďalšími toľko preklínaný) power creep Magicu "nezačal práve včera".
Cabal Coffers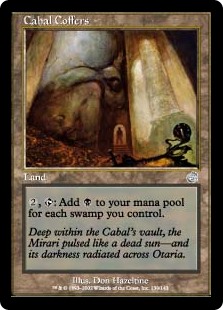 Nechali skoro okamžite na štandarde (a nielen tam) vzniknúť silným Monoblack Kontrolom, postaveným okolo kariet ako Chainer's Edict, Nantuko Shade či Mutilate, ktoré potrebnú manu na svoje (predražené) kúzla získavali práve z Cabal Coffers. A aj keď boli extra silné, mňa (zlomyseľne) potešilo hlavne to, že zlomili dovtedajší "monopol" modrej farby na kontroly. Verzií bolo niekoľko, ja som vybral decklist, s ktorým to Oliver Ruel dotiahol až do finále PT Osaka 2002. Balík hral iba 10 bytostí, ale zato kopec spellov, ktoré využili extra nagenerovanú manu, či už na to aby kontrolovali stôl (Chainer's Edict, Mutialte), rozbili súperovu ruku (Mind Sludge) či naťahali karty (Skeletal Scrying). Existovali ale tiež verzie, ktoré nehrali vôbec žiadne bytosti (možno tak jednu Visaru the Dreadful) a zabíjali súpera masívnym Soul Burn-om alebo Corrupt-om. Je ale tiež pravda, že to v tej Osake bol Odyssey Block Constructed formát a že na štandarde takýto Monoblack Kontrol "trochu" trpel na Compost, ktorý vyšiel v Siedmej edícii (teda hlavne jeho non-creature verzia) a nemal tiež dobrý matchup proti čo chvíľa vzniknuvšiemu U/G Madness decku a tak nejakú extra dominanciu na formáte nedosiahol (zvlášť po vydaní nasledujúcej sady), ale aj tak ... silný bol dosť.
Grim Lavamancer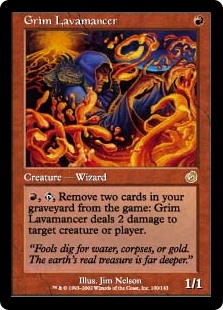 Možno to nebola najultimatívnejšia bytosť sady, ale svojho času sa hrávala skrz všetky formáty. Na štandarde to bola možnosť ako zničiť bytosti ako Nantuko Shade či Basking Rootwalla, tiež silné zelené  bytosti, než im nabehne threshold alebo jednoducho dorážať súpera.  Na extended sa hrával napríklad v Red Deck Wins, v Two Deuce decku, čo bol v podstate Red Deck Wins zo splashom na zelenú. Na moderne v Burne a v sideboardoch mnohých deckov vrátane môjho Jundu (svojho času to bola dobrá zbraň na Infect). No a na legacy sa hrával samozrejme v Burne. Ja som si v snahe pokryť čo najväčšie spektrum deckov v dejinách Magicu vybral možno trochu nezvyčajný balík a síce práve Two Deuce, s ktorým to na Grand Prix Hiroshima v roku 2003 Fujita Osamu dotiahol do finále. Deck mal agresívny červený základ (Jackal Pup, Mogg Fanatic, Grim Lavamancer) a pridával zelenú kvôli tým najlepším zeleným kartám ako River Boa, Rancor či Treetop Village. Čo boli tiež jedny z mojich najobľúbenejších zelených kariet v celých dejinách Magicu (a boli veľmi dobré proti modrej). Pričom v sideboarde boli ďalšie výkonné kúsky ako Naturalize (proti Oathu, Enchantresske, Alurenu, ...) a Ravenous Baloth (proti RDW, Psychatogu a ďalším). No a Grim Lavamancer bol dôležitý, pretože zabíjal všetky malé bytosti v Aluren Kombe, v Suicide Black rovnako ako v Burne či Slighte. Uznávam, že balík to bol (relatívne) priamočiary, ale i agresívny a svoje si tak uhral. Pričom, kto si pozrie v deckliste zeme, tak si iste spomenie, že to bolo obdobie, kedy z extended odrotovali revised dualy (a ešte neprišli shock landy) a tak bola stavba manabase trochu komplikovanejšia.
Chainer´s Edict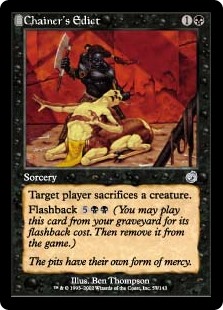 Bola to variácia na veľmi dobrý a veľmi hrávaný Diabolic Edict ešte z Tempestu. Síce nebol instantný, ale zase ste ho mohli zahrať dvakrát. Vďaka tomu bol obľúbený v rôznych midrange balíkoch ako mnou toľko spomínaný The Rock. No a keďže obchádzal všemožné protekcie a shroud (predchodca dnes bežného hexproof-u), bol tiež obľúbený ako zbraň na všetky tie Reanimátor balíky, ktoré sa v tom období – po skompletizovaní "komba" Entomb + Reanimate – objavili. No napriek tomu, že nestvoril vlastný deck, bola to naozaj karta, ktorú ste mohli na všetkých formátoch stretnúť naozaj často, stala sa súčasťou naozaj veľkého počtu balíkov a naozaj vo svojej dobe definovala hru. Avšak neuvádzam tu decklist žiadneho z nich. Napriek tomu, že Chainer´s Edict "vyhral" Majstrovstvá sveta v roku 2002, bolo to v decku UB Psychatog. A to bola hlavne zásluha menovaného Atoga, takže si decklist balíku využívajúceho tento edikt môžete pozrieť práve pri odseku rozoberajúcom danú bytosť. Viem, že som mohol vybrať i iný deck tej doby, ale to by už nebol ultimatívny/ikonický deck. Takže sa posunieme ďalej.
Bonus: Basking Rootwalla + Arrogant Wurm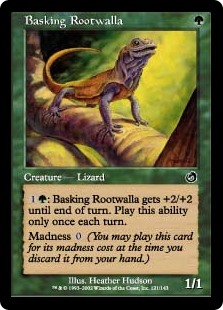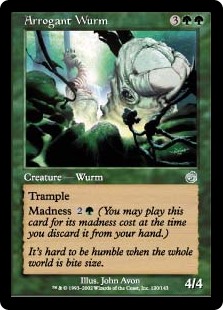 Tu znova trochu podvádzam, pretože pridávam dve bytosti. Ale obe boli súčasťou "madness package" silného UG Madness decku tej doby. Tiež viem, že najlepšou bytosťou decku bol pravdepodobne Wild Mongrel (ale ten sa nevošiel do výberu Odyssey, pretože tá bola silných kariet naozaj plná).  Cieľom bolo pomocou kariet ako Careful Study, Aquamoeba a Wild Mongrel dostať na stôl lacné zelené bytosti (či už z ruky – madness, alebo hrobu – flasback) ako Rootwalla, Wurm alebo Roar of the Wurm. Ktoré následne prevalcovali – a ak bol Wonder v hrobe, tak i preleteli – súpera. Celé to strážilo v tej dobe veľmi efektívne prerušovanie Circular Logic. Ono sa to teraz nezdá, ale v tej dobe nebol až taký problém mať vďaka kartám ako Careful Study, Deep Analysis a Merfolk Looter ako kopec kariet v ruke, tak i na stole. Grave hate zase až taký dostupný nebol. Hrávala sa i červeno-zelená verzia s Fiery Temper, ale mám pocit že táto zeleno-modrá bola predsa len silnejšia. A úspešnejšia. Pridaný decklist je verzia, ktorá to dotiahla na Majtrovstvách sveta v roku 2003 až do semifinále.
Judgment (2002)
Bola to zeleno-biela sada (33 bielych a zelených kariet oproti 16 čiernym), ktorá napravovala situáciu spôsobenú prechádzajúcim čiernym Tormentom. Obsahovala Sylvan Safekeeper-a, invitational kartu prvého víťaza Invitational turnajov Olle Rådeho. Invitationals boli turnaje pre 16 najlepších hráčov "minulého" roku a víťaz získal možnosť nadizajnovať si "vlastnú" kartu. Bola tu Phantom Nishoba, bytosť do extended Reanimátorov a cyklus Inkarnácií, s ktorých sa hrávali ako Anger, tak Wonder. Okrem toho Solitary Confinement vystužila WG Enchatressku, Fledgling Dragon sa uplatnil v spomínanom UGr Thresholde a Browbeat sa svojho času hrával v legacy Burne. No a ak sa bavíme o ultimátnych/ikonických kartách, tak tu vyšla i nová Treetopka v podobe bielo-zelenej threshold Nantuko Monastery a tak ako v Tormente vyšiel Sengir Vampire, tak tu bol znovu vydaný Erhnam Djinn. A podobne ako u "Sengira" to už ani v tomto prípade ... žiadna bomba nebola :o(
Burning Wish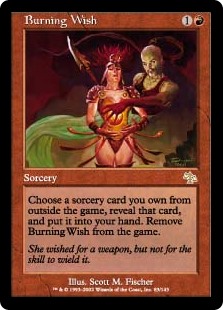 Celý cyklus "želaní" bol inšpirovaný starou kartou ešte z Arabian Nights Ring of Ma'rûf, a napriek tomu, že boli všetky silné (možno okrem bieleho) a že mne najviac zarezonoval modrý Cunning Wish, tak červený bol pravdepodobne najsilnejší. A to až tak, že ho nakoniec zabanovali na vintage. Normálne sem dávam balíky skôr z histórie Magicu, ale ako ukážku toho ako silný Burning Wish bol a stále je, pridávam teraz decklist legacy The EPIC Stormu z "dnešných čias". Je totiž pravda, že aj keď sa balík s príchodom nových sád od svojej pôvodnej podoby (okolo roku 2006) zmenil, tak podstata ostala rovnaká. Pomocou rituálov (Dark Ritual, Rite of Flame) a artefaktov (Lion's Eye Diamond, Chrome Mox, Lotus Petal, Mox Opal) získať manu a storm a potom zoslať Tendrils of Agony. Ak sa teda bavíme o pôvodnej myšlienke. No a Burning Wish pomáha decku tým, čím mu pomáhal už v čase svojho príchodu. A teda tým, že v sideboarde hľadá to práve potrebné sorcery. Od poisťovacej Thoughtseize, cez Peer into the Abyss až po secondary winn condition v podobe Empty the Warrens. Ja ale nie som legacy player, tak jemné nuansy decku nechám na iných.
Cabal Therapy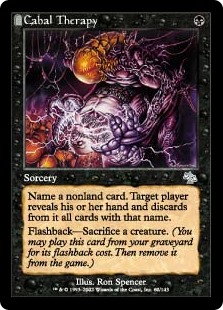 Ďalšia karta, ktorá svojho času zatriasla formátmi. Hrala sa od štandardu, cez extended až po legacy. Dokázala narušiť súperovu hru a zariadiť peknú kartovú výhodu. A bola to i pekná ukážka skillu hráča, ak dokázal odhadnúť ruku súpera a hitnúť už na prvý pokus. A ak ste mali šťastie a čo obetovať (často nejaké tie BoP), mohli ste pri druhom pokuse zahodiť karty dve. No a pre mňa bolo jej najtypickejšie využitie v deckoch na extended. Pravidelní čitatelia vedia, že hlavne preto, že tam zažívala svetlé chvíľky v mojom obľúbenom The Rock balíku. Ale hrala sa i v Reanimátore, Rakdos Goblinoch a kopci ďalších deckov. A keďže som vo svojom poslednom článku z tejto série napísal: "Ale keďže "prvotnú verziu" tohto balíku som popísal pri rozbore Urza´s Saga bloku a jeho "klasickú verziu" z rokov 2001/2002 pri rozbore Mirage bloku (a ešte ho popíšem pri Cabal Therapy) ..." – tak teraz naviažem tam, kde som naposledy skončil. Dokonca uvediem decklisty dva. Prvý bude z GP Anahaim v roku 2003. Na všetky formáty vtedy vtrhol Mirrodin zo svojimi artefaktami, ale ako uvidíte, tak bol na nich Blake Quelle pripravený (Uktabi Orangutan a Viridian Shaman už v maine) a dotiahol to až do Top 8. Druhý decklist je z GP Singapur v roku 2005. Ten pre zmenu to najlepšie čo Mirrodin (a Kamigawa) set pre tento deck mohol priniesť (Sword of Fire and Ice, Umezawa's Jitte a Troll Ascetic) absorboval - a dostal sa do semifinále. Dvakrát. Ale pointa bola stále rovnaká. Silné zelené bytosti – či už statmi alebo etb výkonmi – ako základ, kvalitný jednomanový discard, kde práve Therapy žiarila a nejaký ten removal. A samozrejme stará dobrá Pernicious Deed. Rád by som upozornil, že prvý balík (ten z roku 2003) hral v sideboarde dokonca i moju srdcovku z highlandera – Bind a že ten druhý hral i také "staré" karty ako Plow Under. No a kto by si chcel prečítať i o inej verzii The Rocku, tomu odporúčam výborný Report tu na CMUSe.
Worldgorger Dragon
Bol "nedávno" odbannovaný na legacy a časť ľudí sa obávalo jeho dominancie. Ale opakovala sa situácia s odbannovaním napríklad takej Wild Nacatl-y, JTMS či BBE na moderne. Žiadna katastrofa sa nekonala. Magic je už ďalej. Ale ako už veľakrát – svojho času to bolo silné legacy (a vintage) kombo. Celá pointa spočívala v tom, dostať draka do hrobu (Careful Study, Entomb, Buried Alive, ...) a potom ho reanimovať skrz Animate Dead (Necromancy, Dance of the Dead – pekná ilustrácia). Jeho príchod exilne všetky permanenty (vrátane Animate Dead) a dostane draka do hrobu, ale permanenty sa vrátia a Animate Dead dostane draka z hrobu. A tak sa to opakuje a vytvorí to nekonečnú slučku (dá sa do nej ale mierne zasiahnuť). Keďže sa exilované zeme vracajú netapnuté, dá sa z nich načerpať nekonečná mana (ok, dnes už musíte určiť číslo) a tá sa dá využiť na zabitie súpera. V dobe jeho príchodu najjednoduchšie cez Ghitu Fire alebo Stroke of Genius. A na vtedajšom type 1 (vintage) a type 1,5 (legacy) kľudne v prvom, alebo druhom kole. Bohužiaľ sa mi nepodarilo dopracovať k nejakej relevantnej verzii legacy decklistu z doby jeho príchodu. Takže tu pridávam vintage variant niekde z roku 2002, schopný vyhrať v prvom kole. Je to ale sám uznávam zvláštne zloženie, tak ho berte z rezervou.
Bonus: Mirari´s Wake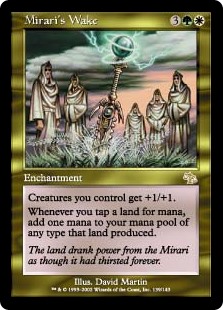 Daniel Zink vyhral spomínané Majstrovstvá sveta v roku 2003 práve "s Mirari´s Wake". Pričom boli v Top 8 decky využívajúce tento enchantment dohromady dokonca štyrikrát. Pretože napriek tomu, že Wake posilňuje i bytosti, jeho najsilnejšie využitie bolo v kontrolných balíkoch prakticky bez bytostí (občas bol nejaký ten Exalted Angel v sideboarde). Balík jednoducho využíval očarovaním vyprodukovanú značnú masu many na zahratie manovo náročnejších kúzel. Či už to boli karty, ktoré mu pomohli prežiť (Wrath of God, Vengeful Dreams, Moment's Peace), karty ktoré "ťahali ďalšie karty" (Compulsion, Deep Analysis) alebo samotná winn condition v podbe Decree of Justice. Keďže vďaka Wake hráč disponoval vlastne jednostrannou Mana Flare (aj keď za 5 mán), mal tým možnosť získať nad súperom značnú výhodu. A keďže bolo v tej dobe i dosť creature deckov – s ktorými mal tento balík výbornú bilanciu – bol to balík naozaj silný a populárny.  No a decklist je práve tá Zinkova verzia, s ktorou majstrovstvá vyhral. Za zmienku možno ešte stojí i samotný artefakt  Mirari,  okolo ktorého sa točil i príbeh setu a ktorý poskytoval ďalšiu možnosť ako využiť "prebytočnú" manu.

A to by bolo znovu všetko. Ja viem, že by sa o týchto kartách salo napísať ešte oveľa viac a dali by sa vybrať i ďalšie karty, ale ... snažím sa držať rozsah týchto mojich článkov v rozumných medziach. Tak hádam vás článok zaujal alebo dal aspoň niektorým z vás dôvod zaspomínať si.
Komentáře
Přispívat mohou pouze přihlášení uživatelé. Pokud chcete vložit komentář, přihlaste se ZDE.